San Francisco Murals: Tips to Find the Best Street Art Around SF
Proof of vaccination is now required for certain indoor activities. Learn more here. 
You will find more than 1,000 murals in San Francisco. They are spread throughout the city, with a large concentration in the colorful Mission District.

In addition to street art, you will also find beautiful artwork gracing the walls inside Coit Tower, the Rincon Center, and the Beach Chalet. 
Almost all of these are free to visit.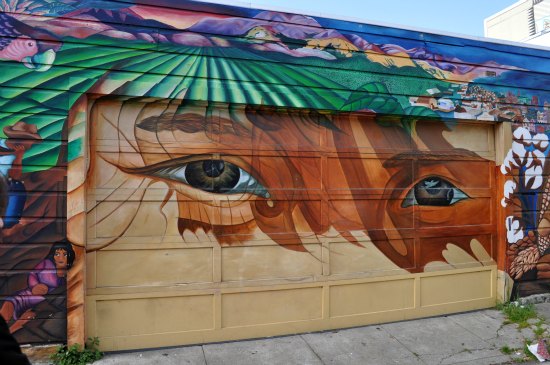 You will find this one in the Mission District
Mission District

If you love street art, you must visit the Mission. This eclectic neighborhood has amazing street art on almost every corner. 
You will also find two alleys covered with different San Francisco murals. They range from politically motivated messages to fun ones about the city.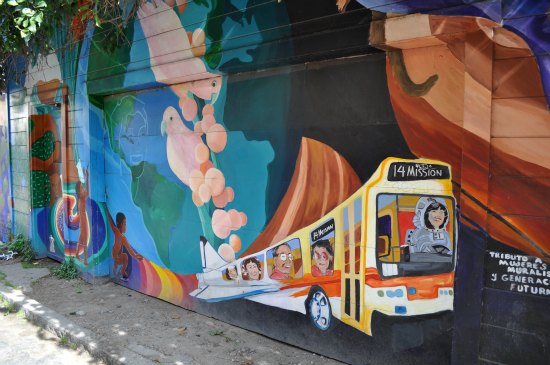 The one above tells the story of a futuristic bus. The 14-Mission Muni is one of the most used buses in this neighborhood.
Discover even more photos and maps on where you can find the best Mission Murals.
Coit Tower

The first floor of Coit Tower also houses a number of beautiful pieces. You can access them for free and even take a guided walking tour to learn more about them.

The ones you find here are quite different from those in the Mission. They were added shortly after the tower was completed. They feature stories about California and San Francisco in the late 1920s and 1930s. 
Many of these were highly controversial at the time. See more pictures and tips for viewing them while visiting Coit Tower.
San Francisco Beach Chalet

More San Francisco murals that you can visit for free are in the Beach Chalet building near Ocean Beach. The entire first floor is covered with Works Progress Administration (WPA) era works, similar to those found in Coit Tower. 
While you are here, you can also grab some lunch or learn more about the top places to visit in Golden Gate Park. This building houses two restaurants and the Golden Gate Park Visitor's Center. 
Find a few pictures and learn more about what to expect from a visit to the Beach Chalet building near Ocean Beach.

Rincon Center

Not many people realize that the Rincon Center houses many San Francisco murals. This historic building showcases 27 pieces of art that tell the story of the history of San Francisco.

Unlike the other ones on this list, the Rincon Center murals have descriptions. This means you can walk through on your own, while learning more about the significance of each mural. 
See more pictures and find out how you can learn more about these controversial pieces of artwork during your visit.
North Beach

The North Beach neighborhood also has a few fun San Francisco murals. You will need to look around for them a little more, as many are tucked into alleys along Columbus Street. 
Some of my favorites are near the famous Vesuvio Cafe at 255 Columbus Avenue. Step into the alley to see a handful of large works of art.
The picture below shows another one of my favorites in this neighborhood. It's right on the corner of Columbus Avenue and Broadway Street (less than a half a block north of the Vesuvio Cafe).

Chinatown

Over the years, you will find more and more murals around the Chinatown District. One of my favorites is on Sacramento Street at Grant. It's a piece with two lions and the words "Chinatown" above it. 
You will also find a variety of great San Francisco murals on the corner of Grant and Clay. Look around when you get here as there are about four great pieces of art at this spot. 
There is also a great piece at Grant and Commercial. 

>> Learn more about visiting Chinatown and seeing its murals

Others in the City

Here are a few other places you will find some great San Francisco murals:
Diego Rivera Murals: There are three pieces in the city painted by Diego Rivera. All three are free to visit, but most take a little legwork to find. Here are some tips for finding all three in SF.
Grace Cathedral: Inside Grace Cathedral in Nob Hill, you will find a number of them depicting the history of the church and this historic neighborhood.

Mission de Asis: This mission is the oldest building in San Francisco. Inside, you will find a large mural. The new basilica also has 21 gorgeous stained-glass windows.
Other Pages You Might Enjoy