San Francisco Murals: 12 Places to Find the Most Colorful Pieces

by Jill Loeffler  •

Updated: January 7, 2022
You will find more than 1,000 San Francisco murals. They are spread throughout the city streets and the interiors of city buildings. The largest concentration is in the colorful Mission District.
In addition to street art, you will also find beautiful artwork gracing the walls inside Coit Tower, the Rincon Center, and the Beach Chalet. You will also find them in most San Francisco neighborhoods.
Almost all of these are free to visit and new murals pop up all the time! 
You can explore the places below on your own. You can also join a guided tour if you want to learn even more.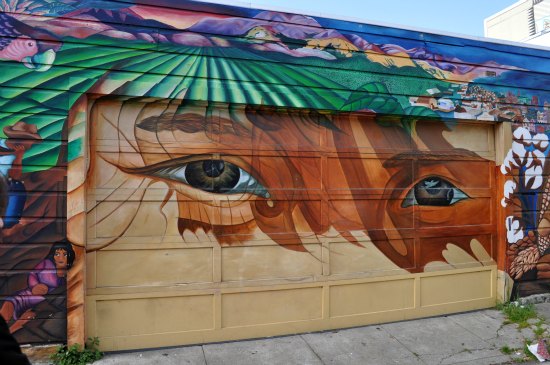 You will find this one in the Mission District
Disclaimer: I receive a small commission from some of the links on this page.

1. Clarion Alley Mural Project in the Mission District
The next place to find Mission District Murals is along Clarion Alley. You will find more than a dozen vibrant murals here. Many are focused on social movements and human rights.
You can enter this one block long collection of San Francisco murals off Valencia Street (near 17th Street) or from Mission Street (also just south of 17th Street). 
2. Balmy Alley Murals in the Mission District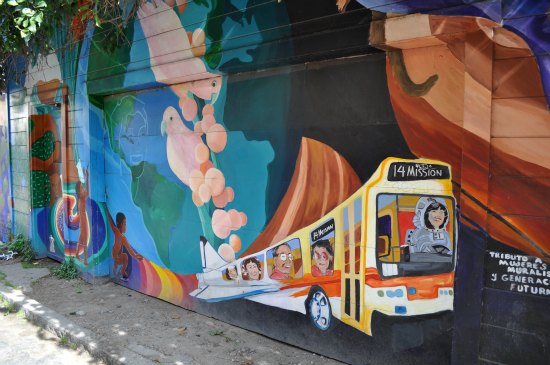 You will notice that my first few spots on this list are all in the Mission District. You will see them throughout the district but there are a few places that offer a special concentration of public art. One of these is Balmy Alley.
This colorful street features more than a dozen San Francisco murals.  They range from politically motivated messages to fun ones about the city.
This small alley sits between 24th and 25th Street just north of Garfield Square. Only visit during the day as there isn't enough lighting to see it well at night.
The picture above is one example in Balmy Alley. It tells the story of a futuristic bus. The 14-Mission Muni is one of the most used buses in this neighborhood.
2. 24th Street Corridor in the Mission District
Either before or after you visit Balmy Alley, make sure to check out the collection of murals along the 24th Street Corridor. 
You'll start your walking tour around 24th Street and Osage Street. This is about one block west of the 24th Street BART Station and a lot of other public transit options. 
Here you will find the Osage Street Murals. From here start walking east where you will step inside Lilac Alley to see the Osage Alley Artwork.
Head back out to the 24th St. Corridor and continue on to Cypress Street, where you will find another alley full of murals.
Once you are done here, head back out to 24th Street where you will see dozens of colorful murals. Continue east until you reach Balmy Alley (discussed above). 
After your visit, you can continue east on the 24th Street Corridor. You will find San Francisco murals by local muralists all the way to about York Street.
4. Other Wonderful San Francisco Murals Around the Mission
San Francisco's Mission District also has a few other amazing places to check out these colorful works of art. Many of them are commissioned by the property owner, so you will see changes over time. Here are the best examples:
Women's Building

-

 Near Clarion Alley, you will find the Women's Building. The entire three-story building is covered in artwork. You will find it at 3543 18th Street.
Garfield Square Park

-

 The south side of the pool house has a gorgeous mural. The address for this one is 1271 Treat Ave. 
Leonard R. Flynn Elementary School

-

 On the east and south sides of this school, you will find some amazing and colorful works. You will find this school at 3125 Cesar Chavez.
Precita Avenue (just east of Precita Park) - There is a gorgeous mural on the Precita Valley Community Center at 534 Precita Avenue. 
>> Discover even more photos and maps on where you can find the best Mission Murals.
Mural Walking Tours
One of the best ways to see these is on one of our mural tours. They are great for first-time visitors and anyone looking to learn more about these local murals and the mural artists. Many of these tours combine a look at San Francisco murals with a look at the history of the neighborhood and local food scene. 
Mission District Street Art Walking Tour: This is one of the only tours that focuses on the art and murals around San Francisco's Mission District. You'll learn more about a few of the places I mentioned above including the Balmy Alley Murals, the murals on the Women's Building, and those in Clarion Alley. It's a small group and leaves in the morning. More details including times and tickets.
The Mission District: San Francisco's Hip Melting Pot: This is one of the best private tours of the Mission District murals. It requires at least two adults. You will spend 4 hours with a local guide who will tell you about this vibrant district, its amazing food scene, and take you through Clarion Alley. Find out more here. 

Free Walking Tours: You will also find some great, free guided walking tours through SF City Guides (part of the SF City Library). They offer a variety of tours. Some are dedicated mural tours and others include stops at a few murals as you walk throughout a specific district. Even though they are free, they do request a donation (I recommend $7 to $10 per person) to help fun the program. Learn more about these here. 
5. Coit Tower

The first floor of Coit Tower also houses a number of beautiful pieces created by a federal art project. You can access them for free and even take a guided walking tour to learn more about them.
The ones you find here are quite different from those in the Mission. They were added shortly after the tower was completed. They feature stories about California and San Francisco in the late 1920s and 1930s. 
Many of these were highly controversial at the time.
>> See more pictures and tips for viewing them while visiting Coit Tower.
6. San Francisco Beach Chalet

More San Francisco murals that you can visit for free are in the Beach Chalet building near Ocean Beach. The entire first floor is covered with Works Progress Administration (WPA) era works, similar to those found in Coit Tower. 
While you are here, you can also grab some lunch or learn more about the top places to visit in Golden Gate Park. This building houses two restaurants and the Golden Gate Park Visitor's Center. 
>> Find a few pictures and learn more about what to expect from a visit to the Beach Chalet building near Ocean Beach.

7. Rincon Center

Not many people realize that the Rincon Center houses many San Francisco murals. This historic building showcases 27 pieces of art that tell the story of the history of San Francisco.
Unlike the other ones on this list, the Rincon Center murals have descriptions. This means you can walk through on your own  while learning more about the significance of each mural. 
>> See more pictures and find out how you can learn more about these controversial pieces of artwork during your visit.
8. Chinatown

Over the years, you will find more and more murals of San Francisco around the Chinatown District. One of my favorites is on Sacramento Street at Grant. It's a piece with two lions and the words "Chinatown" above it. 
You will also find a variety of great San Francisco murals on the corner of Grant and Clay. Look around when you get here as there are about four great pieces of art at this spot. 
There is also a great piece at Grant and Commercial. 

>> Learn more about visiting Chinatown and seeing its murals

9. North Beach

The North Beach neighborhood also has a few fun San Francisco murals. You will need to look around for them a little more, as many are tucked into alleys along Columbus Street. 
Some of my favorites are near the famous Vesuvio Cafe at 255 Columbus Avenue. Step into the alley to see a handful of large works of art.
The picture below shows another one of my favorites in this neighborhood. It's right on the corner of Columbus Avenue and Broadway Street (less than half a block north of the Vesuvio Cafe).

10. Umbrella Alley in Fisherman's Wharf
One of the newer places to find San Francisco murals is at Umbrella Alley in Fisherman's Wharf. Here you will find many Instagram-worthy murals to use for selfies.
This alley used to be gray and boring. It is where those taking Segways train for a little before hitting the open road. During the pandemic, they turned this alley into one of the most colorful pieces of art in the city. 
You can walk in for free if you are going on a Segway tour. If you are just there to visit the murals, they request a $5 donation. 
>> More fun things to see and do in Fisherman's Wharf
11. SF Museum of Modern Art: Free Diego Rivera Mural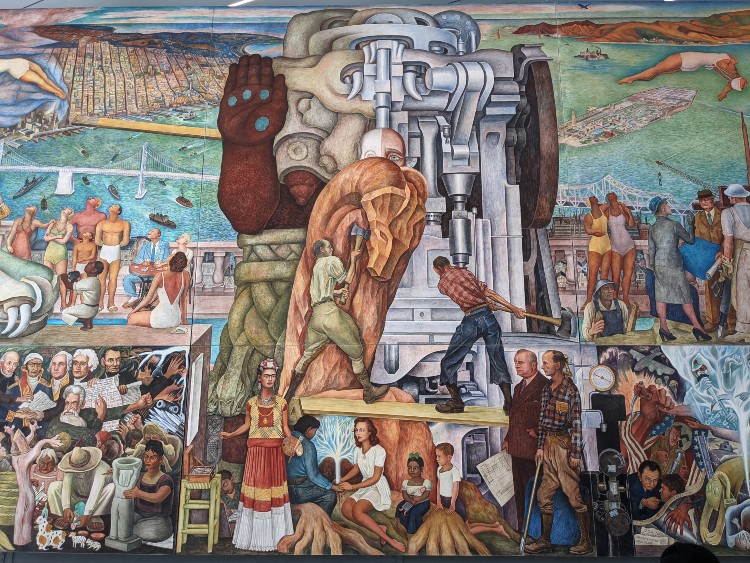 San Francisco is home to three Diego Rivera frescos. His largest is now on view for free on the first level of the San Francisco Museum of Modern Art.
This piece of art is titled "Pan American Unity" and was originally created for the Golden Gate International Expo in the 1940s on Treasure Island.
This masterpiece is 22 feet tall by 75 feet wide. You could spend an hour here and not get a full look at every intricate detail. 
In addition to this piece, you will also find two other Diego Rivera murals in SF.
>> Visit this page to learn more about this piece and the two others on display in SF
12. Grace Cathedral in Nob Hill
Inside Grace Cathedral in Nob Hill, you will find a number of murals depicting the history of the church and this historic neighborhood.
Others inside the church offer a look at the fire that took place after the 1906 earthquake and other important events in the history of San Francisco. 
Many people don't visit this church only for its historic San Francisco murals, but I highly recommend you stop by if you are in the neighborhood.
>> Learn more about these murals and other things to see inside Grace Cathedral
Comments? Questions? Suggestions?
I would love for you to join me in my private Facebook group! 
It's a great place to interact with me and others who know the area well.
You can ask questions, get advice for your upcoming stay, and then share your photos and advice with others when you return home. It's a great community and the fastest way to get answers to those nagging questions about your visit!