Weather in San Francisco CA
What to Wear in the Cool SF Weather
NOTE: On December 6, San Francisco (and a few surrounding counties) will once again be on a stay-at-home order. This will last indefinitely. Click here for more information.
I often get asked, "What should you wear in the cool weather in San Francisco CA?"
Here you will find a few tips to help you pack the right clothes for your San Francisco vacation.
Most people associate California with warm sunny days and cool evenings. This is true for much of the state - except the city of San Francisco. We have moderate temperatures that are fairly consistent all year around.
To simplify it, it's around 60°, a little breezy and partly cloudy every day of the year. We do have a few ups and downs throughout the year, but your best bet is to plan for this type of weather in San Francisco CA.
You will also find temperature variances from neighborhood to neighborhood. Even if it's warm and sunny in Union Square, it might be foggy and windy in Golden Gate Park.
So, what should you pack to wear while you are here?
Layers!
By layering your clothing, you can add and remove pieces as necessary. I always bring along a light sweater or jacket - so I can warm up or cool down if needed.
What to Wear by Season
SF is a very casual place. You can wear jeans or casual clothes to almost any event, restaurant or bar.
FYI, Levi Strauss invented jeans here, so we don't often break from that tradition!
You will find some higher-end restaurants or special events that require smart casual or business casual dress. Not to worry though, I will keep you aware of those details in the descriptions on my events pages. You will know if you need to pack something a little dressier.
This section provides a more detailed look - by season and month - to help you pack for your trip.
Click any of the links below to skip ahead to a specific time of year.
Upcoming San Francisco Events
Are you looking for some fun things to do during your visit to SF? Click the links below for a calendar of events for each month.
Fall Months: September and October
This is my favorite time of the year in San Francisco. The weather is sunny and beautiful.
The average daily highs are around 70 with the lows at night in the mid-50s. It is rarely foggy during this time, as the temperatures in the surrounding areas are about the same.
During this time, I typically wear a short sleeved shirt and carry along a light sweater. At night, I will add a light jacket - and sometimes move to close toed shoes to stay warmer.
This is the best time of year to wear a skirt and sometimes you can even wear shorts. Although, make sure you have plenty of long pants or jeans too.
Top Activities in the Fall
---
Spring Months: April and May
We usually just have two months of 'spring weather'. April and May are also nice and sunny.
You will find temps in the mid-60s during the day and mid-50s at night.
A short sleeved shirt along with a light sweater or jacket is your best bet during the day. You should also bring along a warmer sweater or jacket at night. Layering is key, so you can add and remove items throughout the day.
Click the two links below for more information on what the weather is like these two months in SF.
Top Events in April & May
---
Summer Months: June, July & August
These three months are the hardest to understand since the weather forecast and average temperatures can be deceiving.
By looking at the temperatures, you will see the average highs in the upper 60s. At night, the temperatures only drop down to the mid-50s. Perfect - right? Yes and no.
While the weather is still beautiful this time of year, it can change quite a bit from one day to the next due to the fog. One day it might be 75, sunny and gorgeous - and then the next day, you might wake up to fog, wind and temps around 55.
The other thing that happens during these months is that the temperature fluctuates throughout the day. Even though you wake up to fog - it might burn off during the day and warm up quite a bit.
You also might wake up to a sunny, warm morning and then get chilly in the late afternoon when the fog and wind start to roll in for the night.
During these months, it's important to pack several items that you can layer. Here are a few things you should bring along during these months:
A couple lightweight, long sleeve or 3/4 sleeve shirts
A couple short sleeved shirts
One or two lightweight sweaters
A lightweight jacket
At least one pair of close toed shoes
Long pants and skirts
Windbreaker you can store in your daypack (see some examples of these on Amazon)
Make sure you can mix and match everything above. This allows you to move your clothes around if it's warmer or cooler than expected on any given day.
If you are often cold like me, then you can leave the shorts at home.
Top Things to Do in June, July & August
---
Winter Months: November to March
November to March is our rainy season. The temperatures are slightly cooler both during the day and at night.
During the day, the temperatures hover around 60. At night, they drop down to around 50 - and some nights even cooler.
You will want to bring along medium weight shirts, sweaters and at least one jacket. Again, this allows you to layer - as the temps can be different from day to day.
You will also want to prepare for the rain. We get a light rain that is easy to walk in but might last all day. We rarely have thunderstorms and it's not very common for us to get downpours.
Your best option is to bring along a medium weight raincoat that you can wear all the time. I also don't mind the rain, so usually don't carry an umbrella.
Yes - I get a little wet, but it's better than having to deal with an umbrella all day! However, bring one along if you want to stay completely dry.
Click the links below for additional details by month.
Top Events in SF from November - March
---
Here are some examples of the lighter sweaters and jackets that work almost any time of year for the weather in San Francisco CA:
Weather Outside of San Francisco
Cool waters border three sides of San Francisco. This is what keeps the temperatures so moderate. Once you head outside of the city, the weather is different.
If you are heading up for a wine tasting tour in Napa or Sonoma during your visit, you will encounter different temperatures. It's much warmer in the summer and quite a bit cooler in the winter.
This is the same for towns or cities in the east and south bay too. Places such as San Jose and Walnut Creek have the same variance as Napa.
Other Pages You Might Enjoy
Top Hotel Recommendations for Your Stay

Follow SFTourismTips on Facebook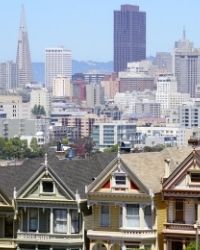 On my Facebook page, you will find more great information about planning your San Francisco vacation.
It includes tips, must see attractions, and other fun details.
Click the link below to check it out. If you enjoy the page, give us a like.