Tiburon Ferry: Schedule and Tips About Riding this Popular SF Ferry

by Jill Loeffler  •

Updated: November 3, 2021
Get tips for booking and riding the Tiburon Ferry, another one of the popular San Francisco ferries. Tiburon is a great day or afternoon trip from the city. 

If you have plenty of time, I'd recommend taking a cruise over to Tiburon for a few hours. You can do a little shopping and grab some lunch along the water. On a beautiful San Francisco day, this is a very popular destination as they have a few large restaurants along the water for lunch.
There are several San Francisco ferries a day to and from this gorgeous waterfront town. All of the ferries for this destination are managed by the Blue and Gold Fleet Company.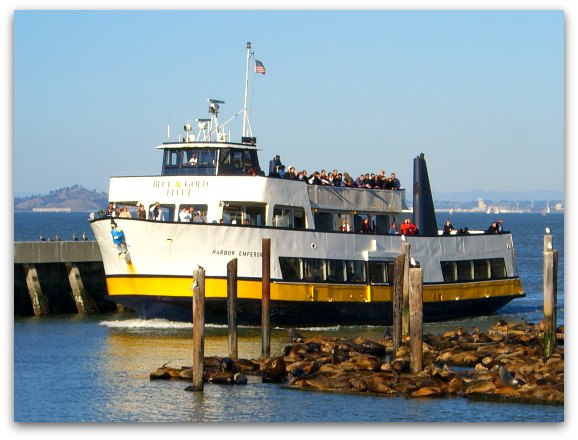 From Pier 41

The standard Tiburon Ferry only picks up at Pier 41 in Fisherman's Wharf.
It costs $13 for each adult, each way. The cost for children 5 - 12 and Seniors (65+) is $7.50 per person, each way. Children under 4 are free.
You can either pick up your tickets when you arrive for book them in advance online.

Detailed Schedule

This Tiburon Ferry ride takes about 30 minutes one way and up to an hour for some routes. The longer ones will sometime stop at Angel Island or Sausalito. This is the current daily schedule. They are currently running the same schedule during the week and on the weekends. 

Departures From Pier 41 in San Francisco

10:15 am

1:15 pm

5:30 pm

Arrives in Tiburon

11:05 am

2:05 pm

6:30 pm
---
Departures From Tiburon

11:15 am

2:15 pm

6:45 pm

Arrives at Pier 41 in San Francisco

12:15 pm

3:15 pm

7:15 pm
Commuter Boats

In addition to the schedule mentioned above, there is also a commuter route. This runs during commute hours in the morning and early evening. It only runs on regular weekdays.
This one only picks up at the Ferry Building or Pier 1. Even though it's considered a commuter route, everyone is welcome on this cruise. It costs $14 for ages 19 to 64. Youths ages 5 - 19, Seniors over the age of 65, and disabled people cost $7. Ages 4 and under are free.
This one is a little faster and only takes about 30 minutes. Here is the detailed schedule effective August 31st, 2021.

Departs Tiburon

7:55 am

5:25 pm

Arrives at the Ferry Building in San Francisco

8:45 am (travels via Sausalito)

5:50 pm
---
Leaves SF's Ferry Building

4:25 pm

6:00 pm

Arrives in Tiburon

5:25 pm

6:55 pm
Tips for Taking the Tiburon Ferry

I'd highly recommend that you arrive for the cruise at least 15 minutes before departure. The departure time listed is the time it pushes back from the dock. If you happen to arrive right on time, you will probably miss it as they close the doors a few minutes before departure.
I'd also recommend that you bring along a jacket or some warm layers (find more tips for dressing for the cool SF weather). It is a chilly ride along the bay, especially in the winter and spring months, so you'll need a few additional pieces of clothing to stay warm.
Not only will you have a good time in Tiburon, but you'll also enjoy the Tiburon ferry ride. Along the way, cruise past both Alcatraz Island and Angel Island. 

You will also ride past Belvedere Island, the home of some of the most expensive properties in the US. On the way back, you'll get breathtaking views of the San Francisco skyline.

Terminal in Tiburon

Here is a map of both the Tiburon terminal and downtown. The boat drops you off within steps of the downtown shops, restaurants and bars.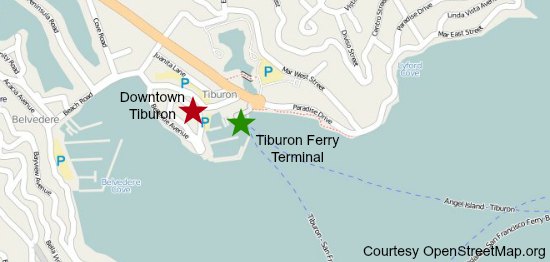 Find out more about the other ferries in San Francisco: