San Francisco Ferry Options: Find Schedules, Prices, & Tips to Cruise Around the Bay

by Jill Loeffler  •

Updated: March 30, 2022
Ferries in the San Francisco Bay are as old as California's railroads. They helped people get from one side to the other, and to the islands in the bay, before either the Bay Bridge or the Golden Gate Bridge were constructed.
Ferry rides in the bay offer a unique vantage point of San Francisco's city skyline and other attractions, including the bridges. They are a great way to get to tourist destinations and other waterfront towns around the bay.
If you're heading to Sausalito, Tiburon, Alcatraz Island, or Angel Island, you'll want to enjoy the views from one of these scenic cruises. Read on for tips on how to enjoy your ride on the bay.
The first thing to know before booking your cruise is that there are a few different companies. From my experience, they all seem to be about the same, just with different routes and/or prices for their trips.
The Blue and Gold Fleet, the Red and White Fleet, the Golden Gate Ferry, and the San Francisco Bay Ferry are the four main companies offering bay cruises and commuter service to points around the bay. 
To visit "The Rock," there is a separate company that operates to and from Alcatraz only.
Disclaimer: I receive a small commission from some of the links on this page.

Map of the San Francisco Ferries

To give you some perspective before reading about each location, here is a map that shows the four main terminals in San Francisco. Use this as a reference to see where you will need to go to find your San Francisco ferry.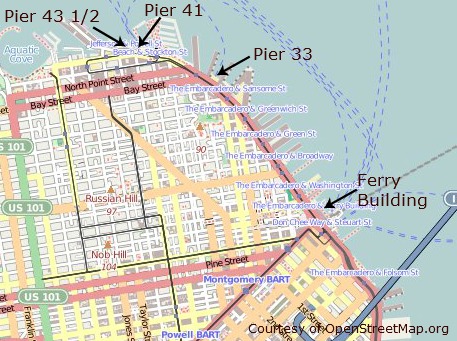 Island Destinations in the San Francisco Bay
San Francisco Ferry to Alcatraz Island

Ferries to and from Alcatraz run only out of Pier 33, just a few blocks east of Fisherman's Wharf. It is highly recommended that you purchase a ticket to visit Alcatraz ahead of time, as they can sell out. The ferry ticket is included with your Alcatraz tour ticket.
You can buy your tickets directly through Alcatraz City Cruises, or buy them in combination with other tours, which will allow you to save a little on the overall cost. 
Here are a few of the most popular options.

Alternatively, you can take a cruise around the island on the Escape from the Rock Cruise. This ride takes you under the Golden Gate Bridge and gets close to Alcatraz but does not stop for a visit.
The last option is great for those who don't have time to spend several hours on the island, yet still want to see it up close and learn about its history.
San Francisco Ferry to Angel Island

There is only one way to get to Angel Island from San Francisco. You'll leave from the main SF Ferry Terminal (the historic Ferry Building on the Embarcadero) on a Golden Gate Ferry. They have a limited schedule that varies by season, so make sure to check ahead.
The alternative to leaving from San Francisco is taking the Angel Island Ferry from Tiburon, a small town on the northern side of the Golden Gate Bridge. They have reduced service to about three departure times on weekends and holidays. 
All tickets to Angel Island include the park entrance fee and need to be round-trip, as you cannot purchase return tickets on the island.
Treasure Island
Treasure Island is a manmade island in the middle of San Francisco Bay. It was originally created as part of the 1939 World's Fair. It hosted the US Navy for a time, and has since been redeveloped. 
It has always been accessible by car with an on- and off-ramp to the Bay Bridge, but as of 2022, the growing population (a couple thousand residents) now have a commuter ferry available 12 times a day. 
This is a small ferry operated by Prop SF that takes about six minutes to get to or from the main SF Ferry Terminal. While it's meant for commuters, you can take the ferry to check out Treasure and Yerba Buena Islands for $5 each way (children under 4 are free).
Coastal Towns North of San Francisco
San Francisco tourists love to visit Marin County (just across the Golden Gate Straight from the city) for its natural beauty and its tranquil atmosphere.
For people who are outdoorsy, enjoy a small town vibe, or are seeking good food, wine, and cultural events, these coastal towns to the north are just a fun ferry ride away: Sausalito, Tiburon, and Larkspur.

San Francisco Ferry to Sausalito

The San Francisco ferry to Sausalito is one of the most famous and popular ferry trips. It runs several times a day, to and from this quaint waterfront town.

According to the book Journeys of a Lifetime: 500 of the World's Greatest Trips - this is one of the 10 best ferry rides in the world! This book is one of my ultimate favorite travel books (with the most amazing pictures!) - so it was fun to see one of the local San Francisco ferries on their top ten ferry list.

Two companies offer service from San Francisco to Sausalito: the Blue and Gold Fleet and the Golden Gate Ferry.
Blue and Gold picks up passengers at Pier 41 in Fisherman's Wharf near the popular Pier 39. Learn more about the Sausalito Ferry, including prices and the latest Sausalito schedule.
The Golden Gate Ferry operates out of the main Ferry Terminal and serves mainly commuters from the North Bay; therefore, you'll find many more departure times on weekdays than on weekends.
Since Sausalito is just on the other side of the Golden Gate Bridge from San Francisco, many visitors choose to bike over the bridge and ferry back with their rental bicycles.
San Francisco Ferry to Tiburon

Tiburon is another quaint waterfront town a bit farther north of, and across a small bay from, Sausalito. The ferry to get here runs daily.
The Golden Gate Ferry Company operates all of the Tiburon ferries from the main SF Ferry Building.
Learn more about the trip to Tiburon including pricing, schedule info, and tips.
Larkspur Ferry
The Ferry to Larkspur, which is farther north than Sausalito and Tiburon, takes 35 minutes and has several departure times per day.
From Monday to Friday, the earliest you'll leave SF is at 7:15 am you'll want to catch the last ferry back to the city by 6:15 pm. 
On weekends, service is reduced. Ferries don't leave SF for Larkspur until the afternoon at 12:20 pm. The last ferry back from Larkspur departs at 5:25 pm but doesn't get to the city until 7:25 pm.
Coastal Cities to the East
For longer rides, there are ferries that cover the whole width of the SF Bay, going northeast to Vallejo and east to Richmond, Oakland, and Alameda. These routes are primarily a form of public transportation for commuters coming and going to work in the city. 
These are also an option for those looking to explore the greater Bay Area, off the beaten tourist path. They all operate from the downtown SF Ferry Building. 
The ferry system is very friendly to cyclists. Bikes can be brought onboard any ferry, with no extra charge, on a space-available basis. At each terminal, you'll find bike racks.
Here is a little more about what to expect from each one.
Alameda Ferry
There are two ferry terminals in Alameda: Main Street (20 minutes from SF) and Harbor Bay (25 minutes from SF). 
The Harbor Bay Ferry (which leaves from Gate F) will take you to a quiet, more residential part of the island near the Oakland International Airport, where you can walk or ride a bike around the scenic bay trail. This ferry is direct.
Use Gate G in SF to get to the Main Street terminal, which sits just across the narrow estuary from Oakland on the island's northwest shore, formerly a US Naval Base that has since been redeveloped to house several wineries and breweries and one of the Bay Area's largest antiques fairs. 
During peak commute hours, there is direct service to and from Main Street, but usually the SF ferry stops both here and in Oakland on the same trip.
The fare each way is $5.75 with a paper ticket, or $4.50 with a Clipper card/mobile ticket. Children under 5 ride free.
Oakland Ferry
The ferry ride from SF to Oakland (out of Gate G) and vice versa costs the same as the Alameda ferry, and often includes Alameda Main Street as a stop. The duration is 25 minutes when direct, or 35 minutes when including the Alameda stop.
The Oakland Ferry Terminal is located at 10 Clay Street in Jack London Square, a waterfront shopping area that hosts many outdoor events and contains several restaurants. This is also the location of an Amtrak train station and AC transit bus stop to connect to you to other parts of the East Bay.  
Close to the Oakland ferry terminal, you'll find a Bay Wheels public bike share dock as well as bike lockers at the Amtrak station.
Vallejo Ferry
This is the region's longest ferry ride, with a duration of one hour. That's because it travels under the Richmond-San Rafael Bridge and all the way up the northern inlet of the San Francisco Bay, called San Pablo Bay. If you're up for a longer day trip, this is an option! 
The Vallejo Ferry leaves out of Gate E in SF and costs a bit more: $11.25 for a one-way paper ticket, or $9.00 with the Clipper card/mobile ticket. 
This ferry also includes a stop at Mare Island, five minutes from the main Vallejo terminal across the Napa River. Mare Island, the oldest shipyard and naval facility on the West Coast, now contains historical landmarks, a brewery and winery, and parks.
Bay Cruises

If you don't want to leave San Francisco, but want still want the experience of cruising out on the water, then check out the various San Francisco Bay cruises. They range from the basic 60-minute trip around the bay to romantic champagne cruises at sunset.
It's an unforgettable way to spend a few hours of your visit to San Francisco. Find the one that is right for you!
These ferries pick up at both Pier 41 and Pier 43 1/2.
Sporting Events in San Francisco

Chase Center

Ferries are a great way to skip the traffic and get to crowded sporting events like Warriors NBA games at the Chase Center in SF's Mission Bay district. You must purchase tickets ahead of time, only to be used on the date of that specific game.
Hop on the San Francisco Bay Ferry for convenient direct service from Alameda Main Street or Oakland. Round-trip tickets are $19.20 for adults, $14.40 for youth (ages 5-18) and seniors, and free for children 4 and under. One-way tickets are $9.60 and $7.20, respectively.
For those coming from the north, the Golden Gate Ferry will also take you from Larkspur directly to the Chase Center. The cost is $15.00 each way per person, free for children 4 and under.
Oracle Park

For convenient transport to the SF Giants baseball games at Oracle Park, the San Francisco Bay Ferry offers direct service from three East Bay terminals, including Alameda, Oakland, and Vallejo. 
Alameda and Oakland have a free parking option should you drive to the dock. Make sure you book your ticket in advance on the SF Bay Ferry website.
For Marin County service, the Golden Gate Ferry transports fans from Larkspur directly to Oracle Park. It departs 90 minutes before the first pitch and returns from the park 30 minutes after the last out. 
You must purchase your tickets in advance, as Clipper cards are not accepted for the Larkspur Giants Ferry. $15.00 per person each way (children 4 and under free).
Getting Around SF by Ferry
On weekends only, the San Francisco Bay Ferry offers a "Short Hop" from Pier 41 at Fisherman's Wharf to the downtown SF Ferry Building. This is a fun alternative to taking land transport. There are three a day: one in the morning, in the early afternoon, and in the evening.
These are the main ferries that service the Bay Area. If you have the opportunity, I highly recommend taking a ride at least once while you are here. It's a great experience and fun way to see the views around the bay.
How to Pay for the San Francisco Ferries

Ferry fares will vary depending on the company, destination/distance, age of passenger, and whether or not you're paying with a Clipper card (which is the region's electronic payment system for major public transportation including BART trains, MUNI buses, and cable cars).

Blue and Gold

Tickets for Blue and Gold ferries and tours can be purchased in advance on their website as well as at the ticket office at Pier 39, which is open every day from 8:45 am to 4:15 pm. Note that the Pier 41 office is temporarily closed.
Clipper is accepted for the Blue and Gold ferry to Sausalito, but not on the other tours like the Bay Cruise, Escape from the Rock Cruise, or the Sunset Cruise. Bikes are permitted free of charge on the Sausalito ferry.  
There is a separate ticket price for adults and children, and an intermediate discounted ticket for juniors (ages 12-18), seniors (65 and up), and military. Children under 5 ride free. 
Red and White Fleet

No reservations are required for daytime cruises on the Red and White Fleet. Tickets for those cruises can be purchased in cash, with credit card, or by travelers check directly at the pier. 
Sunset and special holiday cruises do tend to sell out, so reserving in advance online or by phone is recommended. You can use a credit card to do so.
Ticket prices vary depending on which tour you select. There is a standard price for adults 18 and over, a youth price for ages 5 to 17, and children under 5 ride free.
Golden Gate Ferry

Tickets to and from the North Bay terminals at Larkspur, Sausalito, and Tiburon are sold one-way. Each passenger needs to have their own paper or mobile ticket (either the Clipper card or phone app) ready when boarding. 
The Clipper price is significantly more affordable than purchasing paper tickets ($7.50 vs. $14.00 for an adult single ride). You can either download the app on your smartphone, or purchase the Clipper card from one of the machines at the terminal.
If you are planning to take a direct ferry to one of the two sports centers, reserve it ahead of time online for the appropriate date. For Angel Island, you should buy round-trip tickets, as return tickets are not available for purchase on the island. 
Bikes are welcome on all Golden Gate Ferries for no extra fee. 
San Francisco Bay Ferry

The cheapest and easiest form of payment on the SF Bay Ferry lines is the Clipper card. 
If you don't have a Clipper card, there is an app you can download called Passage: Transit Ticketing. This is a great option for those traveling in groups, as one person can download the app and purchase multiple tickets on their phone.
If you prefer using cash or credit card to pay your fare, be aware that the cost is slightly higher, and that not all lines allow you to purchase the paper ticket onboard. For example, when the Vallejo ticket office is open, you must purchase your ticket before boarding the ferry.
The SF Bay Ferry offers a Short Hop ferry ride from Pier 41 to the downtown SF terminal (and vice versa) for just $1.00 on Clipper or $1.25 with a paper ticket.
Angel Island Tiburon Ferry

The Angel Island Tiburon Ferry is a small operation that only runs this one route; therefore, they do not accept Clipper cards. Tickets to the island are sold round-trip, and only from Tiburon. 
Tickets for adults (13+) are $15, seniors (65+) are $14, children (6-12) are $13, small children (3-5) are $5, toddlers (2 and under) are free, and bikes are $1. They recommend reserving in advance online. 
San Francisco Ferry Tips

There are a few things to consider before you arrive for your San Francisco ferry trip. It's always best to prepare ahead of time in order to ensure you have an amazing cruise on the bay.
1. Arrive 30 Minutes Early: It's always best to arrive at least 30 minutes in advance. Some require this and will check you in this early. This is a minimum, as the time on your ticket is the time they will pull away from the dock. Also, some are first come-first served and will fill up before their departure time, which means you will then need to wait for the next one.
2. Bring a Jacket: Even on the nicest, sunniest days in San Francisco, you will find it can be a bit chilly on the water. Your San Francisco ferry will have both indoor and outdoor seating, but you don't want to miss those amazing views. Bring a jacket to stay warm during your journey.
3. Don't Forget Your Camera: This is a must for all San Francisco ferry rides. For most, you will get great views of the Golden Gate Bridge, Alcatraz, and the San Francisco skyline. Bring your camera with plenty of room to take gorgeous pictures of the SF Bay.
4. Confirm Departure Point: Some of the ferries on this list leave from Pier 43 1/2, some from Pier 41, Pier 33, and others from Pier 1 (also known as the Ferry Building). You will want to confirm which one you depart from to ensure you are on time for your trip.
5. Meds for Seasickness: The water in the SF Bay is pretty calm, but the wind can make it choppy at times. If you are prone to getting seasick, I recommend taking what usually works for you at least an hour to 30 minutes before you hop on the boat. You will often sit at the dock for a while before departure and when you arrive, which can be even more choppy. Prepare in advance and you will enjoy your trip even more.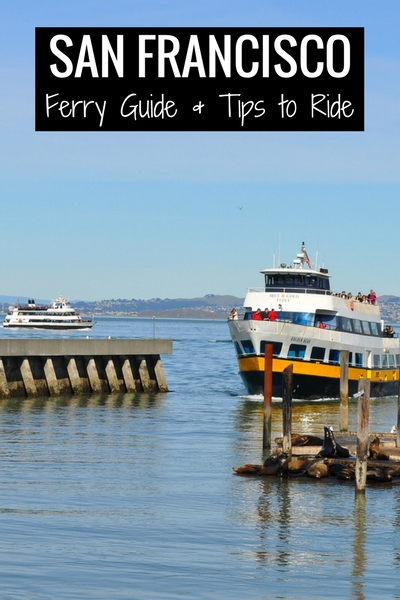 Comments? Questions? Suggestions?
I would love for you to join me in my private Facebook group! 
It's a great place to interact with me and others who know the area well.
You can ask questions, get advice for your upcoming stay, and then share your photos and advice with others when you return home. It's a great community and the fastest way to get answers to those nagging questions about your visit!