San Francisco Ferry Options: Find Schedules, Prices, & Tips to Cruise Around the Bay
Hop on a San Francisco ferry for a cruise around the bay or for a quick ride across it. Top SF ferry routes include Sausalito, Tiburon, and Alcatraz Island. It's also the only way to get to and from Angel Island.

Including a ferry ride in your visit to the City by the Bay is a must! All offer incredible views and a unique way to get to other waterfront towns around the bay.

The first thing to remember before booking your cruise is that there are a few different companies. From my experience, they all seem to be about the same, just with different services and/or prices for their trips.
The Blue and Gold Company, the Red and White Fleet Company, and the Golden Gate Company are the three main companies. The first two offer bay cruises and some ferry service to points around the bay. The third company targets commuters, so it offers mainly morning and afternoon ferry service during the week.
Alcatraz Cruises is another company and they only provide ferries to and from Alcatraz Island.
Map of the San Francisco Ferries

To give you some perspective before reading about each location, here is a map that shows the four main terminals in San Francisco. Use this as a reference to see where you will need to go to find your San Francisco ferry.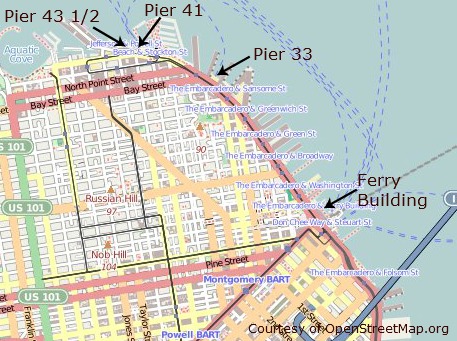 San Francisco Ferry to Alcatraz Island

The Alcatraz cruise offers trips to and from Pier 33. This is only for passengers who have purchased a ticket to visit Alcatraz. The ticket for this ride is included with your Alcatraz tour ticket, so you do not have to buy a separate ferry ticket.
You can buy your tickets directly through Alcatraz Cruises for your visit. You can also buy them in combination with other tours which will allow you to save a little on the overall cost. Here are a few of the most popular options.
Alternatively, you can take a cruise around the island on the Escape from the Rock Cruise. This ride takes you under the Golden Gate Bridge and gets close to Alcatraz but does not stop for a visit. It's great for those that don't have time to spend several hours on the island, yet still want to see it up close.

San Francisco Ferry to Angel Island

Like the name implies, the Angel Island Ferry offers a ride to and from this gorgeous island in the San Francisco Bay (click here for a list of fun things to do on the island). It has a limited schedule so make sure to check ahead before you arrive for this San Francisco ferry.
In the winter and spring months, there are usually only a couple of ferries that leave Pier 41 in Fisherman's Wharf each day for Angel Island. In the summer and fall months, there are usually three or four San Francisco ferries that head over to Angel Island every day. Some of them leave from Pier 41 and others leave from the Ferry Building.
Bay Cruises

If you don't want to leave San Francisco, but want to take a tour of the bay, then check out the San Francisco Bay Cruises. They range from the basic 60-minute trip around the bay to romantic champagne cruises at sunset.
It's an unforgettable way to spend a few hours of your visit to San Francisco. Find the one that is right for you!
These ferries pick up at both Pier 41 and Pier 43 1/2.
San Francisco Ferry to Sausalito

The San Francisco ferry to Sausalito is the most famous and popular option. It runs 5 to 6 times a day to and from this quaint waterfront town.

According to the book Journeys of a Lifetime: 500 of the World's Greatest Trips - this is one of the 10 best ferry rides in the world! This book is one of my ultimate favorite travel books (with the most amazing pictures!) - so it was fun to see one of the local San Francisco ferries on their top ten ferry list.

Two companies offer service from San Francisco to Sausalito. They are the Blue and Gold Ferry Fleet Company, and the Golden Gate Ferry Company.
Blue and Gold picks up passengers at Pier 41 in Fisherman's Wharf near the popular Pier 39. Learn more about the Sausalito Ferry, including prices and the latest Sausalito schedule.
San Francisco Ferry to Tiburon

The Tiburon ferry is another popular San Francisco ferry. It runs between San Francisco and Tiburon daily.
The Gold and Blue Fleet Company runs all of the Tiburon ferries. They run this tour out of both Pier 41 and the Ferry Building.
Learn more about the trip to Tiburon including pricing, schedule info, and tips.
Vallejo and the Oakland & Alameda Ferry

The services north to Vallejo and east to Oakland & Alameda all run in and out of the Ferry Building. These routes are primarily a form of public transportation for commuters living in these areas as they travel back and forth to San Francisco. There are also a couple of ferries each day that swing by Pier 41 to pick up passengers in route to these three locations.
Blue and Gold Fleet Company offers both of these services. The Oakland and Alameda ferry also services both locations.
These two ferries also have additional service for some of the San Francisco Giants games. This special service picks up and drops off right at Oracle Park (formerly AT&T Park). This is a fun and easy alternative to driving before or after the game from these three locations.
These are the main ferries that service the Bay Area. If you have the opportunity, I'd highly recommend taking a ride at least once while you are here. It's a great experience and fun way to see the views around the bay.
San Francisco Ferry Tips

There are a few things to consider before you arrive for your San Francisco ferry trip. It's always best to prepare ahead of time in order to ensure you have an amazing cruise on the bay.
1. Arrive 30 Minutes Early: It's always best to arrive at least 30 minutes in advance. Some require this and will check you in this early. This is a minimum as the time on your ticket is the time they will pull away from the dock. Also, some are first come, first served and will fill up before their departure time, which means you will then need to wait for the next one.
2. Bring a Jacket: Even on the nicest, sunniest days in San Francisco, you will find it can be a bit chilly on the water. Your San Francisco ferry will have both indoor and outdoor seating, but you don't want to miss those amazing views. Bring a jacket to stay warm during your journey.
3. Don't Forget Your Camera: This is a must for all San Francisco ferry rides. For most, you will get great views of the Golden Gate Bridge, Alcatraz, and the San Francisco skyline. Bring your camera with plenty of room to take gorgeous pictures of the SF Bay.
4. Confirm Departure Point: Some of the ferries on this list leave from Pier 43 1/2, some from Pier 41, Pier 33, and others from Pier 1 (also known as the Ferry Building). You will want to confirm which one you depart from to ensure you are on time for your trip.
5. Meds for Seasickness: The water in the SF Bay is pretty calm, but the wind can make it choppy at times. If you are prone to getting seasick, I recommend taking what usually works for you at least an hour to 30 minutes before you hop on the boat. You will often sit at the dock for a while before departure and when you arrive, which can be even more choppy. Prepare in advance and you will enjoy your trip even more.