Angel Island San Francisco: History & Visiting Tips

by Jill Loeffler  •

Updated: October 2, 2023
Angel Island San Francisco is the largest island in the SF Bay, slightly northeast of Alcatraz. Although it's a quiet California State Park today, this site has played an important role in US history. 
You'll find Angel Island just over a mile off the shores of Fisherman's Wharf. The only way to get to and from there is by taking one of the ferry rides or your own boat.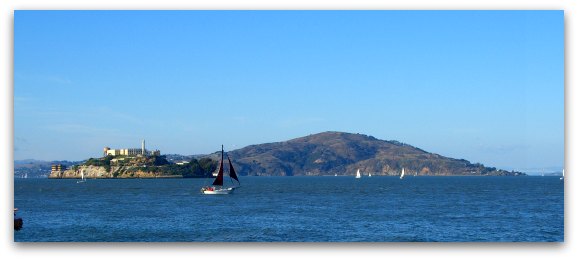 Here is a view of it from Fisherman's Wharf. It's the larger one on the right side. The smaller one on the left is Alcatraz Island.
Angel Island is an easy day trip and a great way to spend some time outdoors away from the hustle and bustle of the city. Hiking, biking, and photography are its three key activities as you visit some of the historical buildings. 

Here is a map showing the island's location within the SF Bay.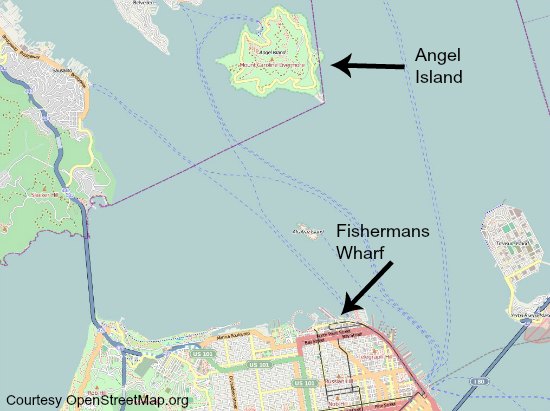 Angel Island History

For thousands of years, Angel Island San Francisco was used by local indigenous people for fishing and hunting. In 1863, the federal government sought more land in the San Francisco Bay and took control of it, turning it into a US Army base called Camp Reynolds during the remainder of the Civil War and for a few years after.
In 1910, at the height of the Chinese Exclusion Act, Angel Island San Francisco became a detention center for unwanted immigrants arriving to the US through San Francisco.

Almost all immigrants who crossed the Pacific from China ended up here first, some staying for months or even years while trying to become US citizens. While here, they faced tough questioning before entry was granted. 

After the main immigration building burned down in 1940, the military reclaimed Angel Island during World War II and used it to detain many prisoners of war, specifically those from Japan and Germany. When the war ended, it remained vacant for a while.
In 1963, the State of California declared Angel Island San Francisco a state park and that is still its purpose today.
Angel Island Map

Get acquainted with the island's layout before your trip. In the map below I've labeled the key areas to visit, and in the sections below that, you'll find details about what there is to do at each location.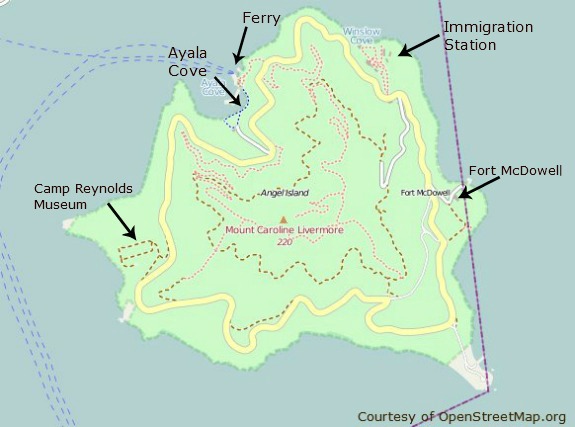 Historic Buildings

For a long time, no one realized the importance of the buildings that remained from Angel Island's past as an immigration station.
The state had scheduled their demolition in the 1970s, but luckily a park ranger noticed the poems that had been carved into the wooden walls from detainees in Chinese, Russian, Japanese, and other South Asian languages. Thus, the state decided to keep the buildings, which now comprise the centerpiece of this National Historic Landmark.
There are four main buildings that house small Angel Island San Francisco history museums:
Visitors Center Museum on Ayala Cove
The minute you step off the ferry, you encounter the first museum located in the Visitors Center, which is actually the old officers' quarters. The tours are self-guided and there are two free films playing throughout the day.
One is on the history and natural habitat of the island; the other is about its history as an immigration station. Both are around 20 minutes long. 
Detention Barracks Museum & WWII Mess Hall
From the Visitors Center, you can either walk or take a shuttle to this museum 1.5 miles east of Ayala Cove. Here, you'll find information about the site's history with immigrant detention, interrogation, and exclusion.
The building is open Wednesday through Friday from 11 am to 2:30 pm and Saturday and Sunday from 11 am to 3:30 pm. Both self-guided and docent-led tours are available and tickets are required.
Stop by the Cove Cafe on the island for tickets and more information on the tours offered the day of your trip. All tickets are on a first come, first served basis.
Angel Island Immigration Museum (AIIM)
Located in the site's old hospital building, this museum contains three permanent exhibits designed to give a more complete history of the immigration legacy on the island.
The 'In the Shadows' and 'Opening Doors' exhibits draw connections between immigration—and immigrants—then and now.
'Under the Microscope' examines the building's former use as a hospital. There is no entry fee for this museum, but it only opens on weekends from 11 am to 3:30 pm.
Camp Reynolds Museum
1.5 miles west of Ayala Cove, you'll find two buildings also open for visitors: Officers' Quarters #10 and the Bakehouse. They house the history of Angel Island San Francisco when it was an active military base during the Civil War. 
If it is your first time here, I recommend starting at the Visitors Center. 
More Fun San Francisco Activities
Outdoor Activities

Most people head over to Angel Island San Francisco for hiking, biking, and other outdoor fun, since it is such a beautiful place to spend the day.
Hiking, Biking & Photography

Angel Island offers more than 13 miles of trails, 8 of which allow bikes. Whether you decide to hike or bike, you'll find lots of photo opportunities along the way. 
To get to the highest peak, Mount Livermore, you'll climb 788 feet, about a 2.5-hour, 5-mile round trip hike from the ferry drop off point. 
From the top, you'll get some amazing views of the bay's treasures. Alcatraz Island is just off to the west of the island, so you get a unique look at it from this angle. You can also get a great shot of San Francisco and the Golden Gate Bridge.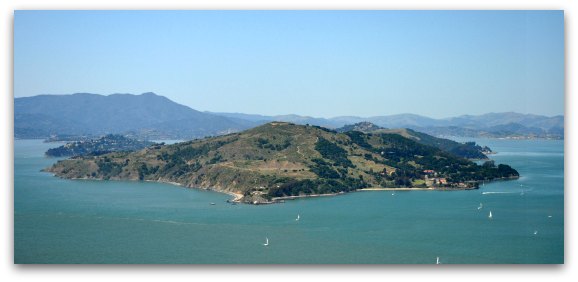 Baseball & Volleyball

If team sports is your plan, then you will find both a baseball diamond and two volleyball courts.
The baseball field is an old field used by soldiers when Angel Island San Francisco was a military base, open for use on a first come, first served basis.
There are two places to play volleyball. The first is near Ayala Cove and reservations are required, so call ahead for availability before heading over. The second court at Ft. McDowell is open, but the park does not guarantee availability of these courts.
Camping on Angel Island

Angel Island San Francisco allows overnight camping. There are nine camping sites and reservations are required. Contact Reserve America at (800) 444-7275 to get your spot. 
Bring along some warm clothes, as the bay is windy and chilly at night.
Tours

The easiest tour option is an hour-long tram ride, which picks up at Ayala Cove and drives along the flat fire road the circles the entire island. Do not confuse this with the shuttle ride over to the Immigration Station.
Last time we were there, we also noticed that you can take a Segway tour. It lasts two hours and takes you to most of the historical sites. This is a unique experience and it looks like a lot of fun.
The tours run a couple of times a day. Call the reservations office to book your trip at (415) 897-0715.

Eat & Drink

Angel Island San Francisco is also a great place for a picnic. You can choose from a larger site for a big group picnic or one of the many smaller picnic sites for a more intimate lunch. The larger sites take reservations.
You can also grab a quick bite and a drink—especially refreshing after a long day of hiking or biking—at one of the two restaurants. One is a simple cafe but is open most of the year. The other is a restaurant, but only open during the busier times of the year.
Tips to Prepare for Your Visit

Visiting requires some planning, since there are only a few ferries back and forth during the day.
The ferry ride is a little chilly most days, so you'll want to bring plenty of layers to stay warm, especially because the weather on the island can be unpredictable as well.
It's similar to San Francisco weather, in that it can be nice and cool one day, warm the next, and really windy the following day. Check out the San Francisco weather forecast at the link above to prepare for the day you plan on visiting.
For the hiking trails, bring along comfortable shoes, water, and, snacks for your day. You can also stop at the cafe before or after your hike.
The biking trails are mostly easy with a few steep areas. You should bring along food, water, and a jacket to stay warm when you stop to take pictures. 
If you decide to camp overnight, prepare for a cool and windy night as there is not much blocking the wind off the bay. Most nights are between 45 and 55 degrees. In September and October, it is a little warmer with lows in the upper 50s to lower 60s. It rarely gets below the 40s on the island. 
Disclaimer: I receive a small commission from some of the links on this page.

Angel Island Ferry Information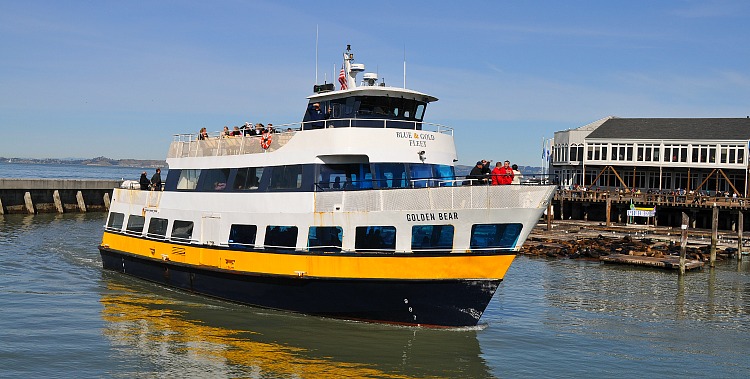 Their are two ferry companies that get you to and from Angel Island in the SF Bay, offering service a few times a day.

The Golden Gate Transit ferry is the only one that runs the between the island and San Francisco city. The Angel Island-Tiburon Ferry, on the other hand, takes you to the island from the quaint town of Tiburon on the northern side of the Golden Gate Bridge.
Tips for Booking Tickets and Taking the Ferry to Angel Island
You can either purchase your tickets online or in person at the pier. The time of departure on the ticket is the time the boat pulls away from the dock. I recommend you get there at least 15 minutes in advance—or even earlier—to make sure you get on the boat before the doors close.
Bring along some warm layers for the ride. It can get a little chilly most days and sitting outside is the best way to see all of the sites along the way. 

If you are planning on biking on Angel Island San Francisco, you may bring your bike on the ferry and park it on the first level, where you'll see the rest of the bikes.

Both ferries alter their schedules for major holidays such as Christmas and New Years Day. Always check the schedule before booking your tickets.

Maps for the Ferries to Angel Island
In the map below, you'll see the ferry terminals in San Francisco, Tiburon, and the drop-off dock on Angel Island.

Golden Gate Transit from San Francisco on Weekdays

Golden Gate Transit now runs the ferries to Angel Island from San Francisco (transferred service from Blue and Gold). The cost is $28.00 per round-trip ticket for an adult ages 19 to 64.
Seniors ages 65 and up, children ages 5 to 18, and people with disabilities are $14 roundtrip. Children under the age of 4 are free (limit two per full-fare adult).
They currently run just a handful ferries a day back and forth from the island. Here is their current daily schedule for Monday through Friday. Also make sure to check the boards so you know if they have a change for the day you visit.
Leaves from the
Ferry Building in SF

9:20 am

10:55 am

2:00 pm

3:35 pm

Arrives
at Angel Island

9:50 am

11:25 am

2:30 pm

4:25 pm
---
Leaves
Angel Island

10:05 am

11:35 am

2:50 pm

4:35 pm

Arrives at the
Ferry Building in SF

10:35 am

12:20 pm

3:20 pm

5:05 pm
Golden Gate Ferry Weekend and Holiday Schedule
You will find four ferries on the weekends and holidays.
Leaves from the
Ferry Building in SF

10:15 am

11:40 pm

2:25 pm

Arrives at
Angel Island

10:45 am

12:10 pm

3:20 pm
Leaves
Angel Island

11:05 am

12:25 pm

3:35 pm

Arrives at the
Ferry Building in SF

12:15 pm

1:25 pm

4:05 pm
Angel Island-Tiburon Ferry from Tiburon

The Angel Island-Tiburon Ferry runs from Tiburon and does not have a stop in San Francisco. You'd have to get to the bayside town north of San Francisco first. Visit the ferry website for a full schedule as it can change and it's good to book ahead. 
Other Pages You Might Enjoy

If you are intrigued by Angel Island, you might be interested in my pages about significant historical and cultural places to visit while in SF. 
Alcatraz: If this is your first visit to San Francisco, a trip to Alcatraz is a must! This amazing attraction is another island in the SF Bay just a mile from the shores of the city. Discover some of the great tours available to see this infamous former prison.
SF Districts: Not sure where to start planning your trip? Here you will find the best activities by district. 
Museums: San Francisco offers more than 70 museum experiences of all types. Check out the top 20 art, science, history, and other museums and learn about the details for visiting.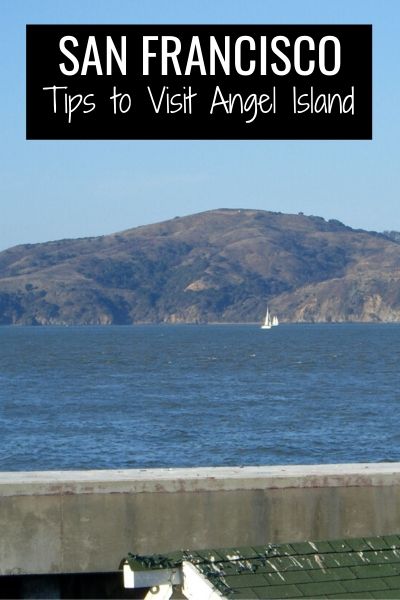 Comments? Questions? Suggestions?
I would love for you to join me in my private Facebook group! 
It's a great place to interact with me and others who know the area well.
You can ask questions, get advice for your upcoming stay, and then share your photos and advice with others when you return home. It's a great community and the fastest way to get answers to those nagging questions about your visit!