San Francisco Weather in April: What to Expect & Tips on What to Wear
San Francisco weather in April is mild and sunny. Since the temperatures are similar in other locations all around the bay, there is also little fog during this month every year.

For your visit this month, you will need to plan for spring days in the 60s with some wind. We have very few rainy days in April, so it's safe to leave your rain gear at home.
To help you plan for your stay, I've pulled together some additional tips on what to expect from the weather. This will help you pack and decide what to wear while you are here.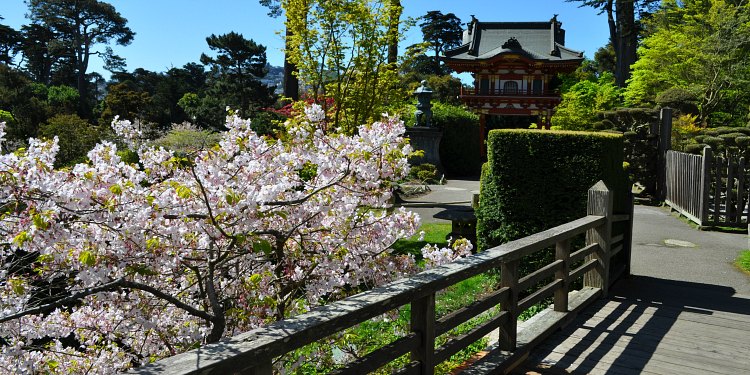 The mornings start off a little cool in the lower 50s. The temps them jump up to the lower to mid-60s during the day. The sun is out most of the time, but it can be a bit hazy some days.
The picture above is from early April in the Japanese Tea Garden. It's the time of year when the flowers are in bloom and the only time of year when you can see the cherry blossoms.
Here are a few more details on the San Francisco weather in April.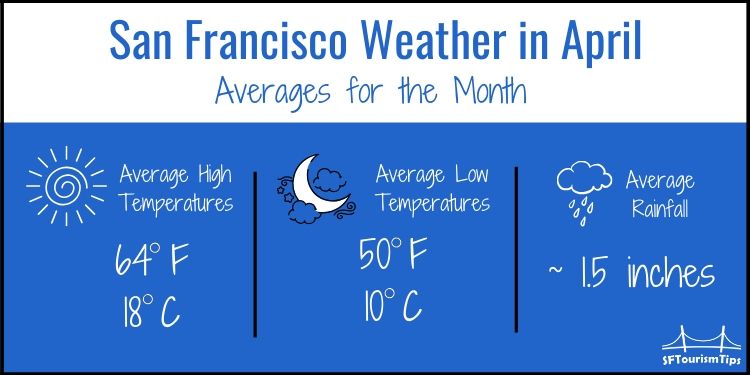 Average High in April: 64° F/18° C
Average Low in April: 50° F/10° C
Average Monthly Rainfall: 1.5 inches
Record High: 94° F/ 34° C (4/8/1989)
Record Low: 23° F/-5° C (4/8/1996)
>> More about why I think this month is one of the best times to visit
Disclaimer: I receive a small commission from some of the links on this page.

What to Wear for the San Francisco Weather in April

To prepare for the San Francisco weather in April, you will want to pack several outfits that allow you to layer your clothes. You will find a short sleeve shirt and a light jacket is perfect during the day. At night, you will probably want a warmer shirt underneath or a heavier jacket.
During the day, I usually don't wear shorts or skirts. The wind can pick up which makes certain areas of San Francisco a little chilly. I typically wear pants or jeans throughout April.
I do add some warmer layers for cruises on the bay. They have indoor and outdoor seating, but it's amazing how warm it can be on shore and how quickly it cools down as you cruise around the bay. Bring a heavier jacket or wear long sleeves for these trips.
>> Get additional tips on what to wear during your stay
6 Fun Things to Do in April

1. See the cherry blossoms: As I mentioned above, April is the time of year when you can see the cherry blossoms. While you will find them all over town, there are two places with a large concentration of them. One is the Japanese Tea Garden in Golden Gate Park. The other is in the Peace Plaza in Japantown. There is also a large Cherry Blossom Festival every April.
2. Visit our other gardens: Many of our other gardens are in bloom also. You will find a large display of flowers on Alcatraz Island, in the Rose Garden in Golden Gate Park, and in the Botanical Gardens. Find details on what's in bloom in SF in April.
3. Stroll across the Golden Gate Bridge: The San Francisco weather in April offers you sunny days. It's also a fun time to cross the Golden Gate Bridge. From the bridge, you will see this massive structure up close. You will also get amazing views of Alcatraz, the SF Bay and downtown SF. Find details on walking across the bridge during your stay.
4. Take the ferry to Sausalito: Grab your jacket and head out on the SF Bay to Sausalito. In this classic waterfront town, you can enjoy a tasty lunch, do some shopping, and soak in the views of the bay area. Find details on this ferry. Book your tickets in advance here. 
5. Attend one of our festivals: With the gorgeous San Francisco weather in April, you will also find several great outdoor festivals. The biggest one I mentioned above, which is the Cherry Blossom Festival. In addition, you will also find several art, street, and beer fairs this month. Find a full calendar of this month's festivals.
6. Cruise around Golden Gate Park on a Segway tour: April is a great time to head out on a Segway Tour around Golden Gate Park. Learn more and find tickets to this fun and informative tour.
The San Francisco weather in April is gorgeous, and the city is hopping, but you can still find some great hotel deals all around town. Click on the links below to check out the deals including discounted room rates, free parking, and other free amenities.

>> Find recommendations on where to stay in Fisherman's Wharf
>> My favorite picks for Union Square
Getting Around Town

Since the weather is warm, you will probably want to walk around SF to explore all of our interesting districts. However, when you do need a lift, check out these options.
Cable Cars: Use these historic beauties to take you to and from Fisherman's Wharf and Union Square. They are open air and the perfect way to travel during the beautiful days of San Francisco weather in April. Click here for details.
Light Rail, Buses, & Streetcars: There are quite a few other public transportation options in SF. The most popular are the light rail trains, the buses and the streetcars. All three will get you around town in a reasonable amount of time and are very inexpensive. You can either pay as you board or buy a pass for a few days.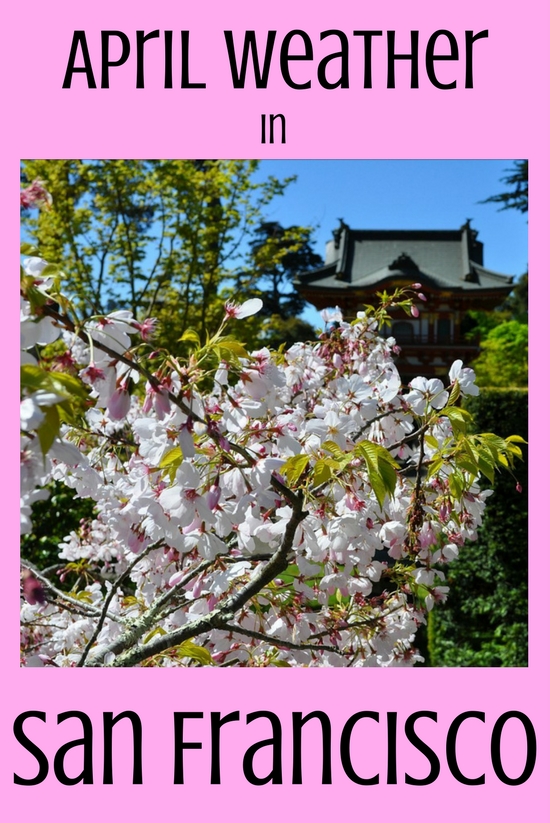 More Things to Do in SF in April

Comments? Questions? Suggestions?
I would love for you to join me in my private Facebook group! 
It's a great place to interact with me and others who know the area well.
You can ask questions, get advice for your upcoming stay, and then share your photos and advice with others when you return home. It's a great community and the fastest way to get answers to those nagging questions about your visit!