Best Time to Visit San Francisco: When to Book Your Northern California Vacation

by Jill Loeffler  •

Updated: August 21, 2023
Are you looking for the best time to visit San Francisco? The great thing about our beloved City by the Bay is that temperatures are cool and mild all year long. This means a vacation here at any time of the year is wonderful.

However, there are a few times of the year that I think are extra special. Read on for more details about my top 5 so you can select the right time for you.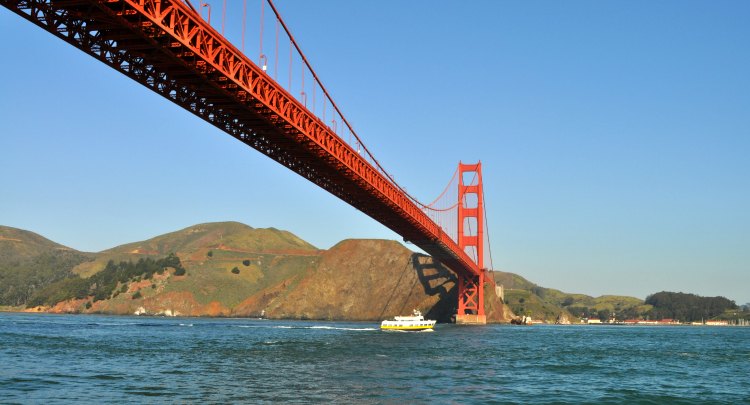 Disclaimer: I receive a small commission from some of the links on this page.

1. Best Time to Visit San Francisco: September & October

Overall, the best time for visiting San Francisco is in September and October. It's the warmest time of the year and is often called our "Indian Summer." It's also when we have the least amount of fog.
In my opinion, the San Francisco weather is the best this time of year. 
Throughout these two months, you will find mostly clear skies and daytime temperatures around 70 degrees. At night, the lows are in the mid-50s. September is the warmest month of the year.
There is also little rain during this time of year. Overall, it's the perfect time to soak up the sun around San Francisco.
I love this time of year because you will find dozens of festivals, outdoor concerts, and other fun outdoor activities.
Here are a handful of my favorite events and things to do in the fall in San Francisco. 
Fleet Week
Feel the roar of the Blue Angels as they perform over the SF Bay during Fleet Week. This annual event is usually the second weekend in October.
The Blue Angels typically perform on Friday, Saturday, and Sunday afternoons starting at 3 pm and offer a fantastic show over the San Francisco Bay until around 4 pm.
In addition to the airshow, you can also tour (for free) several Navy ships and attend Fleet Week related parties and celebrations.
Visit my Fleet Week page to learn more.
SF Giants Baseball
Watching a baseball game at Oracle Park is a wonderful experience. The best time of year to do it is in September. This is when the evening temperatures are a little warmer (just a little!).
The views are outstanding and usually the baseball is great as the season is wrapping up. Go Giants!
Visit my SF Giants page to find a schedule of upcoming home games.
Chinatown Autumn Moon Festival
This annual festival is another big draw in September. It includes a street fair and a decently large parade. The date changes each year and is always the fifteenth day of the lunar calendar's eighth month.
Don't worry, no need to calculate it out, visit my page for the date for this year and other details.
Japanese Tea Garden
Head over to Golden Gate Park to visit our famous Japanese Tea Garden. I love this time of year here since it's a great time to see the sun shining down on the park. It's also a fantastic time of year to photograph this beauty.
It also isn't usually that crowded since the busy summer tourist season is over.
Arrive on Monday, Wednesday or Friday between 9 am and 10 am for free admission.
See pictures and learn more here.
Napa Valley Wine Tours
Fall is also the perfect time to head north to do some wine tasting. You can head up on your own (Napa visiting tips here) or on a guided tour (my recommendations here). It's the middle of harvest during these months, and gorgeous.
The region is full of activity, the grapes are ripe on the vines, and the leaves are starting to turn colors. It's a lively and beautiful time to visit.
This is also one of my favorite guided Napa tours.
Bay Cruises
With September and October being the best time to visit San Francisco, I think it's also a great time to head out on the water on a San Francisco Bay cruise.
The skies are clear, and you can get wonderful photos of the Golden Gate Bridge, Alcatraz Island, and the San Francisco Skyline.
>> Find tickets to the most popular SF Bay Cruise
>> Find some of my other favorite cruises around the Bay here

2. Best Time to Visit San Francisco: Fourth of July

One of the summer's biggest draws is our large Fourth of July Waterfront Celebration. It draws in more than 200,000 people each year.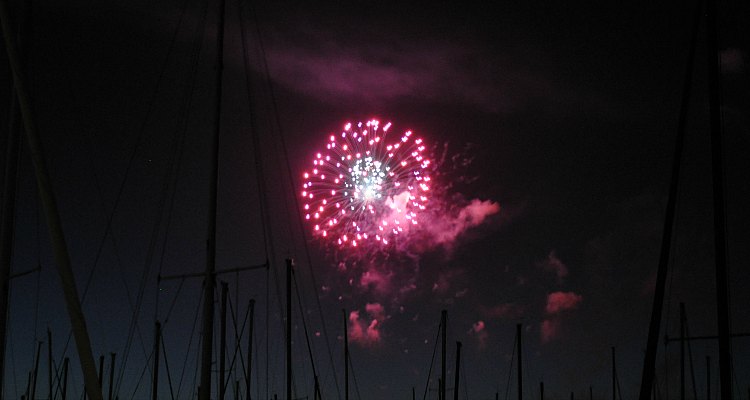 The day is full of music, food, and fun. Even though it is busy, you are able to stroll around the waterfront as you celebrate the holiday.
You can head out on a boat cruise or go on a Segway tour too. There are so many fun things to do.
The big fireworks show draws in even more people in the evening. The fireworks start at around 9:30 pm.
It's an interesting time in San Francisco in early July. While it's usually mostly clear, there are years when it's foggy around the time the fireworks go off. Even though you can't see the fireworks fully, seeing them through the fog is neat. It's a fireworks show like no other.
The other great thing about July is that it's cool in SF when most of the rest of the country is sweltering hot. Therefore, you'll want to wear a jacket and maybe even grab a blanket. It's a great retreat from the heat.
>> Learn more about the fireworks show
>> Find a list of things to do all around SF for the Fourth of July
Fun Events by Month
3. Best Time of Year to Visit San Francisco: Thanksgiving Weekend

If you love Thanksgiving, you will probably find this is the best time for visiting San Francisco. This is such a fun weekend around the city.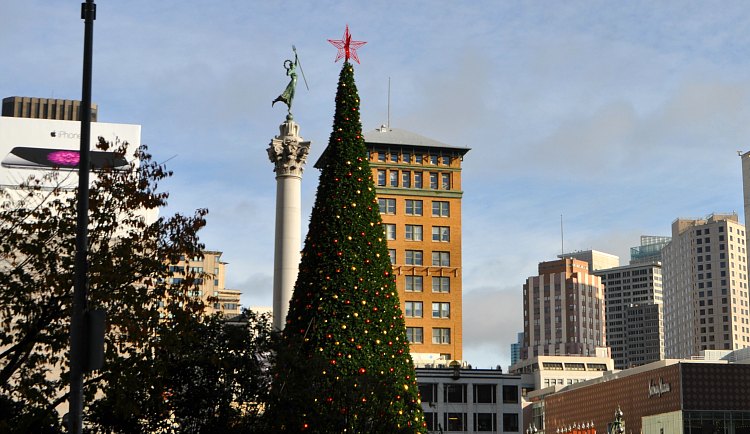 Even though it's a holiday weekend, you will find that many attractions and tours run on Thanksgiving Day. Several restaurants offer brunch, lunch, and dinner specials.
Black Friday is a fun day around SF. You will find lots of shopping deals. It's also the day of the annual lighting of the Union Square Christmas tree.
Many other holiday lights will be shining by this weekend. You can head out on a holiday lights tour or stroll around the city checking them out yourself.
The weekend is also full of other activities including theater performances, concerts, and sporting events.
>> More about what's happening during Thanksgiving Weekend in SF
4. Best Month for Visiting San Francisco: December for Holiday Lights

Those of you who love to check out Christmas and holiday lights, you will find December the best time to visit San Francisco.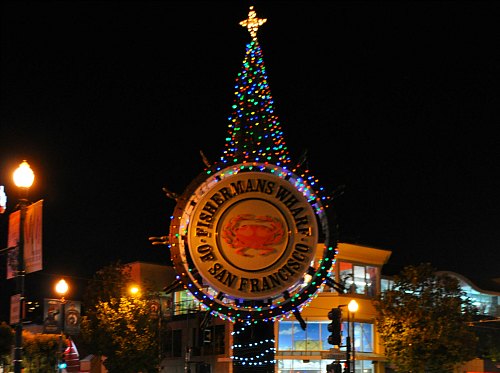 The San Francisco weather has a chill in the air and most of the holiday lights are on display by the first weekend in December.
You can check out the Christmas trees in Union Square, on Pier 39, and at Ghirardelli Square. You can also head over to City Hall to see it adorned in red and green lights.
Other displays around the city include department stores right on Union Square, popular personal displays in the Castro & Noe Valley, and the lights around the Civic Center Plaza. These are just a few of my favorites.
Many keep their displays lit until the first of January.
Other fun holiday events include ice skating rinks, visits from Santa, and plenty of great deals at local stores.
>> Find out what there is to see and do for Christmas
>> Check out what's happening on NYE
San Francisco Weather by Month
5. Best Time to Visit San Francisco: April for the Cherry Blossoms

Another one of the best times to visit San Francisco is in April. This is when the city is in bloom after all the rain during the winter months.

The most striking blossoms are from the cherry trees. These usually start to bloom in late March, and you can almost always guarantee they will fully bloom by April.
The best places to see them are in the Japanese Tea Garden and in the Japantown District.
April is also when the large Northern California Cherry Blossom Festival takes place. It's over the course of two weekends in April (usually the second & third weekends).
The festival features traditional Japanese food, entertainment, and a parade. You can also do a little shopping or check out one of the demonstrations.
>> Visit my Cherry Blossom event page for details
>> Learn more about what's happening in SF in April
What About San Francisco in the Summer Months?
The summer months are our busiest time of the year. Although it isn't in my top five (outside of the Fourth of July), you are going to find so many fun things to do here in the summer.
The San Francisco weather is so much cooler than most of the US, so it's a great place to escape the heat. 
Day time temperatures in the summer often feature average high temperatures in the upper-60s and cool down to around the mid-50s at night. It's comfortable and one of the only places in the US you will be wearing a jacket in the middle of July and August!
You will also find plenty of summertime festivities including the North Beach Festival in June, the SF Jazz Festival in July, and Outside Lands in August. Our mild temperatures make it easy to enjoy outdoor activities like strolling across the Golden Gate Bridge, exploring Chinatown, and walking around Fisherman's Wharf.
So, if you plan to visit San Francisco in the summer months, you are still in for a special treat! 
My Final Thoughts on When to Visit San Francisco
I know not everyone can visit in September and October, which I consider to be the best time to visit San Francisco, so I hope these alternatives will work too including the option to visit in the summer.
The reality is that SF is gorgeous all year long, and there is always something in bloom, a great festival, or some other event that will make your stay special.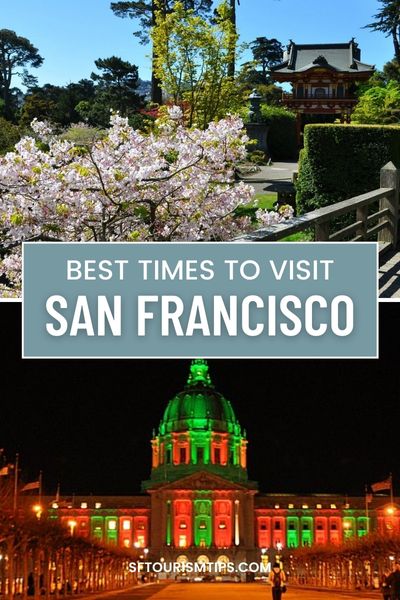 Comments? Questions? Suggestions?
I would love for you to join me in my private Facebook group! 
It's a great place to interact with me and others who know the area well.
You can ask questions, get advice for your upcoming stay, and then share your photos and advice with others when you return home. It's a great community and the fastest way to get answers to those nagging questions about your visit!