Fourth of July Fireworks 2023


by Jill Loeffler  •

Updated: June 29, 2023
The biggest draw to San Francisco on Fourth of July is the fireworks display. On a clear night, this is one of the most amazing displays in the area.
The city sets off the fireworks from two locations in front of Fisherman's Wharf. One is at the end of Municipal Pier and the other is on a few barges in front of Pier 39.
The set up is perfect for a large crowd. It allows onlookers to see the displays from several great spots all around San Francisco (and a few across the SF Bay). It also allows for several cruises to head out, so plenty of people can see the display from close up.

This event draws tens of thousands of people every year.
The display starts when it gets dark. This is usually around 9:30pm. It lasts for about 30 minutes with a beautiful finale. 
Even though it's crowded, I do recommend this event. It's such an amazing experience and one that you will not soon forget!

Disclaimer: I receive a small commission from some of the links on this page.

Best Places to See the Fireworks

As I mentioned above, they set off the fireworks in two places. This means you can see them from several places around the city. Here is a map showing the rough location of the displays.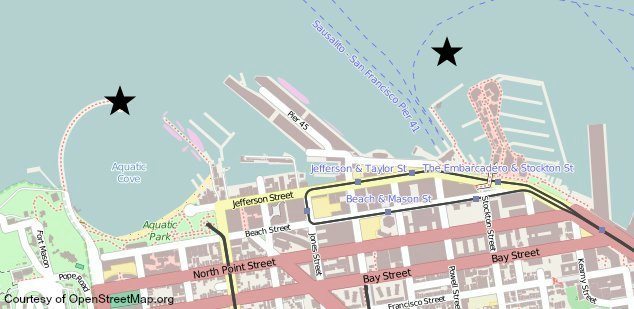 These are some of the best places to see the show.
Aquatic Park
Some of the spots in Aquatic Park are saved for VIPs. However, there is a large park here where you can lay out your blankets, pull out your picnic, enjoy some music, and wait patiently for the show.
Get here no later than mid-afternoon to grab a good spot. The thing I like about this option is that there is plenty of activity going on all day in Fisherman's Wharf.
If you are with a group, some of you can walk around, grab food, and enjoy other festivities as you wait for the fireworks.
Pier 39 Decks
The decks on Pier 39 are packed with spectators. However, they can always squeeze in one more person. There is no room to sit on the deck, but it's a great spot to see the show.
If you get there early enough, I recommend heading to the second floor to see the show.
Pier 39 Restaurants
If you call in early, you might be lucky enough to get a spot at one of the Pier 39 restaurants with a view of the fireworks. 
Cannery
You will find some options in the Cannery that allow you to see the show. Head to the courtyard here if other places are a bit too crowded.
Coit Tower
You will get great views of the show from the top of the hill in the Coit Tower parking lot. I recommend walking up here as parking is sparse and it might be tough to catch the bus.
Hills Near the Golden Gate Bridge
Just up the hill from Crissy Field and Fort Point, you will find some great places to watch the fireworks. Find a spot with unobstructed views of the bay and you are set.
No matter where you go in this area, you will find a lot of people, so you can always ask for some advice if a certain area is too full already.
Golden Gate Bridge: People ask every year about watching the fireworks from the Golden Gate Bridge. During the summer, the bridge walkways close at 9pm, right before the fireworks start, so I recommend finding a different location to watch the show.

Sausalito
You can also get a good view of the fireworks from Sausalito. This is a good option for those coming from or staying in the north bay.
It's also VERY crowded here, but you will not have to fight the Golden Gate Bridge traffic to get home.
Cruises

If budget is not a concern, then the best option is to head out on a cruise. These cruises are really popular. Some offer light appetizers (free or paid), a pay per drink bar, and other factors that make it much more of a comfortable wait.
Many of the cruises are several hours long, so you have plenty of time to hang out with friends and family before the event. They all return around the same time, which is about 30 minutes after the end of the show.
You can pick them up in either on the San Francisco side or in Tiburon in Marin. Most of them run out of SF, but the location you take it from does not make a difference on how close you get to the display.
Fireworks Cruise with Blue & Gold Fleet

2 cruises, all leave from Fisherman's Wharf
Cruises leave at 8:20 pm and 8:30 pm
Cruise at 8:30 pm is family-friendly/alcohol free

You must arrive at least 30 minutes in advance to begin boarding for all cruises
$95 per adult, $85 for Youth (5 - 11) 
Fireworks Cruise with Red & White Fleet
1 Cruise, leaves from Pier 43 1/2
Beer, wine and other drinks on sale on the boat
Leaves at 8:00 pm, boarding starts 30 minutes in advance
Tickets are $129 for adults and it includes two drink tickets, youth (5 - 20) is $79
Before Fireworks Recommendations

Here are some fun activities for you that run on the morning and afternoon of Fourth of July.

SF Bay Cruise

All day long, SF Bay Cruises will be leaving from Fisherman's Wharf for a fun 60-minute ride around the bay.
These narrated cruises offer you the chance to see some of SF's top attractions from the water and learn more about them.
The best part is that this cruise rides under the Golden Gate Bridge - twice! 
>> Find tickets for these cruises
Hop On Hop Off Bus Tour

Explore San Francisco all day long on the Hop On Hop Off Bus Tour. During your trip, you can hop on and off at any attractions and districts along the way.
Top stops include the Golden Gate Bridge, Golden Gate Park, Alamo Square, and Lombard Street. You can select from the 24-, or 48-hour ticket. 
>> Find tickets for all options
More Fun Activities Around SF on Fourth of July

Getting to the Fireworks Display

Some of the streets around Fisherman's Wharf close the morning of the Fourth of July Fireworks and stay closed until early the next morning. Keep this in mind when selecting the best transit option.

SF Public Transit

Due to the crowds, I think this is the best way to get down to the fireworks display. You can take the F Streetcar to the heart of Fisherman's Wharf. You can also take the 8, 19, 30, or the 49.
You can also take either the Hyde/Powell or Mason/Powell Cable Cars from Union Square. Both will drop you close to the action.
To help you get to the waterfront before the fireworks, Muni will off extra shuttle services between 3 pm and 9 pm.
Ferry Building/Market Street: There will be a shuttle route that boards at Sutter and Sansome and at the historic streetcar stops along Market Street and the Embarcadero. 
Caltrain: They will also offer a shuttle from Caltrain. It's from the Townsend & 4th Street stop. 
After the display, SF Muni will run three special shuttle services from 9 pm to 11:30 pm. They offer express service to the Ferry Building, Civic Center, and Caltrain. 

Ferry Building Express: This is great for those connecting to BART and the Ferries. You will board at Kearny and North Point. This shuttle drops you off at Market and Battery. 
Civic Center Express: This is a great option for those connecting to BART or other Muni Metro services. It picks up at Bay and Van Ness. It will drop you off at Hyde & Grove.
Caltrain Express: This one takes you to the Caltrain Station at Townsend & 4th Streets. It boards at Kearny and North Point. 
The shuttles leave once they are full, so they will run a few shuttles during this timeframe.

BART

BART will run a Sunday schedule for Fourth of July, but will add some extra trains to help people return home after the fireworks. They will run all five lines until 8 pm and then their standard three-line service after 8 pm.
Their extra trains will run through the Embarcadero Station to help everyone get home after the fireworks end. 
Caltrain

Caltrain will operate on a weekend schedule for Fourth of July. 
They will then offer additional trains after the fireworks display to help everyone get home.
The last train will depart the San Francisco station at 4th and Townsend at 12:05 am.
To avoid long lines at the ticket booths, they recommend that you buy a Day Pass through their mobile app (must be purchased on July 4th for it to be valid that day) or use your Clipper card. 
Driving

If you plan to drive, arrive really early in the day. I recommend arriving in the late morning or the early afternoon to grab a spot. Even if you arrive that early, there is no guarantee parking will still be available in the area.
If you need to drive into the city, I'd park my car in Union Square and take public transit down. There are several parking lots there and at least you will find a decent place. 
This means you will need to either walk back or take public transit to your car after the display, but it might take less time than trying to fight the traffic in Fisherman's Wharf. 

However, even if you park here, you will still face quite a bit of traffic as you attempt to leave the city.

Places to Stay Nearby

The best way to fight the crowds is to grab a hotel room in Fisherman's Wharf. If you book early, you will not have to worry about fighting the crowds to get in or out of the district after the show. 
Click here to check out my recommendations in Fisherman's Wharf. This page includes all budget ranges, although prices go up for this weekend.
You might even be able to find some great deals on hotel rooms in the district (or other places in the city) by clicking here to check out their deals for this night and/or weekend in SF.

Comments? Questions? Suggestions?
I would love for you to join me in my private Facebook group! 
It's a great place to interact with me and others who know the area well.
You can ask questions, get advice for your upcoming stay, and then share your photos and advice with others when you return home. It's a great community and the fastest way to get answers to those nagging questions about your visit!