Fourth of July San Francisco: Top Activities & Events for 4th of July 2023

by Jill Loeffler  •

Updated: June 29, 2023
Fourth of July in San Francisco is always a busy holiday. In 2023, this popular holiday lands on a Tuesday and it always attracts thousands of people to the waterfront area. 
On this day, you can enjoy fireworks along the waterfront, activities all day around Fisherman's Wharf, and a ferry ride around the bay.
Other popular activities this day include biking around the city, wine tasting tours, and several other fun activities throughout the day. You can also join one of the SF Public Library's free walking tours in the morning or afternoon.
More fun things to do include a free concert in Stern Grove Park and both San Francisco Giants and Oakland Athletics baseball throughout the holiday weekend.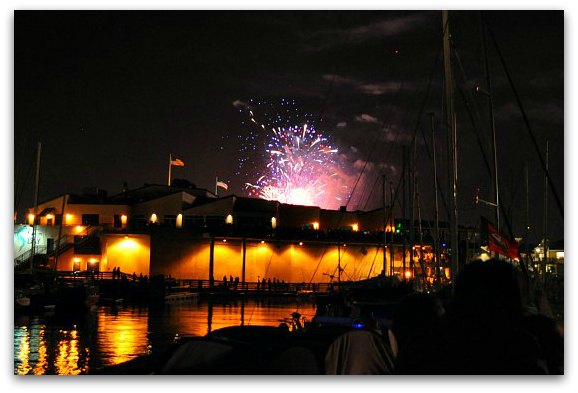 Beautiful fireworks over Pier 39 in SF's Fisherman's Wharf
Disclaimer: I receive a small commission from some of the links on this page.

Watch the Fireworks Display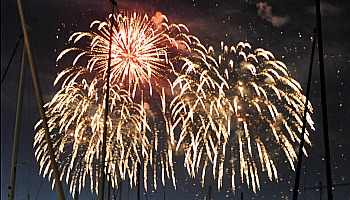 Every year, San Francisco holds a large fireworks display over the bay. There are two sets of fireworks, synced, to allow you to get a glimpse from all around the area. 

One set at the end of the Municipal Pier. The other one is on barges in front of Pier 39. 
Large parts of the SF waterfront are closed to cars due to crowds for the fireworks display. I recommend heading down early and using public transit to get to and from this area of town for the fireworks display.

The fireworks display starts shortly before 9:30 pm (or once it's dark enough to start) and lasts around 30 minutes.

Click here for additional tips on attending this year's fireworks display. 

In addition to San Francisco, there are a number of other cities planning large fireworks displays and festivals in the Bay Area. Visit this page to learn more.

Grab a Seat on a Fireworks Cruise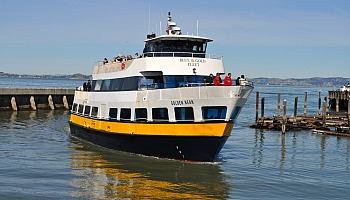 The best views of the fireworks are from a cruise on the bay. Several local ferry and boat companies offer cruises for Fourth of July San Francisco.
The cruises leave the Fisherman's Wharf neighborhood about an hour or more before the fireworks start. This gives the boats a chance to get to the perfect viewing point before they start.
Here are the ferries scheduled so far for 2023. All cruises sell out quickly, so buy yours early!

Red and White Fleet

Departs from SF's Pier 43 1/2 in Fisherman's Wharf
Offers beer, wine, as well as other alcoholic and non-alcoholic drinks on board
One boat this year that departs at 8 pm
Boarding starts 30 minutes before departure, so arrive early to secure your spot on the cruise
No outside food or drink allowed

$129 for adults, and $79 for youths
Empress Yacht Fireworks Party Cruise

Double-decker yacht for 150 people
Three-hour open bar with complimentary appetizers
Live DJ and dance floor
Boarding begins at 7:30 pm at Pier 40
Boat departs at 8:00 pm sharp and returns at 11:00 pm
Tickets start at $169, for ages 21+ only
Blue & Gold Fireworks Cruise

Head out on the water and watch the fireworks display on a Blue & Gold Ferry
They will offer two boats this year that leave from Fisherman's Wharf
One is a family boat (no alcohol) and it leaves at 8:30 pm
The other boat leaves at 8:20 pm
One of the best ways to see the fireworks on the water
Tickets are $95 for adults, $85 for youth (5 - 11), under 5 are free
More Fisherman's Wharf Activities for 4th of July in SF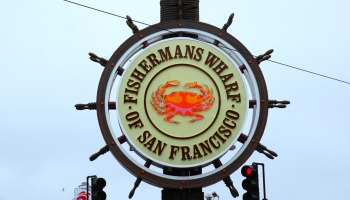 Here are some of the best activities in Fisherman's Wharf for Fourth of July in San Francisco. You'll find cruises, live music, and so many other fun things to do all day long.
If you plan to head out on a cruise or a tour, these do sell out quickly, so pick up your tickets as soon as you can!
Celebrate the Day on Pier 39
Pier 39 will again host a large fourth of July celebration. All afternoon you can listen to live music and enjoy other family friendly activities.
This year's events include special exhibits on the western side of the Pier. These are open starting at 11 am. Enjoy live music from 5 pm until 8 pm.
You can then watch the fireworks show from Pier 39 starting at around 9:30 pm.
60-Minute Bay Cruises
All day and weekend long, head out on the SF Bay for the popular 60-minute Bay Cruise. It starts at Fisherman's Wharf. You will begin your journey by heading west toward the Golden Gate Bridge.
You will see top attractions along the waterfront and then head under the famous Golden Gate Bridge. The journey then takes you back east (under the bridge for a second time) and over to Alcatraz Island.
You will cruise around the island and then head back to the starting point at Fisherman's Wharf. It's a great first look at this wonderful city by the bay!
Pick up your 4th of July tickets today.
SF Bay Sailing Cruise
Enjoy a 90-minute cruise around the bay on a catamaran. On this cruise, you will see some of SF's top attractions including the Golden Gate Bridge, Sausalito, and Alcatraz Island.
Choose from three departure times on the Fourth of July: 11am, 1pm, and 3pm. Snacks, beer, wine, and soft drinks are available for purchase on board.
Aquarium of the Bay
Spend some time exploring the Aquarium of the Bay on Pier 39. This interesting aquarium gives you the chance to check out all of the colorful plants and animals that live in the SF Bay.
You will see jelly fish, star fish, and a couple of the small sharks as you walk through the tunnel tank. There are also some great hands on exhibits.
The aquarium is open from 11 am to 6 pm on Fourth of July.
Other Open Attractions & Activities in Fisherman's Wharf on the 4th

Madame Tussauds Wax Museum: Open from 11 am to 6 pm, find out more about visiting.

Ripley's Believe It or Not: Step inside this Odditorium to explore its 16 galleries and more than 400 exhibits from around the world, open from 11 am to 6 pm on Fourth of July San Francisco.

Ghirardelli Square: Spend some time shopping and enjoying local goodies at Ghirardelli Square, visit their wine tasting room and soak in the views of the SF Bay, they will be open all day long.
More Daytime Tours & Cruises from Fisherman's Wharf

Where to Stay in Fisherman's Wharf

If you plan to spend your entire day in Fisherman's Wharf, you will find dozens of places to spend the night too. This district has a large concentration of hotels for every budget. Here are just a few of my top recommendations.

In addition to these, I've also pulled together some additional recommendations for you here. They are organized by budget so you can quickly find one that will work for you.
If you are ready to book, then click the links below to check out some of the best hotels deals in this district and all around SF.
Booking: Find great deals all around San Francisco for your upcoming stay! 

TripAdvisor: What's the #1 hotel in San Francisco? Read reviews & find hotel deals on TripAdvisor!
VRBO: In addition to hotels, you'll also find some great places to stay locally through VRBO. Book an apartment or a room and feel more like a local. Find some great places to stay on VRBO here. 
Other Activities on Fourth of July San Francisco 2023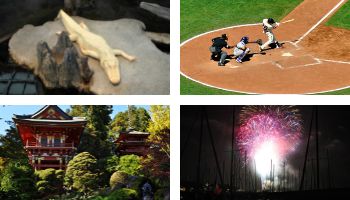 Every year, there are dozens of other fun events on Fourth of July all around the city and beyond. Here are some of the activities planned already for Fourth of July San Francisco 2023.
Cruises and other tickets sell out QUICKLY. Book your tickets today in order to secure your spot on any of these cruises or tours.
SF Giants Baseball
Celebrate Independence weekend with the American past time - baseball! The San Francisco Giants host the Seattle Mariners at Oracle Park.
The Fourth of July game starts at 1:05 pm.
Find out more about attending a game.
California Academy of Sciences
The California Academy of Sciences, our most visited museum, is now open 365 days a year!
This means you can spend the day inside this interactive museum as you explore their rainforest, see a show in the planetarium, or stop by to say hi to their rare white alligator.
Pick up your tickets in advance, so you don't have to wait in line.
Free SF Library Walking Tours
The Public Library offers a number of free walking tours each day in San Francisco. You will find a number of tours planned for Fourth of July.
Here is a full schedule for this holiday.
More Attractions Open on July 4th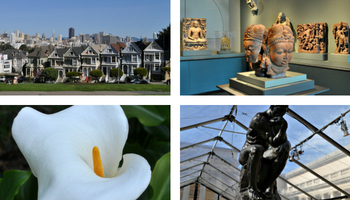 Most SF attractions stay open for their regular hours on Fourth of July San Francisco. I've listed some above already and here are a few more options for you to check out throughout SF.
Alamo Square: Free San Francisco attraction that is open all day long, it's best to visit after 1pm when the sun is shinning on it, see what it's like to visit

Exploratorium: This fun hands-on science and human perception museum is open, more on what it's like to visit, pick up tickets before your visit

de Young Museum: One of our two fine arts museums that focuses on pieces from the Americas, Africa and beyond, more on visiting.

Legion of Honor: Our other fine arts museum with pieces from Europe, more on visiting.

Twin Peaks: Free attraction with the best views of San Francisco and the surrounding areas, open until midnight, a popular place to watch the fireworks but there is very little parking, pictures and more tips to visit
Click here for a detailed look on the hours for all of SF's top attractions on Fourth of July. 

More Fun Tours on Fourth of July San Francisco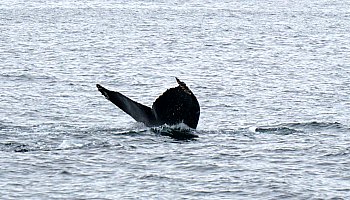 There are plenty of fun things to do all around town on Fourth of July San Francisco. These are just a few of the top tours scheduled to run this holiday. 
City Walking Tour & Bay Cruise: This fun day long adventure offers you the chance to see some of SF's top districts in the morning and then set off on a bay cruise in the afternoon.
You'll also ride on one of our historic cable cars. The tour stops in Nob Hill, Chinatown, and Fisherman's Wharf. Make sure to wear comfortable walking shoes as you'll get quite a few steps in during this adventure.
This tour is about 6 hours along (plus the one hour bay cruise). Find availability and ticketing information. 
Bay Sailing Tour with Drinks: Head out on the water on Fourth of July. This day cruise offers you the chance to sit back, relax, and watch the scenery roll by. You'll start in Fisherman's Wharf, cruise under the Golden Gate Bridge, near Alcatraz, and finish where you started.
Vista Helicopter Tour: There is no better way to see San Francisco than from above! This 15 to 20 minute helicopter tour is like no other. You'll cruise above the SF Bay, over the Golden Gate Bridge, Alcatraz, and the SF Skyline.
Other Activities for Fourth of July Weekend 2023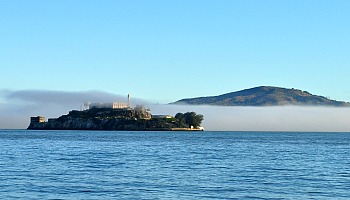 Here are some additional things to do on the days before or after Fourth of July San Francisco.
SF Giants Baseball: The San Francisco Giants have a three game home series against the Seattle Mariners on 7/3 - 7/5. Don't miss your chance to cheer on our Giants baseball team in one of the most beautiful parks in the US. Find tickets for this series. 

Free Walking Tours: SF City Guides and the SF Public Library offers several free walking tours every day. Top tours include those about Golden Gate Bridge, the Haight Ashbury District, and the Castro. Discover a full list of tours the weekend of Fourth of July.
Free Concert in that Park at Stern Grove: Catch a free performance at Stern Grove Park. This year, their performance is on Sunday, July 2 and features Santigold with Ogi. Advanced tickets are required and you can book them starting a month in advance. The show start at 2 pm. Stern Grove Summer Concert Series.
Fillmore Jazz Festival: This exciting festival is back in 2023! This two-day event runs the weekend of July 1 and 2 with free, live jazz music along Fillmore Street near Pacific Heights, Japantown, and the Western Addition. Learn more here.
Comedy at Cobb's: You will also find some great comedy almost every night this month at Cobb's Comedy Club in North Beach. This venue features both local and international acts. Learn more here. 
SF with Kids: Do you need more ideas to keep your kids entertained this holiday weekend? No reason to worry. You will find plenty of activities for kids, that are also fun for the entire family. Options range from the 7D Experience at Pier 39 to the hands-on science and human perception museum, The Exploratorium. 25 Fun Activities for Kids in San Francisco

Weather in July & What to Wear

What will the weather be like during your visit for Fourth of July San Francisco? Some visitors think it is hot and sunny in San Francisco during the summer. However, the cool ocean breezes and late day fog keeps it nice and cool.
Although it is usually nice and sunny during the day, you will want to bring along a light jacket or sweater for the fireworks display. As the sun sets, the cool breezes bring the temperatures down all around the city. Discover even more tips about what to wear in San Francisco in July.
Comments? Questions? Suggestions?
I would love for you to join me in my private Facebook group! 
It's a great place to interact with me and others who know the area well.
You can ask questions, get advice for your upcoming stay, and then share your photos and advice with others when you return home. It's a great community and the fastest way to get answers to those nagging questions about your visit!