Fourth of July San Francisco: Top Activities & Events for 4th of July 2020 
Fourth of July in San Francisco is always a busy holiday. In 2020, this popular holiday lands on a Saturday and it always attracts thousands of people to the waterfront area. 

On this day, you can enjoy fireworks along the waterfront, activities all day at Pier 39 and a ferry ride around the bay.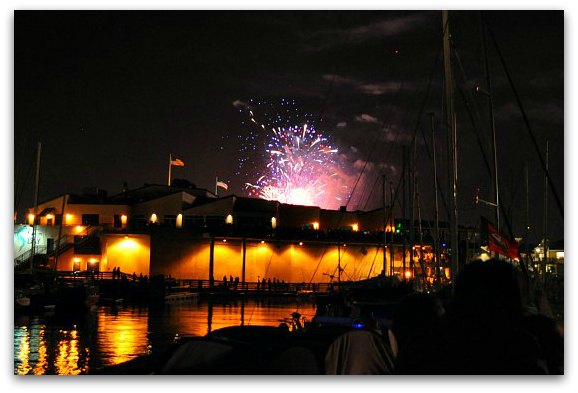 Beautiful fireworks over Pier 39 in SF's Fisherman's Wharf
Other popular activities this day include biking around the city, wine tasting tours, and several other fun activities throughout the day. You can also join one of the SF Public Library's free walking tours in the morning or afternoon.
The weekend before is also full of fun activities with the annual Fillmore Street Festival, a free concert in Stern Grove Park and both San Francisco Giants and Oakland Athletics baseball.
Disclaimer: I receive a small commission from some of the links on this page.

Watch the Fireworks Display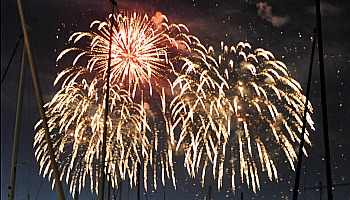 Every year, San Francisco holds a large fireworks display over the bay. There are two sets of fireworks, synced, to allow you to get a glimpse from all around the area. 
One set at the end of the Municipal Pier. The other one is on barges in front of Pier 39. 
Large parts of the SF waterfront are closed to cars due to crowds for the fireworks display. I recommend heading down early and using public transit to get to and from this area of town for the fireworks display.

The fireworks display starts shortly before 9:30pm (or once it's dark enough to start) and lasts around 30 minutes.

Click here for additional tips on attending this year's fireworks display. This is where you will find tips on the best places to see the fireworks all around SF and the Bay Area.

In addition to San Francisco, there are a number of other cities planning large fireworks displays and festivals in the Bay Area. Visit this page to learn more.

Grab a Seat on a Fireworks Cruise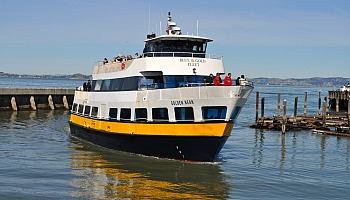 The best views of the fireworks are from a cruise on the bay. Several local ferry and boat companies offer cruises for fourth of July San Francisco.
The cruises leave the Fisherman's Wharf neighborhood about an hour or more before the fireworks start. This gives the boats a chance to get to the perfect viewing point before they start.
Here are the ferries scheduled so far for 2020. All cruises sell out quickly, so buy yours today!

Fourth of July with Hornblower Cruises

Here are just a few top options from Hornblower for 2020.
San Francisco Belle Fireworks Buffet Dinner Cruise: 3.5 hour cruise, dinner buffet, hosted bar, DJ with dancing and entertainment, sails from 7pm to 10:30pm
Premier Fireworks Dinner Cruise in San Francisco: 4-hour cruise, 4-course seated dinner, hosted premium cocktail bar, live entertainment, sails from 7pm to 11pm
July 4th Beer Lunch Cruise: 2-hour daytime yacht cruise, American style lunch buffet, free flowing beer and champagne, sails from 12pm to 2pm
All three cruises leave from Pier 3, make sure to arrive early as it will be a really busy time in this part of town on the holiday

Red and White Fleet: 4 Cruises

All depart from SF's Pier 43 1/2 in Fisherman's Wharf
Unlimited beer, wine and snacks are included in the ticket price
Boats leave at 7:45pm, 7:50pm, 8:15pm and 8:20pm
Boarding starts 30 minutes before departure so arrive early to secure your spot on the cruise
Must check in a minimum of 60 minutes before your cruise departs
No outside food and drink allowed
Tickets start at $115 for adults, $95 for youth
Rock the Yacht Fireworks Cruise

Fun party cruise for this year's Fourth of July San Francisco fireworks
Tickets include three-hour premium open bar & live DJs all night long
Includes complimentary passed Hors d'Oeuvres
3-hour cruise leaves at 8pm with boarding starting at 7:30pm
Returns at 11pm or about an hour after the fireworks display
Boards at Pier 40 by Oracle Park (not by Pier 39, but on the southern end of the Embarcadero)
Blue & Gold Fireworks Cruise

Head out on the water and watch the fireworks display on a Blue & Gold Ferry
Three boats leave from SF's Pier 41: 8pm, 8:20pm, & 8:40pm
Two leave from Pier 39: 8:15pm (family cruise with no alcohol on board) and 8:30pm
One boat leaves from Tiburon: 8:30pm (print at home tickets only)
One of the best ways to see the fireworks on the water
Tickets are $95 for adults, family packs for $320 - $480 depending on your family's size
Wylie Charters Fourth of July Cruise

WYLIE CHARTERS 4th of July cruise on their private 65ft yacht!
Tickets start at $90 - hurry limited availability!
A scenic cruise of the San Francisco waterfront and skyline 
$150 discount on any private charter booked during 2019
Free assortment of beer, wine, champagne for persons over 21 
Unlimited soft drinks and trays of free finger foods 
Bring your playlist for us to play through our speakers during the cruise
More Fisherman's Wharf Activities for 4th of July in SF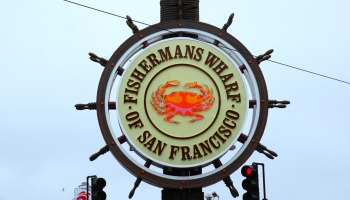 Hundreds of thousands of people watch the fireworks display off the coast of Fisherman's Wharf each year. And, many spend the day there too! Here are some of the best activities in Fisherman's Wharf for Fourth of July in San Francisco.
If you plan to head out on a cruise or a tour, these do sell out quickly, so pick up your tickets as soon as you can!
Celebrate the Day on Pier 39: Pier 39 will again host a large fourth of July celebration. All afternoon you can listen to live music and enjoy other family friendly activities. This year's events include special exhibits on the western side of the Pier. These are open starting at 11am. Enjoy live music from 5pm until 8pm. You can then watch the fireworks show from Pier 39 starting at around 9:30pm.

Live Music at Aquatic Park: In addition to all the fun at Pier 39, the City and County of San Francisco is also hosting live music at Aquatic Park. This event starts at 6pm. After the live music, you will be treated to the fireworks display at 9:30pm (also courtesy of the City and County of San Francisco). Admission is free. Make sure to arrive early for your spot on the lawn. Picnics are allowed here, but alcohol is prohibited.

60-Minute Bay Cruises: All day and weekend long, head out on the SF Bay for the popular 60-minute Bay Cruise. It starts at Fisherman's Wharf. You will begin your journey by heading west toward the Golden Gate Bridge. You will see top attractions along the waterfront and then head under the famous Golden Gate Bridge. The journey then takes you back east (under the bridge for a second time) and over to Alcatraz Island. You will cruise around the island and then head back to the starting point at Fisherman's Wharf. It's a great first look at this wonderful city by the bay! Pick up your 4th of July tickets today.

Rocketboat: Head out on the SF Bay on a high speed adventure. The Rocketboat is a 30-minute ride that twists and turns on the water as they blast rock and roll classics. The ride is quick, but it's an experience you will never forget. Find tickets for July 4th rides.

SF Bay Sailing Cruise: Enjoy a 90-minute cruise around the bay on a catamaran. On this cruise, you will see some of SF's top attractions including the Golden Gate Bridge, Sausalito, and Alcatraz Island. Choose from three departure times on the Fourth of July: 11am, 1pm, and 3pm. Snacks, beer, wine, and soft drinks are available for purchase on board. Find your tickets today.
Aquarium of the Bay: Spend some time exploring the Aquarium of the Bay on Pier 39. This interesting aquarium gives you the chance to check out all of the colorful plants and animals that live in the SF Bay. You will see jelly fish, star fish, and a couple of the small sharks as you walk through the tunnel tank. There are also some great hands on exhibits. The aquarium is open from 9am to 8pm on Fourth of July. Buy your tickets in advance.
Other Open Attractions & Activities in Fisherman's Wharf on the 4th

7D Experience: Part video game, part amusement ride, on Pier 39 and fun for the entire family, look for discounted tickets on Groupon.
Madame Tussauds Wax Museum: Open from 10am to 8pm, find out more about visiting
Ripley's Believe It or Not: Step inside this Odditorium to explore its 16 galleries and more than 400 exhibits from around the world, open from 10am to 9pm on Fourth of July San Francisco

San Francisco Dungeon: One of the newest attractions in Fisherman's Wharf, this theatrical experience features live actors acting out SF's past with thrilling stories and heart pounding special effects, 9 live shows, 12pm with the last show starting at 7pm

Ghirardelli Square: Spend some time shopping and enjoying local goodies at Ghirardelli Square, visit their wine tasting room and soak in the views of the SF Bay, they will be open all day long

More Daytime Tours & Cruises from Fisherman's Wharf

Where to Stay in Fisherman's Wharf

If you plan to spend your entire day in Fisherman's Wharf, you will find dozens of places to spend the night too. This district has a large concentration of hotels for every budget. Here are just a few of my top recommendations.

In addition to these, I've also pulled together some additional recommendations for you here. They are organized by budget so you can quickly find one that will work for you.
If you are ready to book, then click the links below to check out some of the best hotels deals in this district and all around SF.
Booking: Find great deals all around San Francisco for your upcoming stay!
TripAdvisor: What's the #1 hotel in San Francisco? Read reviews & find hotel deals on TripAdvisor!
Other Activities on Fourth of July San Francisco 2020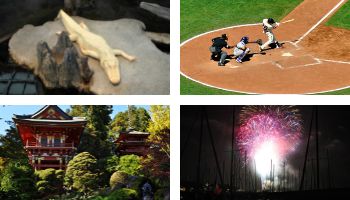 Every year, there are dozens of other fun events on Fourth of July all around the city and beyond. Here are some of the activities planned already for Fourth of July San Francisco 2020.
Cruises and other tickets are selling out QUICKLY. Book your tickets today in order to secure your spot on any of these cruises or tours.
Fourth of July Fireworks with the SF Symphony: Head down south to the Shoreline Amphitheater in Mountain View for their annual fireworks concert with the SF Symphony. This year marks the 34th anniversary for this popular event. The show starts at 8pm.

Oakland A's Baseball: Celebrate Independence weekend with the American past time - baseball! The Oakland A's host the Baltimore Orioles at RingCentral Coliseum. The Fourth of July game starts at 1:07pm.

Learn More: Find out more about attending a game at the Oakland Arena

Fourth of July Pub Crawl & Hot Dog Eating Contest: Head over to the Marina District to spend the day celebrating. This event runs form 2pm to 10pm and includes drink specials as well as a hot dog eating contest. Bars include Marina favorites such as Bar None, Blue Light, Bus Stop, Sabrosa and Hollow Cow.

California Academy of Sciences: The California Academy of Sciences, our most visited museum, is now open 365 days a year! This means you can spend the day inside this interactive museum as you explore their rainforest, see a show in the planetarium, or stop by to say hi to their rare white alligator.

>> Pick up your tickets in advance, so you don't have to wait in line

Free SF Library Walking Tours: The Public Library offers a number of free walking tours each day in San Francisco. So far, many of their Tuesday tours are still planned for Fourth of July. Here is the schedule so far:

11am: Golden Gate Bridge
11am & 1pm: Japanese Tea Gardens
2pm: Nob Hill
More Attractions Open on July 4th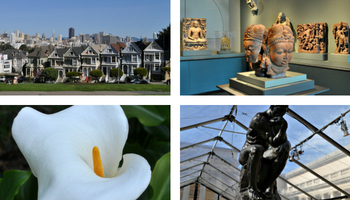 Most SF attractions stay open for their regular hours on Fourth of July San Francisco. I've listed some above already and here are a few more options for you to check out throughout SF.
Asian Art Museum: Interesting art on display from Asian countries such as China, Japan and Indonesia, open from 10am to 5pm, learn more about visiting
Alamo Square: Free San Francisco attraction that is open all day long, it's best to visit after 1pm when the sun is shinning on it, see what it's like to visit

Exploratorium: This fun hands-on science and human perception museum is open from 10am to 5pm, more on what it's like to visit, pick up tickets before your visit

de Young Museum: One of our two fine arts museums that focuses on pieces from the Americas, Africa and beyond, more on visiting, open from 9:30am to 5:15pm

Legion of Honor: Our other fine arts museum with pieces from Europe, more on visiting, open from 9:30am to 5:15pm

Twin Peaks: Free attraction with the best views of San Francisco and the surrounding areas, open until midnight, a popular place to watch the fireworks but there is very little parking, pictures and more tips to visit

Walt Disney Family Museum: This museum all about Walt Disney is also open on Fourth of July San Francisco, see early pieces of his work, the history of how he built his company and other pieces about his life, learn more about visiting here

Click here for a detailed look on the hours for all of SF's top attractions on Fourth of July. 

More Fun Tours on Fourth of July San Francisco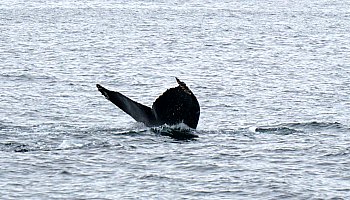 There are plenty of fun things to do all around town on Fourth of July San Francisco. These are just a few of the top tours scheduled to run this holiday. 
All are scheduled to be complete well before the firework show in Fisherman's Wharf after the sun goes down. They will give you something fun to do as you wait for the firework show to begin!
Oracle Park Tour: Get a behind the scenes look at Oracle Park the home to the SF Giants baseball team, the tour includes access to the field, the dugouts, and the Visitors' clubhouse, tours at 10:30am and 12:30pm

Whale Watching Tours: 2.5 hour tour that will take you out to the Pacific Ocean to watch some of the whales migrating through the area, this time of year you can expect to see blue and humpback whales as well as dolphins, sea turtles, and dozens of species of birds, leaves at 11am and 2pm on Fourth of July San Francisco, check for ticket availability, more details on what it's like to go whale watching near SF

Grand City Bus Tour: You can also head out on a bus and explore SF during the day, this tour take you to the Golden Gate Bridge, through Chinatown, North Beach, the Palace of Fine Arts and other top SF attractions, this tour starts at 9am and runs for around 3.5 hours, find ticket availability, check out these other top bus tours around SF

Other Activities for Fourth of July Week 2020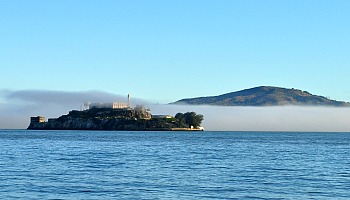 Here are some additional things to do on the days before or after Fourth of July San Francisco.
Pre-July 4th Party Cruise: Head out on the water the night before the holiday on this fun party cruise. Dance the night away on one of several levels of dance music on the yacht. Grab a drink at the cash bar and soak in the views. The cruise leaves from Pier 3 at 10pm (boarding begins at 8:30pm) and returns at 1am.
Free Concert in that Park at Stern Grove: Catch a free performance of the SF Symphony in Stern Grove Park. There are performances both the Sunday before (June 28) and after (July 5). The shows start at 2pm. Make sure to arrive early to get the perfect seat on the lawn. Stern Grove Summer Concert Series

SF Giants Baseball: The San Francisco Giants return home on Tuesday, July 7 for a two game home series against the Oakland Athletics. Don't miss your chance to cheer on our Giants baseball team in one of the most beautiful parks in the US.

Theater Productions: This week is also full of fun theater shows. The top pick this week is Harry Potter and the Cursed Child at the Curran Theater. It's the story of one of Potter's young boys as he makes his way to Hogwarts.

Free Walking Tours: SF City Guides and the SF Public Library offers several free walking tours every day. Top tours include those about Golden Gate Bridge, the Haight Ashbury District, and the Castro. Discover a full list of tours the weekend of Fourth of July.

Fillmore Jazz Festival: One of my favorite street fairs every year is the Fillmore Jazz Festival. This free, jazz music festival is the largest of its kind on the west coast. It's held in the Pacific Heights neighborhood on 7/4 & 7/5. Head over for some great music, gourmet eats and locally produced arts and crafts. 2020 Fillmore Jazz Festival, Full calendar of 2020 festivals and street fairs

Alcatraz Tours: Alcatraz Island is open all weekend long. If you plan to visit, book your tickets as soon as you can as they will sell out quickly. All three days, you will find several days tours and a few night tours. The first cruise leaves at 8:45am. What It's Like to Visit Alcatraz

Popular Alcatraz Combo Tours this Week

SF with Kids: Do you need more ideas to keep your kids entertained this holiday weekend? No reason to worry. You will find plenty of activities for kids, that are also fun for the entire family. Options range from the 7D Experience at Pier 39 to the hands-on science and human perception museum, The Exploratorium. 25 Fun Activities for Kids in San Francisco

Top Discounts this Week

In addition to the activities mentioned above for Fourth of July San Francisco, here are a few additional things to do this week. All tickets below are offered at a discount on Goldstar. They offer tours, theater, and other activity tickets at up to 50% off their full retail price. Click the links for details.

60-Minute Bay Cruise: Cruises around the bay, leaves from Fisherman's Wharf, several cruises a day, Full price $34, Goldstar price $17*
California Twilight Cruise: 2-hour evening cruise on the SF Bay, includes light appetizers and one drink per ticket, Full price $80, Goldstar $55*
North Beach Food Tour: 3-hour walking tour, offers a variety of samples in this Italian district, Full price $69, Goldstar $48*
Chinatown Food Tour: Sample traditional dishes in the popular Chinatown district as you learn about its history, Saturday and Sunday mornings at 10am, Full price $75, Goldstar $49*
*Small service fee at checkout.
Weather in July & What to Wear

What will the weather be like during your visit for Fourth of July San Francisco? Some visitors think it is hot and sunny in San Francisco during the summer. However, the cool ocean breezes and late day fog keeps it nice and cool.
Although it is usually nice and sunny during the day, you will want to bring along a light jacket or sweater for the fireworks display. As the sun sets, the cool breezes bring the temperatures down all around the city. Discover even more tips about what to wear in San Francisco in July.
BACK TO TOP