Stern Grove Festival San Francisco: 2022 Calendar & Tips to Attend This Popular Festival


by Jill Loeffler  •

Updated: June 2, 2022
This year the Stern Grove Festival in San Francisco celebrates its 84th anniversary. The 2022 season runs from June 12 to August 14. This year, top performers include Tower of Power & Too $hort, Leann Rimes, and Taj Mahal.

Every Sunday at 2pm during the summer months, you will find a free concert in the park. The shows usually last two to three hours and are wildly popular.
You will once again need to make reservations for entry, even though admission is still free. You can make your reservations online starting on May 31. You are able to reserve tickets on the Tuesday, 12 days prior to each show.
Reservations do not guarantee entry as it's still first come, first served. 
Disclaimer: I receive a small commission from some of the links on this page.

2022 Schedule

Here were the events and performers planned for Stern Grove 2022.

6/12: Tower of Power, Too $hort
6/19: Toro Y Moi, Hello Yello
6/26: Liz Phair, Madi Diaz
7/3: Cold War Kids, Geographer
7/10: Old Crow Medicine Show, Molly Tuttle
7/17: Cat Power, Spelling
7/24: Leann Rimes, Amythyst Kiah
7/31: San Francisco Symphony
8/7: Taj Mahal, Monophonics
8/14: Big Picnic, Phil Lesh & Friends
>> Visit their site to get tickets to upcoming performances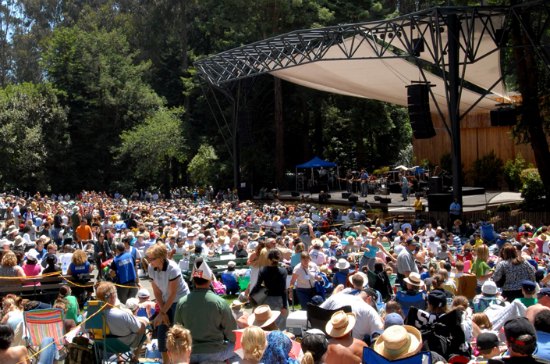 Locals and visitors enjoying the afternoon at Stern Grove. Photo courtesy of SternGrove.org.
The Big Picnic

The Stern Grove Festival ends their season with the Big Picnic, which is their annual fundraiser. You will then be able to enjoy the concert from this special area. This is the paid portion of the event. 
The Big Picnic is on August 14 with Phil Lesh and Friends. 
The concert itself is free and open to the public, and starts at 2pm. This last concert is one of the largest event of the season and seating can be hard to get tickets.

Free ticket reservations open on August 2nd and you can pay/reserve a picnic table at any time up until the concert (or they sell out). 
What to Bring

Since these concerts are free, there are very few amenities. Here are just a few of the items you will want to bring with you.

Blanket or Camping Chairs:

You won't find chairs or other seating, so I recommend bringing along something to sit on.

Food & Drinks:

There is a small cafe on site that sells a limited amount of food and beverages. You can also bring along your own and have a nice picnic lunch in the park during the concert.

Alcohol:

The cafe does not sell alcohol, but the park does allow you to drink beer and wine during the shows in the Concert Meadow and West Meadow.



Warm Jackets & Clothing

: Since Stern Grove is closer to the Pacific Ocean, it does get cooler here. Make sure you bring along a jacket or wear warm clothing in case the temperatures are cool during the show. You want to be prepared for the wind, fog, and even a little sunshine.
Other Things You Need to Know

Since the concerts are crowded, here are just a few other things you need to know before you arrive.
Reservations Required: They will do this again in 2022. You must visit their site in advance to get tickets for each performance. 
Arrival Time: I recommend heading over to the shows early. The gates open at 12 pm. They only allow people with advanced registration in, but you will still want to go early to grab a seat as seats are still first come/first served. No every one with a ticket will be allowed entry. I like to head over no later than 1 pm or so in order to get a good spot.
Pets: No pets are allowed in this area of the park during the concerts. There are other areas open for pets, but they will not allow any within the concert seating area. Service animals and support animals are allowed.

Personal Belongings: Make sure you keep an eye on your personal items at all times. It gets crowded (and is free!), so can attract people looking to pick up a few unattended items.
Recording/Photography: Neither pictures nor video is permitted during the shows. I recommend leaving your camera at home or the place you are staying, so you don't have to worry about it during the performances.
Other Popular Festivals This Summer

Yerba Buena Gardens Festival: The Yerba Buena Gardens Festival also offers free music and other cultural programs all summer long. Performances are held several days a week between May and October. Click here for more details.

Sunday Streets: The annual Sunday Streets event features blocks of car-free streets in a specific district on one Sunday each month. This allows pedestrians to bike, run, or walk without worrying about traffic. Each event also provides live music, free health screenings, and other community activities. Click here for this year's schedule.
Union Street Festival: The Union Street Festival is typically the kick-off to SF's famous summer festival season. This lively event features live music, gourmet food, and dozens of merchant booths with unique arts and crafts. You will also find a premium craft beer and wine tasting pavilion. Click here to learn more.
North Beach Street Festival: Another popular SF Street Fair is the North Beach Festival. This one also features live music, amazing street food, and several fun activities for the kids. Click here to learn more about this year's festival.

Other Pages You Might Enjoy

Tips to Get To Stern Grove

Stern Grove Park is on the corner of 19th Avenue and Sloat Boulevard in the city's Outer Sunset neighborhood.
Your best bet is to take public transit, since parking is very limited in this part of the city.

From Union Square

Light Rail Trains: The fastest way to get here from Union Square is by taking either the M Ocean View or K Ingleside light rail trains. You can pick them up at the underground station at Powell and 5th Streets. Make sure you hop on an 'outbound' train.

Stop: Take either of these to the stop at St. Francis Circle. You will then walk one block west to the park. There will be plenty of other people on these trains, so just follow the crowds.
Timing: Allow for at least 35 to 40 minutes to get to the park.
From Fisherman's Wharf

F Streetcar: Take this streetcar to the Embarcadero Station at Market and Drumm Streets.

Light Rail Train: Head to the underground Embarcadero Station on this corner. Take either the M or K (outbound) trains to the St. Francis Circle stop. Walk one block west to the park.
Timing: Allow at least 50 minutes to an hour to get here from Fisherman's Wharf