North Beach Festival 2023: One of SF's Largest Summer Street Fairs

by Jill Loeffler  •

Updated: April 3, 2023
Heading into its 67th year, the North Beach Festival is one of the largest street fairs in San Francisco every summer. This year's two-day event is on June 17 & 18, 2023.

The North Beach Festival features gourmet food vendors, several stages of live music, and more than 100 art and crafts vendors. There is also a kids' chalk art area, Italian street painting, and a 'blessing of the animals' ceremony on both afternoons.
This event is free and lasts from 10 am to 6 pm each day.
All activities are on Grant Avenue and Columbus as well as several nearby streets.
Live Music and Entertainment

This annual event features live music and entertainment on three stages. You'll find stages with music, poetry, comedy, and more.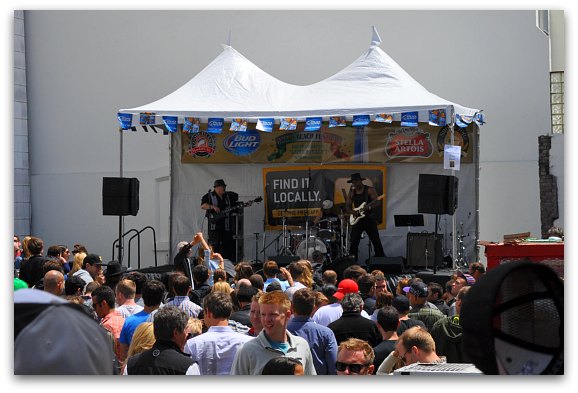 Other Event Details

Wine & Beer Gardens
This year, you will also find wine and beer gardens at the festival. Sample local and international wines and beers as you listen to live music and other entertainment. 
Blessing of the Animals

Each day between 2 pm and 3 pm is the blessing of the animals ceremony. It is located at the National Shrine of Saint Francis of Assisi at 610 Vallejo Street.

Italian Street Painting

On Vallejo Street between Grant Avenue and Columbus, local Bay Area artists will create amazing pieces of art on the street. It is free to watch and it's one of my favorite parts of the North Beach Festival.

Kids' Chalk Art Area

Let your kids show off their talents in the Kids' Chalk Art Area. Head to Vallejo Street between Grant Avenue and Columbus, buy a square and some street chalk, and let your kids create their masterpiece.

Disclaimer: I receive a small commission from some of the links on this page.

Places to Stay Nearby

If you decide to stay nearby, you have several hotel and motel options in North Beach and the surrounding districts.
North Beach Hotels: Most of the places to stay in North Beach are small hotels and motels. Many are less expensive than those in the districts nearby, but they offer fewer amenities. Click here for my recommendations for lodging in North Beach.
Fisherman's Wharf Hotels: You will find an even better selection of hotels just a few blocks away in Fisherman's Wharf. Here you will find brand name hotels such as the Radisson and the Holiday Inn. You will also find a number of local hotels such as the Argonaut and the Suites at Fisherman's Wharf. Click here to read about my favorites.
Union Square Hotels: Another great option is Union Square. This is where you will find the largest concentration of hotels in the city. They range from the five-star St. Regis to the smaller, more affordable Mosser. Click here for my recommendations.
Other Events this Month

SF Giants Baseball: The SF Giants play almost a dozen home games this September. They take on teams such as the Kansas City Royals, New York Mets, and the Colorado Rockies. Click here for game details and their full home schedule for September.
Yerba Buena Gardens Festival: The free Yerba Buena Gardens Festival also features shows several times a week between April and October. Click here for more details about this month's shows and others this year in SF.

Other Things to See & Do in North Beach

Free Walking Tours: Before you enjoy the North Beach Festival on Saturday morning, head over to Saints Peter and Paul Church at 10am for a free walking tour of the district. This fun tour will take you through the streets of this historic district as you learn more about its past. Click here for more details and a list of all of the free walking tours offered by the SF Public Library.
Coit Tower: Head up the Filbert Street steps for some of the best views of San Francisco at Coit Tower. This gorgeous building also features a number of interesting 1930s era murals on its walls. See pictures and learn more here.
Saints Peter and Paul Church: A fun, free attraction in North Beach is Saints Peter and Paul Church. Step inside for a quick look at this church and learn more about its history. It's at 666 Filbert Street.
Shopping on Columbus Avenue: You can also head over to Columbus Avenue to enjoy a little shopping. Along this street, you will find about a dozen cute boutique shops selling everything from gourmet chocolates to unique jewelry.
Beat Museum: Some of the most famous people to walk the streets of North Beach are those from the Beat Generation. These off-beat artists, poets, and writers lived here in the 1950s and 60s. Learn more about them and their work at the Beat Museum. Click here for pictures and more details.
More Fun Pages

Tips to Get to the Festival

From San Francisco

Buses: Several buses run through North Beach including the 8, 12, 30, 39, 45, and 91.
Cable Car: You can also take the cable car from Union Square. Hop on the Powell/Mason cable car and take it all the way until it turns onto Columbus Street. Click here for some tips on how to take the cable car from Union Street without having to wait too long in line.
From the East Bay

Take BART to the Montgomery Street stop. From here, walk to the corner of Kearny and Sutter Streets for the 30-Stockton Bus. Take this to the stop at Columbus and Stockton. The North Beach Festival is just two blocks east.

From the North Bay

Take the 101 to the corner of Van Ness and Pacific Streets. From here, take the 12 over to the North Beach Festival.

From the South Bay

From the South Bay, your best option is to take BART to the Montgomery Street Station. From there, pick up the 30-Stockton on the corner of Kearny and Sutter Streets. Walk two blocks east to find the North Beach Festival.

Driving & Parking

It is always a challenge to drive into and park in this busy district. I highly recommend looking at the public transit options above, but if you need to drive, you have a few parking garage options. All are small, so arrive early to grab a spot.
735 Vallejo between Stockton and Powell on the south side of the street
766 Vallejo between Stockton and Powell on the north side of the street
On Filbert Street between Columbus and Mason
Comments? Questions? Suggestions?
I would love for you to join me in my private Facebook group! 
It's a great place to interact with me and others who know the area well.
You can ask questions, get advice for your upcoming stay, and then share your photos and advice with others when you return home. It's a great community and the fastest way to get answers to those nagging questions about your visit!