Bay Area 4th of July 2020
Fireworks, Festivals, Parades, & More
Bay Area 4th of July activities include fireworks, festivals, and parades. You will find a variety of things to do in San Francisco, Oakland, Marin, and along the Peninsula.
Read on for ideas on the best places to have fun and a list of where you can see fireworks to celebrate America's birthday.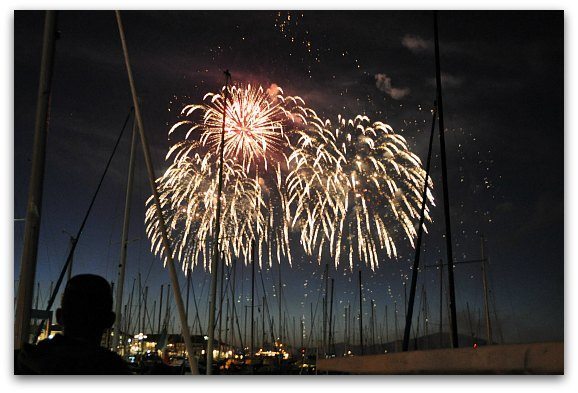 Disclaimer: I receive a small commission from some of the links on this page.
San Francisco Events: Waterfront Festival & Fireworks
The biggest Bay Area 4th of July activities are along the northern waterfront in San Francisco. On July 4, you will find a variety of things to do in Fisherman's Wharf at Pier 39, Ghirardelli Square, and venues all around the district.
You can listen to live music, enjoy family friendly activities, take a cruise, and save with food and drink specials all day long. The event ends with a large fireworks display over the water. It starts at around 9:30pm and lasts for about 30 minutes.
The event draws hundreds of thousands of people, so make sure you arrive early for the best spot!
More: Find out more about the fireworks show and what else there is to do in San Francisco this Fourth of July holiday
Best Half-Priced Tickets for SF this Weekend
If you plan to head into SF early and need something to do while you wait for the fireworks show, then check out these great deals on tours and activities. They are all available through Goldstar and are often offered at up to 50% off the full retail price.
*Small service fee at checkout.
East Bay
Several cities in the East Bay will host Bay Area 4th of July celebrations. The biggest are in Berkeley, Oakland, and Pleasant Hill.
The following cities have confirmed that they will have a fireworks display this year:
More information: Click here for additional information this year's Fourth of July celebrations in the East Bay
South Bay & Peninsula
The South Bay and Peninsula areas will also have a variety of Bay Area 4th of July activities. You will find the World's Shortest Parade in Aptos, Red, White & Boom in Milpitas, and a Fourth of July celebration with the SF Symphony at the Shoreline Amphitheater in Mountain View.
Here is a list of the cities that have confirmed their fireworks displays this year:
Gilroy: Gilroy High School at 9:15pm
Milpitas: Milpitas Sports Center Complex at 9:15pm
Redwood City: Port of Redwood City at 9:30pm
San Jose: Discover Meadow at 9:30pm
Scotts Valley: Fireworks start at around 9:15pm
More: Find out more about the holiday celebrations in the South Bay and Peninsula
North Bay & Wine Country
If you plan to be in the North Bay or Wine Country during this annual holiday, you will also find plenty of things to do. You will find a full day of activies in American Canyon, the Napa County Fair and Fireworks event in Calistoga, and the Marin County Fair in San Rafael.
These are the North Bay and Wine Country locations that have confirmed their fireworks displays for this year:
American Canyon: Community Park II at 9:30pm
Calistoga: Downtown at 9:30pm
Healdsburg: Healdsburg High School Football Field at around 9pm
Petaluma: Sonoma Marin Fairgrounds at 9:30pm
Rohnert Park: Transcendence Theatre Company & the Santa Rosa Symphony performance at Weill Hall and Lawn at 7:30pm with fireworks around 9:15pm
San Rafael: Marin County Fair at 9:30pm
Santa Rosa: Sonoma County Fairgrounds at 9:30pm
Sausalito: Gabrielson Park at 9:00pm
Sebastopol (July 3rd): Analy High School at 9:40pm
Windsor: Keiser Park at 9:10pm
Additional festivals: Find a list of all of the best festivals and events in the North Bay and Wine Country
Other Fun Bay Area 4th of July Events
Fillmore Jazz Festival
Another large Bay Area 4th of July festival is in the heart of San Francisco. The Fillmore Jazz Festival is the largest free jazz festival on the west coast.
It's held in the Pacific Height District on 12 blocks of Fillmore Street. For two days, you can listen to live music, savor tasty street food, buy arts and crafts, and more.
It's always the Saturday and Sunday of Fourth of July weekend. Admission is free.
More: Find additional details on this year's event
Theater Performances
Another fun activity this weekend is to head to the theater. In San Francisco and San Jose, you will find Broadway shows such as the Lion King, Wicked, and the Book of Mormon. In these cities and throughout the Bay Area, you will find dozens of performances at smaller, more local theaters.
More: Find a full calendar of theater performances this weekend
Concerts
Throughout the Bay Area, you will find a variety of concerts this weekend. You can enjoy large performances at venues such as the SAP Center in San Jose, the Bill Graham Civic Auditorium in San Francisco, and the Oracle Arena in Oakland.
You will also find a show almost every night at smaller venues. These include local favorites and up-and-coming artists.
More: Find the best concerts this weekend in the Bay Area
Giants & A's Baseball
Catch a baseball game in San Francisco or Oakland this holiday weekend. Each team usually plays at least one game at home during the Fourth of July weekend. You can cheer on your favorite team or just spend some time celebrating the nation's birthday by enjoying this All-American past time.
More: Find a schedule of this weekend's SF Giants games
More: Discover this year's Oakland A's schedule
SF Opera
Another fun Bay Area 4th of July activity is to head to the SF Opera. They typically finish up their summer season this weekend with several performances at the War Memorial Opera House.
More: Find a calendar of performances this weekend with the SF Opera
More Fun Things to Do in San Francisco