Bay Area 4th of July 2021: Fireworks, Festivals, Parades, & More

by Jill Loeffler  •

Updated: June 25, 2021
Bay Area 4th of July activities include fireworks, festivals, and parades. You will find a variety of things to do in San Francisco, Oakland, Marin, and along the Peninsula. 

Read on for ideas on the best places to have fun and a list of where you can see fireworks to celebrate America's birthday.

San Francisco Events: Waterfront Festival & Fireworks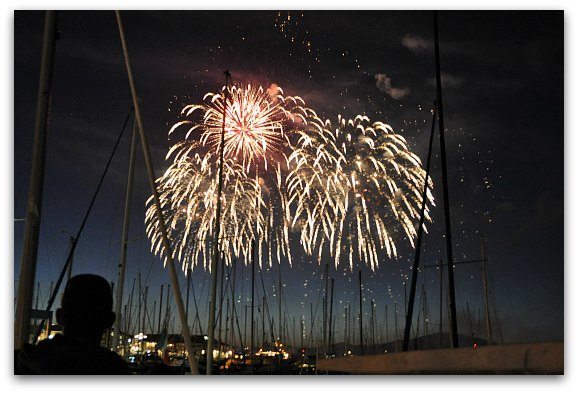 Note: Confirmed for 2021
The biggest Bay Area 4th of July activities are along the northern waterfront in San Francisco. On July 4, you will find a variety of things to do in Fisherman's Wharf at Pier 39, Ghirardelli Square, and venues all around the district.
You can listen to live music, enjoy family friendly activities, take a cruise, and save with food and drink specials all day long. The event ends with a large fireworks display over the water. It starts at around 9:30pm and lasts for about 30 minutes.
The event draws hundreds of thousands of people, so make sure you arrive early for the best spot!
More: Find out more about the fireworks show and what else there is to do in San Francisco this Fourth of July holiday
East Bay Fireworks

Several cities in the East Bay will host Bay Area 4th of July celebrations. The biggest are in Berkeley, Oakland, and Pleasant Hill.
Confirmed for 2021
Antioch: Fireworks in downtown Antioch over the San Joaquin River, start at 9:20 pm
Concord: Mt. Diablo High School at around 9 p.m., drive in event, must have tickets
Pleasant Hill: Yes, they will have fireworks this year, but not at the College Park High School fields. You must watch them from your own backyard. Start at 9:15 pm.
Cancelled for 2021
Benicia: Benicia City Park around 9 p.m. 
Berkeley: Berkeley Pier at 9:30 p.m. 
Additional Fourth of July Activities in the East Bay

Confirmed for 2021

Antioch: This year's Antioch celebration offers a full day of fun with a parade which starts at 8 a.m. with a pancake breakfast in the City Hall parking lot. You can also enjoy family fun, live entertainment, a car show, and a parade. The fireworks start at around 9:20 p.m. Most events will be at the riverfront in downtown Antioch.

Fairfield: The annual Independence Day Parade in Fairfield starts at 10am and travels down Texas Street from Taylor to Union. All activities last until around 1 p.m.
Fremont: Porch Parade from June 20th to July 4th, get into the action by decorating your front porch!
Orinda: The day starts with a flag raising ceremony (9 a.m.), a fun run (9 a.m.), a parade (11 a.m.) and band in the Gazebo (12:15). 

Pleasant Hill: The Annual July 4th Celebration in Pleasant Hill includes a neighborhood parade (9:30 a.m.), fireworks display (~9 p.m.), and a House Decorating Contest.
San Ramon: Celebration concerts which will feature Fleetwood Mask. The evening event runs from  5 pm to 8 pm at the San Ramon Central Park Amphitheater.
Canceled for 2021

Alameda: Celebrations in Alameda this year include a race (9 a.m.) and a parade (10 a.m.). 

Benicia: The Independence Day celebration in Benicia starts on July 3. From 6:30 p.m. to 9 p.m., they host their annual Torchlight Parade along First Street, where you will see dancers, floats, clowns, and more. Their Picnic in the Park starts at noon July 4. All day long at Benicia City Park you can enjoy arts & crafts, hot food, live entertainment, and children's activities. Fireworks will start around 9pm. 

Berkeley: Head to the Berkeley Marina on between noon and 10 p.m. for this year's Fourth of July Celebration. During this all day event, you will find live entertainment, food trucks, arts and crafts, a petting zoo, carnival rides, free dragon boat rowing, and much more. The fireworks display starts just south of the Berkeley Pier at 9:30 p.m.
Danville: This year's annual parade in Danville is from 9 a.m. to 12 p.m. The route starts at Hartz and Railroad Avenues and ends at San Ramon Valley Blvd. and Sycamore Valley Road. The parade includes over 150 entries, including bands and floats, and attracts more than 40,000 attendees each year.

Martinez: This year's Fourth of July celebrations in Martinez will take place on July 4, beginning with a Pancake Breakfast hosted by Roxx on Main Street from 8 a.m. to 10 a.m. The flag raising ceremony is from 9 a.m. to 9:15 a.m. at the Veterans Memorial Building. The 4th of July annual parade starts at 10 a.m. from Court and Main Streets and makes its way to Alhambra Avenue and Main Street. 
Richmond: This city of Richmond celebrates early again this year on July 3rd. Head down to Marina Bay Park from 5 pm to 10 pm to enjoy live blues music, food vendors, and the interactive Fun Zone for kids. Fireworks begin around 9:15pm with a display that lasts around 20 minutes.

San Pablo: Fourth of July activities include live entertainment, kids games, and food & drinks. It concludes with a fireworks show. All events start at 5 p.m. at the El Portal Soccer Field on Moraga Road. Admission is free, but there is a cost for the games and activities. Festivities end after the fireworks display around 9:30 pm.
South Bay & Peninsula Fireworks

The South Bay and Peninsula areas will also have a variety of Bay Area 4th of July activities. You will find the World's Shortest Parade in Aptos, Red, White & Boom in Milpitas, and a Fourth of July celebration with the SF Symphony at the Shoreline Amphitheater in Mountain View.
Confirmed for 2021
California Great America

: Start at around 8:45 p.m.

Gilroy: Gilroy High School at 9:30 p.m. but you are not able to view them at the school. They request for everyone to enjoy them from the safety of their homes. 

Morgan Hill

: Fireworks on the Green
Canceled for 2021
Milpitas: Milpitas Sports Center Complex at 9:15 p.m.
Redwood City: Port of Redwood City at 9:30 p.m.
Additional Bay Area 4th of July Events in the South Bay & Peninsula

Confirmed for 2021

Aptos: They will once again host the "World's Shortest Parade" this Independence Day. It starts at 10 am and ends around 2 pm.
Half Moon Bay: 50th Half Moon Bay Ol' Fashioned Parade starts at noon and runs for about one hour. You can also enjoy the festival from 11 am to 4 pm at Main & Kelly.

Morgan Hill: The annual Freedom Fest kicks off at year on July 3 with the popular Family Street Dance, an evening filled with live music and dancing, food and drinks. Everything starts at 6pm and ends around 10pm. The Freedom Festival continues all day on the 4th too. This year's parade starts at 10 a.m. It ends with a concert and fireworks at dark. The Freedom Fest also includes a 5K run and a car cruise. This event started in 1876 and continues to be one of the best in the Bay Area. 

Pacific Grove: Head to downtown Pacific Grove for their annual Fourth of July celebration. Festivities last from 11 a.m. to 3 p.m. and include live entertainment and with food available from local restaurants.
San Jose: This year's Rose, White and Blue Parade is begins at 10am, winding through the Rose Garden and ending on the grand avenue known as The Alameda. On The Alameda, you can enjoy a picnic featuring local food and drink, along with live music, an antique and classic car show, and dozens of arts and crafts booths. The fun continues with a fireworks display downtown starting at dark. It will have modifications based on current health regulations.
Santa Cruz: The only event in Santa Cruz this year is their annual Firecracker Race. It starts at 8 am and is a 5k.

Scotts Valley: Head over to Scotts Valley Drive for the annual parade at 3 p.m. and plane flyover.
Canceled for 2021

Carmel-By-The-Sea: This year's celebration is a traditional, family-friendly event at Devendorf Park on Ocean Avenue across from Carmel Plaza. From noon to 3 p.m., enjoy entertainment and fun games for the entire family. They will also provide hot dogs, cold drinks, chips, ice cream, watermelon, and cookies. The festival and food are free, but get there early as quantities are limited.
Milpitas: The "Red, White & Boom" celebration in Milpitas is at the Milpitas Sports Center Complex (1325 E. Calaveras Blvd). This free afternoon event starts at 1 p.m. at the "Waving the Red, White & Blue" Pool Party. Continuing until 4 pm that afternoon. Food is also available for purchase. The "Red, White & Boom" Concert & Fireworks Show starts at 7 p.m. with the gates opening at 6 p.m. After the concert is the fireworks show. 

Monterey: The celebration in Monterey starts with a pancake breakfast from 7 a.m. to 11 a.m. It's held at the Monterey County Youth Museum. The annual parade starts at 10 a.m. and lasts for about an hour. After the parade, head over to the Admission Free Big Little Backyard Bar-B-Que and Entertainment Extravaganza on the grounds of City Hall on Pacific Street. From 11 a.m. to 4:30 p.m., enjoy kids activities such as free carnival booths, games, face painting and jumpy houses. You will also find great food on sale all day long (or bring your own picnic lunch). The day wraps up with a free Patriotic Concert at the Golden Gate Theater. Doors open at 6 p.m. and the concert starts at 7 p.m.
Mountain View: The place to be in Mountain View on Thursday, the Fourth of July is the Shoreline Amphitheater. This annual concert by the SF Symphony with an amazing fireworks display is the perfect way to celebrate Independence Day. Doors open at 5 p.m. with games and events and then the music starts at 8 p.m. with the fireworks starting shortly after dark. The entire program lasts about two hours. 

Redwood City: Redwood City will once again host the largest Fourth of July Parade in Northern California. It starts at 10 a.m. in downtown Redwood City on Broadway, Marshall, Main and other downtown streets. This year's festival takes place on the streets near the San Mateo County History Museum. You will find food, beverages, arts and crafts, and more. The Battle of the Bands competition starts at 1 pm on Hamilton Street. There is also a kids area and informational booths. The fireworks will start around 9:30 pm.
North Bay & Wine Country Fireworks

If you plan to be in the North Bay or Wine Country during this annual holiday, you will also find plenty of things to do. You will find a full day of activities in American Canyon, the Napa County Fair and Fireworks event in Calistoga, and the Marin County Fair in San Rafael.
Confirmed for 2021
Petaluma: Sonoma Marin Fairgrounds at 9:30 p.m. They will not allow in person viewing, but will instead offer an experience with higher fireworks so you can enjoy them from home. 
Sonoma: Fireworks over the city that will allow everyone to watch from home. Starts at dusk. Will last for around 45 minutes.

Vallejo: Fireworks at Six Flags Discovery Kingdom on both July 3 and 4
Canceled for 2021
Healdsburg: Healdsburg High School Football Field at around 9 p.m. 
Rohnert Park: Transcendence Theatre Company & the Santa Rosa Symphony performance at Weill Hall and Lawn at 7:30 p.m. with fireworks around 9:15 p.m.
San Rafael: Marin County Fair at 9:30 p.m.
Santa Rosa: Sonoma County Fairgrounds at 9:30 p.m
Sausalito: Gabrielson Park at 9:00 p.m.

Windsor: Keiser Park at 9:10 p.m.
Additional Bay Area 4th of July Festivals & Activities in the North Bay

Confirmed for 2021
Calistoga: Enjoy this year's self-guided parade where local businesses and homes will paint the town Red, White and Blue. Drive along a designated parade route to see all of this year's decorations! 
Healdsburg: This year's Annual July 4th Community Celebration, Kids' Parade and Duck Dash will be in Healdsburg historic town square. Activities start at 10:30 a.m. with face painting, free food/drinks, a foot race around the plaza and the annual parade that starts at 11 a.m. Events wrap up around 1:30 p.m. 

Canceled for 2021
Novato (Virtual in 2021): The Novato Fourth of July Parade is in the Old Town District on Grant Avenue between Reichert and 7th Avenue, and has over 100 entries making it one of the largest in the San Francisco Bay Area. 

Petaluma: Their celebration starts at 5 p.m. at the Sonoma Marin Fairgrounds (175 Fairgrounds Drive, Petaluma) and runs until 10:30 p.m. Enjoy live music, food and other entertainment until the fireworks show begins at around 9:30 p.m. Admission is free and parking is available.
Rohnert Park: This year's festivities at Rohnert Park's Weill Hall and Lawn begin with a kids zone starting at 4:30pm, complete with carnival games, bounce houses, food, music, and more. Then, at 7:30pm, the Santa Rosa Symphony takes the stage along with the Transcendence Theatre Company.
San Rafael (Virtual this Year): One of the largest North Bay Celebrations is in San Rafael at the Marin County Fair. From July 3 - July 7, catch live music and fireworks each night at 9:30 p.m. and more than 35 hands-on games for the entire family during the day.
Santa Rosa: Red, White & Boom! is at the Sonoma County Fairgrounds in Santa Rosa. This year's events include tasty food from local vendors, a watermelon eating contest, jumpy houses, face painters, and, of course, fireworks. Festivities begin at 3 p.m. and the fireworks show at around 9:30 p.m.

Sausalito: Festivities include a morning parade, afternoon festival and a fireworks display at night. This year's parade starts at 10 a.m. and ends around noon. Head over to Dunphy Park after the parade for games, live music and more all afternoon. The Sausalito Fireworks celebration is in Gabrielson Park. Listen to live music starting at 6:30 p.m.. Fireworks begin at 9:00 p.m. and last for about 30 minutes.

Sonoma: Sonoma's Old Fashioned 4th of July Parade and Celebration includes festivities at the plaza, including food, games, and informational booths from 10 a.m. to 5 p.m. The annual parade starts at 10 a.m. at 1st Street East and Spain Street. 
Windsor: This year's Windsor celebration is on July 3rd. This all day event features live music, kids activities and several other fun activities. It ends with a fireworks show that starts around 9:40 p.m. Gates open at 4pm. All events are at Keiser Park.