San Francisco Events in April 2023

by Jill Loeffler  •

Updated: April 3, 2023
San Francisco events in April 2023 include theater performances, sporting events, festivals, concerts and so much more. The flowers are blooming and the weather is cool, yet sunny. It's one of the best times to visit. 

This month, enjoy several shows at SF's theaters. One of my favorite festivals, the Cherry Blossom Festival, is planned for the first part of the month. You will also discover several film festivals, SF Giants baseball and free museum admission days.
Discover something new at one of more than a dozen traveling museum exhibits or visit a museum for free toward the beginning of the month. The SF Symphony and SF Ballet also offer several performances throughout the month.
Read on to uncover even more fun things to do this April in San Francisco.
Disclaimer: I receive a small commission from some of the links on this page.

Sporting Events

Both the San Francisco Giants and Oakland A's baseball clubs are allowing fans in their stadiums. They both have slightly different rules, so make sure to visit their dedicated pages if you plan to attend a game. 
Opening day at Oracle Park with the SF Giants in April
SF Giants
Dates: 4/7 - 4/9, 4/10 - 4/12, 4/20 - 4/23, 4/24 - 4/27
Tickets: Ticketmaster | StubHub
Head over to Oracle Park for the home opener of the SF Giants 2023 season on April 7. It is the first of a three-game series against the Kanas City Royals.
The SF Giants have 12 home games this month. In addition to the Royas, they also play host to the Los Angeles Dodgers, St. Louis Cardinals, and New York Mets.

You will find Oracle Park in the South of Market District.
>> Discover the full schedule & more on my SF Giants page

Golden State Warriors
Dates: 4/4 + Any post season play
Tickets: Ticketmaster | TicketNetwork
The Golden State Warriors wrap up their regular season home games on April 4 against the Oklahoma City Thunder. They also hope to make the playoffs. I'll update this once post season play details are announced.
The Chase Center is located in the Mission Bay District. 
>> Read more about requirements for the games and to find tickets
Oakland A's
Dates: 4/1 - 4/2, 4/3 - 4/5, 4/14 - 4/16, 4/17 - 4/19, 4/28 - 4/30
Tickets: Ticketmaster | StubHub

You can also head across the bay to see a game with the Oakland A's. They have 14 games this month against the Cleveland Guardians, New York Mets, and the Chicago Cubs.
>> Visit my dedicated page for more information on how you need to prepare for a game at the Oakland Coliseum
Concerts & Live Music
SF boasts a variety of live music venues with great performances all year long. Catch some of the best concerts at the Fillmore, the Nob Hill Masonic, the Bill Graham Civic Auditorium, and the Independent. 
Additional top venues include the Great American Music Hall, and Cafe du Nord. You'll find smaller venues all around town with activities nearly every night of the week. 
The SF Bay Area offers large concerts at venues such as the Oracle Arena and the SAP Center. Find an entire list of the top shops all around San Francisco and the Bay Area by clicking on the link below.

>> Check out the full list of April shows

Theater Performances in April
Come From Away
Dates: 4/11 - 4/23
Location: Golden Gate Theatre
Tickets: StubHub | Ticketmaster
This is a must see Broadway show this April. It's the story of the small town of Gander, Newfoundland on September 11, 2001. 
The FAA grounded all planes on 9/11 and this small town in Newfoundland took in more than 16,000 passengers that day. 
The story talks through the real life situations that occurred from the immediate unease of this small community to the lasting friendships created. 
It's won several awards and is one of my favorites! 
Other Shows this Month
Clue (through April 22): This fun movie and game comes to life on stage at the SF Playhouse this April. It's your classic who-done-it with twists and turns. See if you can solve the crime this month in SF.

>> Find additional shows this month
Museums: Free Days & Exhibits
Most of San Francisco top museums are open in April. Below are some of the upcoming free days this month as well as their traveling exhibits. You will also find a list of some of the other top museums currently open.
One of the exhibits at the Asian Art Museum in San Francisco.
Free Museum Admission Days

Dates: Several in early April
Save money during these free museum admission days. Each month, several museums offer free entry into their permanent collection. 
Admire the exhibits of top museums including the Asian Art Museum and the de Young Fine Arts Museum.

Many of them offer free days toward the beginning of the month. Find a full calendar of dates through the link below.
>> Find the exact dates for each location here
Museum Exhibits in April
Dates: Throughout the Month
Asian Art Museum: Beyond Bollywood: 1000 Years of Dance in Art
de Young Museum: Some of the top exhibits here include To Teach and Inspire, and Nampeyo and the Sikyatki Revival

SF Museum of Modern Art: Top exhibits on display here include Alexander Calder, Sightlines, and Accion Latina.
>> Find additional museum exhibits this month in SF
Other Museums To Visit in April
San Francisco is full of amazing museums. Here are just a few that I think you will enjoy visiting. 
California Academy of Sciences: One of our top museums in SF with a four-story rainforest, aquarium, and a natural history museum. Find advanced tickets.
Aquarium of the Bay: This museum is open and you will find it on Pier 39. Learn more about visiting.
Cable Car Museum: This free museum just opened over the Easter holiday weekend. The cable cars are not running, but this small, interesting museum about them is open. Find out more about visiting.
Easter
Date: 4/9
Easter is once again in April this year. It's a fun time to visit with dozens of San Francisco events in April all weekend long.
You can catch a theater show, hunt for eggs in Golden Gate Park, or attend the annual Hunky Jesus contest. Another great way to kick off Easter morning is to head up to the top of Mount Davidson for their popular sunrise service. 

Plenty of places are open on Easter Sunday so you can enjoy lunch or dinner with your family. You can then head out on an afternoon cruise or explore SF on one of many walking tours. 

>> My full calendar of events this Easter Day Weekend in SF
Festivals
Taiko Drummers performing at the Cherry Blossom Festival in San Francisco in April.
Earth Day (4/22): Celebrate Earth Day in SF's Golden Gate Park. This family friendly festival offers live music, vendors, and your chance to learn even more about the environment. It runs from 11 am to 6 pm at the County Fair Building. It's free to attend. 
Cherry Blossom Festival (4/8 - 4/9 & 4/15 & 4/16): This event takes place over two weekends, and is a celebration of springtime and the blossoms all over Japantown. During the festival, you can enjoy traditional music, dance, and food. The Taiko drummer performances are the most popular, so make sure to arrive early for these free shows. You can also sample gourmet treats and learn more about these gorgeous blossoms. Visit this page to learn more.

Ocean Film Festival (4/13 - 4/16): One of the top San Francisco events in April is the International Ocean Film Festival. It features dozens of ocean-themed independent films from around the world. The festival is designed to raise awareness about the environmental, social, and cultural significance of the sea. 
San Francisco International Film Festival (4/13 - 4/23): This year brings the 65th edition of the longest-running film festival in the Americas—the SF International Film Festival—which features an impressive mix of marquee premiers, international winners, documentaries, musical performances, and more. 

Art Market (4/20 - 4/23): Art Market SF has partnered with the Fine Arts Museums of San Francisco in inviting thousands of visitors to view and buy an impressive selection of contemporary and modern pieces. This year, it will include 75 contemporary and modern art galleries inside the Fort Mason Center. It's one of the top San Francisco events in April for art lovers!
Opening Day on the Bay (4/30): This is an annual celebration for the maritime community, which includes the Blessing of the Fleet, a boat parade, and lots of sailing! More than 100 historic boats participate and it's the official kick off to the boating season in SF. This is the most popular day to go out on the water, and you'll see the bay dotted with sails all around the bay.
Bicycle Day (4/19): This event includes both a conference and festival. The evening festival offers you the chance to listen to live music, dance, and soak in the works of local artists. This year's headliner is The Floozies along with Dirtwire, The Human Experience and others. It's at The Midway. Learn more here.
Cesar Chavez Parade & Festival (4/29): Each year, SF's Mission District celebrates Cesar Chavez, California's legendary labor and civil rights leader who fought to improve the working conditions of farmers and migrant workers. The annual festival features a parade at 11am and street fair from 10 am - 5 pm. During the festival, you can enjoy Latin cuisines, dancing in the streets and so much more. Click here for more details about the Cesar Chavez event.
420 Hippie Hill (4/20): This year's 420 Hippie Hill in Golden Gate Park will include performances by Berner, Mike Tyson, and Jeff Ross. They will offer food, drink, and legal cannabis sales between 9 am and 5 pm at Robin Williams Meadow.
Sunset Mercantile Spring Event (Every Sunday): The Sunset Mercantile event is a fun place to eat, shop, and connect. The weekly event features artists, crafters, food merchants, small businesses, entrepreneurs and other local businesses. This event is Sunday afternoons in the Outer Sunset neighborhood from 9 am to 3 pm.

Bay Area Dance Week (4/21 - 4/30): Enjoy one of more than 400 free dance classes, performances and workshops during this year's annual Bay Area Dance Week. For 10-days, dance teams from around the SF Bay Area will perform and teach classes to the public. It's a chance to see traditional dances from countries from around the world. During this event, more than 100 forms of dance will be on display.
Glen Park Festival (Plans to Return in 2024): This 22nd annual family-friendly festival features gourmet food, live music, and raffles. Enjoy the street fair on Diamond Street from 10am to 4:30pm while supporting the local community. The event promotes local businesses, including restaurants, artists, and craftspeople, and the proceeds benefit field trips and other educational programs for SF children. 
Comedy Shows
San Francisco sure does appreciate getting its laughs with stand-up and other comedic entertainment. 
Head over to Cobb's Comedy Club or the Punch Line to see stars like Dana Carvey and Anjelah Johnson. 
You can also catch performances of BATS Improv, comedy shows, and more. Many of the venues are in North Beach or near Union Square.
>> Check out the full list of upcoming comedy shows
Performing Arts
SF Ballet: This SF Ballet offers two programs in April. The first program runs from 4/1 - 4/8 and is Cinderella. The second show runs from 4/21 - 4/30 and is Romeo & Juliet All shows are at the War Memorial Opera House in the Civic Center District. Find additional details & ticketing information.
SF Symphony: The SF Symphony is set to perform several shows in April. They perform around a dozen shows this month. All shows are at Davies Symphony Hall in the Civic Center District. Discover additional details on attending an SF Symphony performance.
Tours
Many of SF's bay cruises, Alcatraz tours, and others are running at a smaller capacity. Here are a few to check out this month.
SF Bay Cruise coming into Fisherman's Wharf past the famous sealions on Pier 39.
Cruise on the San Francisco Bay

In addition to all of these fun San Francisco events in April, make sure to book your seat on one of our popular bay cruises. It's the best way to spend a few hours during your trip and learn all about our waterfront attractions.
All of the cruises on my list take you under the Golden Gate Bridge as you learn all about this magnificent structure. You will also ride by Alcatraz Island as you learn more about its history and infamous prisoners.
Many of the cruises also offer both indoor and outdoor seating, so you can comfortably enjoy your journey. Make sure to bring along a jacket too as its cool on the water all year long.

Here are just a couple of our best bay cruises.

SF Bay Cruise: This cruise offers 60-minutes of fun on the SF Bay. It's the most popular cruise and runs several times a day. The Blue & Gold Fleet leaves from Pier 39. Find out more about this cruise and check for ticket availability. 

Sunset Sailing Cruise: Hop aboard the Adventure Cat for a 90-minute sail on the SF Bay. You'll get the chance to see the sunset as you enjoy 2 complimentary beverages. Their indoor area offers intimate tables and comfortable seating with the perfect views all around. Learn more and check for ticket availability for April.
Additional Cruises Around the SF Bay in April

Other Tours of San Francisco

Get to know San Francisco even better on one of these tours. The Hop On Hop Off Tours are running as well as a few walking tours that you might find interesting. These tours offer you the chance to learn all about some of SF's top attractions, districts, and hidden gems. 
Here are a few of the top picks that I think you will enjoy.
Hop On Hop Off: The Hop On Hop Off is one of the best ways to really get to see San Francisco. You can hop off and explore at one of more than two dozen locations around the city. When you are done, you simply hop back on and continue on to the next stop. Find out more about the stops on this Hop On Hop Off tour. 

Chinatown Food and History Walking Tour: This 2-hour walking tour will offers you the chance to learn all about this famous and historic district. You will get to sample some homemade dim sum, visit the Golden Gate Fortune Cookie Company, and discover some hidden gems. Check for availability for this tour. 
GoCar Tour: Ride around SF on one of those small, yellow GoCars. They fit just two people, so you can safely cruise past some of SF's top attractions. Learn more and check for availability.
Day Trips
Many of the day trips are also running right now from San Francisco. You can head up to wine country, explore Muir Woods, or spend a few hours in Yosemite.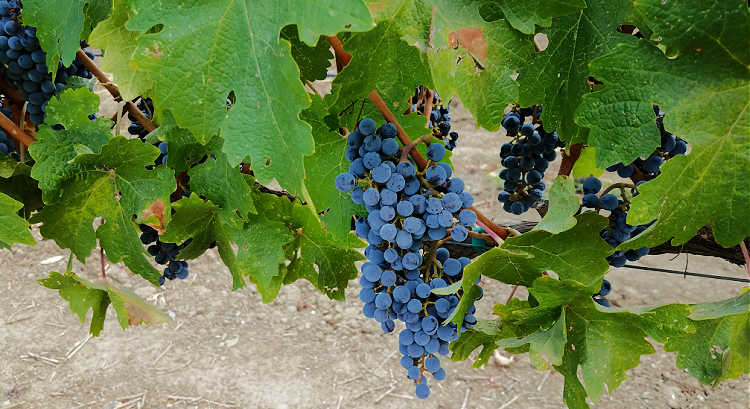 Grapes on the vines during harvest in the fall. In April, you will get to see the start of the blooms on the vines.
Many of the day trips are also running right now from San Francisco. You can head up to wine country, explore Muir Woods, or spend a few hours in Yosemite.

One of the most visited is the Northern California Wine Country. Just an hour to two hours north of the Golden Gate Bridge, you will find both the Napa Valley and Sonoma County wine regions. Each regions offers a variety of wines from Cabernet Sauvignon to Pinot Noir. You will also find some tasty whites and sparkling wines.
Yosemite is another popular option in April. As the weather warms up, this gorgeous National Park offers some of the best waterfalls, hiking, and so much more. It's perfect for those that love the outdoors.

Muir Woods is less than an hour north of SF and is a fun spot to see some of our famous Coastal Redwood trees. You can stroll along its mostly flat walkways and stare straight up into these 400+ year old beauties. You can also throw on your hiking shoes and head up one of its hills for a more strenuous adventure.

There is no shortage of fun things to see and do nearby. If it's your first time, check out a guided tour and leave the driving to someone else. Here are just a few of the most booked options.

>> Find additional day tours near San Francisco

More Tips to Visit SF in April
See More Cherry Blossoms in Bloom at the Japanese Tea Garden: April is the perfect time to visit the Japanese Tea Garden in Golden Gate Park. Toward the beginning on the month, the cherry blossoms begin to bloom and the garden is absolutely beautiful. You will get some of the best photos of this attraction during this time of year. Get in free if you arrive between 9 and 10am on a Monday, Wednesday, or Friday morning. See additional pics & what it's like to visit the Japanese Tea Garden.
More Things To Do in San Francisco in April: April is a fantastic time to visit the City by the Bay! Now that you've read my recommendations for special events that are happening this month, check out my tips for how to prepare for the April weather, great tours to take at this time of year, restaurants to try, and other fun things to do during your visit. Read about additional things to do in SF in April.
Weather in April: On my "Weather in April" page, you will find tips on what to pack and wear during your stay. You will also find information on average temperatures during the month and a few of my favorite things to do during this season. What to expect from the weather in April.
More SF Bay Area Events in April
Passport to Dry Creek Valley (4/29 & 4/30): One of my favorite SF Bay Area events in April is Passport to Dry Creek Valley, a two-day festival featuring the best food and wine in Sonoma County. You'll get the chance to discover over 45 Dry Creek Valley wineries, each with its own elaborate theme for the weekend. In addition, you'll enjoy exquisite food and wine pairings with the area's best chefs at a series of intimate winemaker lunches and dinners. Head to the North Bay and soak in all that Northern California's wine country has to offer. Full Sonoma calendar for April.

Cupertino Cherry Blossom Festival (4/29 - 4/30): In addition to the large Cherry Blossom Festival in San Francisco, the South Bay town of Cupertino will also honor this beautiful Japanese tradition with its own weekend-long program. This community festival goes beyond celebrating the spring blossoms; it celebrates and promotes the 39-year-old cultural exchange between Cupertino and its sister city, Toyokawa, Japan. Enjoy authentic dance, food, and more throughout the last weekend in April. 
Montclair Fine Arts Sidewalk Festival (4/22 - 4/23): Montclair is a town located on a hill above Oakland and is a secret Bay Area gem. There will be more than 60 artist, live music, and loads of arts and crafts for you to choose from and enjoy. There are also special areas for the kids to play and give you some time to chill out and check out the gorgeous view overlooking Oakland. If you don't know this area, make sure to put this festival on your list.
Petaluma Butter & Egg Days Parade & Celebration (4/29): A long-running tradition in the North Bay town of Petaluma is the annual Butter & Eggs Parade and Celebration, which honors the region's rich agricultural history as one of the nation's premier dairy producers. The parade takes place at noon, and will feature over 100 entries representing the local community. The fair runs from 10am to 5pm, and includes four city blocks of booths for arts and crafts exhibitors, food vendors, and community organizations. There will be plenty of entertainment and rides for the youngsters as well. 
Bay Festival in Berkeley (4/22): The Bay Festival is a wonderful, free community event that started 80 years ago when the Berkeley Marina first opened. This outdoor fair gives the whole family a chance to enjoy good food, listen to live music, and learn about the environment and other important issues at the various booths. You'll find tons of activities and entertainment from 11am to 4pm on the lawn of this public waterfront park in the East Bay. 
Santa Cruz Mountains Grand Tasting 2023 (4/30): Another one of the SF Bay Area events in April that offers wine tasting all day long is Santa Cruz Mountains Grand Tasting. Spend the day sampling locally made wines from the Santa Cruz Mountains. More than two dozen wineries will be at The Mountain Winery serving up their wines between 1 pm and 4 pm.
Pebble Beach Food & Wine (TBD): Pebble Beach Food & Wine is a premier culinary event that brings together 250 acclaimed wineries and 100 celebrity chefs for four days of amazing wining and dining. Held in beautiful Pebble Beach, famous for its panoramic California coastline, this festival truly provides guests an unforgettable experience at the wine tastings, cooking demos, and exclusive sit-down meals. More events around Monterey in April.
Comments? Questions? Suggestions?
I would love for you to join me in my private Facebook group! 
It's a great place to interact with me and others who know the area well.
You can ask questions, get advice for your upcoming stay, and then share your photos and advice with others when you return home. It's a great community and the fastest way to get answers to those nagging questions about your visit!