San Francisco Events in April 2017
Cherry Blossom Festival, Theater & Other Fun Things to Do
San Francisco is beautiful in April as the flowers are blooming and the weather is cool, yet sunny. It's one of the best times to visit.
Spring is in the air and you will find dozens of fun things to do. It's also the first month of the year where you will find street fairs almost every weekend.
This month, enjoy several shows at SF's theaters. One of my favorite festivals, the Cherry Blossom Festival, is planned for the first part of the month. You will also discover several film festivals, like the Green Film Fest and the International Film Festival.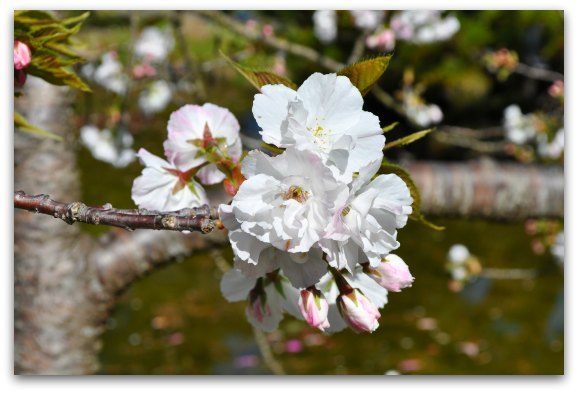 Cherry blossoms bloom in April in SF's Japanese Tea Gardens & Japantown
Discover something new at one of more than a dozen traveling museum exhibits or visit a museum for free toward the beginning of the month. The SF Symphony and SF Ballet also offer several performances throughout the month.
Read on to uncover even more fun things to do this April in San Francisco.
For some of the links on this page, I receive a small commission when you purchase. You don't pay more when you buy through me and it gives me the chance to offer you all this great content for free!
Hamilton at the Orpheum Theater
Yes, that Broadway musical that everyone is talking about is finally playing in San Francisco! Based on a biography of our founding father Alexander Hamilton, this musical play is a far cry from a dull history show. Rather, you'll be delighted by this dazzling display of creative score, costumes, and scene design, which bring 18th century America to life in whole new ways. Snag these hot tickets while you can!
Dates: March 10 - August 5
Additional SF Theater Performances in April
In addition to Hamilton, you'll find a variety of theater performances. Highlights include John at the Strand (2/22 - 4/23), Noises Off at the SF Playhouse (3/21 - 5/13), and Needles and Opium at the ACT's Geary Theater (3/30 - 4/23).
Dates: Several in April
More: See the complete list of theater performances this April
SF Vintage Fashion Expo
Enjoy a full weekend of fashion exhibition and marketplace at the SF County Fair Building. For 30 years, the Vintage Fashion Expo has been partnering with over 50 prominent dealers to showcase the best in vintage clothing, jewelry, and accessories ranging from the late 18th century to the 1990s. Here, you are sure to find unique and inspiring items.
Date: April 1 & 2
More: See photos and get details on their website
Golden State Warriors Games
Head over to Oakland to watch the Golden State Warriors in action. In April, they finish their regular season and move into post season play. Final regular season games at home at on April 2, 4, 8, 10, & 12. See the full schedule below and click the links for ticketing information.
Dates: April 2, 4, 8, 10, & 12 + Post Season Play
More: Additional details on the Golden State Warriors and tips to attend a game
San Francisco International Film Festival
This year brings the 60th edition of the longest-running film festival in the Americas—the SF International Film Festival—which features an impressive mix of marquee premiers, international winners, documentaries, musical performances, and more. This large festival is one of the San Francisco events in April that should not be missed, as filmmakers come from nearly 50 countries around the world to screen hundreds of films.
Dates: April 5 - 19
More: Get film festival details
Festivals in April: Full calendar of festivals in April
Live Music in SF
SF boasts a variety of live music venues with great performances all year long. Catch some of the best concerts at the Fillmore, the Masonic, the Bill Graham Civic Auditorium, and the Independent. In addition, you'll find smaller venues all around town with activities nearly every night of the week. This April, Bring Me the Horizon, Diamanda Galas, A Perfect Circle, and The XX all come to San Francisco. Just across the bay in Berkeley, you can also catch Radiohead, and later, Yo-Yo Ma, Edgar Meyer & Chris Thile.
Dates: Throughout April
More: Check out the full list of April shows
Golden Gate Bridge Free Walking Tour
Learn all about one of the most recognized bridges in the world on this free walking tour. During this two-hour tour, you will learn more about how locals received the approval to build the bridge, the key players that made it happen, and some of the bumps along the way.
You will also learn fun facts including how many people helped build it, how much it cost, and how often it gets painted. With the group, you will walk to the southern tower of the bridge. From there, you can continue the rest of the way on your own or return to the southern visitors area.
Dates: Every Thursday & Sunday at 11am
More: Find more free walking tours offered by the SF Public Library
Free Activities: My 25 favorite free activities in April
West Portal Sidewalk Fine Arts & Crafts Fair
Check out great art at the Fine Arts and Crafts Fair in the West Portal neighborhood. The three-day event runs from 10am to 5pm, featuring photography, paintings, ceramics, and jewelry from more than 40 artists. The fair takes place along West Portal Avenue between 15th and Ulloa, a quaint strip of local retail stores, restaurants, bookshops, and coffeehouses.
Dates: April 7, 8, & 9
More: Click here for more event details
Half-Priced Tours on Goldstar
Are you looking to add some fun tours to your itinerary? If so, then check out the deals on Goldstar. They offer discounts on dozens of tours and events at up to 50% off. Here are just a few of the top tickets they are offering for San Francisco events in April.
60-Minute Bay Cruise: Cruises around the bay, leaves from Fisherman's Wharf, several cruises a day, Full price $31, Goldstar price $15.50*


7D Experience: Help eliminate the bad guys with this part video game, part movie that is a whole lot of fun, located on Pier 39, Full price $14.99, Goldstar $8.25*


Magowan's Infinite Mirror Maze: A colorful twist on the old fashioned house of mirrors, spend some time trying to make your way throug this mirror maze, located on Pier 39, Full price $10-$20, Goldstar $5-$9*
*Small service fee at checkout.
SF International Beer Fest
This year's International Beer Festival will once again be held at the Festival Pavilion at the Fort Mason Center. This venue offers plenty of space for the dozens of local brewers showcasing their latest brews. Sample as many as you'd like between 7pm and 10pm.
This fund-raiser supports the Telegraph Hill Cooperative Nursery School, and is the school's only fund-raiser of the year. Stop by to help out a great cause as you enjoy some cold beers with your friends.
Date: April 8
Tickets: Get discounted tickets for a limited time only on Goldstar
More: Find additional details on this spring's International Beer Festival
SF Ballet
This SF Ballet offers three programs in April. Program 6, Swan Lake, runs from March 31 - April 12. Program 7 includes Trio, Thatcher World Premiere, and Within the Golden Hour, and runs from April 5 - 18. The final program this season, Program 8, is Cinderella, and runs from April 28 - May 7. All shows are at the War Memorial Opera House in the Civic Center District.
Dates: Several this month
More: Find additional details & ticketing information
Cherry Blossom Festival
The Cherry Blossom Festival kicks off this year's celebration on April 8. This event takes place over two weekends, and is a celebration of springtime and the blossoms all over Japantown. During the festival, you can enjoy traditional music, dance, and food. You can also sample gourmet treats and learn more about these gorgeous blossoms.
Dates: April 8 - 9 and 15 - 16
More: Find additional details for this year's Cherry Blossom Festival
Sunday Streets
One Sunday each month (from April to November) is dedicated to bringing together and showcasing the best of a particular area in SF. Each free neighborhood festival features live music, activities for the whole family, and streets closed to traffic so you can truly explore the area and relax. This April 9, Sunday Streets is in the Bayview/Dogpatch District.
Dates: April 9
More: Find out which weekends to visit which neighborhoods
48 Hours in SF: A Self-Guided Tour
Do you only have a couple of days to explore SF? Are you trying to pull together your plan to see as much as possible? To simplify your process, I've done it for you! On this two-day self-guided tour, you will see all the top attractions including Alcatraz, Fisherman's Wharf, and the Golden Gate Bridge.
You will also head out on a cable car ride, walk down Lombard Street (one of the most crooked streets in the world), and admire one of Diego Rivera's frescos. The itinerary also includes tips on where to stop for lunch or dinner and allows you to see as much as you can in just two days.
Dates: Any day of the week
More: Discover the full itinerary
SF Giants Baseball
Head over to AT&T Park for the home opener of the SF Giants 2017 season on April 10. It is the first of a four-game series against the Arizona Diamondbacks. In April, the Giants also play host to the Rockies, the Dodgers, and the Padres.
Dates: Several (Home Opener is April 10)
More: Discover the full schedule & more on my SF Giants page
SF Comedy Scene
San Francisco sure does appreciate getting its laughs with stand-up and other comedic entertainment. Head over to Cobb's Comedy Club or the Punch Line to see stars like Dana Carvey and Anjelah Johnson. You can also catch performances of BATS Improv, musical comedies like Beach Blanket Babylon, and more. This month, popular performers include Will Durst, Mo Mandel, Brian Posehn, Paul Mercurio, Adam Ray, Paul Rodriguez, Anthony Jeselnik, Loni Love, and Dan St. Germain.
Dates: All month long
More: Check out the full list of upcoming comedy shows
Top Hotel Deals
Are you still looking for a place to stay during your visit? I recommend starting your search on either TripAdvisor.com or Booking.com. Both offer a huge selection of hotels, motels, and hostels and offer some of the best prices around.
Booking: Find great deals all around San Francisco for your upcoming stay!
TripAdvisor: What's the #1 hotel in San Francisco? Read reviews & find hotel deals on TripAdvisor!
Walker Stalker Con
Do you love The Walking Dead? If so, then this is your chance to meet the stars, pick up collectables and meet other fans. Present and past stars of the show that are scheduled to be on hand include Michael Cudlitz (Abraham), Khary Payton (Ezekiel), Josh McDermitt (Eugene), Michael Rooker (Merle) and many more. Walker Stalker Con is a 2-day festival at the Fort Mason Center.
Dates: April 15 & 16
Easter
You will find a variety of fun San Francisco events in April this Easter. You can head up to Mount Davidson for the annual sunrise service, enjoy a meal with your family, or head out on a bay cruise. You can also attend the Union Street Festival that afternoon or catch a theater performance.
Date: April 16
More: My full calendar of events this Easter Day Weekend in SF
Union Street Easter Parade & Spring Celebration
Every year, the Union Street neighborhood in the Marina District puts on a fantastic, family-friendly Easter celebration, including a parade, kids activities, rides, games, food, and live entertainment. Festivities start in the morning with Egg Roll, Egg Toss, and music, followed by the wacky and colorful "Biggest Little Parade in San Francisco" at 2pm, finishing with the Bunny Hop and Hat Awards later in the afternoon.
Date: April 16
More: More festival details and other Easter events
Free Museum Admission Days
Save money during these free museum admission days. Each month, several museums offer free entry into their permanent collection. Admire the exhibits of top museums including the Asian Art Museum, the Legion of Honor, and the de Young Fine Arts Museum.
Dates: Several in early April
More: Find the exact dates for each location here
SF Green Film Festival
The Green Film Festival aims to spark the next great environmental ideas by bringing together people from all over the globe to view and discuss insightful, innovative films that tell the stories of dozens of countries and their ecological situation.
Dates: April 20 - 26
More: Get more information on what films are playing, tickets, and more
Bay Area Dance Week
Don't miss these 10 days packed with more than 600 free dance classes, performances, and workshops, beginning with the very popular kick-off event at Union Square.
Dates: April 21 - 30
More: Find out more about this fun-filled week of dance
Earth Day SF
The annual Earth Day SF celebration is an all-day fair, rally, and teach-in promoting eco-friendly food, technology, energy, and other products. In addition to the educational panels and booths, you'll find entertainment, a kids zone, and the hugely popular 'silent disco stage.' The live music this year pays tribute to the 50th anniversary of SF's Summer of Love, including psychedelic rock, funk, and groovy world beat performers.
Date: April 22
More: More details about this important event
Save with the SF CityPASS
A great way to save on top attractions is through the SF CityPASS. This discount pass offers admission to the California Academy of Sciences, the Aquarium of the Bay, and the Exploratorium (or the de Young Museum).
It also includes a ticket on a 60-minute bay cruise, as well as a multi-day unlimited Muni Transit Pass valid on all SF public transit including buses, light rail, and cable cars. In the packet you'll also find discounts at major shopping centers.
Tickets: Save up to 42% on San Francisco's Muni and 4 other attractions with CityPASS. Shop now!
Opening Day on the Bay
This is an annual celebration for the maritime community, which includes the Blessing of the Fleet, a boat parade, and lots of sailing! This is the most popular day to go out on the water, and you'll see the bay dotted with sails from Pier 39 to Sausalito.
Date: April 23
Cesar Chavez Holiday
Each year, SF's Mission District celebrates Cesar Chavez, California's legendary labor and civil rights leader who fought to improve the working conditions of farmers and migrant workers. The annual festival features a parade at 11am and street fair from 12 - 5pm.
Date: April 29
More: Click here for more details about the Cesar Chavez event
SF Symphony
The SF Symphony is set to perform several shows in April. They start with MTT as he conducts Mahler (3/30 - 4/2). Other top performances include Raiders of the Lost Ark, feature film with live orchestra (4/13 - 4/15), Prokofiev and Rachmaninoff (4/19 - 4/22), and German Romanticism: Schumann and Strauss (4/27 - 4/29). All shows are at Davies Symphony Hall in the Civic Center District.
Dates: Several in April
More: Discover additional details on attending an SF Symphony performance
Frank Stella at the de Young Museum
Admire the work of Frank Stella at this exhibit at the de Young Fine Arts Museum. It includes around 50 of the pieces he created since 1970. It will be on display throughout the month.
Dates: November 5 - June 25
More: Find the full museum exhibit schedule
Museum: Details on what to expect when you visit the de Young Museum
Art Market
Art Market SF has partnered with the Fine Arts Museums of San Francisco in inviting thousands of visitors to view and buy an impressive selection of contemporary and modern pieces.
Dates: April 27 - 30
Discounted Tickets: Tickets at up to 50% off on Goldstar
More: Take a look at what you can expect to find at the Art Market
Union Square Live
Downtown SF comes alive during the spring and summer with free live performances in Union Square each week. Events are family-friendly and include dance, music, circus, and theater performances, as well as movies and other entertainment. This ongoing festival kicks off this month and continues through September.
Dates: Several this month
More: Find out about this season's performances in Union Square
stARTup Fair SF
The stARTup Fair allows unrepresented artists the opportunity to showcase their work in a world that offers less and less space for exhibitions. Join this group of creative, innovative art entrepreneurs and support emerging artists.
Dates: April 28 - 30
More: Read more about this unique art initiative
San Francisco Decorator Showcase
This event, which takes place in the most prestigious San Francisco homes, is regarded as the West Coast's premier design showcase event, featuring the wonderful work of the region's top interior and landscape designers. All proceeds benefit the San Francisco University High School Financial Aid Program.
Dates: April 29 - May 29
More: Discover more details about this elegant event
Glen Park Festival
This 18th annual family-friendly festival features gourmet food, live music, and raffles. Enjoy the street fair on Diamond Street from 10am to 4:30pm while supporting the local community. The event promotes local businesses, including restaurants, artists, and craftspeople, and the proceeds benefit field trips and other educational programs for SF children.
Date: April 30
More: More festival details, including how to get there
Buy Attraction Tickets in Advance
Plan ahead and purchase your attraction tickets before you arrive.
See More Cherry Blossoms in Bloom at the Japanese Tea Garden
April is the perfect time to visit the Japanese Tea Garden in Golden Gate Park. Toward the beginning on the month, the cherry blossoms begin to bloom and the garden is absolutely beautiful. You will get some of the best photos of this attraction during this time of year. Get in free if you arrive between 9 and 10am on a Monday, Wednesday, or Friday morning.
More: See additional pics & what it's like to visit the Japanese Tea Garden
More Things To Do in San Francisco in April
April is a fantastic time to visit the City by the Bay! Now that you've read my recommendations for special events that are happening this month, check out my tips for how to prepare for the April weather, great tours to take at this time of year, restaurants to try, and other fun things to do during your visit.
More: Read about additional things to do in SF in April
Weather in April
On my "Weather in April" page, you will find tips on what to pack and wear during your stay. You will also find information on average temperatures during the month and a few of my favorite things to do during this season.
Info: What to expect from the weather in April
Bay Area Events
Are you looking for additional events in the Bay Area? Check out my calendar that covers the top events in Oakland, San Jose, Berkeley, and other towns around the bay.
Calendar: April calendar of Bay Area events
Additional Activities for Your Visit