Chinatown Autumn Moon Festival 2023


by Jill Loeffler  •

Updated: April 4, 2023
The Chinatown Autumn Moon Festival is a yearly celebration in San Francisco. The 2023 event is a two day celebration on September 23 & 24 and runs from 11 am - 5 pm both days.

This colorful event features a parade, live entertainment, arts & crafts, and a variety of food and drinks. There is so much to do that you could easily spend both days here and want more. All activities take place along Grant Avenue in the heart of Chinatown.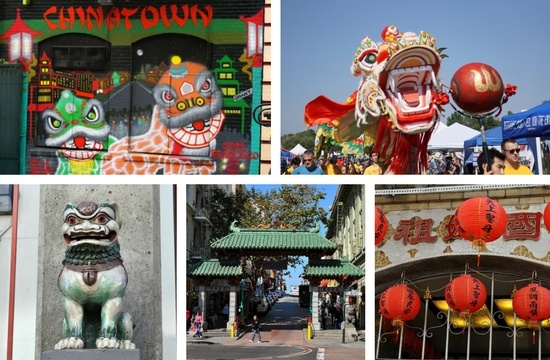 This festival started in San Francisco to rebuild excitement in the district after the 1989 Earthquake. It revitalized the community and is now an annual event. 
You will find it every year on the fifteenth day of the eighth month of the lunar calendar. This is when the moon is full and bright, which means it is time to celebrate!
Disclaimer: I receive a small commission from some of the links on this page.

The Opening Parade 

Each year, the Chinatown Autumn Moon Festival kicks off with a parade down Grant Avenue. It starts at California Street and ends near Washington Street.
During the parade, you will see traditional costumes, lion dancers (one of my favorites!), and ribbon dancers. You will also see marching bands, giant puppets, and more.
The best place to watch this parade is near the end. In addition to the parade, this area (at Grant Avenue and Washington Street) will feature non-stop entertainment such as martial artists, acrobats, and dancers. This stage is also where you will find performances all weekend long.
Here is a map of the parade route for the opening day parade.
Other Fun Tours & Activities in Chinatown
The Street Fair 

During the Chinatown Autumn Moon Festival, you will find lots of additional activities along Grant Avenue. Both days, you will find around 200 arts and crafts booths, food stands, and other entertainment.
Being that there is so much to see, many of the restaurants have open-air seating, so you can enjoy the festival as well as enjoying the delicious food.
Admission to the street fair is free.
Live Entertainment

Make sure you also head over to the main stage at Grant Avenue at Washington Street for additional entertainment. 

Closing Parade

The Chinatown Autumn Moon Festival closes with a small White Crane Dragon Parade. You will also find this parade along Grant Avenue.

Places to Stay in Chinatown

Inside Chinatown, you will only find a handful of places to stay. However, you will find dozens just a few blocks away in Union Square. Check out my top recommendations by clicking the links below.
If you want other choices, with different options including some that have free parking, then click here to check out their current deals.

The History of The Autumn Moon Festival
There are numerous stories about why the Autumn Moon Festival is so important, but this is the most famous of them all. There was a beautiful girl, Chang E, who lives in the Jade Emperor's palace in Heaven.
Unfortunately, she broke a gorgeous porcelain jar and the Jade Emperor forced her to return to Earth as a punishment. She was told she could only return to Heaven, and the Jade Palace, if she did helped people in need on Earth.
She was then turned into a young girl in a very poor family of farmers. She then became friends with a hunter named Hou Yi. Later, a very strange event happened when 10 different suns rose in the sky instead of just one.
This made the Earth incredibly hot and dangerous since it was so bright and was ruining everything. Hou Yi, who was an excellent archer, shot down the other 9 suns and became a hero. He and Chang E fell in love and became king and queen.
Sadly, Hou Yi let his power go to his head and forgot his own humble beginnings and life. He then decided to take the pill called the magical Elixir of Life to become immortal. Chang E happened to find it and took the pill.
No one knows if it was on purpose or by accident. Hou Yi became incredibly angry and started to chase after her. She jumped out of a window and, instead of falling to her death, she rose towards the Moon and floated away.
Being that King Hou Yi was still angry, he tried to shoot her down with his bow and arrows, but unlike with the suns, he missed her. When Chang E landed on the moon, she became a three-legged frog as punishment for her misdeed. Her only friend, a rabbit, is constantly making the Elixir of Life pill to remind her of her mistake.
The Cassia tree is on the moon and a wood cutter constantly tries to cut it down. However, the cassia tree constantly heals itself and can never be destroyed. Because of this it is an image of immortal life on Earth for people of the Chinese culture.
As the end, Hour Yi rises to become the sun and builds a palace on it. Chang E continues to live on the moon. And this is where the idea of yin and yang comes from because of the sun and moon switching places each day.
Fun Fact: Just before the Apollo 11 spacecraft landed on the moon, there is a recording of Houston CAPCOM telling the astronauts to look out and see if they can find Chang E who has been living on the moon for over 4,000 years. They also said to look out for the giant Chinese rabbit. Michael Collins said, "Okay. We'll keep a close eye out for the bunny girl" in response. 

Other Activities in Chinatown

There are so many great things to do in Chinatown. Here are some of my favorite places to explore during my visit to this district.
Chinese Temples: This is one of my favorite activities when I visit Chinatown. All three of the temples are open to the public and will welcome you with open arms. They are free to visit, although they do have a donation box as you leave. It's a great way to learn more about the religious part of this interesting community.
Chinese Historical Society: The Chinese Historical Society is a small museum dedicated to the history of the Chinese Americans. You will learn about their struggles to immigrate to the US as well as the issues they faced once they arrived. It's an eye-opening look into their past. 

Golden Gate Fortune Cookie Company: Have you always wondered how fortune cookies are made? If so, then step inside the Golden Gate Fortune Cookie Company. This small factory hand produces fortune cookies that are sold all over the world. It's free, but you will need to pay $1 to take photos.

More Moon Festivals & Activities Around the SF Bay Area
Most people only think of the Chinatown Autumn Moon Festival as an event special to the Chinese Culture. Interestingly enough, there are other Asian cultures that celebrate this wonderful day.
Some of these include celebrations that are from the Korean, Vietnamese, and Japanese cultures. There are events are throughout San Francisco, celebrating all these cultures, and I've put together a list of just a few of them here:
Off the Grid Mid-Autumn Festival (TBD): This party at Fort Mason in San Francisco showcase drinks and food from numerous Chinese restaurants and more. There is also live music and performances. It is one of the few nighttime only festivals and runs from 5 to 10 pm at the Fort Mason Center for Arts & Culture at 2 Marina Boulevard
S.F. Bay Area Korean Harvest Chuseok Festival (TBD): Dedicated to the Korean festival, this annual event has events, music, and food trucks, and events such as rice cake making and more. It is located on the Civil War Parade Ground on Graham Street in San Francisco and runs from 11 am to 5 pm.
Autumn Moon Celebration with San Francisco Parks and Recreation (TBD): This is a great way to celebrate the Autumn Moon Festival for people of numerous Asian cultures at once. There are loads of fun art giveaways, live music, board games, and of course great food and drinks. One of truly fun reasons to go to this event is that a multilingual drag queen will do story telling in Cantonese, Korean and English! This event runs from 11 am to 3 pm and is free for all to attend. It is located at the Louis Sutter Playground at McLaren Park in San Francisco.
Places to Stay Around San Francisco
Comments? Questions? Suggestions?
I would love for you join me in my private Facebook group! 
It's a great place to interact with me and others that know the area well.
You can ask questions, get advice for your upcoming stay, and then share your photos and advice with others when you return home. It's a great community and the fastest way to get answers to those nagging questions about your visit!