San Francisco Weather in July: Tips to Prepare & Pack for Your SF Vacation
San Francisco weather in July is mild during the day and cool in the evenings. It's a great time to visit if you are looking to get away from the heat of the summer.

In July, the city is covered in fog at night which keeps the temperatures low throughout the summer. The fog burns off mid-morning and most days are sunny. The fog then rolls in again in the evenings and cools down the city to the mid-50s.
On this page, you will find some additional tips on what to pack during your stay, recommendations on some fun things to do in July, and a few ways to save while you are here.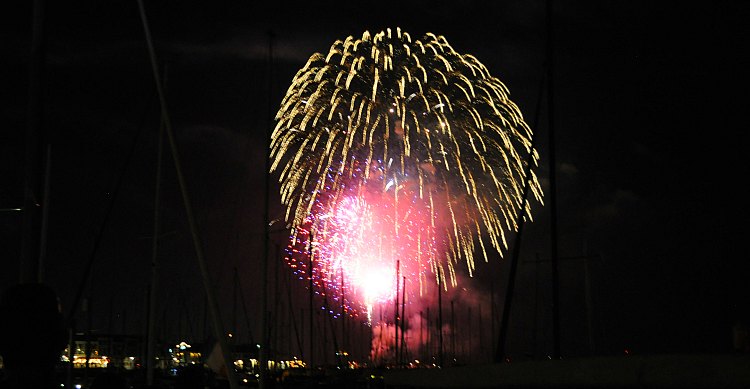 The San Francisco weather in July gets foggier as the month progresses. As the temperatures heat up in places all around the SF Bay, the warmth hits the cool bay and Pacific Ocean water and creates the fog.
During the day, you will find temperatures heat up to the mid-to-upper 60s. At night, it will cool down to the mid-50s.Here are some stats for the San Francisco weather in July.
Average High in July: 67° F/19° C
Average Low in July: 54° F/12° C
Average Monthly Rainfall: 0 inches
Record High: 103° F/ 39° C (7/17/1988)
Record Low: 47° F/8° C (7/10/1953)
Disclaimer: I receive a small commission from some of the links on this page.

What to Pack for the San Francisco Weather in July

While most people come packed for warm, sunny days, I recommend coming with a few long-sleeved items so you have something to keep you warm as the evenings cool down.
For the San Francisco weather in July, I typically wear short sleeved shirts and pants during the day. You could probably bring along some shorts too. Since it's breezy here in July, you will find it a bit too cool most of the time for shorts.
At night, I will wear short sleeved shirts along with a light jacket or sweater. Since it's usually warm inside, you can then remove or add your second layer to manage the change in temps both inside and out.
It's windy this time of year too. If you plan to walk across the Golden Gate Bridge or take a bay cruise, make sure to bring along that extra layer during the day. You will need it to stay warm!
>> More about what to pack for July
Fourth of July Fireworks - What to Expect

One of the biggest events this month is our large fireworks display over the SF Bay to celebrate Independence Day. Fireworks are set off over the water near Fisherman's Wharf.
Even though most of July is foggy in the evening, it's often clear or mostly clear this early in the month. This means you will typically get a great view of the fireworks from several places around the bay.
If you do plan to attend the show, make sure to bundle up as the temps will dip down into the mid-50s once the sun goes down.
>> More on watching the fireworks in SF in July
5 Fun Things to Do in July

Since the San Francisco weather in July is cool and sunny, you will find it's a busy time of year to visit. Here are a few other fun things to do this month.
1. See an SF Giants baseball games: Head over to Oracle Park to enjoy a game with the SF Giants. They play more than a dozen home games this month against teams such as the LA Dodgers, the San Diego Padres, and the Pittsburgh Pirates. Click here for details on this year's schedule.
2. Cruise around the bay: Another one of the must do activities in July is a bay cruise. Many people opt for the standard 60-minute cruise, which takes you all around the bay and under the Golden Gate Bridge. Other options include a wine tasting cruise, a dinner cruise, or a high-speed ride on the Rocketboat. Find my 10 favorites here. Find advanced tickets.
3. Visit the California Academy of Sciences: One of our most popular museums is the California Academy of Sciences. It's really four museums in one with a natural history museum, a 4-story rainforest, a planetarium, and an aquarium. Plan to spend most of the day here checking out their exhibits. Find more details about visiting here or check for skip the line tickets.
4. Sample local cuisines on a food walking tour: Taste a variety of dishes on a food tour in one of our districts. You can head to North Beach for tastes of Italy, sample traditional Chinese dishes in Chinatown, or get a taste of the Latin culture in the Mission. Learn more about these and other fun food walking tours.
5. Listen to music in the park: Every Sunday in July, you can enjoy free live music at Stern Grove Park. Concerts start at 2pm and feature local artist as well as internationally known stars. Find this year's list of performers here.
More Fun Ideas for July

>> See a list of the 20 best summer events
>> 10 best things to do in SF (perfect for first time visitors!)
>> 25 free things to do in July
Hop On/Hop Off Bus Tour

Another great way to enjoy the San Francisco weather in July is on a hop on hop off bus tour. These double decker buses have open tops which allow you to get great views all around town.
You can also quickly get from one attraction to the next. The one I often recommend will take you to several locations including the Golden Gate Bridge, Golden Gate Park, Fisherman's Wharf, Chinatown, Lombard Street, and several other locations.
>> Find out more about the hop on hop off bus and check for availability during your stay
More Things to Do in SF in July

Comments? Questions? Suggestions?
I would love for you to join me in my private Facebook group! 
It's a great place to interact with me and others who know the area well.
You can ask questions, get advice for your upcoming stay, and then share your photos and advice with others when you return home. It's a great community and the fastest way to get answers to those nagging questions about your visit!