20 Top Summer Events in San Francisco in 2023: The Best Street Fairs, Concerts, & Other Activities

by Jill Loeffler  •

Updated: January 5, 2023
Discover the 20 Top Summer Events in San Francisco 2023. Every year, you will find an amazing lineup of events all season long. They range from Outside Lands, a large music festival in Golden Gate Park, to SF Giants baseball at Oracle Park.
Other highlights this year include free live music at Stern Grove Park, free entertainment & fireworks for the Fourth of July, and several award-winning theater productions.

Disclaimer: I receive a small commission from some of the links on this page.

1. Concerts & Live Music

This summer, you will find a number of concerts and live music events in San Francisco and all around the SF Bay Area.
Major performances take place at top venues including the Bill Graham Civic Auditorium, the Fillmore, and the Warfield.
You can also catch live performances at several festivals this summer. Outside Lands, for example, offers an incredible lineup of popular artists for three packed days in Golden Gate Park. 
Dates: Various Dates this Summer
Learn More: Full Summer Live Music Schedule for SF & the Bay Area
2. Fillmore Jazz Festival

The largest free jazz festival on the west coast is in San Francisco over the Fourth of July weekend. The Fillmore Jazz Festival is all day on Saturday and Sunday and covers twelve blocks in the Pacific Heights District.
In addition to free, live jazz music, you can enjoy gourmet food, cold beverages, and arts and crafts from vendors from around the US.
Learn More: Summer Fillmore Jazz Festival
More: Additional Summer festivals every year
3. Fourth of July Fireworks & Celebration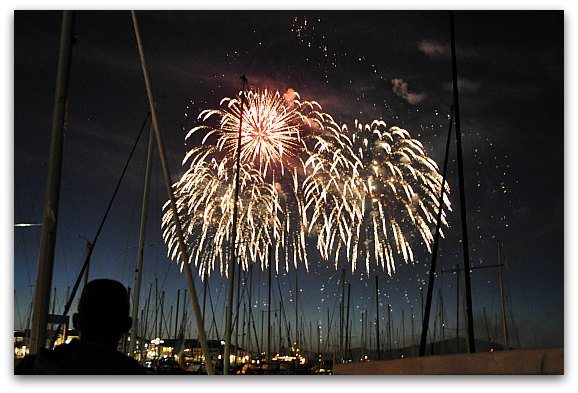 The largest of the summer events in San Francisco is on July 4th. The annual waterfront celebration includes live music in Fisherman's Wharf, fun activities all day long, and a colorful fireworks display at dark.
Most activities are free, and I recommend getting there early to grab your place for the show.
Date: July 4
Learn More: Fourth of July Fireworks & Celebration
4. Giants Baseball

Head over to Oracle Park to catch our Major League Baseball team in action. The San Francisco Giants play at home more than a dozen times in June, July, and August.
This summer they will take on teams such as the LA Dodgers, San Diego Padres, and the Arizona Diamondbacks.
Dates: Various Dates Each Month
Learn More: Full Schedule

5. Haight-Ashbury Street Fair

The annual Haight-Ashbury Street Fair features live music on two stages. You can also spend time enjoying the 200+ booths that feature gourmet food, arts & crafts, and information on community outreach programs.
The event is free to attend, and all activities are held in the Haight-Ashbury District, which has been home to San Francisco's hippie and free love movement since the 1960s. Head over to Haight Street between Masonic and Stanyan.
Date: September
Learn More: Details for this Year's Haight Street Fair
6. Japan Film Festival

One of the largest film festivals this summer is the Japan Film Festival. This nine-day event features independent films by Japanese and Japanese American filmmakers. They cover important topics in the community both at home and abroad.
Learn More: Details for this Year's Japan Film Festival
7. Summer Cruises

Special cruises are among the top summer events in San Francisco. You will find several of them around the holidays and throughout the season. They include popular picks such as sunset cruise, as well as the Memorial Day weekend and Fourth of July cruises.
Dates: Several in May, June, July & August
8. North Beach Festival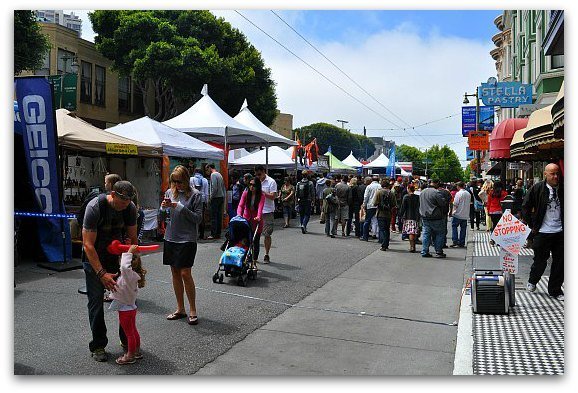 The North Beach Festival is one of the largest street fairs every summer, which lasts two days. This annual event features several stages of live music, activities for the kids, and more than 20 gourmet food stands.
You can also enjoy Italian Street Painting, a kid's chalk art area, and the blessing of the animals celebration both afternoons in North Beach. Head over to Columbus and Grant Avenues to get in on the action.
Dates: June
Learn More: North Beach Festival Details
9. Opera

Every summer, the SF Opera performs several shows in June and early July. This summer, you can see performances such as Don Giovanni, Dream of the Red Chamber, and Verdi. All shows are at the War Memorial Opera House.
Dates: Various Date in June & July
Learn More: Full Schedule for this Summer
Buy Tickets: SF Summer Opera Tickets
10. Outside Lands Music Festival

The biggest music festival in San Francisco is every August at Golden Gate Park. The Outside Lands Music Festival features three days of live music from more than 70 bands on multiple stages.
Performers in previous years included Elton John, the Black Keys, and Mumford & Sons. Get your tickets early, as this festival sells out every year!
Dates: August 11 - 13, 2023
Learn More: Full schedule of performers
Buy Tickets: On sale today
11. Wine Tasting Events

If you love wine, then head to one of our popular wine tasting summer events in San Francisco. You will find large indoor and outdoor festivals all season long.
Many offer wines produced locally in Sonoma, Napa and the Livermore Valley. Others offer tastings of a specific varietal or region. It's a fun way to learn about wine and find something new to bring home to your friends!
Date: All Summer Long
Learn More: Discover a calendar of upcoming wine tastings
More Events by Month

Find additional events each month by clicking the links below.

12. Pride Parade & Festival

The annual Pride Parade and Festival is always the last weekend in June. This large event in the Civic Center district celebrates the LGBT community with live music, entertainment, and dozens of vendor booths. Get there early for the large parade on Sunday morning.
The parade starts at Market and 2nd, and ends near Market and 8th Streets. This event is free, but they do ask for donations at the entrances to the festival.

Dates: Last Saturday and Sunday in June
Learn More: More details on this year's events
13. San Francisco Marathon

The streets of San Francisco come to life every year during the popular SF Marathon. This road race takes you through the streets of the city as well as popular destinations, including the waterfront, the Golden Gate Bridge, and Golden Gate Park.
You can choose to run the full marathon, the half marathon, the 10k or the 5k. This year, they will also once again offer the Ultramarathon. Register early to secure your spot.
Date: July 23, 2023
Registration: Visit their website for details
14. Free Days at SF Museums

All summer long you can save by visiting SF museums during their free admission days. This way, you can visit the Asian Art Museum, de Young, the Conservatory of Flowers and others at no cost. Find a full schedule of days by clicking the link below.
Dates: Several this summer
More: Find a full schedule here
15. Stern Grove Festival

Every summer Sunday afternoon at 2 pm, you will find a free, live concert in Stern Grove Park. This summer festival offers music by both internationally recognized stars as well as local favorites. This year's concerts start in mid-June and last until mid-August.
Dates: Sundays from mid-June to mid-August
Learn More: Full schedule of performers
16. Sunday Streets

Enjoy dozens of outdoor activities at this summer's Sunday Streets events, designed to gather neighbors and visitors for music, play, and community building.
Once a month, a different historic neighborhood closes off a mile or more of its streets to offer a car-free area of festivities, such as free dance lessons, free bike rentals, health screenings, and more.
The event lasts from April through October. This year, you can check out the Tenderloin, Valencia, and Western Addition Districts, among others.
Summer Dates: Once a month on one Sunday afternoon
>> Find this year's events calendar
17. Theater Performances

Every summer, you will also find dozens of theater performances all around San Francisco. Top shows include traveling Broadway companies performing award-winning productions such as The Lion King, Hamilton, and Wicked. You can also catch smaller performances by local and up-and-coming writers.
Dates: Various Dates this Summer
Learn More: Full Summer theater schedule

18. Union Street Festival

Head over to the Marina District for this year's Union Street Festival. This annual event offers several stages of live music, food from some of the best Marina restaurants, and more than 250 arts & crafts booths. It's a fun way to spend the day in San Francisco!

Date: June
Learn More: Details for this year's event
19. Juneteenth

Every year, various organizations around the city celebrate African American heritage in honor of Juneteenth, the anniversary of the abolition of slavery in the US. Usually the festivities kick off with a parade. 
If you head to Fillmore Street between Post an Turk, you'll not only find great music, tasty food, and artwork, but also a job fair and other community-oriented activities. 
Dates: Mid-June
Learn More: This year's event schedule
20. Yerba Buena Festival

Another place to enjoy free, live entertainment this summer in San Francisco is at the Yerba Buena Festival. This event takes place at the Yerba Buena Gardens in SF's SOMA District.
Several times a week, they offer music and entertainment from local bands and performers.
Dates: Several in June, July, & August
Learn More: This year's festival details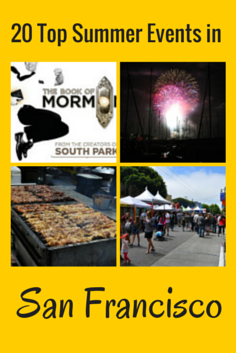 Comments? Questions? Suggestions?
I would love for you to join me in my private Facebook group! 
It's a great place to interact with me and others who know the area well.
You can ask questions, get advice for your upcoming stay, and then share your photos and advice with others when you return home. It's a great community and the fastest way to get answers to those nagging questions about your visit!