San Francisco Events in September: Fun Things to Do in 2023

by Jill Loeffler  •

Updated: September 10, 2023
San Francisco events in September 2023 include Labor Day Weekend activities, concerts, and festivals. The top Broadway theater performance is Hadestown at the Orpheum Theatre.

If you're a sports fan, catch a baseball game with the SF Giants or the Oakland A's. The 49ers also have games this month at home.
Read on for details on these and other top things to do this month in SF.

Disclaimer: I receive a small commission from some of the links on this page.

Labor Day Weekend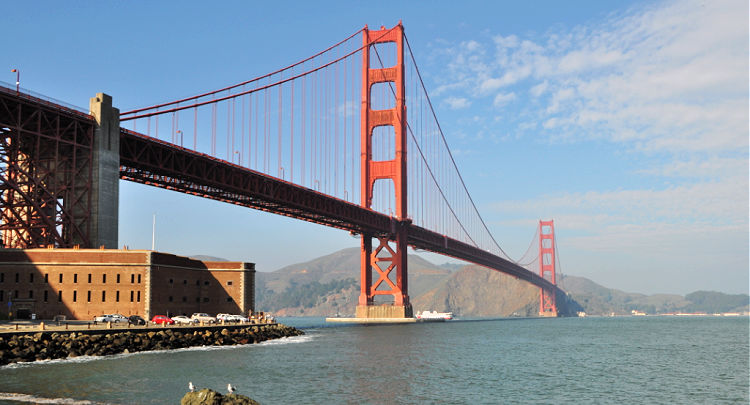 A hazy day near the Golden Gate Bridge.
Dates: 9/1 - 9/4
The best way to say goodbye to summer in SF is by enjoying the warm weather and variety of activities over the long Labor Day weekend. Highlights include festivals, concerts, tours, and more! 
This year, Labor Day Weekend runs from Friday, September 1 - Monday, September 4.

You will find some of the best San Francisco events in September all weekend long!

>> Visit our guide to Labor Day Weekend
Sporting Events

SF Giants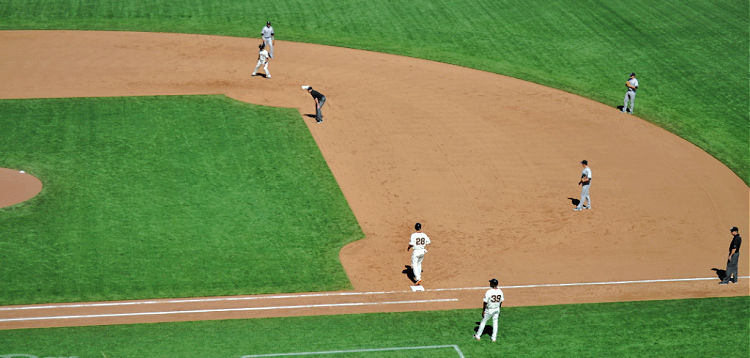 SF Giants on base during a game in September.
Dates: 9/8 - 9/10, 9/11 - 9/13, 9/25 - 9/27, and 9/29 - 10/1
Location: Oracle Park in the South of Market District
Tickets: Ticketmaster | StubHub
Watch the SF Giants baseball team play their last full month of the regular season.
This September, you have 13 opportunities to watch the Giants in full swing as they take on the Braves, Dodgers, Diamondbacks and others at home in Oracle Park.

There's no better way to enjoy the warm weather than at a ball game by the water. 
>> SF Giants full schedule & more about the team
Oakland A's

Dates: 9/1 - 9/3, 9/4 - 9/6, 9/15 - 9/17, 9/18 - 9/20, & 9/21 - 9/24
Tickets: Ticketmaster | StubHub
In addition to the SF Giants, you will also find a second MLB team here in the SF Bay Area. The Oakland A's play just over the bay.
This American League team plays 12 games this month against the Braves, White Sox, Mariners, and the Mets.
>> See the A's full schedule for September
49ers Football
Date: 9/21
Location: Levi's Stadium in Santa Clara 
Tickets: Ticketmaster | StubHub
The SF 49ers kick off their regular season home games this month at Levi's Stadium in Santa Clara. The 49ers take on the New York Giants on September 21.

This is their only home game this September. You will find these San Francisco events in September about an hour south of SF. 
>> Check out the 49ers full schedule
Giants Race
Date: 9/2 & 9/3
Location: Ends at Oracle Park
Baseball fans and sports fans, there may not be a game this Sunday morning, but you still have a great excuse to visit Oracle Park in San Francisco. 
Starting and ending at the ballpark, there will be a half marathon, 10K, 5K, kids race, and family relay. Celebrate fitness at the home of the Giants with this fun, outdoor, family-friendly event.

This is one of the San Francisco events in September that sells out every year, so make sure to register today!

Theater & Broadway Shows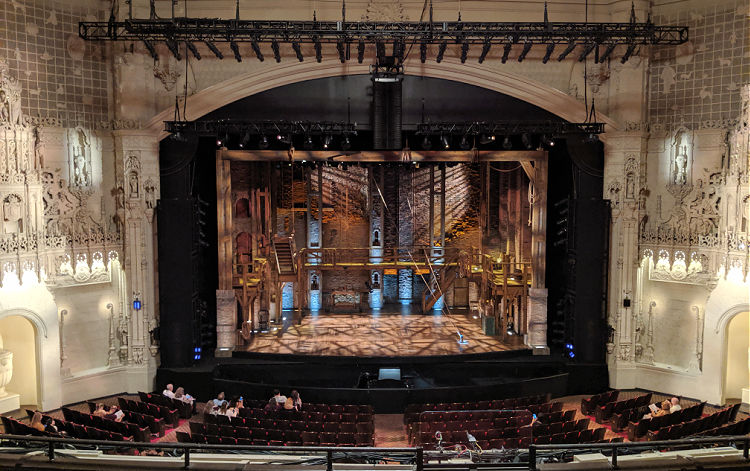 Waiting for a show to start at the Orpheum Theater.
Hadestown

Dates: 9/12 - 9/17
Tickets: Ticketmaster | StubHub
Head over to the Orpheum Theater for one of several performances of this award winning musical. It's the story of two classic Greek myths. 
The stories of Orpheum and Eurydice collide with the story of King Hades and Persephone in the underworld. It includes moments of fear and doubt, but also love and faith.
Find out this September in San Francisco!
>> Find additional performances this month
Museums: Free Days, Exhibits, & Other Events
Free Days

It's easy to visit multiple San Francisco museums without spending a ton of money—if you know when to go! This month, take advantage of the free admission days at some of SF's favorites, including the Asian Art Museum, de Young, Legion of Honor, and Conservatory of Flowers.
Usually, the free admission ticket will only get you into the general exhibits and permanent collections, but you can just pay an extra fee to see the special galleries. These San Francisco events in September are popular, so make sure to arrive early for your spot in line.
Find my calendar of free days here.
Museum Exhibits

Take some time to check out the fantastic exhibits currently on display at SF's world-renowned museums. The Legion of Honor is currently showing The Tudors: Art and Majesty in Renaissance England through September 24, Corporeal is on display at the SF MOMA, and We Become [Vessels] is at the Museum of Modern Art.
Click the link below to find out what else you can see at the Conservatory of Flowers, Walt Disney Museum, the SF Museum of Modern Art, and more. Don't miss out on these highly anticipated San Francisco events in September. 
Discover a detailed list of museum exhibits in SF.

Concerts & Live Music
Dates: Several in September
Most live music venues are now open and offering concerts in San Francisco. The city attracts some big names, but also has many great venues for independent and up-and-coming artists to showcase their talent.
Find a show you'll love at the Chase Center, Warfield, the Fillmore, or the Independent, among many others. Here are a few of the top shows this month.
>> Visit this page for a full calendar of shows at top venues in September
Additional Places for Live Music in September
SF Opera: The SF Opera will offer performances of Il Trovatore and The (R)evolution of Steve Jobs this September. Shows run throughout the month. Get more details about SF Opera. 
SF Symphony: September marks the opening of a new season at the SF Symphony. They are offering just one show this month Salonen Conducts An Alpine Symphony (9/29 - 9/30). See the full SF Symphony schedule.
Comedy
Dates: Several this month
San Francisco is a great place to catch stand-up shows, improv performances, and other hilariously entertaining plays and musicals. 
Some of the best comedians in the business, including have been featured at the Punch Line Comedy Club and Cobb's Comedy Club in the city. In addition, this month you can enjoy the annual free Comedy Day in Golden Gate Park.
9/15: Neal Brennan at the Palace of Fine Arts
9/16: Ashley Gavin at the Castro Theatre
9/16: Roy Wood Jr. at the Palace of Fine Arts
9/20: Pete Davidson at The Masonic
9/30: Heather McDonald at the Palace of Fine Arts
>> See the detailed schedule of shows
Top Festivals & Street Fairs in SF this September

Architecture and the City Festival
Date: 9/8 - 9/30
This month, all month long, San Francisco invites you to engage with its design and architecture in ways you haven't experienced before. These San Francisco events in September include behind-the-scenes and walking tours, films, exhibitions, lectures, and more. Explore and appreciate the city's true structural backbone in 2023. Visit the festival's website for more details.
A Taste of Greece
Dates: 9/15 - 9/17
This annual event showcases the cultural and culinary diversity of SF's Mission District. Get your fill of delicious Greek treats such as spanakopita, mousaka, kotopoulo, and gyros.
And of course, the festival wouldn't be complete without Greek wine, Greek pastries, and live Greek music and dance! 
California Rum Festival
Date: (9/16)
Taste some of the best rums around at the California Rum Festival at the Hibernia Bank Building. You'll get to try a wonderful variety from large, micro, and boutique distilleries.
In addition, attend seminars by rum producers and aficionados, and mingle with other rum lovers. 
Whiskies of the World
Date: 9/22
Whisky lovers, here's your chance to taste more than 200 varieties of Scotch, Bourbon, Canadian, Irish, and other imported whiskies from around the world.
You can also attend seminars and learn how to pair certain whiskies with food and cigars.
SF Cheese Fest
Date: 9/23
The annual SF Cheese Fest features samples of amazing craft cheeses from more than two dozen California cheesemakers. If you love food, you'll want to attend this event celebrating local food pioneers in the art of preservation, which also includes cured meat, jams, pickles, and more.
Enjoy your delicious bites with your favorite beverages from local brewers and winemakers, and dance along to the live 1930s jazz band.
Don't miss out on one of the tastiest San Francisco events in September. 
San Francisco Chinatown Autumn Moon Festival
Date: (9/23 & 9/24)
Head over to colorful Grant Avenue in the heart of SF's Chinatown for two full days of entertainment, food, shopping, parades, children's activities, and more.
Some of the highlights are the lion dancers and dragon parades. Maybe you'll even try a traditional mooncake to celebrate the full moon and Chinese culture! 
Get the full festival schedule.
All Day Music in North Beach
Date: 9/23
Head over to the North Beach district for a full-day live music festival held mostly inside its iconic bars and clubs, including the Lost Church and Club Fugazi, along with some outdoor surprises, too.
You'll get to see more than a dozen bands with a range of music styles between 10 am and 11 pm.
Check out their page for more details.
Folsom Street Fair
Date: 9/24
This year's Folsom Street Fair will look similar to years past with a large event along Folsom Street. You will find entertainment, live music, and plenty of vendors.
Latino Film Festival
Date: 9/29 - 10/14
This film festival features unique works from filmmakers from the US, Latin America, Spain, and Portugal. Films will be screened at several venues around the city, including the Brava Theater Center, the Opera Plaza Cinema, and Galeria de la Raza.
Tickets are available for purchase for individual screenings, for five films, or for the entire festival. Get details about this film festival.
Find additional film festivals in September.
San Francisco Cruises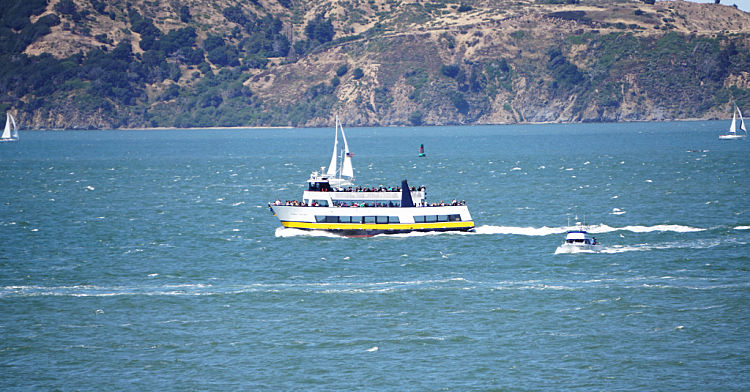 A cruise on the SF Bay in September.
One of the top San Francisco events in September is a cruise around the SF Bay. You will find more than a dozen options almost every day of the week.
Top daytime cruises include the 60-minute Bay Cruise, the Escape from the Rock Cruise, and the high speed Rocketboat adventure. You can also head out on a Bridge to Bridge Cruise or a wine tasting.
Our evening cruises are also popular. You can watch the sunset on a relaxing, casual cruise or dress up a bit for one of our dinner cruises. Our happy hour cruises are also popular and offer a few hours of cocktails on the water.

Here are the top picks for September.

60-Minute Bay Cruise: The 60-minute cruise leaves from Fisherman's Wharf and takes you around the SF Bay. You will ride under the Golden Gate Bridge, near Sausalito, around Alcatraz, and return to Fisherman's Wharf. The narration along the way will tell you more about SF and our top attractions. Check for ticket availability.

Sunset Sailing Cruise: In September, the Sunset Sailing Cruise leaves Fisherman's Wharf at 6:30 pm in September. It includes two complimentary beverages, light appetizers, and 1.5 hours on the water. Check for tickets in September.
Additional Cruises You Might Enjoy
Napa & Sonoma Wine Tours
One of my favorite San Francisco events in September is our Northern California wine country tours. You can head north to visit either Napa Valley or Sonoma or both in just one day.
These tours take you to three to five wineries and offer you the chance to take a sneak peak behind the scenes at the wine making process. You will also meet with those in the business and learn all about their wines and the history of these regions.
You can head up on your own, but the best thing about these guided tour is you don't have to worry about who is driving you back to SF. You will be picked up from your hotel, driven throughout one or both of these wine regions, and dropped off where you started.

Most of them are about 8 to 9 hours. If you are short on time, you will also find some great half-day tours too.

These are just a few of my top recommendations.

Napa & Sonoma Full Day Tour: Includes stops at 3 wineries. You will stop at a large winery and a smaller boutique winery, so you can get a feel for how they each create their wines. You will also have a free hour for lunch where you can grab a meal on your own at any place in the historic Sonoma Square or in the heart of Napa Valley. Tasting fees included for all three stops. Additional tastings and lunch not included. Runs daily. Check for availability for September.

Half-Day Tour: This tour will take you to the Carneros region in Sonoma County. It includes a stop at two wineries. You will also have about an hour to explore downtown Sonoma. The tour leaves SF at Noon and is about 5 hours long. Tasting fees at the first place are included and you will need to pay for your tasting at the second location. Check for availability this month.
More SF Bay Area Events
Oakland International Film Festival (9/14 - 9/23): This year marks the 20th anniversary of one of the largest SF Bay Area events in September--the Oakland International Film Festival. You can enjoy a variety of excellent independent works from around the globe at venues all over the East Bay city of Oakland. Attend the screenings, filmmaker panels, networking events, and more to celebrate five days of amazing shorts, documentaries, and feature films created by local and international artists. Find more information on the festival website

Monterey Jazz Festival (9/22 - 9/24): The legendary Monterey Jazz Festival is one of the SF Bay Area events in September that cannot be missed if you are a serious music fan. Over the 60 plus years of this festival, headliners have included Chick Corea, Herbie Hancock, Regina Carter and many more. With over 500 artists, 100 hours of music and eight different stages, you will be sure to get your fill of music, food, and fun events. The Monterey Jazz Festival always takes place on the third Saturday of September. Find out more and other fun events in Monterey this September.
Oakland Pride (9/9 - 9/10): Come out and show your pride in Oakland at this annual event. Located in downtown Oakland, the parade starts at 10:30 am, while the festival starts at 11 am and ends at 7 pm. Being that this is an all ages event there is a children's carnival area for them to play in and there is even a toddler's zone too. The festival always has a star singer and entertainer for everyone's enjoyment and fun. Last but not least, there is great food and other exhibits that are related to Pride. The parade is free for all to attend but the festival does have a fee.
Belmont Greek Festival (9/2 - 9/3): OPA! One of the classic Labor Day party events in the south bay of San Francisco is the Belmont Greek Festival. Three days of fun, drinking, dancing and the best food around is yours to enjoy at the Church of the Holy Cross. This event features church tours, exhibits that are dedicated to the Greek culture, live music, and even a classic Greek play. If you are looking to pick up some pieces of art for yourself, there is the agora (marketplace) for you to check out. Since this is an all ages festival, there is a kid's zone for the little ones. Visit their site for details.

Mountain View Art & Wine Festival (9/9 & 9/10): This two-day festival in the heart of Silicon Valley is a celebration of everything related to arts and wines in the south bay. This event brings together over art pieces from 500 of America's best artists. The food is delicious and so varied that there is something for everyone's taste. Not only is there premium wine selections, but many breweries will be in attendance and there will be sangria and cocktails if you would prefer those. There is live music during the weekend, with each day having a special theme to it, and lots of room to dance. If you are a sport's fan, you are in luck, since they have giant TV screens playing NFL football and Major League baseball games during the festival.

Santa Clara Art & Wine Festival (9/16 & 9/17): Another of the SF Bay Area events in September that is always a fun time is the Santa Clara Art & Wine Festival. Set in the heart of Santa Clara's Central Park, this annual event is attended by over 50,000 people each year. Featuring both regional and national artists showing their best art pieces, food from all over the world, wineries and breweries from the local region, you are sure to find everything you'd like to eat, taste and buy. Kids are welcome and there is the much-loved Kid's Kingdom for them to play at during the festival.

Santa Cruz Mountain Sol Festival (9/16 - 9/17): Located in the picturesque Santa Cruz Mountains the Sol Festival is a three-day festival full of music, food, and enjoyment. Headliners have included acts such as George Clinton & Parliament, Ozomatli, Michael Franti & Spearhead among many others. The event is at Roaring Camp Meadows in Felton, CA.
Solano Avenue Stroll (9/10): For more than 40 years, the Solano Avenue Stroll has been one of the most enjoyable of the SF Bay Area Events in September. Making sure to wear your walking shoes as this event covers over 1 mile of the street and starts with their fun parade on Sunday at 10am. With over 50 food booths, 50 entertainers, and loads more non-profits and artisans, this event has something for everyone. Also make sure to visit the other businesses that are regularly located on Solano Avenue as they have so much to offer and you don't want to miss their wares and specialties. There are also rides and areas for kids. 
Capitola Art & Wine Festival (9/9 & 9/10): The gorgeous beach front city of Capitola is home to this magnificent art and wine festival. This family centered event has over 160 artists and vendors each year and over 22 wineries all located in the Santa Cruz mountain area. Being that Capitola is located ocean side, you will be able to taste some of the best seafood you could ever imagine fresh from the sea. Both days include dance performances, live music, and even a traveling magician to entertain you and the kids. Speaking of kids, there is a special kid's area for them to play around at when you need a break from all the fun.
Pacific Coast Fog Fest (9/23 & 9/24): This longstanding Pacifica tradition takes place on the last full weekend in September (usually that's when this quaint coastal town—known for its fog and its surfers—gets the best weather). Festivities kick off with a parade and marching band competition. Admission is free to the activities along downtown Palmetto Ave. which include arts and crafts booths, live music, family fun, and food stands. Proceeds benefit the local community. 
Summer's End (9/23): Spend a fun filled day of live music, face painting, and other free family-friendly activities in Half Moon Bay. This year's Summer's End is at John Carter Memorial Park and runs from 12 pm to 7 pm. Don't miss it! 
Oktoberfest Redwood City (9/20 - 9/24): Head over to downtown Redwood City, just half an hour south of SF, for a beer-filled four days of revelry. Enjoy traditional "family-style" bench seating, contests, music, dancing, and all sorts of fun. Admission includes a commemorative stein and a drink ticket. While there, you'll probably get hungry, so don't miss out on your German pretzels and brats.
Sausalito Art Festival (Postponed until 2024): This Labor Day weekend, head over to Sausalito, the lovely waterfront town just north of the Golden Gate Bridge, for their annual arts festival. For over 60 years, the community has held this three-day event featuring a wonderful selection of art, music, food and drink. Enjoy live performances by both well known and local bands as you peruse the booths of over 270 artists selling everything from sculptures and paintings to glass, fiber, and wood works. Additional details about the festival.
More Tips to Visit SF in September
What to Wear in September: September is one of the best times to visit San Francisco. It's warm and usually sunny during the day. It then cools off at night making it the perfect weather for a night out on the town. Make sure to bring along layers for your stay in SF as you will find that the temperature can swing up to 10 degrees during the day from one district to the next. You will also find it's even chillier on the water and along the shoreline.
Read my September weather page for more tips on what to pack, what to wear, and a few other fun things to know before you visit. Tips on what to pack and wear in SF in September.
More Things to Do in SF this Month: In addition to the fun San Francisco events in September listed above, there is so much to do this month in the City by the Bay! Take a tour or boat cruise, attend a show, check out the nightlife, and get outside to enjoy SF's beautiful summer weather! Find additional September activities in SF.
Ideas to Make Your SF Vacation Unforgettable

Hop On Hop Off Bus Tour
The best way to get around San Francisco is on the Hop On Hop Off Bus Tour. It runs from 9 am to 6 pm and takes you directly from one attraction to another.
You can select from their 24- or 48-hour tour.
They also have a fantastic night tour. The Big Bus Tour Company is the most popular and highly rated option. Visit this site to learn more.
One-Hour Bay Cruise
Head out on the San Francisco Bay on this 60-minute Bay Cruise. See the Golden Gate Bridge from below, circle Alcatraz Island, and learn all about other local waterfront attractions.
Find more information and ticketing details.
Muir Woods & Sausalito Half Day Tour
The Coastal Redwoods near San Francisco are a must-see, and this half-day tour is the perfect way to explore them! On this tour, you will head north to Muir Woods, where you will have time to check out this gorgeous national monument.
On your way back, you will spend a little time in Sausalito.
Comments? Questions? Suggestions?
I would love for you to join me in my private Facebook group! 
It's a great place to interact with me and others who know the area well.
You can ask questions, get advice for your upcoming stay, and then share your photos and advice with others when you return home. It's a great community and the fastest way to get answers to those nagging questions about your visit!