San Francisco Events in September
Theater, Baseball, and More Things to Do in 2018
San Francisco events in September 2018 include Labor Day Weekend activities, the Sausalito Arts Festival, and the Fringe Theater Festival. You can also enjoy one of several outdoor festivals including the Ghirardelli Chocolate Festival, Comedy Day in Golden Gate Park, and the Polk Street Blues Festival.
If you're a sports fan, catch a baseball game with the SF Giants or the Oakland A's. Read on for details on these and other top things to do this month in SF.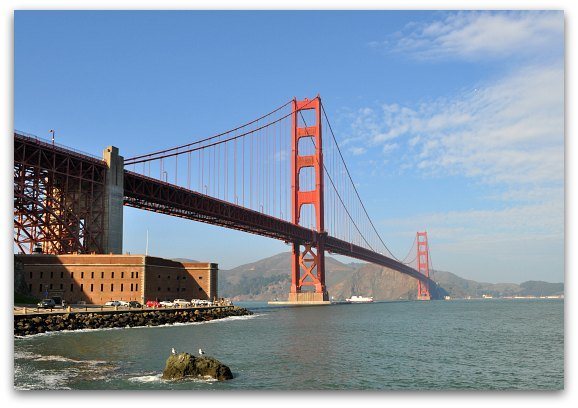 For some of the links on this page, I receive a small commission when you purchase. You don't pay more when you buy through me and it gives me the chance to offer you all this great content for free!
Labor Day Weekend
Dates: 8/31 - 9/3
The best way to say goodbye to summer in SF is by enjoying the warm weather and variety of activities over the long Labor Day weekend. Highlights include the Sausalito Arts Festival, the Yerba Buena Gardens Festival, a Midnight Party Cruise, and so much more. You will find some of the best San Francisco events in September all weekend long!
More: Visit our guide to Labor Day Weekend
SF Giants
Dates: Several in September
Watch the SF Giants baseball team play their last full month of the regular season. This September, you have 14 opportunities to watch the Giants in full swing as they take on the Mets, Braves, Rockies, Padres, and the Dodgers at home in AT&T Park. There's no better way to enjoy the warm weather than at a ballgame by the water.
More: SF Giants full schedule & more about the team
Sausalito Arts Festival
Dates: 9/1-9/3
This Labor Day weekend, head over to Sausalito, the lovely waterfront town just north of the Golden Gate Bridge, for their annual arts festival. For over 60 years, the community has held this three-day event featuring a wonderful selection of art, music, food and drink. Enjoy live performances by both well known and local bands as you peruse the booths of over 270 artists selling everything from sculptures and paintings to glass, fiber, and wood works.
More: Additional details about the festival
Best Half-Priced Tickets for San Francisco Events in September
The best way to save on your San Francisco events in September is by checking out the great deals on Goldstar. Here are just a few of their half-priced tickets for this month.
*Small service fee at checkout.
Phantom of the Opera at the Orpheum Theater
Dates: 9/5-9/30
Head over to the Orpheum Theater to see Phantom of the Opera. This classic Broadway musical is the story of a talented, yet deformed composer that haunts the Paris Opera House. In the dark basement of the opera house, he composes beautiful shows for a rising star named Christine. She is drawn to the mysterious man even though he terrorizes the opera house after a young suitor from Christine's past appears to steal her heart away. This Broadway production is one of the top San Francisco events in September.
More: View the full SF Theater calendar
Free Museum Admission Days
Dates: Several in early September
It's easy to visit multiple San Francisco museums without spending a ton of money—if you know when to go! This month, take advantage of the free admission days at some of SF's favorites, including the Asian Art Museum, de Young, Legion of Honor, and Conservatory of Flowers.
Usually, the free admission ticket will only get you into the general exhibits and permanent collections, but you can just pay an extra fee to see the special galleries. These San Francisco events in September are popular, so make sure to arrive early for your spot in line.
More: View the entire schedule
More: Additional free things to do this month
Festa Coloniale Italiana
Date: 9/15
Held right in the heart of the North Beach neighborhood (SF's Little Italy), this free street festival is a great family and cultural event. Head over to Stockton Street, just across from the famed Washington Square Park, to enjoy delicious Italian food, a pizza toss, specialty Italian handicrafts, wine tasting, and live performances featuring Moreno Fruzzetti.
More: Visit the festival's website for more details
San Francisco Improv Fest
Dates: 9/19-9/23
If you enjoy watching and laughing along with improv performances, get ready for 10 days of awesome shows at the Eureka Theatre at Jackson Street and Battery. This festival is in its 15th year of celebrating improvisational theater.
It will feature work by both local and visiting ensembles, as well as workshops and other events to help educate the public and strengthen the improv community in the SF Bay Area.
More: Visit the event website for more details
Free Shakespeare in the Park
Dates: Saturdays & Sundays all month
This year's Free Shakespeare in the Park production is A Midsummer Night's Dream. Find these annual free shows by SF Shakes on Saturdays and Sundays throughout September, plus Labor Day Monday. You will find these San Francisco events in September on the main lawn in the Presidio and at the amphitheater at McLaren Park.
More: Visit the SF Shakespeare Festival website for more details
Giant Race
Date: 9/9
Baseball fans and sports fans, there may not be a game this Sunday morning, but you still have a great excuse to visit AT&T Park in San Francisco.
Starting and ending at the ballpark, there will be a half marathon, 10K, 5K, kids race, and family relay. Celebrate fitness at the home of the Giants with this fun, outdoor, family-friendly event.
More: More info and registration
Find the Perfect Hotel for Your Stay
Find the perfect spot to stay as you enjoy these top San Francisco events in September. Click the links below for details.
Booking: Find great deals all around San Francisco for your upcoming stay!
TripAdvisor: What's the #1 hotel in San Francisco? Read reviews & find hotel deals on TripAdvisor!
Union Square Live
Dates: Several in September
September is the last month of Union Square Live 2018, an ongoing summer event that presents weekly free, live outdoor performances of dance, music, circus, and theater. You can often learn how to dance salsa or tango with the presenters. These fun shows always encourage the audience to get involved. So go on, enjoy the end of summer and get out on the square!
More: Get the Union Square Live Festival details and schedule
Golden Gate Bridge Free Walking Tour
Dates: Every Thursday and Sunday at 11am
One of the best San Francisco events in September is the free walking tour of the Golden Gate Bridge. This massive structure connects the city with its northern neighbor, Marin County. On the tour, you will find out more about this iconic orange bridge, including its construction and history, and get the chance to walk across it.
More: Learn more about this and other free walking tours
California Rum Festival
Date: 9/8
Taste some of the best rums around at the California Rum Festival in the SOMArts Cultural Center. You'll get to try a wonderful variety from large, micro, and boutique distilleries. In addition, attend seminars by rum producers and aficionados, and mingle with other rum lovers.
More: Get more Rum Festival details from their site
SF Fringe Festival
Dates: 9/6-9/15
If you love theater, this month you are really in luck because September offers a 14-day grassroots theater festival, featuring over a hundred unique performances by dozens of indie companies. All performances will take place at the EXIT Theater in downtown SF at very accessible prices.
More: Find out more about this unique theater festival
Architecture and the City Festival
Dates: 9/1 - 9/30
This month, all month long, San Francisco invites you to engage with its design and architecture in ways you haven't experienced before. These San Francisco events in September include behind-the-scenes and walking tours, films, exhibitions, lectures, and more. Explore and appreciate the city's true structural backbone under the 2018 theme, "Future City."
More: Visit the festival's website for more details
SF Opera
Dates: 9/7-9/30
The SF Opera opens its 2018-2019 season with Cavalleria Rusticana / Pagliacci on September 7. Later on in the month, catch performances of Roberto Devereux at the elegant War Memorial Opera House. If you love the opera, you will love catching one of these San Francisco events in September.
More: Get more details about SF Opera
Three-Day Itinerary of SF
Dates: Any day you visit
If you've only got 72 hours on your visit to SF, but want to make sure you cover the city's top attractions and districts, check out my three-day itinerary so you can fit it all in without having to backtrack. In addition to famous sites like the Golden Gate Bridge and the Palace of Fine Arts, you'll get to know different neighborhoods like Chinatown and North Beach, museums like the California Academy of Sciences, great places to dine, and more.
More: Find the entire itinerary here
Save Money with the SF CityPASS
Don't throw your money away on cable car rides, other public transport, a bay cruise, or admission to SF's top museums! Plan ahead and come armed with a CityPASS, which will get you into the Exploratorium (or the SF Museum of Modern Art), the Aquarium of the Bay, AND the California Academy of Sciences. Your 60-minute boat trip on the bay is also included, as well as a multi-day Muni transit pass for the cable cars and buses, and other shopping discounts.
Tickets: Buy your pass to save big on your trip to SF!
Live Music in SF
Dates: Several in September
Throughout the year, you can enjoy live music concerts almost every evening in San Francisco. The city attracts some big names, but also has many great venues for independent and up-and-coming artists to showcase their talent. Find a show you'll love at the Warfield, the Fillmore, or the Independent, among many others.
Top shows this month include performances at AT&T Park by The Eagles with the Zac Brown Band and Journey with Def Leppard.
More: See who's coming to town this month
Ghirardelli Chocolate Festival
Dates: 9/8 & 9/9
San Francisco's famous Ghirardelli chocolate is the star of this annual event, where guests can sample delectable chocolate treats, sip premium wines, and watch chefs show off their culinary skills. You can even participate in an ice cream eating contest! For sweet-tooths and wine lovers, this festival is a must. Plus, you'll be helping a great cause, as profits are donated to Project Open Hand. It's one of the top San Francisco events in September every year.
More: Additional festival info
Live Comedy in SF
Dates: Several this month
San Francisco is a great place to catch standup shows, improv performances, and other hilariously entertaining plays and musicals. Some of the best comedians in the business, including Robin Williams, Dave Chappelle, Russell Peters, and many more, have been featured at the Punch Line Comedy Club and Cobb's Comedy Club in the city. In addition, this month you can enjoy the 38th annual free Comedy Day in Golden Gate Park.
More: See the detailed schedule of shows
Russian River Jazz & Blues Fest
Dates: 9/8 & 9/9
Head up north to Guerneville in Sonoma County along the Russian River for the 40th annual Jazz and Blues Fest. For two days, you get the chance to see top artists such as Jonny Lang and Brian Culbertson. Other performers this year include Bobby Rush, Raul Midon, and Moreland & Arbuckle.
More: Find additional events this month in Sonoma
Sunday Streets
Date: 9/9 & 9/23
The 2018 edition of Sunday Streets this year takes place on September 9 in the Western Addition and on September 23 in the Tenderlion neighborhoods of San Francisco. This monthly street fair rotates among the city's distinct districts, where each local community comes together to enjoy free family activities, live music, and closed traffic so people can play safely in the streets. These San Francisco events in September are free.
More: Find out more about Sunday Streets and get the full schedule
49ers Football
Date: 9/16
The SF 49ers kick off their regular season home games this month at Levi's Stadium in Santa Clara. The 49ers take on the Detroit Lions at home on the 16th. This is their only home game this September. You will find these San Francisco events in September about an hour south of SF.
More: Check out the 49ers full schedule
Latino Film Festival
Dates: 9/14-9/30
This film festival features unique works from filmmakers from the US, Latin America, Spain, and Portugal. Films will be screened at several venues around the city, including the Brava Theater Center, the Opera Plaza Cinema, and Galeria de la Raza. Tickets are available for purchase for individual screenings, for five films, or for the entire festival.
More: Get details about this film festival
SF Cheese Fest
Date: 9/15
The annual SF Cheese Fest features samples of amazing craft cheeses from more than two dozen California cheesemakers. If you love food, you'll want to attend this event celebrating local food pioneers in the art of preservation, which also includes cured meat, jams, pickles, and more. Enjoy your delicious bites with your favorite beverages from local brewers and winemakers, and dance along to the live 1930s jazz band.
More: Find additional details on their website
SF Museum Exhibits
Dates: Throughout September
Take some time to check out the fantastic exhibits currently on display at SF's world-renowned museums. The Legion of Honor is currently showing Truth and Beauty: The Pre-Raphaelites and the Old Masters. Click the link below to find out what else you can see at the Conservatory of Flowers, Walt Disney Museum, the SF Museum of Modern Art, and more.
More: Discover a detailed list of museum exhibits in SF
Comedy Day
Date: 9/16
This month brings us a whole day of laughter and fun as more than 40 great comedians come together to offer the city a free comedy show in Golden Gate Park. There will be several hilarious sets throughout the afternoon, and of course there will be food and drinks on hand, including Lagunitas Brewing, the Slider Shack, and much more. The festival runs from noon to 5pm in Sharon Meadow.
More: This year's festival details
Urban Air Market
Date: 9/16
Urban Air Market is the biggest outdoor design festival in the US, with events all over the country. At each event, the marketplace focuses on sustainable design, building community, promoting independent artists, and supporting the local economy. For the fall SF market, head over to Hayes Valley and check out the unique fashion design, accessories, body products, home decor, and other types of art.
More: Visit the organization's website for event details
TechCrunch Disrupt
Dates: 9/5-9/7
With SF being front-and-center of the tech world, you won't be disappointed by this gathering of the brightest and most enthusiastic entrepreneurs, investors, hackers, and tech fans. Here, innovation is celebrated as the industry's leaders are featured in on-stage interviews, a Startup Battlefield competition, and a 24-hour Hackathon. You'll also find great information in the Startup Alley and Hardware Alley.
More: Visit their site for more details
Waves to Wine Ride
Dates: 9/22 - 9/23
Bike MS: Waves to Wine is a totally different way to get to Sonoma wine country. It involves one or two days of cycling from San Francisco to the valley, along with thousands of other passionate individuals, on routes that range from 20 - 100 miles each. This event fundraises for a great cause, the National MS Society.
More: Visit their site for details and registration
Iranian Film Festival
Dates: 9/22 & 9/23
This film festival showcases dozens of features and short stories all about Iran and its people. Head over to the San Francisco Art Institute to catch the film screenings and learn more about this culture.
Info: Visit the Iranian Film Festival page
More: See all the film festivals happening this month in SF
Folsom Street Fair
Date: 9/30
Unlike most of the family-friendly neighborhood street fairs you'll find in SF, this raucous all-day festival is for adults only, who don't mind a lot of nudity and erotic paraphernalia. The Folsom Street Fair is one of those "only in San Francisco" events, featuring 13 city blocks of leather and fetish players and dance floors with indie, electronic, and alternative music.
Leave the kids at home and head on over to Folsom Street between 10am and 4pm for an experience you will never forget! The parade starts at 2:30pm.
More: See the website for more details
SF Symphony
Dates: Several performances in September
September marks the opening of a new season at the SF Symphony. Enjoy an elegant Opening Gala Night to help kick off the season in style. Later in the month, catch stunning performances throughout the month at Davies Symphony Hall.
More: See the full SF Symphony schedule
SF Green Film Festival
Dates: 9/6-9/13
The Green Film Festival aims to spark the next great environmental ideas by bringing together people from all over the globe to view and discuss insightful, innovative films that tell the stories of dozens of countries and their ecological situation.
More: Get more information on what films are playing, tickets, and more
Even More Things to Do in SF This Month
In addition to the fun San Francisco events in September listed above, there is so much to do this month in the City by the Bay! Take a tour or boat cruise, attend a show, check out the nightlife, and get outside to enjoy SF's beautiful summer weather!
More: September activities in SF
What to Wear in September
Make sure to bring along layers for your stay in SF. It's warm during the day, but cools down quite a bit at night. Read my September weather page for more tips on what to pack, what to wear, and a few other fun things to know before you visit.
>> Tips on what to pack and wear in SF in September
Top Tours & Cruises in September
San Francisco Chinatown Autumn Moon Festival
Dates: TBD
Head over to colorful Grant Avenue in the heart of SF's Chinatown for two full days of entertainment, food, shopping, parades, children's activities, and more. Some of the highlights are the lion dancers and dragon parades. Maybe you'll even try a traditional mooncake to celebrate the full moon and Chinese culture!
More: Get the full festival schedule
J-Pop Summit
Dates: TBD
J-Pop Summit is an annual Japanese cultural festival in San Francisco, which presents the latest in Japanese music, fashion, film, art, games, technology, anime, and food, as well as niche subcultures. It's one of the San Francisco events in September with most of its activities at the Fort Mason Center.
More: Read more about this festival
Japan Film Festival of San Francisco
Dates: TBD
This nine-day festival of films about Japan and the Japanese community will take place at the NEW PEOPLE Cinema in Japantown. It is a great opportunity to gain insight into Japanese culture. The film festival is a prominent feature of the J-POP Summit, an annual cultural festival that highlights Japanese film, music, fashion, technology, and more.
More: Get more details about this year's festival
Brews on the Bay
Date: TBD
If you enjoy artisanal brews and Saturday afternoons soaking in a sea breeze with great views, you won't want to miss this unique beer festival. This popular craft brew tasting features over 60 beers on tap, and you'll have the opportunity to mingle with the brewers and ask them questions. There will also be gourmet food trucks on hand. The event is held aboard the historic S.S. Jeremiah O'Brien, a ship that served in WWII and is now docked at Pier 45 in Fisherman's Wharf.
Info: Check out the full list of participating breweries and tips for attending
Peace in the Park
Date: TBD
This peaceful festival aims to to educate, inspire, and promote community and global peace. From 11am to 6pm on Saturday in Golden Gate Park, the event will bring together world-renowned peace leaders, yogis, meditation teachers, artists, and others for workshops and meditation.
More: Find out more on the event website
San Francisco Events in September: Fashion Week
Dates: TBD
As one of the world's leading hubs of innovation and a melting pot of cultures, it seems only natural that the theme of this year's annual SF Fashion Week be Innovating Fashion's Diverse Culture. This week-long convention will show how diversity became the battle cry of the fashion industry. Check out the full schedule of events and find out how you can launch your own fashion product.
Info: Find additional information and ticketing details here
A Taste of Greece
Dates: TBD
This annual event showcases the cultural and culinary diversity of SF's Mission District. Get your fill of delicious Greek treats such as spanakopita, mousaka, kotopoulo, and gyros. And of course, the festival wouldn't be complete without Greek wine, Greek pastries, and live Greek music and dance!
More: Find out more about this fun festival
San Francisco Events in September: Oktoberfest
Dates: TBD
It's that time of year again for you lovers of beer and all things German! Head over to Pier 48 for the annual three-day Oktoberfest by the Bay, including nonstop music, singing, dancing, and the best of German food and drink. This year's entertainment features the 21-piece Chico Bavarian Band. Cheers!
More: Find out how to get tickets, how to get there, and more
More Pages to Explore