Labor Day Weekend in San Francisco
Discover the Top Activities for 2018
Labor Day weekend in San Francisco offers several fun activities and events. This year, the holiday is Friday, August 31 - Monday, September 3.
Highlights this weekend include performances of Beach Blanket Babylon, and Union Square Live. You can also watch both the SF Giants & the Oakland A's in action, visit one of several museum exhibits, or head across the bay to the Sausalito Arts Festival. Also, make sure to check out the free walking tours offered every day this weekend.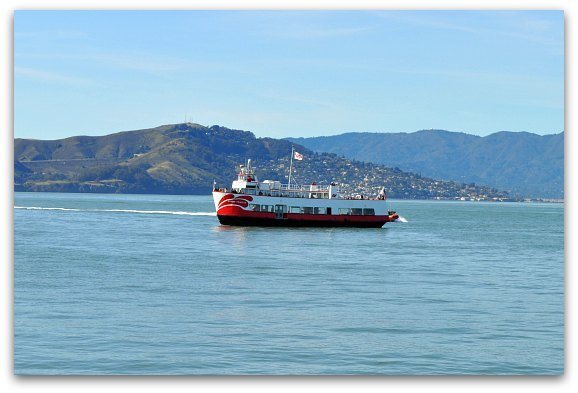 For some of the links on this page, I receive a small commission when you purchase. You don't pay more when you buy through me and it gives me the chance to offer you all this great content for free!
SF Giants Baseball
The San Francisco Giants are in town this Labor Day Weekend in San Francisco. They take on the New York Mets on Friday, Saturday and Sunday. Catch a game at AT&T Park and cheer the SF Giants on to victory.
More: Find additional details about the SF Giants and tips to attend a game
Oakland A's Baseball
The Oakland A's are home for several games this Labor Day Weekend in San Francisco. They take on Friday, Saturday and Sunday. They then take on the New York Yankees on Labor Day at 1:05pm.
More: Additional info on the Oakland A's plus this month's full schedule
Hop On Hop Off Bus Tour
The best way to get around this Labor Day Weekend in San Francisco is on the Hop On Hop Off Bus Tour. You can hop on and off at any of their designated stops including Lombard Street, Fisherman's Wharf, and Union Square. Other popular stops include the Golden Gate Park, the Golden Gate Bridge, and the Painted Ladies of Alamo Square.
You can select from the 24-, 48-, or 72-hour tour. It's the best way to easily get around quickly to see all SF has to offer.
Tickets: Visit the City Sightseeing Site for details and get $5 off when you book online
MegaPass: You can also upgrade to the Mega Pass which also includes tickets to some of the top attractions on the route. Find tickets and more details on their site.
California Academy of Sciences
The California Academy of Sciences is open 365 days a year, so this Labor Day Weekend in San Francisco is a chance to visit this amazing museum. It's really four museums in one. Top exhibits include the Steinhart Aquarium, the Four-Story Osher Rainforest, the Morrison Planetarium, and the Kimball Natural History Museum. Pick up your tickets in advance in order to skip the ticket line when you arrive.
Tickets: Find advanced tickets on the City Sightseeing website
>> Learn more about visit SF's top museum
90-Minute Sailing Tour on the SF Bay
Head out on the SF Bay this Labor Day Weekend. On this 90-minute cruise, you will experience the best of the bay. Cruise past top attractions such as Alcatraz Island, the Golden Gate Bridge, and Sausalito. Refreshments are available for purchase on board. This cruise runs Saturday, Sunday, and Monday and leaves at 11am, 1pm, and 3pm.
Tickets: Find tickets for all days on GetYourGuide
Find the Perfect Hotel for Your Visit
Take a look at these options, but before you book, make sure to check out the hotel deals on TripAdvisor.com. They work with hotels to offer some of the best deals around from discounts off your stay to free add-ons. Click here to check out their list of deals for Labor Day Weekend.
Free Shakespeare in the Park
This holiday weekend you will find three performances of A Midsummer Nights Dream. All three shows are free thanks to the San Francisco Shakespeare Festival. The shows start at 2pm each day (with a short intro at 1:30pm) and are on the Presidio's Main Post Parade Ground Lawn. Make sure to arrive early to grab a great seat on the lawn.
Dates: Saturday, Sunday, and Monday of Labor Day Weekend at 2pm
Cal Bears Football
On Saturday, September 1, the Cal Bears take on the North Carolina Tar Heels at home in Berkeley. The game is at Memorial Stadium on the UC Berkeley campus. The easiest and fastest way to Berkeley is on BART, which drops you off about a 15 minute walk from the stadium.
>> More details about attending a game and this year's home schedule
Outdoor Concerts at the Saratoga Winery
One of the best places for a concert this holiday weekend is south of San Francisco at the Saratoga winery. This weekend, you can catch two shows. The first is Lost 80's Live on Saturday at 6:30pm. The second is Hot Tuna Electric on Sunday at 7:30pm.
You will also find several other smaller shows all around the bay area this weekend.
More: Find additional shows in SF and the Bay Area this weekend
Whale Watching on the Pacific
September is a great time to go whale watching near the Farallon Islands in the Pacific Ocean. This time of year, both the blue and humpback whales migrate through the area. You might also get the chance to see dolphins, seals and great white sharks. This 2.5-hour journey is a great choice for those that love to be out on the open water.
Tickets: Pick up your tickets in advance today
Learn More: Additional details on what it's like to go whale watching near SF
Beach Blanket Babylon
Join the comedic cast of Beach Blanket Babylon for one of their many performances this weekend. This long running musical pokes fun at pop culture and will keep you laughing all night long.
All performances are 21+ except their special family friendly performance on Sunday afternoons.
Learn More: Beach Blanket Babylon FAQ & Ticket Info
Free Admission at the Asian Art Museum
Head to the Asian Art Museum this Sunday for free admission day. Sponsored by Target, this free admission day gives you access to the permanent collection. Make sure to arrive early as admission is given on a first come, first served basis.
Learn More: Tips to visit the Asian Art Museum
Full Calendar: All museum exhibits on display this weekend
Visit Napa or Sonoma
Labor Day Weekend is one of the best times to visit the Northern California wine regions. During this time, both the leaves and the grapes turn colors and the landscape is gorgeous. You can also sip and sample some of the top reds and whites on the market today. These full day tours leave around 8am and return in the early evening, so you can still head out in the city that night.
Learn More: Wine tours
Sausalito Art Festival
Just across the bay, you will find one of the best arts festivals in the area. The Sausalito Art Festival is a local favorite and includes fine wine, gourmet food and premium beers. You will also find hundreds of pieces of art on display as well as live music all weekend long. On Saturday and Sunday, head over between 9am and 6pm. On Labor Day Monday, the festival is from 9am to 5pm.
Learn More: 2018 Sausalito Art Festival
Free Walking Tours
This weekend, and every weekend, the SF Public Library offers free walking tours throughout the city. On Saturday, you can walk the Mission Murals at 11am, learn more about the Japanese Tea Garden at 1pm or visit Japantown at 2pm. On Sunday, you can walk on the Golden Gate Bridge at 11am or head to the eclectic Haight Ashbury District for their tour at 1pm. Monday is also full of fun tours including the Chinatown walk at 10am and the Bawdy and Naughty journey at 11am.
Learn More: Visit the SF CityGuide site for more details
Learn More: Additional Guided Walking Tours in SF
Yerba Buena Gardens Festival
On Saturday, September 1, head to the Yerba Buena Gardens for a free, live musical performance. Manila Disco Fever will perform from 1pm to 2:30pm. They play songs that showcase the Manila sound (funk-inflected bass, keyboards, and punchy horns) from the 1970s and 1980s..
Date: Saturday, September 1 at 1pm
More Info: Find additional details about this year's Yerba Buena Festival
More Attractions Open Labor Day Weekend in San Francisco
You will find that many of our attractions closed on Monday. However, many of them open their doors and invite everyone in during Labor Day Weekend in San Francisco. All are open their regular schedules on Saturday and Sunday. Below are a few more details on what you can expect to be open on the Monday holiday.
Alcatraz: Open on Labor Day Weekend in San Francisco with tickets going on sale 90 days in advance. Make sure to pick them up early as tickets sell out quickly for this busy holiday. Learn more about visiting Alcatraz.
Aquarium of the Bay: The Aquarium of the Bay is open all weekend long. They will follow their regular schedule for the summer which is from 9am to 8pm. Find out more about visiting.
Conservatory of Flowers: The Conservatory of Flowers is usually closed on Monday, but they are open for the Labor Day holiday. Head over and see their amazing collection of colorful flowers and plants from 10am to 6:30pm. More about this attraction.
Exploratorium: The Exploratorium is also usually closed on Mondays, but they will open their doors from 10am to 5pm this Labor Day Monday in San Francisco. See pictures and learn more about visiting.
SF Museum of Modern Art: The SF Museum of Modern Art is also open all weekend long including on Monday. They are open from 10am to 5pm. Find out more about visiting.
>> Find a list of special exhibits at each museum this weekend
SF with Kids
Are you traveling to San Francisco with your entire family? If so, you will find plenty of fun things to do with them this weekend. Options range from visiting the SF Zoo to experiencing all of the kid friendly options on Pier 39. Other highlights include cruising around the bay, tinkering with the hands-on exhibits at the Exploratorium, and visiting the California Academy of Sciences.
Info: Click here for a list of 25 fun things to do with kids in SF
Free Things to Do on Labor Day Weekend in San Francisco
One of the best things about San Francisco is that there are so many free things to do. They include several attractions such as the Golden Gate Bridge, Lombard Street, and the Palace of Fine Arts. In addition, you can visit some of SF's museums at no cost. The list below provides you more details on these and other free SF activities, events, attractions, and more!
Info: Find free SF things to do