SF Gay Pride Parade & Celebration: Discover Key Details About the 2021 Festival
Proof of vaccination is now required for certain indoor activities. Learn more here. 
Note: The 2021 Pride Parade & Celebration has been canceled. They plan to have small events throughout the city in June 2021. You can visit my June calendar to learn more. They will do plan to have a large celebration in 2022. The event details below are from 2019 and will give you an idea on what to expect again in 2022. 

The SF Gay Pride Parade and Celebration is June 27 and 28, 2020. This weekend-long festival includes music, gourmet food, and more than 300 exhibitors.

Pride in SF is one of the largest LGBT gatherings in the world. This year's theme is "Generations of Strength."
The popular and colorful Pride Parade is on Sunday, June 30. It starts at 10:30am at Market Street and Beale.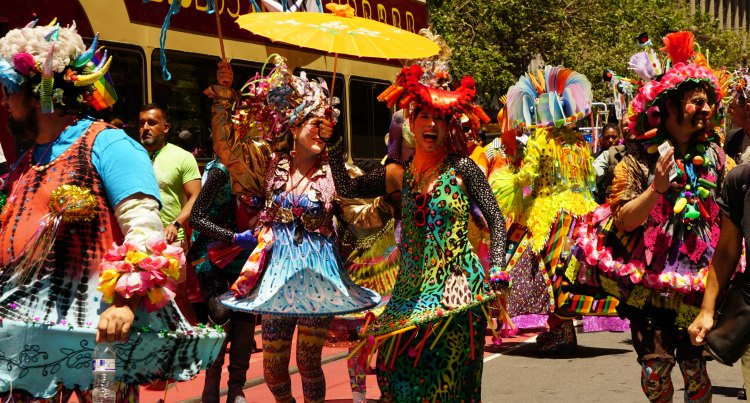 Pink Triangle on Twin Peaks

Before the festivities begin, community volunteers will once again install the huge Pink Triangle on Twin Peaks. It's an annual commemoration of the gay victims persecuted and killed in concentration camps in Nazi Germany starting in 1933.
Today, this important symbol for the LGBT community also shows how far we have come in the fight against homophobia and inhumanity throughout the world.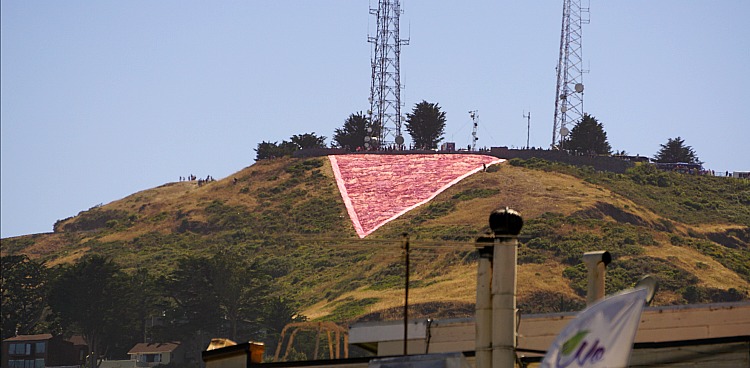 Set-up starts at 7am and will last until around 10am on Saturday. The commemorative ceremony begins at 10:30am. The Pink Triangle is up all weekend and is an amazing sight to see!
It will be taken down on Sunday afternoon at 4:30pm.
Celebration Details

This year's celebration in the Civic Center starts at noon on Saturday and the festivities continue until 6pm that day. On Sunday, the festival starts at 11am and lasts until 6pm.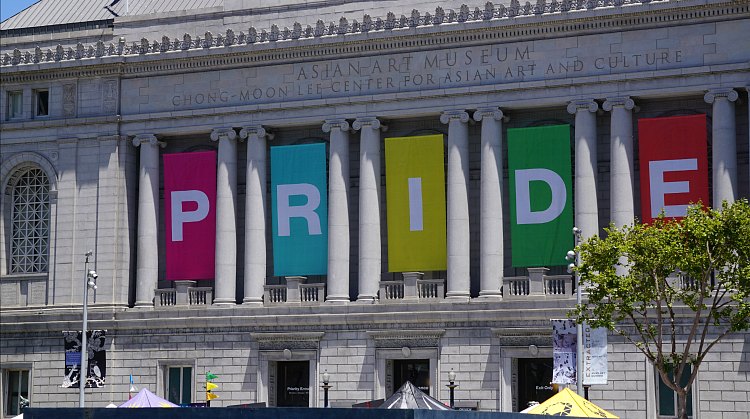 In addition to the more than 200 parade contingents and 300 exhibitors, you will find over 20 community-run stages and venues set up throughout the streets with local musicians, dancers, and other entertainers. The heart of the event is set up around the Main Stage at the bottom of the City Hall steps on Polk Street.
>> Click here for a schedule of this year's performers.
Parade Details & Route Map

The 2020 SF Gay Pride Parade is Sunday, June 28. This year, they are again expecting close to 200 parade entrants.
The parade starts at the corner of Market and Beale Streets at 10:30am. The route runs along Market Street and ends at 8th and Market in downtown San Francisco.
The parade is free and open to the public. Here is the parade route map.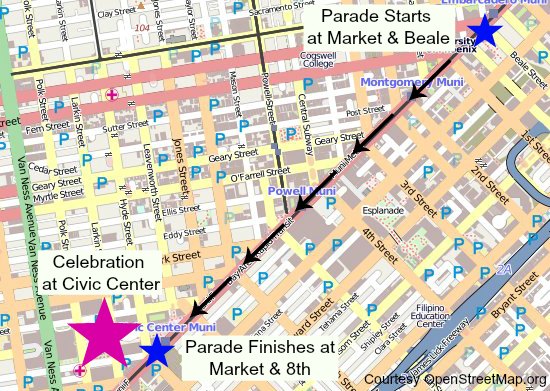 If you want to get a good spot to view the parade, I recommend heading to the parade route as early as you can. By the time the parade starts, the crowd is usually about 10 people deep and it can be hard to see anything.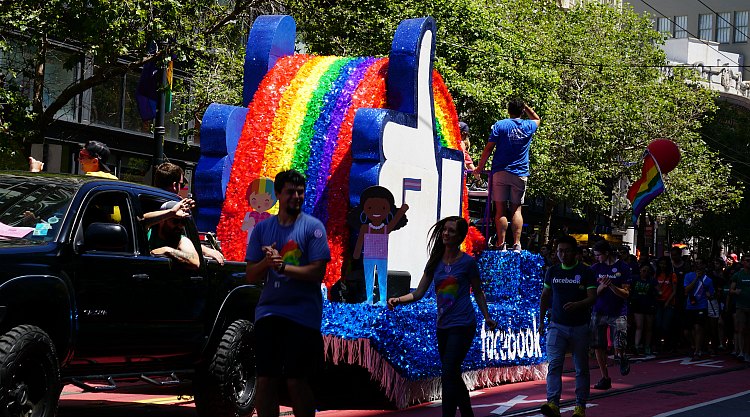 There are also a limited number of grandstand seats. This allows you to pay money upfront to guarantee that you have a seat for the parade. You will find these seats at the end of the parade route on Market between 7th and 8th Streets. Click here to visit their website for more details.

More Fun Events this Weekend

Friday, June 26

Saturday, June 27

Sunday, June 28

Best Places to Stay Nearby

Your two best options for lodging are in the Castro and in Union Square.
The Castro is a great place to find small, locally owned hotels and B&Bs. Click here for some of my top recommendations.
You can also stay in Union Square. This district has more than a 100 hotel options that range from small inns to large five-star hotels. Click here for my recommendations in Union Square.
Savings Tip: Before booking, you should also check out the special deals on TripAdvisor.com. They offer dozens of discounts for hotels all around SF, such as free parking, a free breakfast, or up to 15% off your room rate. It's worth a peek. Click here to review their current offers.

Tips to Get to the Celebration

From Union Square
Light Rail Trains: The best way to get from Union Square to Civic Center is by using one of the light rail trains. You can pick them up at the underground station at Powell and Market Streets. From here, take any of the outbound trains to the Civic Center station, which is one stop from the Powell Station.
From Fisherman's Wharf
47 Caltrain Bus: The easiest way to get to the Civic Center Plaza from Fisherman's Wharf is by taking the 47 Caltrain Bus. Pick up the bus on North Point Street, it stops every two blocks. Take it all the way to Van Ness and McAllister, which is across the street from City Hall. From here, you can enter the festival from one of the western entrances.
From The Castro
Light Rail Trains: From the Castro, I recommend taking one of the light rail trains from either the Castro or Church Street Stations. Take any 'inbound' train to the Van Ness or Civic Center stop. Head north one block and you will find the entrance to this year's festival.