SF Gay Pride Parade & Celebration
Discover Key Details About the 2020 Festival
NOTE: On December 6, San Francisco (and a few surrounding counties) will once again be on a stay-at-home order. This will last indefinitely. Click here for more information.
The SF Gay Pride Parade and Celebration is June 27 and 28, 2020. This weekend-long festival includes music, gourmet food, and more than 300 exhibitors.
Note: The 50th Anniversary of the Pride Parade & Celebration has been cancelled due to the current health outbreak. They do plan to participate in the "Virtual Global Pride" planned for Saturday, June 27.
Pride in SF is one of the largest LGBT gatherings in the world. This year's theme is "Generations of Strength."
The popular and colorful Pride Parade is on Sunday, June 30. It starts at 10:30am at Market Street and Beale.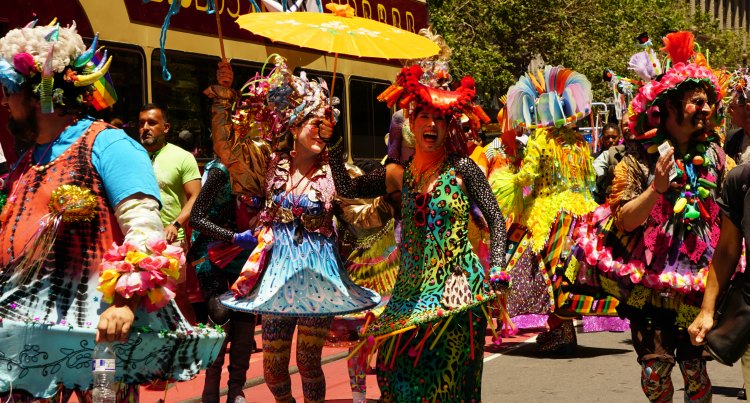 Pink Triangle on Twin Peaks
Before the festivities begin, community volunteers will once again install the huge Pink Triangle on Twin Peaks. It's an annual commemoration of the gay victims persecuted and killed in concentration camps in Nazi Germany starting in 1933.
Today, this important symbol for the LGBT community also shows how far we have come in the fight against homophobia and inhumanity throughout the world.
Set-up starts at 7am and will last until around 10am on Saturday. The commemorative ceremony begins at 10:30am. The Pink Triangle is up all weekend and is an amazing sight to see!
It will be taken down on Sunday afternoon at 4:30pm.
Celebration Details
This year's celebration in the Civic Center starts at noon on Saturday and the festivities continue until 6pm that day. On Sunday, the festival starts at 11am and lasts until 6pm.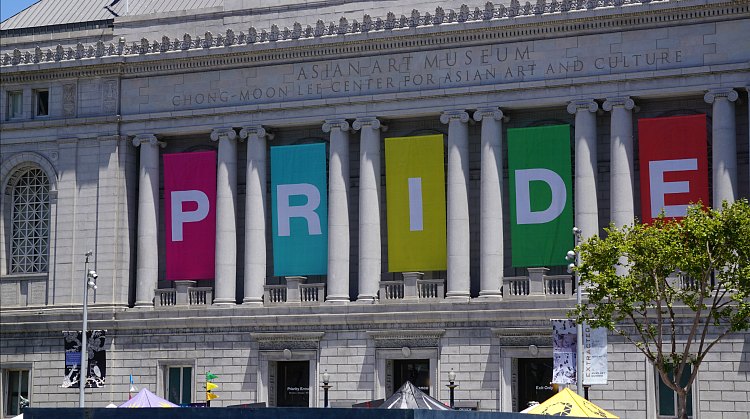 In addition to the more than 200 parade contingents and 300 exhibitors, you will find over 20 community-run stages and venues set up throughout the streets with local musicians, dancers, and other entertainers. The heart of the event is set up around the Main Stage at the bottom of the City Hall steps on Polk Street.
Click here for a schedule of this year's performers.
Parade Details & Route Map
The 2020 SF Gay Pride Parade is Sunday, June 28. This year, they are again expecting close to 200 parade entrants.
The parade starts at the corner of Market and Beale Streets at 10:30am. The route runs along Market Street and ends at 8th and Market in downtown San Francisco.
The parade is free and open to the public. Here is the parade route map.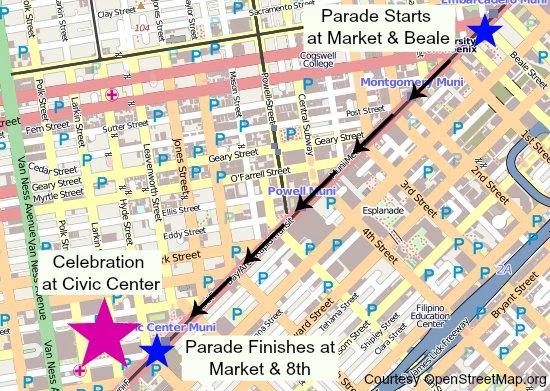 If you want to get a good spot to view the parade, I recommend heading to the parade route as early as you can. By the time the parade starts, the crowd is usually about 10 people deep and it can be hard to see anything.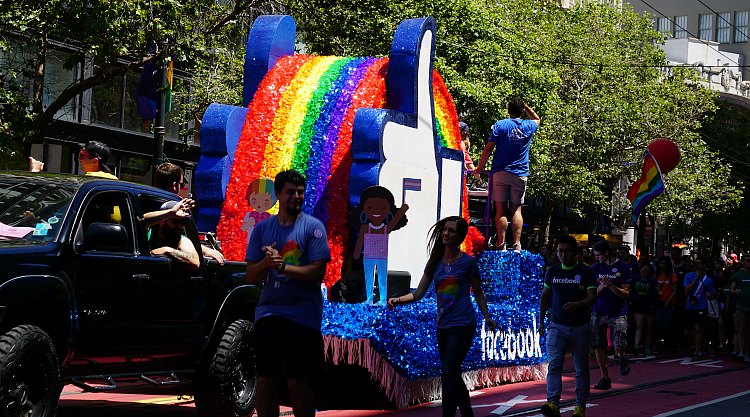 There are also a limited number of grandstand seats. This allows you to pay money upfront to guarantee that you have a seat for the parade. You will find these seats at the end of the parade route on Market between 7th and 8th Streets. Click here to visit their website for more details.
More Fun Events this Weekend
Friday, June 26
Saturday, June 27
Sunday, June 28
Best Places to Stay Nearby
Your two best options for lodging are in the Castro and in Union Square.
The Castro is a great place to find small, locally owned hotels and B&Bs. Click here for some of my top recommendations.
You can also stay in Union Square. This district has more than a 100 hotel options that range from small inns to large five-star hotels. Click here for my recommendations in Union Square.
Savings Tip: Before booking, you should also check out the special deals on TripAdvisor.com. They offer dozens of discounts for hotels all around SF, such as free parking, a free breakfast, or up to 15% off your room rate. It's worth a peek. Click here to review their current offers.
Tips to Get to the Celebration
From Union Square
Light Rail Trains: The best way to get from Union Square to Civic Center is by using one of the light rail trains. You can pick them up at the underground station at Powell and Market Streets. From here, take any of the outbound trains to the Civic Center station, which is one stop from the Powell Station.
From Fisherman's Wharf
47 Caltrain Bus: The easiest way to get to the Civic Center Plaza from Fisherman's Wharf is by taking the 47 Caltrain Bus. Pick up the bus on North Point Street, it stops every two blocks. Take it all the way to Van Ness and McAllister, which is across the street from City Hall. From here, you can enter the festival from one of the western entrances.
From The Castro
Light Rail Trains: From the Castro, I recommend taking one of the light rail trains from either the Castro or Church Street Stations. Take any 'inbound' train to the Van Ness or Civic Center stop. Head north one block and you will find the entrance to this year's festival.
How else can I help you as you plan for the SF Gay Pride Parade & Festival this year?
Other Pages You Might Enjoy
Other Top Events this Month in SF
San Francisco Ethnic Dance Festival: The annual San Francisco Ethnic Dance Festival offers three weekends of events. Each weekend, you will see a variety of dance groups performing traditional dances from around the world. Click here for more details on this year's event.
SF Giants: The SF Giants play almost a dozen home games this month at Oracle Park (formerly AT&T Park). They host teams such as the Colorado Rockies, Arizona Diamondbacks, and the New York Mets. Click here for their full June schedule and tips to attend a game.
Yerba Buena Gardens Festival: Head over to the Yerba Buena Gardens this month for more live, free cultural performances. This festival runs from May to October with several shows scheduled each week. Click here for more details.
Savings Tip: A great way to save on event and tour tickets in San Francisco is through Goldstar. This online retailer offers tickets to almost 200 activities in the SF Bay Area. Most are up to half-off the full price. I use them quite a bit to check out tours, see top theater performances, and to attend large annual events. Click here to review a list of their current tickets.
Other Large Festivals in SF Each Year
SF Film Festivals: The city of San Francisco hosts almost 50 film festivals every year. They range from the large International Film Festival in April to the smaller Green Film Festival in May - June. If you love films, you must check out this year's schedule. Find the details here.
Stern Grove Festival: Every Sunday afternoon from mid-June to mid-August, you can see free live music performances at Stern Grove. This annual festival is popular and hosts acts such as Smokey Robinson, Boz Scaggs, and Patti Austin. Click here for this year's schedule.
Union Square Live: This is another place to see live music and other cultural performances from May to October every year. All performances are in SF's Union Square. Most weeks offer shows on both Wednesday and Sunday. Click here for this year's schedule.
All SF Festivals & Street Fairs: Every year, you will find more than a hundred festivals and street fairs in San Francisco. You will find fun, free street fairs such as the North Beach Festival and others such as the annual wine festivals. Click here for a full list of this year's events.

Follow SFTourismTips on Facebook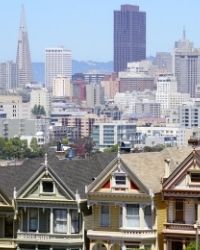 On my Facebook page, you will find more great information about planning your San Francisco vacation.
It includes tips, must see attractions, and other fun details.
Click the link below to check it out. If you enjoy the page, give us a like.