Outside Lands Festival in San Francisco 2019: One of the Most Popular Music Events in SF
The highly anticipated Outside Lands Festival in San Francisco this year will take place August 9-11, on the western side of the city in Golden Gate Park.

Headliners for 2019 include Paul Simon, Childish Gambino, and Twenty One Pilots. Other top bands include The Lumineers, Flume, and blink-182.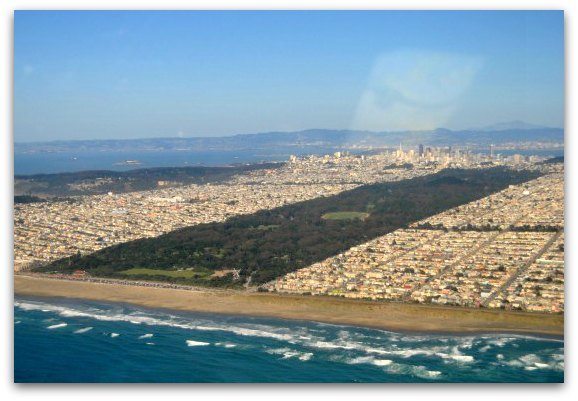 A view of Golden Gate Park from above - the location of the Outside Lands Festival
Disclaimer: I receive a small commission from some of the links on this page.

2019 Performers

Around 70 bands will perform again this year. Here is a list of performers set to schedule. This list may change including additional performers throughout the Outside Lands Festival in San Francisco 2019.
Paul Simon | Childish Gambino | Twenty One Pilots | The Lumineers | Flume
blink-182 | Kygo | Anderson.Paak & The Free Nationals | Leon Bridges
Kacey Musgraves | Lil Wayne | Hozier | RL Grime | Ella Mai | Counting Crows | Flying Lotus 3D
Alina Baraz | Mavis Staples | Bebe Rexha | Sheck Wes | The Neighbourhood | Santigold
Better Oblivion Community Center | Toro y Moi | Denzel Curry | Lauren Daigle | San Holo
Judah & the Lion | Big Wild | Bob Moses | Edie Brickell & New Bohemians | Wallos
Yaeji | Masego | Phosphorescent | Tierra Whack | CJ Koze | NoMBe | Bea Miller | Aurora
Nahko And Medicine For The People | Justin Martin | Dean Lewis | Shallou | Luttrell
The California Honeydrops | Cautious Clay | half-alive | The Marias | Brasstracks | CupCakKe
Cherry Glazerr | P-Lo |Caamp | Weyes Blood | PJ Morton | The Funk Hunters | Still Woozy
Taylor Bennett | MorMor | Miya Folick | ALLBLACK | SYML | Leven Kali | Alex Lahey
Jupiter & Okwess | Delacey | Altin Gun | Grateful Shred | Amo Amo | Boyfriend | The Seshen
Rainbow Girls | Sandy's
Dates & Times

Friday, August 9:
Gates open at 11am
Music lasts from 12pm to 10pm
Saturday, August 10:
Gates open at 11am
Music from 12pm to 10pm
Sunday, August 11:
Gates open at 11am
Music from 12pm to 9:40pm
Tickets

Click the links below for ticketing information.

Other Festival Details

In addition to the music, Outside Lands is also one of the most talked-about food, wine, and beer festivals in the country.

Food Vendors, Trucks + Choco Lands & Cheese Lands

The Outside Lands Festival in San Francisco draws several high-end restaurants and food trucks to the park. You can find everything from classic grilled cheese sandwiches to Malaysian nachos.
This year, there are more than 50 restaurants and 10 food trucks signed up. Each one offers their two to three most popular dishes.
In addition, this year also features areas dedicated to chocolate (Choco Lands) and cheese (Cheese Lands).
Here are just some of the vendors you will find at the Outside Lands Festival.
4505 Meats: Cheeseburgers and garlic chimichurri fries
Bacon Bacon: BBQ bacon burritos, chocolate-covered bacon
Curry Up Now: Sexy fries and deconstructed samosas
Escape from New York Pizza: Pesto, potato, and garlic pizza
Freshroll Vietnamese Rolls & Bowls: Vietnamese sandwiches, taro chips
Humphry Slocombe Ice Cream: Secret Breakfast ice cream, bourbon coke floats
La Urbana: Chorizo bacon dogs, esquites
Lucca Foods: BBQ pulled pork, rice krispy treats
Proposition Chicken: Fried chicken sandwiches with spicy slaw
Rich Table: Porcini doughnuts with raclette cheese
Rosamunde Sausage Grill: Beer sausage, nürnberger bratwurst
The Little Chihuahua: Fried plantain & black bean burritos
Wine Lands

This year's Wine Lands area will include almost 150 wines from more than 30 producers. The list includes local California wines from producers such as Hess Collection, Ridge, and AP Vin. Other wineries this year include Hobo Wine Company, Ghost Pines, and Tin Barn.

Beer Lands

You will also find some of the best craft beers on the west coast. In total, more than a dozen breweries are already signed up to serve their frosty concoctions.
Local breweries such as 21st Amendment Brewery, Anchor Brewing Company, and Magnolia Brewery will have their beers for sale. You can also find others from Lost Coast Brewery, North Coast Brewing, and Social Kitchen & Brewery.
Outsider Art

It wouldn't be a true festival in San Francisco without pieces from local artists on display. This year, you can see live painting, three dimensional installations, and visuals from other surprise guests.

Outside Lands Weather

What should you expect from the weather during the Outside Lands Festival in San Francisco? The great thing about our August weather is that it's cool and pleasant. You will find that it's typically fog with a chill in the air in this area of town in the morning.
The fog typically burns off mid-morning and offers several hours of sunshine. In the evening, the fog will roll in again making for cool evenings.
If you plan to stay all day, you will want to wear layers. I recommend long pants with a medium length short or long sleeved shirt. In addition, I would bring a jacket or sweater to throw on over that as it cools down.
>> Find additional tips for preparing for the weather this August in SF.
More Tips to Enjoy the Festival

With thousands of people attending, you will want to either grab a hotel near the park or find a good route via public transit. Here are a few details to help you decide.

Hotel Options

There are very few hotel options right next to the park. If you want to stay close by, you will find a few in the Haight Ashbury District or near Ocean Beach.
Your next best option is to stay near the city center, where you can easily catch public transit to the festival. Click the links below to find very centrally located recommendations.
Getting Here

The festival is in three areas of the park: Polo Field, Hellman Hollow, and Lindley Meadow. Here is a map showing its location.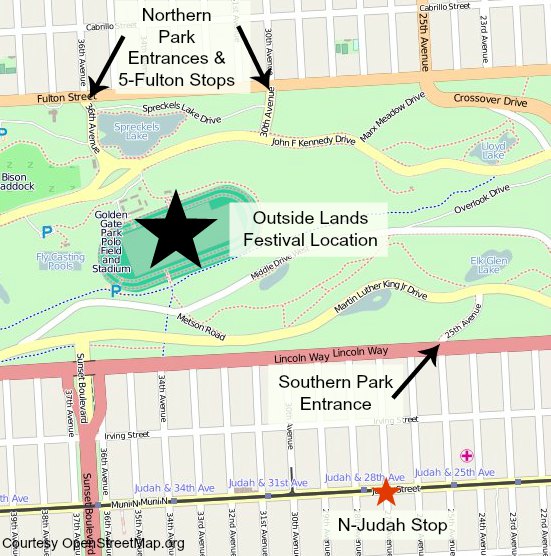 Driving: There is VERY limited parking in the area during this event. If you need to bring a car into the city, I'd find a parking garage in another neighborhood (Union Square or Civic Center) and use public transit to get to the event. This will save you a lot of time and hassle (unless you arrive hours before the gates open or don't mind walking a mile or more to the park).
Public Transit: Your two best public transit options are the N-Judah and the 5-Fulton.
N-Judah Light Rail: The N-Judah is the fastest way to get here from Union Square or downtown San Francisco. Take it all the way to the 25th Avenue & Judah stop. If you aren't sure which stop you are at, just get off the train with the rest of the crowd.
5-Fulton: The 5-Fulton will take a little more time, but drops you closer to the gates. Take it all the way to the 30th or 36th Avenue stops. Both stops offer access to the park and are near the gates.
Special Trains & Buses: Each year, MUNI also offers express (called "X" or "L") trains and buses. Look for special NX Judah Express or 5L Fulton Limited buses. Both offer fewer stops to get people to and from the festival faster.
More About Golden Gate Park

If you decide you need to take a break from the Outside Lands Festival in San Francisco, you can check out some of the other great attractions and activities in Golden Gate Park. These include everything from the California Academy of Sciences to Ocean Beach. Discover more things to see and do here.

History of Outside Lands Festival in San Francisco

The Outside Lands Festival in San Francisco got its start in the summer of 2008. The name comes from the location of the festival. This area was referred to as the "Outside Lands," in the early 19th Century as the neighborhoods were inaccessible and mostly covered in sand dunes.
In the first year, some of the headliners including internationally recognized bands such as Tom Petty and the Heartbreakers, Radiohead, Beck, and The Black Keys. Even in its first year, it attracted more than 40,000 to 60,000 attendees each day!
The event has grown in popularity over the years and tickets are almost always sold out!
BACK TO TOP