Outside Lands Festival in San Francisco 2023: One of the Most Popular Music Events in SF

by Jill Loeffler  •

Updated: June 7, 2023
The highly anticipated Outside Lands Festival in San Francisco this year will take place in August 11 - 13, 2023, on the western side of the city in Golden Gate Park.

Headliners for OSL 2023 include Kendrick Lamar, The Foo Fighters, and Megan Thee Stallion. Other notable performers include Janelle Monáe, Lana Del Rey, and The 1975.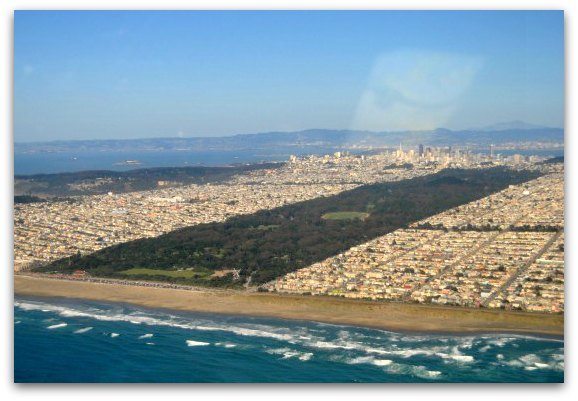 A view of Golden Gate Park from above - the location of the Outside Lands Music and Arts Festival
Disclaimer: I receive a small commission from some of the links on this page.

OSL 2023 Performers

Around 70 bands will perform at the Outside Lands Music and Arts Festival again this year.
Here is a list of some of the top performers. I'll rearrange this by day once more details are available. 
This list may change including additional performers throughout the Outside Lands Festival in San Francisco 2023.
Find tickets for all days and for their 3-day pass.
Tickets sold out? Head to StubHub to find third party tickets.
Friday, August 11
Kendrick Lamar
Zedd
Janelle Monáe
J.I.D
Interpol
WILLOW
AESPA
Cuco
Alex G
Claptone
Monolink
Diesel (Shaquille O'Neal)
Raveena
BLOND:ISH
Becky Hill
Crumb
Justin Jay
Ethel Cain
The Dip
Samia
Disco Lines
La Doña
Yaya Bey
Nation of Language
Evan Giia
Matt Hansen
Westend
NALA
MISS DRE
Izzy Heltai
Saturday, August 12
Foo Fighters
Lana Del Rey
Maggie Rogers
FISHER
Father John Misty
Orville Peck
L'Impératrice
Nora En Pure
Alvvays
NIKI
Mariah the Scientist
Trixie Mattel
Daniel Avery
Lovejoy
Sama' Abdulhadi
Jessie Murph
Zack Fox
Denis Sulta
Cobra Man
TOPS
Orion Sun
VNSSA
MANILA GREY
Donny Benét
Eddie Zuko
Kim Ann Foxman
No Vacation
Wednesday
MIDWXST
Adi Oasis
EREZ (DJ Set)
Sour Widows
Sunday, August 13
ODESZA
The 1975
Megan Thee Stallion
Lil Yachty
Noah Kahan
Cigarettes After Sex
Tobe Nwigwe
Beabadoobee
Poolside
Soccer Mommy
ISOxo
Holly Humberstone
Âme Live
Trikk
WhoMadeWho (Hybrid DJ Set)
Joy Oladokun
Inhaler
Tinlicker
DOPE LEMON
Gabriels
The Jungle Giants
Mild Minds
Red Axes
Nanna
Coco & Breezy
Wild Child
UPSAHL
Pretty Sick
Grace Ives
Fake Fruit
Loverground
Venus & the Flytraps
OSL 2023 Dates & Times

Friday, August 11:
Gates open at 11 am
Music lasts from 12 pm (noon) to 10 pm
Saturday, August 12:
Gates open at 11 am
Music from 12 pm (noon) to 10 pm
Sunday, August 13:
Gates open at 11 am
Music from 12 pm (noon) to 9:40 pm
Other Outside Lands Music and Arts Festival Details 2023

The 2023 Outside Lands Festival in San Francisco will follow all health guidelines to keep everyone safe. They will release more information a few weeks prior to the event, so they can implement any new guidelines necessary at the time for a safe event. 
In addition to the music, Outside Lands does plan to offer several experiences as it's one of the most talked-about food, wine, and beer festivals in the country.
Taste of the Bay Area

The Outside Lands Festival in San Francisco draws several high-end restaurants and food trucks to the park. You can find everything from classic grilled cheese sandwiches to Malaysian nachos.
This year, there are more than 90 restaurants. Each one offers their two to three most popular dishes.
In addition, this year also features areas dedicated to chocolate (Choco Lands) and cheese (Cheese Lands).
Here are just some of the vendors you will find at the Outside Lands Festival.
A16
Abaca
Abanico Coffee Roasters
alaMar Kitchen & Bar
Alicia's Tamales Los Mayas
Alma y Sazon
BaconLand
Curry Up Now

El Garage
Hard Knox Cafe

Humphry Slocombe Ice Cream

Mission Street Burgers

Pink Onion Pizza
Rosamunde Sausage Grill

Suppenkuche
Tacolicious
Wine Lands

This year's Wine Lands area will include almost 100 wines. The list includes tasty wines from producers such as August West, Charles Krug, Heitz Cellar, Momenpop, Rodney Strong, and Turley Wine Cellars. 

Beer Lands

You will also find some of the best craft beers on the west coast. In total, around 30 breweries are already signed up to serve their frosty concoctions.
Local breweries such as 21st Amendment Brewery, Anchor Brewing Company, and Bear Republic will have their beers for sale. You can also find others from Lost Coast Brewery, North Coast Brewing, and Fort Point.
Outside Lands Weather

What should you expect from the weather during the Outside Lands Festival in San Francisco? The great thing about our October weather is that it's sunny, yet still cool and pleasant. 
If you plan to stay all day, you will want to wear layers. I recommend long pants with a medium length short or long sleeved shirt. In addition, I would bring a jacket or sweater to throw on over that as it cools down.

>> Find additional tips for preparing for the weather this October in SF
More Tips to Enjoy the Festival

With thousands of people attending, you will want to either grab a hotel near the park or find a good route via public transit. Here are a few details to help you decide.

Hotel Options

There are very few hotel options right next to the park. If you want to stay close by, you will find a few in the Haight Ashbury District or near Ocean Beach.
Your next best option is to stay near the city center, where you can easily catch public transit to the festival. Click the links below to find very centrally located recommendations.
Getting Here

The festival is in three areas of the park near the Outer Richmond: Polo Field, Hellman Hollow, and Lindley Meadow. Here is a map showing its location.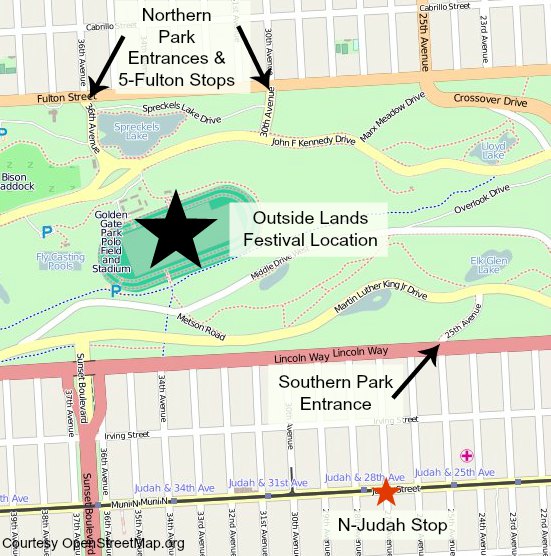 Driving: There is VERY limited parking in the area during this event. If you need to bring a car into the city, I'd find a parking garage in another neighborhood (Union Square or Civic Center) and use public transit to get to the event. This will save you a lot of time and hassle (unless you arrive hours before the gates open or don't mind walking a mile or more to the park).
Public Transit: Your two best public transit options are the N-Judah and the 5-Fulton.
N-Judah Light Rail: The N-Judah is the fastest way to get here from Union Square or downtown San Francisco. Take it all the way to the 25th Avenue & Judah stop. If you aren't sure which stop you are at, just get off the train with the rest of the crowd.
5-Fulton: The 5-Fulton will take a little more time, but drops you closer to the gates. Take it all the way to the 30th or 36th Avenue stops. Both stops offer access to the park and are near the gates.
Special Trains & Buses: Each year, MUNI also offers express (called "X" or "L") trains and buses. Look for special NX Judah Express or 5L Fulton Limited buses. Both offer fewer stops to get people to and from the festival faster.
More About Golden Gate Park

If you decide you need to take a break from the Outside Lands Festival in San Francisco, you can check out some of the other great attractions and activities in Golden Gate Park. These include everything from the California Academy of Sciences to Ocean Beach. Discover more things to see and do here.

History of Outside Lands Festival in San Francisco

The Outside Lands Festival in San Francisco got its start in the summer of 2008. The name comes from the location of the festival. This area was referred to as the "Outside Lands," in the early 19th Century as the neighborhoods were inaccessible and mostly covered in sand dunes.
In the first year, some of the headliners including internationally recognized bands such as Tom Petty and the Heartbreakers, Radiohead, Beck, and The Black Keys. Even in its first year, it attracted more than 40,000 to 60,000 attendees each day!
The event has grown in popularity over the years and tickets are almost always sold out!
More Fun Things to Do in August
Comments? Questions? Suggestions?
I would love for you to join me in my private Facebook group! 
It's a great place to interact with me and others who know the area well.
You can ask questions, get advice for your upcoming stay, and then share your photos and advice with others when you return home. It's a great community and the fastest way to get answers to those nagging questions about your visit!