Outside Lands Festival in San Francisco 2022: One of the Most Popular Music Events in SF

by Jill Loeffler  •

Updated: June 30, 2022
The highly anticipated Outside Lands Festival in San Francisco this year will take place in August 5 - 7, 2022, on the western side of the city in Golden Gate Park.

Headliners for OSL 2022 include Green Day, Post Malone, and SZA. Other notable performers include Jack Harlow, Weezer, and Phoebe Bridgers.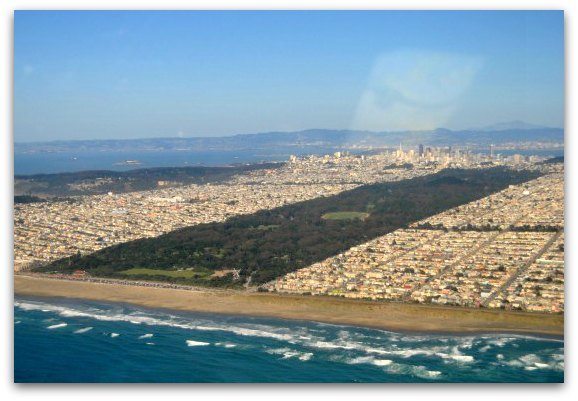 A view of Golden Gate Park from above - the location of the Outside Lands Music and Arts Festival
Disclaimer: I receive a small commission from some of the links on this page.

2022 Performers

Around 70 bands will perform at the Outside Lands Music and Arts Festival again this year. Here is a list of some of the top performers. I'll rearrange this by day once more details are available. 
This list may change including additional performers throughout the Outside Lands Festival in San Francisco 2022.
Find tickets for all days and for their 3-day pass.
Friday, August 5

SZA
Phoebe Bridgers
Lil Uzi Vert
Disclosure
Oliver Tree
The Marias
Dayglow
Purple Disco Machine
Hiatus Kaiyote
Washed Out
Ashe
ROLE MODEL
Anna
Best Coast
Duckwrth
Rostam
Faye Webster
Sampa The Great
Lido Pimienta
Del Water Gap
Inner Wave
The Beths
ODIE

Saturday, August 6

Green Day
Jack Harlow
Kali Uchis
Polo & Pan
Anitta
Mac DeMarco
Local Natives
Larry June
Parcels
Sam Fender
Franc Moody
Empress Of
Zoe Wees
Anna Lunoe
KennyHoopla
Maxo Kream
Robert Glasper
Sunday, August 7

Post Malone
Weezer
Illenium
Mitski
Dominic Fike
Pusha T
Mt. Joy
Kim Petras
100 gecs
Surf Mesa
Wet Leg
Baby Tate
The Backseat Lovers
Amber Mark
Pussy Riot
Griff
Briston Maroney
Tyla Yaweh
Glaive
Petey
OSL 2022 Dates & Times

Friday, August 5:
Gates open at 11am
Music lasts from 12pm to 10pm
Saturday, August 6:
Gates open at 11am
Music from 12pm to 10pm
Sunday, August 7:
Gates open at 11am
Music from 12pm to 9:40pm
Tickets

Click the links below for ticketing information.

Other Outside Lands Music and Arts Festival Details 2022

The 2022 Outside Lands Festival in San Francisco will follow all health guidelines to keep everyone safe. They will release more information a few weeks prior to the event, so they can implement any new guidelines necessary at the time for a safe event. 
In addition to the music, Outside Lands does plan to offer several experiences as it's one of the most talked-about food, wine, and beer festivals in the country.
Taste of the Bay Area

The Outside Lands Festival in San Francisco draws several high-end restaurants and food trucks to the park. You can find everything from classic grilled cheese sandwiches to Malaysian nachos.
This year, there are more than 90 restaurants. Each one offers their two to three most popular dishes.
In addition, this year also features areas dedicated to chocolate (Choco Lands) and cheese (Cheese Lands).
Here are just some of the vendors you will find at the Outside Lands Festival.
A16
Bacon Land
Curry Up Now

El Garage
Escape from New York Pizza
Hard Knox Cafe
Humphry Slocombe Ice Cream

Lady Falcon coffee Club
Mission Bay Wine & Cheese
Pink Onion Pizza
Rosamunde Sausage Grill

Suppenkuche
Tacolicious
Wine Lands

This year's Wine Lands area will include almost 100 wines. The list includes tasty wines from producers such as August West, Charles Krug, Heitz Cellar, Momenpop, Rodney Strong, and Turley Wine Cellars. 

Beer Lands

You will also find some of the best craft beers on the west coast. In total, around 30 breweries are already signed up to serve their frosty concoctions.
Local breweries such as 21st Amendment Brewery, Anchor Brewing Company, and Seven Stills will have their beers for sale. You can also find others from Lost Coast Brewery, North Coast Brewing, and Fort Point.
Outside Lands Weather

What should you expect from the weather during the Outside Lands Festival in San Francisco? The great thing about our October weather is that it's sunny, yet still cool and pleasant. 
If you plan to stay all day, you will want to wear layers. I recommend long pants with a medium length short or long sleeved shirt. In addition, I would bring a jacket or sweater to throw on over that as it cools down.

>> Find additional tips for preparing for the weather this October in SF
More Tips to Enjoy the Festival

With thousands of people attending, you will want to either grab a hotel near the park or find a good route via public transit. Here are a few details to help you decide.

Hotel Options

There are very few hotel options right next to the park. If you want to stay close by, you will find a few in the Haight Ashbury District or near Ocean Beach.
Your next best option is to stay near the city center, where you can easily catch public transit to the festival. Click the links below to find very centrally located recommendations.
Getting Here

The festival is in three areas of the park near the Outer Richmond: Polo Field, Hellman Hollow, and Lindley Meadow. Here is a map showing its location.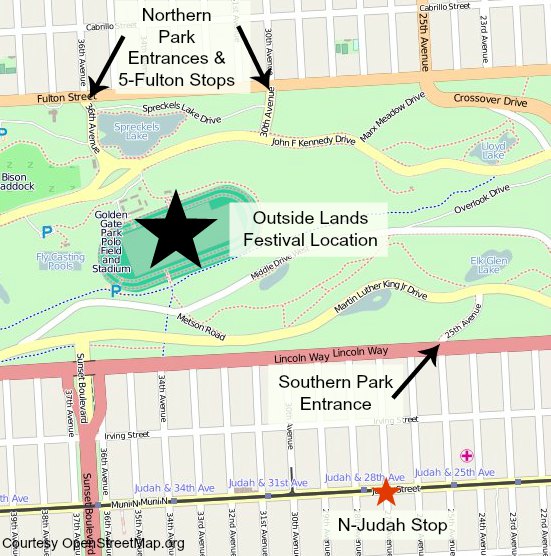 Driving: There is VERY limited parking in the area during this event. If you need to bring a car into the city, I'd find a parking garage in another neighborhood (Union Square or Civic Center) and use public transit to get to the event. This will save you a lot of time and hassle (unless you arrive hours before the gates open or don't mind walking a mile or more to the park).
Public Transit: Your two best public transit options are the N-Judah and the 5-Fulton.
N-Judah Light Rail: The N-Judah is the fastest way to get here from Union Square or downtown San Francisco. Take it all the way to the 25th Avenue & Judah stop. If you aren't sure which stop you are at, just get off the train with the rest of the crowd.
5-Fulton: The 5-Fulton will take a little more time, but drops you closer to the gates. Take it all the way to the 30th or 36th Avenue stops. Both stops offer access to the park and are near the gates.
Special Trains & Buses: Each year, MUNI also offers express (called "X" or "L") trains and buses. Look for special NX Judah Express or 5L Fulton Limited buses. Both offer fewer stops to get people to and from the festival faster.
More About Golden Gate Park

If you decide you need to take a break from the Outside Lands Festival in San Francisco, you can check out some of the other great attractions and activities in Golden Gate Park. These include everything from the California Academy of Sciences to Ocean Beach. Discover more things to see and do here.

History of Outside Lands Festival in San Francisco

The Outside Lands Festival in San Francisco got its start in the summer of 2008. The name comes from the location of the festival. This area was referred to as the "Outside Lands," in the early 19th Century as the neighborhoods were inaccessible and mostly covered in sand dunes.
In the first year, some of the headliners including internationally recognized bands such as Tom Petty and the Heartbreakers, Radiohead, Beck, and The Black Keys. Even in its first year, it attracted more than 40,000 to 60,000 attendees each day!
The event has grown in popularity over the years and tickets are almost always sold out!
More Fun Things to Do in August