San Francisco Events in August 2017
Outside Lands, Food Festivals, & Theater
Top San Francisco events in August 2017 include the Outside Lands Music Festival, Eat Drink SF, and several theater productions. You can also enjoy some free walking tours, a trip up to wine country for the day, and SF Giants baseball.
August is one of the busiest times of the year in San Francisco. You will love it as the days are warm and the evenings are cool. It's the perfect place to escape the dreaded summer heat.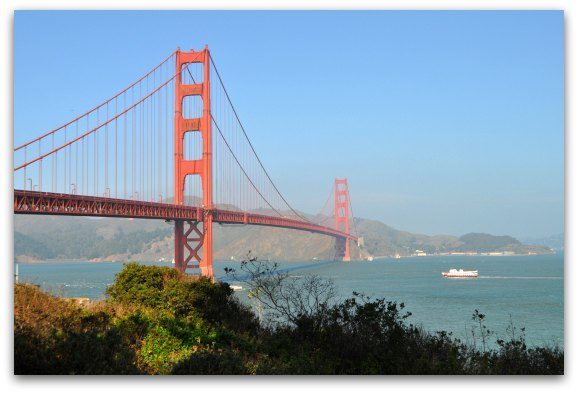 For some of the links on this page, I receive a small commission when you purchase. You don't pay more when you buy through me and it gives me the chance to offer you all this great content for free!
Hamilton at the Orpheum Theater
Dates: March 10 - August 5
Don't miss your chance to see the most popular play on Broadway, right here in San Francisco! Everyone is raving about the Hamilton musical, a clever modern twist on the founding of the United States. You'll love the award-winning score that combines hip-hop, pop, jazz, and blues, as well as the colonial costumes and sets. Get your tickets for the last few days of this show at the Orpheum Theater.
Tickets: On sale now
American Craft Show SF
Dates: August 4 - 6
Check out the handmade crafts at this three-day event brought to you by the American Craft Council with over 225 top artisans in jewelry, furniture, clothing, and home decor. No matter what your taste—vintage, cutting-edge, elegant, or full of colors—you're sure to find something you'll love.
More: Learn more about upcoming American Craft Shows
Nihonmachi Street Fair
Date: August 5 & 6
Admission: Free
The Nihonmachi Street Fair is held in SF's Japantown district each year. It's one of the weekend-long San Francisco events in August that celebrates Asian Pacific American cultures. During this event, you can sample traditional food, listen to live entertainment, and enjoy activities with your kids.
More: Uncover details for this year's event
More: Additional free things to do this month in SF
Film Night in the Park
Dates: August 5 & 26
One of the best San Francisco events in August is enjoying outdoor movies after dark in open public spaces. This August, there are two screenings. You can watch "Footloose" at Dolores Park on August 5 and then "La La Land" at Washington Square Park on August 26. Picnics on the lawn are encouraged, but leave your chairs at home so everyone around you can see.
More: Get the full movie list and schedule for the summer season
Polk Street Summer Wine Walk
Date: Thursday, August 10
This year marks the first annual Polk Street Summer Wine Walk. Spend a beautiful summer evening strolling along Polk Street's shopping area between Jackson and Post Streets, where merchants will be offering wine samples and special treats.
To participate, buy your ticket online or on-site, and receive your complimentary wine glass and map of tasting locations to discover the real flavor of this neighborhood.
More: What to expect at this year's Wine Walk
Outside Lands Music Festival
Dates: August 11 - 13
Tickets: Buy your one-day or three-day pass today!
Outside Lands is one of the largest San Francisco events in August. This three-day music festival features more than 70 well-known artists on multiple stages, as well as local food, wine, and beer vendors. Each year it's held in Golden Gate Park near the Polo Field.
The 2017 lineup has not yet been announced, but last year we enjoyed concerts by Radiohead, LCD Soundsystem, Lionel Richie, Lana del Rey, and so many more.
More: Click here for more details on the festival
SF Giants Baseball
Dates: Several games in August
Discounted Tickets: Find discounts for select dates in August
Tickets: Buy your tickets today
Baseball season is in full swing and SF Giants games are some of the most popular San Francisco events in August. This month, they play the Arizona Diamondbacks, Chicago Cubs, Philadelphia Phillies, Milwaukee Brewers, and St. Louis Cardinals.
They even take on their friendly Bay Area rival, the Oakland A's. All home games are at AT&T Park in the SoMa District.
More: Discover the full SF Giants August schedule of home games
Best Half-Priced Tickets for San Francisco Events in August
Check out the best half-priced tickets for San Francisco events in August. You will find them on Goldstar, where most tickets are up to 50% off the full retail price.
60-Minute Bay Cruise: Cruises around the bay, leaves from Fisherman's Wharf, several cruises a day, Full price $31, Goldstar price $15.50*


7D Experience: Help eliminate the bad guys with this part video game, part movie that is a whole lot of fun, located on Pier 39, Full price $14.99, Goldstar $8.25*


Magowan's Infinite Mirror Maze: A colorful twist on the old fashioned house of mirrors, spend some time trying to make your way throug this mirror maze, located on Pier 39, Full price $10-$20, Goldstar $5-$9*
*Small service fee at checkout.
Free Museum Days
Dates: Several in August
Save money while you explore some of SF's top museums. This month, you can step inside the Asian Art Museum at no cost to check out their permanent collection. You can also head over to the Conservatory of Flowers to admire their colorful plants or head to the de Young for a look at their contemporary art pieces on display. These are just some of the San Francisco events in August you do not want to miss!
More: Find the full calendar of free museum days this month
SF Theater: La Cage Aux Folles
Dates: Several in August
Discounted Tickets: Available for most dates at up to 50% off on Goldstar
Tickets: On sale for all dates
This Cabaret-style award-winning musical has claimed six Tony's on Broadway, and is finally showing here in SF! Get swept away with this romantic French-Italian love story. It runs through August 13.
Catch a performance this month at the SF Playhouse, where the play Zenith will also be showing.
More: Full calendar of upcoming theater performances in SF
Hotel Deals for August
Don't pay full price for your stay in SF, click the links below to check out the best deals available!
Booking: Find great deals all around San Francisco for your upcoming stay!
TripAdvisor: What's the #1 hotel in San Francisco? Read reviews & find hotel deals on TripAdvisor!
Pistahan Parade and Festival
Dates: 8/12 & 8/13
Admission: Free
Experience the beauty of Filipino art, dance, music, and food at the 23rd edition of this two-day festival, known to be the largest celebration of Filipino Americans in the U.S. This event is fun for the whole family, and admission is free.
More: Go to the Pistahan website to find out more
Save Money with the SF CityPASS
Enjoy a ton of savings on your trip to San Francisco with this handy discount pocket book! With your CityPASS, you'll gain free admission to either the de Young Fine Arts Museum or the Exploratorium, the Aquarium of the Bay, and the California Academy of Sciences.
In addition, take a free cruise on the SF Bay and ride the cable cars and buses for free. The pass is also full of other shopping discounts!
Tickets: Save big on your trip to SF now!
SF Mime Troupe
Date: 8/12, 8/13, & 8/31
One of those unique San Francisco treats, the SF Mime Troupe is a community-based theater group that performs an original, socially and politically relevant show each summer, for free, in many different locations to reach as many people as possible.
This year's piece, Walls, digs into the controversies around immigration, both legal and illegal
More: Read more about the SF Mime Troupe and their upcoming schedule of shows
San Francisco Improv Fest
Dates: August 16-20
If you enjoy watching and laughing along with improv performances, get ready for 10 days of awesome shows at the Eureka Theatre at Jackson Street and Battery. This festival is in its 14th year of celebrating improvisational theater.
It will feature work by both local and visiting ensembles, as well as workshops and other events to help educate the public and strengthen the improv community in the SF Bay Area.
More: Visit the event website for more details
Noe Valley Wine Walk
Date: August 17
Enjoy an evening of wine in the Noe Valley District. This annual wine walk is a great time to sample wine and learn more about the Noe Valley neighborhood. The event lasts from 4pm to 8pm on a Thursday evening and includes a glass with every ticket purchase.
You can either buy tickets in advance or in cash once you arrive.
More: Find a calendar of all wine events in SF
Live Music Concerts
Dates: Several in August
In addition to the three-day Outside Lands music festival in Golden Gate Park, you'll find several great concerts this time of year at SF's top venues, including at the Warfield and the Independent.
Last year in August, SF and the Bay Area welcomed such stars as Adele and Guns N' Roses to the stage. Stay tuned to find out which performers are coming to town this year.
More: See the full concert schedule for dates, tickets, and more
Top SF Concerts for August
Festa Coloniale Italiana
Date: August 19
Held right in the heart of the North Beach neighborhood (SF's Little Italy), this free street festival is a great family and cultural event. Head over to Stockton Street, just across from the famed Washington Square Park, to enjoy delicious Italian food, a pizza toss, specialty Italian handicrafts, wine tasting, and live performances featuring Moreno Fruzzetti.
More: Visit the festival's website for more details
Tour de Fat
Date: August 19
New Belgium Brewing, maker of Fat Tire, is bringing its beer-and-biking sensation to San Francisco this month. This event attracts thousands of costumed riders. This year's concert is Vintage Trouble.
The event also includes circus performers, vaudeville acts, magicians, comedians and so much more. Don't miss out on the fun!
Tickets: On sale for a discount on Goldstar
More: Visit their website to get more details
Stern Grove Festival
Dates: Every Sunday from June 25 - August 27
Admission: Free
Enjoy the last few live music performances in beautiful Stern Grove each Sunday this month until August 27. All shows start at 2pm. These San Francisco events in August are free, so make sure to arrive early for the best spots in the park.
More: See the Stern Grove schedule and plan your outing today
49ers Preseason Football
Dates: August 19 & 31
Tickets: Available for all games on Ticketmaster
NFL fans, this is the month you's been waiting for, when football is back in force in the Bay Area!
On August 19, the San Francisco 49ers open the preseason at Levi's Stadium in Santa Clara against the Denver Broncos. They return on August 31 to take on the Los Angeles Chargers.
More: Check out the full 49ers season schedule
Noise Pop's 20th Street Block Party
Date: August 19
Join the diverse community of SF's colorful Mission District for the fifth annual 20th Street Block Party--a free celebration of summer, music, and great food. Noise Pop, which also co-hosts the Treasure Island Music Festival, is one of the leading independent music promoters in the country, bringing the best emerging bands to stage.
Some of the featured artists from previous years include Miami Horror, Chicano Batman, Hazel English, and Spooky Mansion.
More: Find out more on the official website
Bay Area Brew Festival
Date: August 19
Enjoy a full day of sampling local beers at the Bay Area Brew Festival. This is one of the popular San Francisco events in August that features dozens of beers from all around the world. You can also sample foods from some of the best food trucks around.
This year's event is at Pier 35 from Noon to 4pm or 5pm to 8pm.
More: Visit their site to buy tickets and learn more about this year's event
Family Winemakers of California Annual Tasting
Date: August 20
San Francisco offers lots of wonderful wine tasting events throughout the year, but this one is truly special. At Pier 27, the new cruise terminal, you will have the opportunity to taste over 500 wines from over 125 award-winning, small, family-owned wineries.
If you like original, locally sourced, and delicious California varietals and blends, you will love this event.
More: Visit their website for more information
Sunday Streets
Dates: August 20
The sixth edition of Sunday Streets this year takes place on August 20 in the Tenderlion.
This is a monthly street fair that rotates among neighborhoods, bringing together the community to enjoy free activities for the whole family, live music, and streets closed to traffic for people to run, bike, and play in the area.
More: Find out which weekends to visit which neighborhoods
Union Square Live
Dates: Several from April - September
Admission: Free
This ongoing summer festival continues to offer free outdoor, live performances at Union Square this month, featuring a variety of dance, music, circus, and theater acts.
Take a day to head on over and relax in the square, in the heart of downtown SF.
More: Get the Union Square Festival details and schedule
Alcatraz Challenge
Date: August 21
This annual triathlon at Alcatraz involves jumping from a boat to swim 1.5 miles, biking 20 miles through the SF hills, and running 7 miles of scenic but challenging oceanside trails.
Are you up for this challenge and adventure?
More: Check out the website and register!
Exhibits at SF Museums
Dates: All throughout the month
This August, the intriguing exhibit revealing new scientific truths about ancient Egypt, The Future of the Past: Mummies and Medicine, continues to show at the Legion of Honor. You can also check out other excellent traveling exhibits at SF's best museums, including the de Young Fine Arts Museum, Asian Art Museum, and Museum of Modern Art.
More: Make your museum visit plans for this month
Free Walking Tours from SF City Guides
Dates: Every Day in August
Another great way to save on sightseeing in San Francisco is by taking the free walking tours offered by SF City Guides and expert volunteers from the SF Public Library. They offer a list of options every day that include tours of the Golden Gate Bridge, the Palace of Fine Arts, and the Japanese Tea Garden. They also offer in-depth looks at SF's top districts such as North Beach, Chinatown, and Fisherman's Wharf.
More: Discover the full calendar for August
Yerba Buena Gardens Festival
Dates: Several from May - October
The Yerba Buena Gardens Festival is one of the ongoing San Francisco events in August with weekly peformances. They last all summer long from May through October.
The live outdoor music, dance, and theater performances bring both well-known and emerging artists to stage, and portray a variety of ethnic and cultural groups.
More: Find out more about this year's Yerba Buena Gardens Festival
Three-Day Itinerary of SF
Date: Any day of the week
Do you have only a short time to explore San Francisco? While it will be difficult to see it all, you can cover quite a bit of ground in just a few days. To simplify your planning process, I've created this three-day itinerary with the best attractions, activities, and must-see stops in SF.
It includes a visit to the Golden Gate Bridge, time to check out Fisherman's Wharf, and tips on when you should visit Alcatraz.
More: Read my self-guided three-day itinerary of SF
Eat Drink SF
Date: August 24 - 27
Head on over to the Festival Pavilion at Fort Mason, where the city's best culinary treasures will be laid out before you. Taste amazing food, enjoy unlimited pours of wine and spirits, make your way through the cheese monger cave, watch pro cooking demonstrations, and mingle with other food and drink lovers.
More: Find more top SF food festivals
420 Games in Golden Gate Park
Date: Saturday, 8/26 from 8am to 2pm
Celebrate the legalization of cannibas in California at this year's 420 Games in Golden Gate Park. It's a full day of fun including the chance to sample local beers, listen to live music, and laugh the day away with some great comedians. It kicks off with a 4.2 mile group trip through the park (you can run, walk or bike). Note: No smoking or use of cannibas is permitted on site.
Tickets: Find discounts for this event on Goldstar
Giant Race
Date: August 27
Baseball fans and sports fans, there may not be a game this Sunday morning, but you still have a great excuse to visit AT&T Park in San Francisco.
Starting and ending at the ballpark, there will be a half marathon, 10K, 5K, kids race, and family relay.
Celebrate fitness at the home of the Giants with this fun, outdoor, family-friendly event.
More: More info and registration
Origami Festival
Date: August 27
It is amazing what can be created with just a piece of paper and some clever folding action! At the Origami-Palooza and Paper Airplane Contest, people of all ages are invited to come learn from the experts and make their own paper art pieces. This festival, which takes place at the Japan Center Malls in Japantown, will also include an origami competition and prizes for the best entries.
More: Discover more details about the festival
Comedy in SF
Dates: Several in August
San Francisco events in August include a variety of laugh-out-loud performances, including standup at the comedy clubs, improv shows, and musical comedies like Beach Blanket Babylon.
Click the link below to find out who's performing this month at Cobb's Comedy Club and the Punch Line. Make sure to enjoy one of these San Francisco events in August during your stay.
More: Check out the full calendar and links to special shows
Even More Things To Do in SF in August
Beyond attending the wonderful events I've outlined above, there are plenty more things to do when you visit San Francisco in August. Read my guide on the best tours, cruises, family activities, restaurants, and nightlife to check out during this time of year.
More: Get more ideas for your August trip to SF
What to Wear in SF in August
Are you looking for a few ideas on what to pack? If so, then visit my San Francisco weather page for August. I take you through what to expect during the day and night. I also provide you with some tips on what to wear during your stay.
>> More details on what to wear in SF in August
Additional Events Around the Bay Area & Wine Country
Top Tours & Cruise this Month
More Fun Pages for You