San Francisco Events in August 2021: Discover Top Activities this Year

by Jill Loeffler  •

Updated: August 2, 2021
Proof of vaccination is now required for certain indoor activities. Learn more here. 
San Francisco events in August 2021 include festivals, concerts, and theater. You will also find some great sporting events, free museum admission days, and comedy.
This is the first month that you will see activities and events really start to pick up. Broadways shows are back on stage with Hamilton at the Orpheum. More venues are starting to offer concerts and some of the street fairs are back on the calendar. 
Disclaimer: I receive a small commission from some of the links on this page.

Sporting Events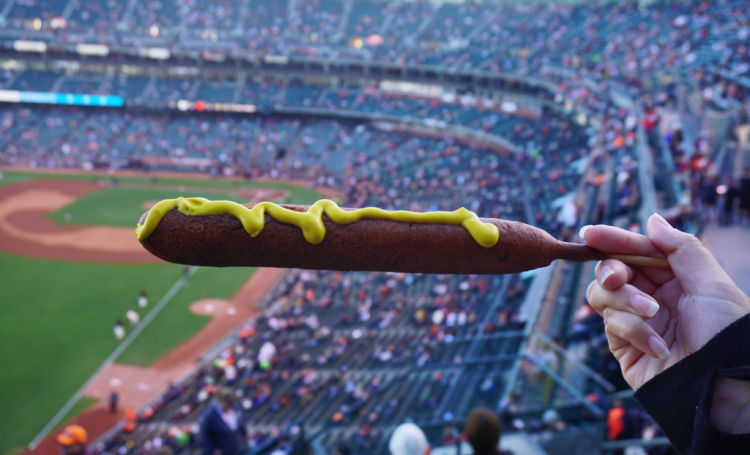 Enjoying a corn dog at the San Francisco Giants game.
SF Giants
Dates: 8/1, 8/10 - 8/11, 8/12 - 8/15, 8/16 - 8/18, 8/30 - 8/31
Location: Oracle Park in the SoMa District 
Tickets: Find tickets for all games this month
Baseball season is in full swing and SF Giants games are some of the most popular San Francisco events in August. This month, they play thirteen home games. They play host to the Houston Astros, Arizona Diamondbacks, and the Colorado Rockies.

All home games are at Oracle Park in the SoMa District.
>> Discover the full SF Giants August schedule of home games

Oakland A's

Dates: 8/3 & 8/4, 8/6 - 8/8, 8/20 - 8/22, 8/23 - 8/24, 8/26 - 8/29
Location: Coliseum in Oakland
Tickets: Find tickets for all games this month
You can also head across the bay to catch a game with the Oakland A's. This month, they play 14 home games. Teams visiting this month include the New York Yankees, the San Francisco Giants, and the San Diego Padres.
The Oakland Coliseum, where the A's play, is an easy BART ride from SF. It takes about 20 minutes by train to the stadium and the station in Oakland is less than a 5 minute walk away from the game.
>> More details about attending an Oakland A's game

49ers Pre-Season Games
Dates: 8/14 & 8/29
Location: Levi's Stadium in Santa Clara
Tickets: Find tickets for both games
NFL fans, this is the month you have been waiting for, when football is back in force in the Bay Area! 

They play two pre-season games in August. They host the Kansas City Chiefs on August 14. They then play host to the Las Vegas Raiders on August 29. 
>> More details about seeing a 49ers game
Other Sports Events in August
Bridge to Bridge Run & After Party (No run in 2021): The annual Bridge to Bridge race runs between two of our iconic bridges from the Bay Bridge to the Golden Gate Bridge. This race is one of the most beautiful runs in America.
This is one of the San Francisco events in August that features both a 5k and a 12k run. Both groups will start on the Embarcadero near the SF Bay Bridge. You will run along the waterfront toward the Golden Gate Bridge. The 5k group will stop at the Marina Green and the 12k group will run almost all the way to the Golden Gate Bridge and finish in the Marina Green also.

The After Party is another fun perk for this event. Celebrate your run along with family and friends on the Marina Green. The event features live music, beer, and food. Register for this event today!
Alcatraz Triathlon (8/14 & 8/15): This year's Alcatraz Triathlon starts near Alcatraz Island with a 1.5 mile swim, followed by an 18-mile bike ride, and ends with an 8-mile run. You can catch this event along San Francisco's Marina Green. The full triathlon takes place on 8/15 with a new Escape Aquathlon on August 14. 
If you are around the love to watch these types of sports performances, make sure to swing by either day to watch the action.
Theater Performances in August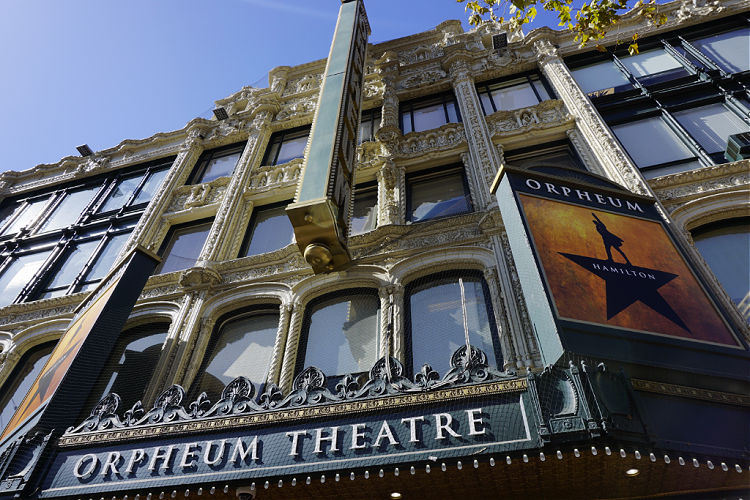 Orpheum Theater looking up at the outside near the front doors from Market Street.
Hamilton at the Orpheum Theater
Dates: August 10 - September 5
Tickets: Find tickets for all performances
Head over to the Orpheum Theater for the first Broadway production of 2021, Hamilton. Based on the book by Ron Chernow, this story about Alexander Hamilton offers a look at this founding father's rise to fame and the duel that took his life. 
This award winning Broadway musical is cast with mostly non-white ethnicities and features a variety of musical numbers from rap to traditional show tunes. 
>> Additional upcoming theater performances
Ideas to Help You Plan Your Stay

Hop On Hop Off Bus Tour: The best way to get around San Francisco is on the Hop On Hop Off Bus Tour. It runs from 9 am to 6 pm and takes you directly from one attraction to the next. You can select from their 24- or 48-hour tour. They also have a cool night tour. The Big Bus Tour Company is the most popular and highly rated option. Visit their site to learn more.
TripAdvisor: Still need to book your hotel? Check out recent reviews and a list of amenities on TripAdvisor. You can read what others experienced at each hotel and find the one that is right for you! Visit TripAdvisor to learn more.
CityPass: Save up to 44% on 4 of San Francisco's top attractions with the CityPass. This discount card includes admission to the California Academy of Sciences and a Blue & Gold Fleet Cruise. In addition, you can visit two other attractions of your choice from the following four options: Aquarium of the Bay, SF Zoo, Walt Disney Museum, and the Exploratorium. Visit their site to learn more.
Museums: Free Days, Exhibits & Other Events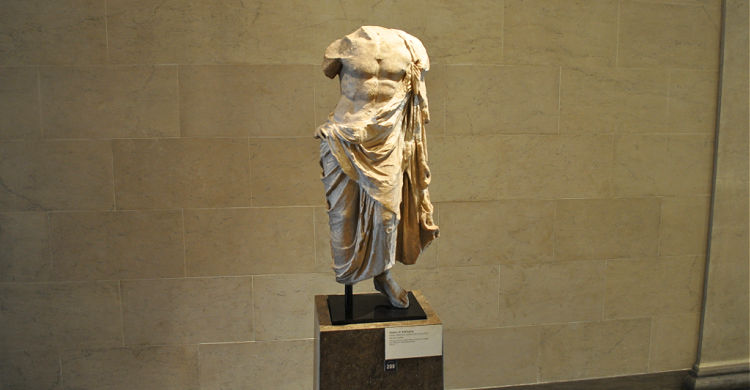 Ancient statue inside the Legion of Honor.
Free Days: Save money while you explore some of SF's top museums. This month, you can step inside the Asian Art Museum at no cost to check out their permanent collection. You can also head over to the Conservatory of Flowers to admire their colorful plants or head to the de Young for a look at their contemporary art pieces on display. These are just some of the San Francisco events in August you do not want to miss! Find the full calendar of free museum days this month.
Museum Exhibits: This August, you will find a variety of interesting traveling exhibits at our top museums such as the Asian Art Museum, the Legion of Honor and the SF Museum of Modern Arts. Here are just a few of the top options this month. 
Nightlife at the California Academy of Sciences (8/5, 8/12, 8/19, & 8/26): Enjoy the California Academy of Sciences with other 21+ nature and science lovers at their weekly Nightlife event. Each week, they feature an evening event with cocktails and fun activities. The event is every Thursday night in August from 6pm to 10pm. Each week is also a new theme, so you can learn more about a certain topic that relates to science or the museum. Previous topics include Golden State Nightlife, Smoked Nightlife, Beer Garden Nightlife, and Big Picture Nightlife. It's a great way to learn more about the nocturnal life at the museum. Find tickets for August Nightlife events. Learn more about the California Academy of Sciences. 
Live Music & Concerts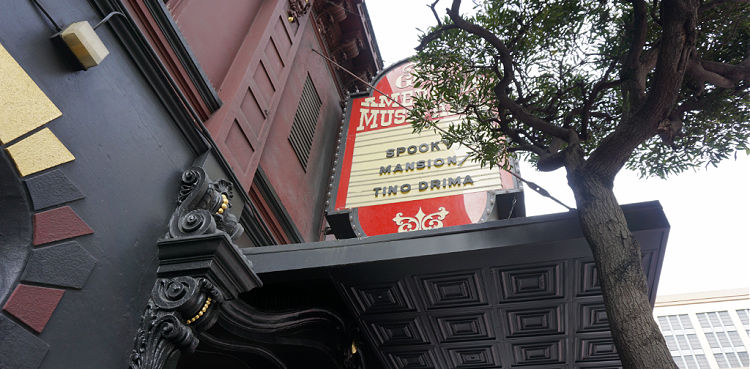 Marquee on the outside of the Great American Music Hall.
The concert venues in San Francisco are just starting to open up, so you won't find as many shows on the calendar as you normally do this time of year. You will find some of the first shows in over a year at venues such as Bimbo's 365, the Bill Graham Civic Auditorium, and The Independent. 
>> See the full concert schedule for dates, tickets, and more
Additional Places to Listen to Live Music
Stern Grove Festival (8/1, 8/8, 8/15, & 8/29): Enjoy the last few live music performances in beautiful Stern Grove each Sunday this month until August 29. All shows start at 2pm and are free. You must reserve your spot in advance in 2021. See the Stern Grove schedule and plan your outing today.
Yerba Buena Gardens Festival: The Yerba Buena Gardens Festival is one of the ongoing San Francisco events in August with weekly performances. They last all summer long from May through October. The live outdoor music, dance, and theater performances bring both well-known and emerging artists to stage, and portray a variety of ethnic and cultural groups. Find out more about this year's Yerba Buena Gardens Festival.

Comedy in SF

San Francisco events in August include a variety of laugh-out-loud performances, including stand up at the comedy clubs, improv shows, and musical comedies.

Click the link below to find out who's performing this month at Cobb's Comedy Club. Make sure to enjoy one of these San Francisco events in August during your stay.

>> Check out the full calendar and links to special shows 
Festivals, Street Fairs & Other Events in SF this August

Many annual events in August have submitted paperwork to the city to get permission for their events. This section will be updated as more receive permission to move forward.
Nihonmachi Street Fair (8/7 & 8/8): The Nihonmachi Street Fair is held in SF's Japantown district each year. It's one of the weekend-long San Francisco events in August that celebrates Asian Pacific American cultures. During this event, you can sample traditional food, listen to live entertainment, and enjoy activities with your kids. Uncover details for this year's event

Pistahan Parade and Festival (8/14 & 8/15): Free admission. Experience the beauty of Filipino art, dance, music, and food at the 26th edition of this two-day festival, known to be the largest celebration of Filipino Americans in the U.S. This event is fun for the whole family, and admission is free. Go to the Pistahan website to find out more. 
Cruises from Fisherman's Wharf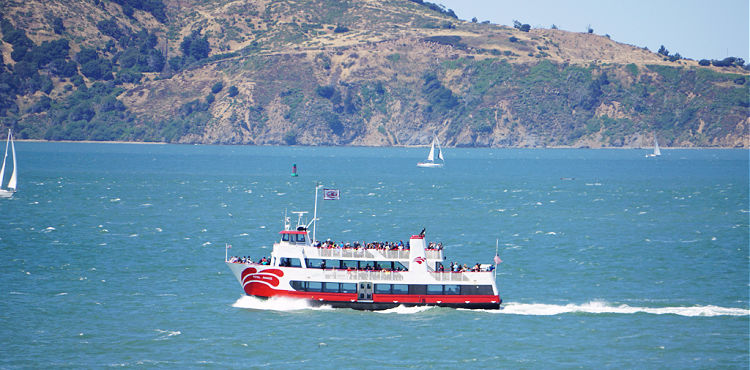 Red & White Fleet on the water with Angel Island in the background.
You will love the variety of cruises offered from Fisherman's Wharf. They include some popular day cruises such as the 60-Minute Bay Cruise Adventure, the Bridge-to-Bridge Cruise, and the Escape from the Rock. Thrill seekers also love the high-speed Rocketboat ride that runs throughout the Summer and Fall months.

We also have a number of fun evening cruises. The include more casual options such as the Red & White California Sunset Cruise or the Sunset Catamaran Sailing Cruise. There are also some fun Happy Hour Cruises a few nights a week as well as higher end Dinner Cruises.

More than a dozen cruises leave from the shores of Fisherman's Wharf each day. Here are just a few of the most popular picks.
Food Tours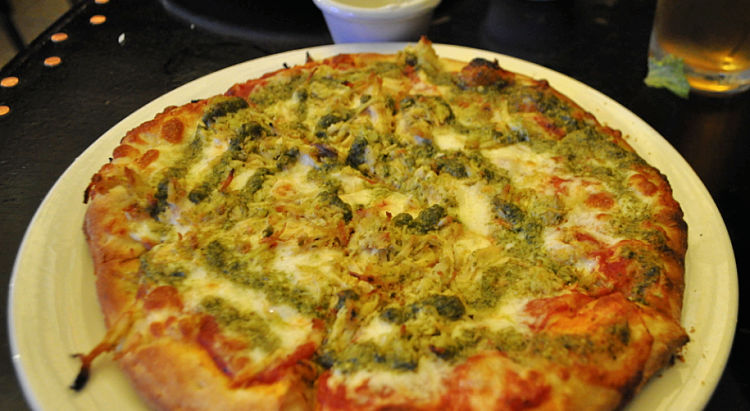 Sampling pizza on a food tour.
San Francisco is a food lovers dream. Some of the best San Francisco events in August revolve around our hot food scene.
Almost every day of the week, you will find a variety of food tours. The offer you the chance to sample some of SF's most famous dishes and cuisines from around the world. You can sample Dim Sum in Chinatown, Central and South American dishes in the Mission, or some of our best Italian goodies in North Beach.
The tours usually last about 2 to 3 hours and include small samples of a variety of dishes. As you walk from place to place, you will also learn more about the district, the restaurants you visit, and the foods you sample.

Here are some of our most popular food tours.

North Beach & Little Italy Food Tour: Sample some of the best pizza, pastas, breads and other Italian treats on this 3-hour tour of North Beach, this behind the scenes tour also includes samples of fresh coffee and local olive oils, leaves three times a day in August, find ticketing availability.

Chinatown & North Beach Food Tour: Taste treats from two of our top foodie districts, sample dim sum, egg tarts, and other traditional Chinese dishes in Chinatown and then head next door to North Beach for some Italian treats, 2-hour tour runs most nights of the week, find tickets for this tour.

>> Find additional food tours around SF

Napa Valley Tours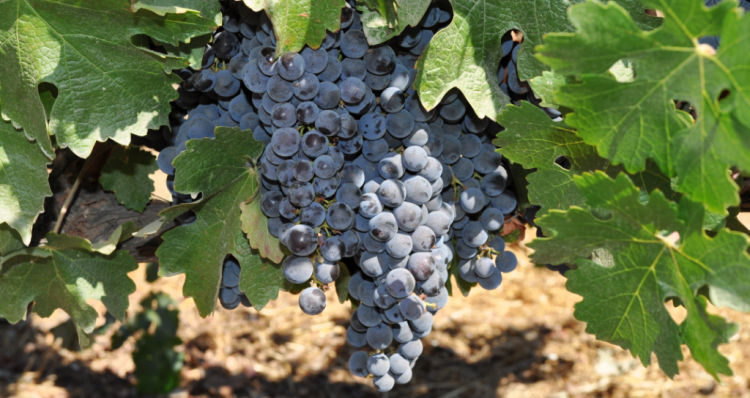 Ripe grapes on the vines in Napa Valley
Some of our most ask about San Francisco events in August are our tours to Napa Valley. This Northern California wine region creates some of the best wines in the world. 
They are well known for their Cabernet Sauvignon and Chardonnay. In addition, you will also find a wide variety of other top wines including Pinot Noir, Merlot, Sauvignon Blanc, and many others.
The region is just over an hour north of San Francisco. Many companies offer a full day tour that runs for about 8 to 10 hours. During the day, you will often stop at around 3 to 4 tours with tastings at most places. Some tours include the price of the tastings and some don't. 

A guided tour is a great way to leave the driving to someone else so you can taste as much of the amazing wines here as you want. All tours leave from and return to SF.

Here are just a few of my favorites.

Full Day Napa Tour from SF: This 8 to 9 hour tour includes stops at 3 wineries along Napa Valley's famed Silverado Trail, sample 5 to 6 wines at each location, see how wine is made on a behind the scenes tour, includes the wine tasting, does not include lunch in the ticket price (you will stop at Oxbow for lunch), leaves from SF daily, find tickets for this tour.

Napa & Sonoma Full Day Tour: Visit three wineries including a large facility to a smaller boutique winery, visit both Napa & Sonoma on this full day trip that runs for about 8 hours, all three tastings included with your ticket, stop for lunch is not included, learn about wine making from experts in both of these regions, find tickets for August.

>> Learn more about visiting wine country

Additional SF Bay Area Events
Santa Clara County Fair (7/30 - 8/6): The Santa Clara County Fair will be much smaller this year. They will offer a self-guided livestock event as well as a few other activities. All events are at the Santa Clara County Fairgrounds.
San Jose Jazz: Summer Fest (8/13 - 8/15): All you really need to know is that there are several stages of music including Jazz, Blues, Salsa, R&B, and more at the annual San Jose Jazz Summer Fest. Known as one of the best jazz festivals in the USA, this is the place to tap your toes and dance 'til you can't dance anymore.
Silicon Valley Comic Con (8/28 & 8/29): This August in the South Bay, Apple co-founder Steve Wozniak presents the premier event in technology and pop culture: The Silicon Valley Comic Con. This convention brings together celebrities, comics, independent artists, cosplay, video games, music, apps, and even more electronics. The event will take place at the San Jose Convention Center. 
Scotts Valley Art, Wine & Beer Festival (8/21 & 8/22): Not only a art, wine and beer festival, this is also a great car show too. The festival has a competition with over 120 different artists bringing their best from around the world. Located at the stunning Skypark, with redwoods all around, this is one of the San Francisco Bay Area events in August that has something for the whole family ranging from food, art, music, drinks and anything else you can imagine. The festival starts at 10 am on both Saturday and Sunday, and ends at 6 pm on Saturday, and 5 pm on Sunday.
Pebble Beach Concours d'Elegance (8/15): The preeminent car show in the USA is in August again this year. Started in 1950, this show has been home to many of the most exotic, and expensive, cars for over 70 years running. Not only will you see the most beautiful cars, in perfect condition, but you can also watch as bidding starts and buyers do their best to win the car of their dreams.  Additional things to do in the Monterey area this month.
Silicon Valley Pride (8/28 & 8/29): One of the most colorful SF Bay Area events in August is Silicon Valley Pride. The party starts at 4 pm, on Saturday night, with the always hilarious "Heroes vs Villains" Party at Cesar Chavez Park. The Saturday night festival starts at 4 pm and ends at 11 pm. The Pride Parade is at 10 am starting at Market Street in San Jose and the festival runs from noon to 6 pm. There is loads of live entertainment, food, drinks, dancing, and everything else you can imagine to show pride in Silicon Valley during these two days.
Oakland Chinatown Streetfest (8/28 & 8/29): Just across the bay from San Francisco is the exciting city of Oakland. The Chinatown festival is a huge draw every year and is always one of the largest SF Bay Area events in August in Oakland. It starts at 10 am, each day, and ends at 5:00 pm. This free festival has over 200 vendors, selling everything from your favorite foods to clothes to toys. The festival has two different stages offering live music and shows all day long. There is a cultural village so you can learn more about the history of the Chinese culture and influence on the USA.

More Tips to Visit SF in August
More Things to Do: Beyond attending the wonderful events I've outlined above, there are plenty more things to do when you visit San Francisco in August. Read my guide on the best tours, cruises, family activities, restaurants, and nightlife to check out during this time of year. Get more ideas for your August trip to SF. 
What to Wear in August: Are you looking for a few ideas on what to pack? If so, then visit my San Francisco weather page for August. I take you through what to expect during the day and night. I also provide you with some tips on what to wear during your stay. More details on what to wear in SF in August. 
TBD for 2021
Other Festivals & Events
Presidio Kite Festival (TBD): One of the best family-friendly events this month in SF is the Presidio Kite Festival. This one-day free event includes a build-your-own-kite workshop (kites free while supplies last), kite flying lessons, Taiko drumming, and more. All events are at the Main Parade Ground between noon and 5pm. This is always one of my favorite San Francisco events in August. 
Jerry Day (Streaming only in 2021 due to construction at the park): Jerry Garcia was born in San Francisco and lived most of his childhood in the Excelsior District. Started in 2002, Jerry Day is a day to celebrate this talented artist that brought so much music and love to the world. The events for Jerry Day are held in McLaren Park (45 John F. Shelley Drive) near the Excelsior District. The event includes talented artists that will bring you the best of Jerry's music. You will also be able to buy plenty of food and drinks from local vendors. This is one of the free San Francisco events in August. Gates open at 11am and the music starts at 11:30am.
American Craft Show SF (No Event in August 2021): Check out the handmade crafts at this three-day event brought to you by the American Craft Council with over 225 top artisans in jewelry, furniture, clothing, and home décor. No matter what your taste—vintage, cutting-edge, elegant, or full of colors—you're sure to find something you'll love. It runs from 10am to 6pm on Friday and Saturday. The hours for Sunday are 11am to 5pm.
Other SF Bay Area Events
Hayward Zucchini Festival (TBD for 2021): With 4 stages of live music, this is way more than a zucchini festival! Bring the entire family and enjoy crafts and art booths, live music, and a special kid's town area with games and activities. The festival runs from 10 am to 8 pm each day and you can try all kinds of special zucchini based foods like zucchini fries, zucchini bread, zucchini pasta, and zucchini cookies and cakes. There are also contests such as longest zucchini, weirdest shaped zucchini, and more.  General admission tickets are $10, with seniors (65+), Juniors (5 - 12) and handicapped at $5. Kids under five are free with an adult.

Palo Alto Festival of the Arts (TBD for 2021): The gorgeous University Avenue becomes a fine art street fair with over 300 different vendors showing, and selling, their crafts to all. This is one of the best SF Bay Area events in August and always is a great way to spend a few days in the later part of the month. This two day event usually draws around 175,000 people and includes both food and wine booths for you to enjoy. There are also musicians and other entertainers in case you want to take a break and just relax for a while. Don't miss out on one of the largest SF Bay Area events in August. It starts at 10 am and ends at 6 pm each day and is about 40 miles south of San Francisco.
Chocolate & Chalk Art Fair (Moved to June in 2021): Berkeley's Gourmet Ghetto is home to this fair which is a treat for your eyes and for your taste buds. Starting at 10 am and ending at 5 pm, you can get your fill of delicious chocolate treats, the chance to enjoy live music, get your face painted and, of course, learn how to do street chalk art. There is even a contest where you can win cash and prizes for the best chalk art. This is a great event for kids of all ages since there are bouncy castles, and balloon twisters for the youngsters. It's also one of the great SF Bay Area events in August for adults as there are several beer and wine booths. Free admission for all.