San Francisco Events in January 2020
Theater, Concerts, Festivals, and More in SF this Month
NOTE: On December 6, San Francisco (and a few surrounding counties) will once again be on a stay-at-home order. This will last indefinitely. Click here for more information.
San Francisco events in January 2020 include sporting events, concerts, Broadway theater, and the SF Ballet. Additional fun things to do include SF Sketchfest, the Martin Luther King, Jr. March & Festival, New Year's Day activities, and free walking tours.
Read on for a full calendar of this month's events.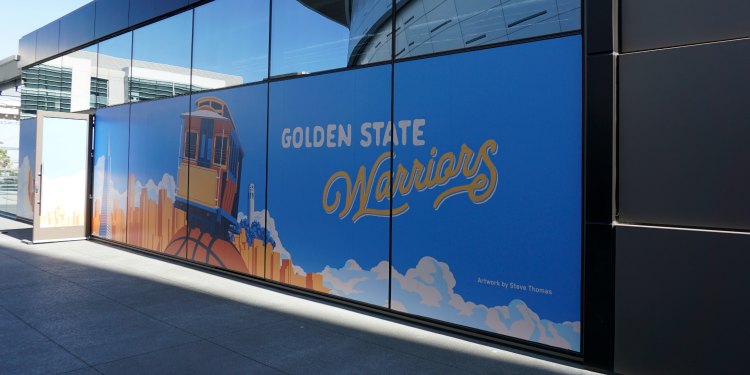 Disclaimer: I receive a small commission from some of the links on this page.
San Francisco 49ers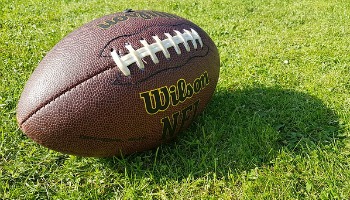 Dates: 1/11& 1/19 (if necessary)
The San Francisco 49ers are headed to the playoffs. They had an amazing season and ended up with home field advantage.
You will find them on the field on January 11 for the first game of the playoff season. The second game is scheduled for January 19 (if they win the January 11th game).
Head down to Levi's Stadium for these games to cheer on the San Francisco 49ers!
Golden State Warriors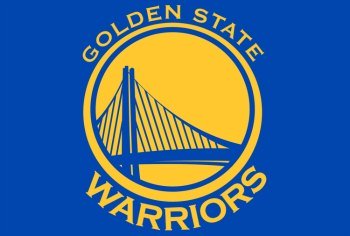 Dates: 1/4, 1/8, 1/14, 1/16, 1/18, 1/22, & 1/24
Location: Chase Center
Head over Mission Bay in San Francisco to catch and exciting game with the Golden State Warriors. This January, you will find a half a dozen home games.
Cheer on their top players including Stephen Curry, Draymond Green and others.
They take on other top teams such as the Milwaukee Bucks, Denver Nuggets, and the Utah Jazz.
>> Golden State Warriors schedule and ticketing information
>> Find a schedule of all upcoming sporting events in SF
SF Bay Cruises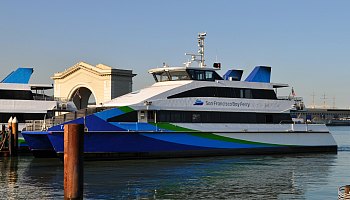 As you are enjoying some of our top San Francisco events in January, make sure to spend a little time on the water. The SF Bay offers amazing views of the skyline, Alcatraz, and the Golden Gate Bridge.
You will find several cruises each day this month.
The daytime cruises offer narration so you can learn more about the attractions you cruise by. All of them go under the Golden Gate Bridge twice, near Alcatraz and along the SF waterfront. You will also find some great ferries that will take you to and from Sausalito, Tiburon, and Angel Island.
The night cruises offer wonderful views of the sunset. Some offer drinks, dinner and/or dancing too.
Here are a few of the top options this month.
Hamilton at the Orpheum Theater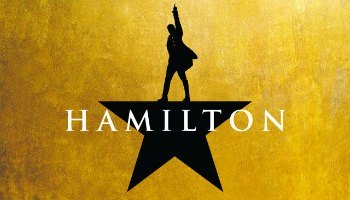 Dates: 2/12/2019 - 5/31/2020
Head over to the Orpheum Theater to see Hamilton. This award winning Broadway musical is the story of one of our founding fathers, Alexander Hamilton.
Learn more about his life growing up on an island in the Caribbean Sea and how he made his way to the US. You will also learn more about that fateful night when he agreed to a duel with then vice president Aaron Burr.
This Broadway production is one of the top San Francisco events in January.
January Concerts 2020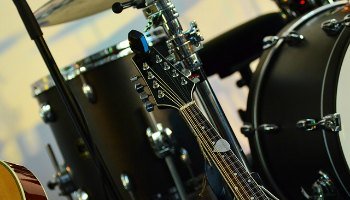 Dates: Daily this month
Every day of the week, you will find some amazing concerts at SF's top venues.
Some of the biggest performers take the stage at the Chase Center, Bill Graham Civic Auditorium, the Warfield and the Nob Hill Masonic Center.
Some of your will also want to see amazing shows at The Fillmore, Slim's and the Great American Music Hall.
>> Find a full schedule of shows this month in SF
Harry Potter & The Cursed Child at the Curran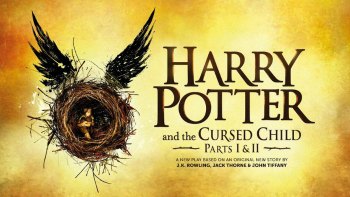 Dates: 10/23 - 7/12
Location: Curran Theater
Harry Potter is now an adult with three children. His oldest is plagued with many of the same struggles as Harry had in his youth.
Find out what happens as his son works through his struggles and demons with the help of his father.
Harry Potter and the Cursed Child includes two parts, so make sure to double check the tickets before you buy as you'll want see both part one and two!
It's one of the hottest San Francisco events in January.
Other top shows this month include Groundhog Day the Musical at the SF Playhouse (11/20 - 1/18), and Head Over Heels at the New Conservatory (12/6 - 1/12).
>> See all theater productions this month
Cirque du Soleil's Amaluna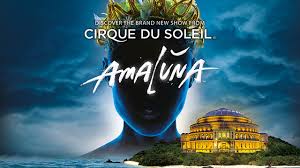 Dates: 11/14 - 1/12
Location: Under the Grand Chapiteau near Oracle Park
Cirque du Soleil rolls into town this year and is offering a few San Francisco events in January. This year's performance is Amaluna.
It takes place on an island with all women. The queen is performing a coming of age ceremony for her daughter. At the conclusion of the ceremony, she creates a storm which causes several men to wash onto the island.
Her young daughter falls in love with one of the young men. The story follows their quest for love and how they overcome each obstacle in their way. With colorful costumes and high-energy performances, this is one Cirque du Soleil show you will not soon forget.
>> Learn more about this year's performance
Top Tours & Activities at a Discount
Find some great deals around town for top tours, events, and more. Here are a few popular options.
*Small service fee at checkout.
SF Symphony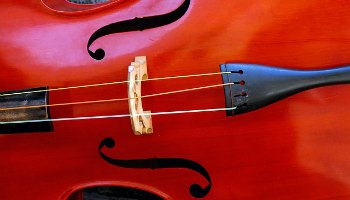 Dates: 1/5 - 1/31
Location: Davis Symphony Hall
San Francisco events in January 2020 include several performances by the SF Symphony.
Their first show, Organ Recital with Jens Korndorfer, is January 5.
Other top performances include MTT & Mahler: Love & Lyricism (1/9 - 1/12), Beethoven250: MTT & Emanuel Ax: Beethoven & Julia Wolfe (1/16 - 1/18, and Blomstedt, Berwald, & Brahms (1/30-2/2).
All shows are at the Davies Symphony Hall in the Civic Center District.
>> Find their full schedule here
Free Walking Tours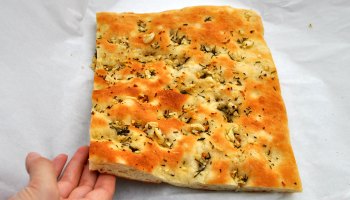 Dates: Every day of the month
One of the great things about this city is its pride in its rich history, neighborhoods, architecture, parks, and other famous sites.
That's why SF City Guides offers fantastic FREE walking tours throughout the year based on a variety of themes, where you get to explore virtually every corner of the city in depth with the experts.
"Tastes and Tales of North Beach," "Gold Rush City," and "Downtown Deco" are just a few of the tours offered.
>> Find the full schedule this January
Uncorked Wine Festival at the Fort Mason Center
Date: 1/26
Location: Fort Mason Center
Sample delicious local and international wines at the Uncorked Wine Festival at the Fort Mason Center. You will get the chance to select wine tastings from up to 200 different wines. There will also be a good variety of sparkling wines.
The event is on a Sunday afternoon from 1pm to 4pm. You can also purchase VIP tickets for early entry at 12pm.
In addition to wine tasting, you can enjoy live music, grab some food at one of the food trucks (additional charge), and a chance to meet other local wine lovers.
>> Find tickets on their official site
>> Find additional wine festivals all year long
City & Bus Tours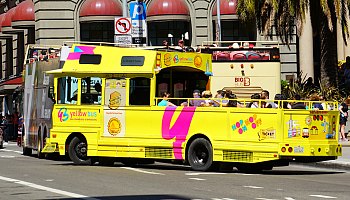 Explore everything that San Francisco has to offer on a guided city or bus tours. These 3 to 4 hours tours offer you the chance to cruise by and learn about SF's top attractions, districts, and activities.
Some stop at the Golden Gate Bridge, others drive through Golden Gate Park, and all of them are a lot of fun. You will learn about top districts as well such as Chinatown, Fisherman's Wharf and the Haight-Asbury neighborhood. Learn all about SF's past, present and get a look into our future.
Here are a few of my top picks.
Hop On Hop Off Bus Tours: These are my favorite because you can get on and off at one of more than two dozens stops along the route. Big Bus Tours offers one of the best with more than 20 stops on their route. Find out more about their most popular tour.
Grand City Tour: 3.5-hour tour on a luxury motor coach bus. You will see SF's highlights including the Golden Gate Bridge, Chinatown, and Twin Peaks (weather permitting). Your knowledgable guide will tell you all about SF, our history and give you additional ideas for the best things to see and do while you are here. Tours run daily in January at 9am and 2pm. Find tickets for this month.
Night Tour: Big Bus Tours also offers a fun double decker night tour each January. SF is gorgeous during the day, but it lights up in great detail at night. Drive past Ghirardelli Square, the Ferry Building and see the Bay Bridge lights. Find tickets for this January.
Hotels Deals for Your Stay
If you are looking for a great hotel for your stay, I recommend starting your search on one of these three sites. The links below take you directly to their deals page, so you can find the best rate right away!
Booking: Find great deals all around San Francisco for your upcoming stay!
TripAdvisor: What's the #1 hotel in San Francisco? Read reviews & find hotel deals on TripAdvisor!
Hot Chocolate 15k/5k
Date: 1/12
What better a way to fight the cold and explore the city than in a fun footrace with thousands of others, all working your way towards a mug of hot chocolate and chocolate fondue at the finish line!
The course will take you by some star attractions in Golden Gate Park and along SF's Ocean Beach, and periodically there will be "Sweet Stations," where you can grab an energizing bite of marshmallows and chocolate.
It's one of the sweetest San Francisco events in January 2020!
>> Visit their site to register
SF Sketchfest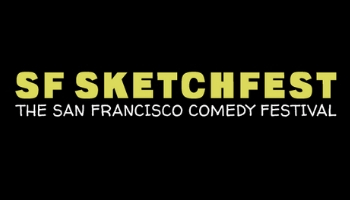 Dates: 1/9 - 1/26
One of the largest comedy festivals and San Francisco events in January is SF Sketchfest.
It features two and a half weeks of comedy sketches and performances by well known comedians.
There are also a handful of workshops, panels, and other fun activities. Each day, you will find three to four shows at venues all around SF.
You will find a limited number of discounted tickets to some of their fun performances. Here are just a few. Click the links for details.
1/10: Tilda Swinton Answers an Ad on Craigslist
1/11: Bobcat Goldthwait & Charlyne Yi, A Night of Stand-Up
1/13: Freeform's Everything's Gonna Be OK with Josh Thomas & Cast
>> Additional details on this year's festival
Mystery Science Theater 3000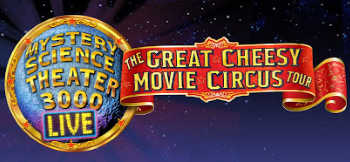 Dates: 1/31 & 2/1
Location: Golden Gate Theater
Are you a Mystery Science Theater 3000 fan? If so, this is one of your last chances to see them live on stage.
Joel Hodgson, the show's creator, along with his robot friends will be watching and commenting on No Retreat, No Surrender for the first two shows and Circus of Horrors for the second show on 2/1. It will be live at the Golden Gate Theater on January 31 and February 1.
This will be MST3k's last live tour. It will be a mix of cracking jokes about the films as well as some sketches.
>> Visit the SHNSF site for ticketing details
FOG Design+Art Fair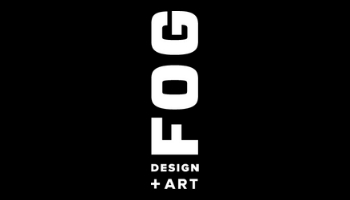 Dates: 1/16 - 1/19
Location: Fort Mason Center
If you are fascinated by art, innovation, and design, you won't want to miss the 2020 FOG fair at the Fort Mason Center, put on in collaboration with the SF Museum of Modern Art (SFMOMA).
The event will feature dozens of dealers and galleries of furniture, fine art, and design objects, in addition to special panel discussions and forums about the industry.
It's one of the top San Francisco events in January for those that love art and design.
>> Visit their website for more details
Additional Festivals this Month
Untitled Art (1/17 - 1/19): This art festival is a curated art fair on Pier 35 along the Embarcadero. It started in 2012 and focuses on contemporary art. It will feature pieces from galleries, the artists themselves, and other non-profit organizations.
Black & Brown Comix Arts Festival (1/18 - 1/20): This comics festival celebrates works from artists of color. You will find displays at both the Main Public Library (100 Larkin St) and the City View at the Metreon (135 4th St #4000). Most activities for this festival are free and open to the public.
Day Trips from SF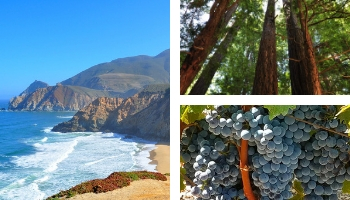 There is so much to see and do in San Francisco, but did you know that we are also close to many other fun destinations?
January is a great time to head north for a little wine tasting. Both Napa Valley and Sonoma are just a short drive away from SF. Both offer a variety of wine varieties including Cabernet Sauvignon, Chardonnay, and Pinot Noir.
You can also head south to visit Monterey or Carmel-by-the-Sea. These two cute seaside towns offer dozens of fun activities from whale watching to high-end shopping. You will also find some amazing seafood restaurants here.
Another top pick is less than an hour away, Muir Woods. Here you can stare up at some of the tallest coastal redwood trees around. Many are hundreds of years old and you will never tire of looking at their grandness.
Here are some of the top guided day trips from SF.
Martin Luther King, Jr. March & Festival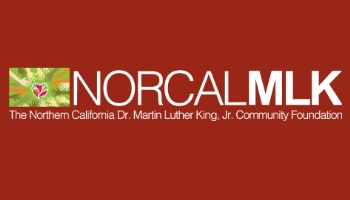 Date: 1/13 - 1/20
The MLK, Jr. March & Festival is on Monday, January 21.
This annual event includes a march over the Lefty O'Doul Bridge near Oracle Park (formerly AT&T Park) and through downtown San Francisco. It commemorates the famous Selma-to-Montgomery march over the Edmunds Pettus Bridge.
Other events include a Health & Wellness Festival, and the Liberation Film Festival. You will also find a few activities and events the days leading up to this important national holiday.
>> Additional details for the MLK Jr. annual event
Free Museum Admission Days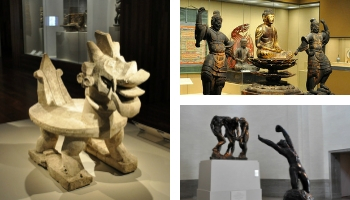 Dates: Several early in the month
Touring museums can be a hefty investment, and you may feel limited to picking just one or two if you're on a budget during your visit.
But seeing the city's intellectual and artsy side doesn't have to be expensive.
Throughout the year, there are several free admission days at San Francisco's world-renowned museums, including the de Young Museum of Fine Arts, the Legion of Honor, and more.
>> Find the full schedule for January
>> Additional free things to do this month in SF
ZinEx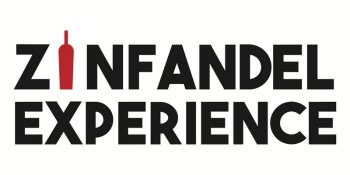 Dates: 1/30 - 2/1
Love a good Zin? Want to find out what makes this variety of wine so tasty and special?
At the three-day ZinEx (Zinfandel Advocates and Producers), you have the chance to meet with the top producers of this lovely red and sample the best zinfandels around.
Head over to the The Palace Hotel and Pier 27 to enjoy this event.
>> Additional festival details
Nightlife at the California Academy of Sciences
Dates: 1/2, 1/9, 1/16, 1/23, and 1/30
Location: California Academy of Sciences
Are you looking for a fun 21+ museum event this January in SF? If so, then check out Nightlife at the California Academy of Sciences.
Every Thursday night from 6pm to 10pm, this science museum in Golden Gate Park offers adult a chance to learn and mingle. Each night is based around a different theme. Previous themes include Fermented Nightlife and Brain & Body Nightlife.
You can sip on cocktails as you meet other nature and science lovers. You can also explore the entire museum and learn as you go.
>> Find tickets for this fun, adult-only event
San Francisco Museum Traveling Exhibits
Dates: All month long
Another one of the top San Francisco events in January is our museum exhibits. All of our major museums welcome traveling exhibits from around the world to enhance your experience when you visit.
Here are just a few top picks this month.
Lost at Sea: Art Recovered from Shipwrecks -- at the Asian Art Museum, runs all month in January
Soul of the Nation: Art in the Age of Black Power -- at the de Young Museum, runs all month
Elemental Calder -- at the SF Museum of Modern Art, all month long
>> Find a full schedule of museum exhibits this month in SF
Winter Fancy Food Show
Dates: 1/19-1/21
Location: Moscone Center
Attend the 43rd Winter Fancy Food Show, the largest specialty food and beverage convention on the West Coast, which welcomes over 33,000 industry professionals.
You'll discover the next big trends, innovative products, and creative companies as you sample and mingle with the producers.
For foodies and folks in the restaurant business, this is an amazing opportunity to enjoy three full days of talks, workshops, and tastings of the latest in this industry.
>> Read more details about this exciting, delicious conference
SF Ballet's 2020 Season
Dates: 1/21 - 1/26
Location: War Memorial Opera House
The SF Ballet kicks off their 2020 season this month on January 21.
Their first performance of the season is also their only show this month.
The show is Cinderella and it runs from January 21 - 26. All performances are at the War Memorial Opera House in SF's Civic Center district.
>> Additional details on the SF Ballet
San Francisco Events in January: Comedy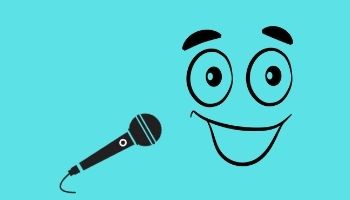 Dates: Several in January
You will find a variety of comedy shows all month long in San Francisco.
Top comedians from around the world perform here each month and January is no exception.
Catch a show at one of our internationally known comedy clubs such as Cobb's or the Punchline. You will also find some great comedians at other venues around town including the Nob Hill Masonic Center.
One of the biggest shows this month is John Oliver. He will be performing several shows at the Masonic on Nob Hill.
>> Additional comedy shows this month in SF
Noir City Film Festival
Dates: 1/24-2/2
This year, the Noir City film festival will again be held at the Historic Castro Theater.
You'll enjoy 10 days of not only great movies, but live music performances and presentations by some of the actors and artists of these classic films.
The festival is put on by the Film Noir Foundation, which celebrates film noir as an original American cinematic movement. In the past, they've shown such films as Rear Window, The Dark Corner, Los Tallos Amargos, and Deception.
>> Get the full movie lineup and more on their website
Two Days in SF: A Self-Guided Itinerary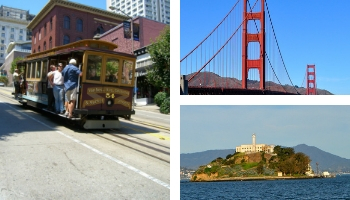 Dates: Every day of the week
Is your visit to San Francisco a short one?
There is so much to see in this beautiful city, it may seem impossible to cover in 48 hours, but I have designed a two-day itinerary that allows you to visit all the top attractions, and sample some of the city's best food, without having to backtrack.
Click the link below to find out how to squeeze in the Golden Gate Bridge, Fisherman's Wharf, Alcatraz, a cable car ride to crooked Lombard Street, Coit Tower, Chinatown, and more.
>> Find the full itinerary here
Arrival of the Sea Lions at Pier 39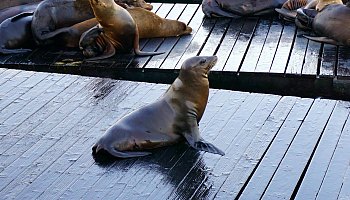 Dates: 1/17 - 1/20
A beloved icon of the popular Pier 39, the barking sea lions lounging about on the docks were not always part of the attraction.
These playful creatures began frequenting the Fisherman's Wharf area shortly before the Loma Prieta earthquake in 1989, and have been an institution ever since.
Every January, San Francisco celebrates the anniversary of their arrival, and this is year marks 28th.
>> Discover even more things to do & see on Pier 39
SeaLion Palooza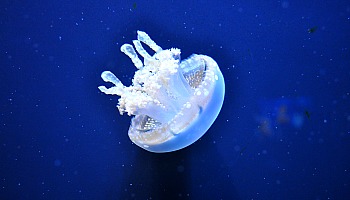 Date: 1/17
Location: Aquarium of the Bay
Head over to the Aquarium of the Bay to celebrate 30 years of sea lions at Pier 39. A larger number started to arrive in 1989. No one is sure why, but they are a fun attraction to see when you visit the pier.
This event is a way to celebrate their arrival. You will be combining science and socializing in one evening.
This 21+ event allows you to sip on drinks as you explore the aquarium. You can also enjoy live music as well as some hands on science projects.
>> Find tickets at a discount on Goldstar
SF Restaurant Week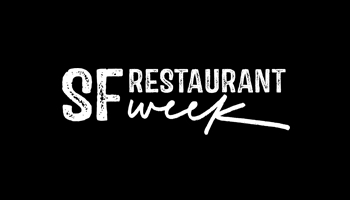 Dates: 1/22 - 1/31
SF Restaurant Week is your chance to dine at nearly 130 of the city's best restaurants at a fixed price and try some star dishes as well as new menu items.
All week long, these participating restaurants will be offering specially designed prix-fixe menus that show off the best of their unique cuisine.
Two-course lunches will cost $15 - $25 and three-or-more-course dinners will cost $40 - $65. Take advantage of these offers and head out on the town to check out SF's booming food scene.
Bay Area Brew Fest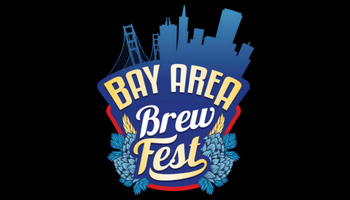 Date: 1/25
The annual Bay Area Brew Fest features dozens of international and domestic beers, as well as the top gourmet food trucks in SF.
The event is held at Pier 35 with two afternoon sessions, one for general admission and one for VIP tickets only. All tickets include unlimited pours.
>> Read more on the festival's website
New Year's Day Events & Activities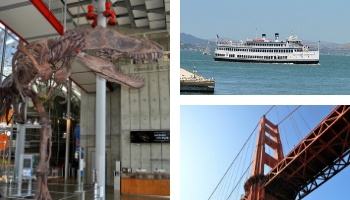 Date: 1/1
Start 2020 off right, with whatever makes you happy. For some of you, that might mean a hearty brunch to recover from a long night out on the town. For others, that might mean heading back out to the bars for some good college football.
And if you're only in SF during the holidays, don't worry; lots of attractions will still be open on New Year's Day for you to enjoy, including the California Academy of Sciences, the SF Zoo, the Japanese Tea Garden, bay cruises, and more.
>> Find more events and activities this NY Day in SF
What to Wear in SF
Are you looking for some tips on what to bring with you to San Francisco? If so, then check out my guide to the weather in January. It offers tips on what a typical day is like this month as well as packing advice and a few other fun things to consider when visiting in January.
Additional Tips to Plan Your Stay in January
Are you looking for some additional ideas and advice for your stay? While you will find plenty of fun San Francisco events in January, you will also find other fun things to do including visiting Muir Woods and Yosemite. You will also find some great tours and discounts all throughout the month.
>> More tips to plan your stay in January

Follow SFTourismTips on Facebook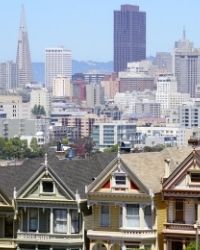 On my Facebook page, you will find more great information about planning your San Francisco vacation.
It includes tips, must see attractions, and other fun details.
Click the link below to check it out. If you enjoy the page, give us a like.

More Fun Things to Do this Month in San Francisco