San Francisco Weather in January: What to Wear, What to Pack, & Other Visiting Tips
The San Francisco weather in January is cool with some light rain. It's the coolest month of the year, but still quite mild compared to many other places in the US.

January is in the middle of our rainy season, but even when it's raining it's easy to get around town. Our rain is usually light and might go on for a few hours. It's best to come prepared with a medium weight jacket with a hood, as it isn't usually heavy enough to need an umbrella.
Mixed in with those rainy days, we also get several sunny days throughout the month.
To prepare for your visit this month, I've pulled together some tips on what to pack, ideas on what to wear while you are here and information on the typical highs and lows during the month. I've also included information on a few of my favorite things to do this month as well as a few indoor activities for you if you prefer to be inside on rainy days.
The picture above is from a gorgeous January day in San Francisco. It was toward the end of the month. The day started with overcast skies. The clouds mostly burnt off by around 11am and the rest of the day was a little hazy with mostly clear skies.
A typical day of San Francisco weather in January is in the mid to upper 50s during the day. It cools off to around the mid-40s at night. These mild temperatures make it a great place to visit while it is cold and snowy in other parts of the US.
On the days that it rains, it will be slightly cooler during the day. Since it's a light rain, it's still easy to get around and you don't usually have to worry about being soaked if you plan to walk around town a bit.
Here are a few other details on the San Francisco weather in January.
Average High in January: 57° F/14° C
Average Low in January: 46° F/8° C
Average Monthly Rainfall: 4.5 inches
Record High: 79° F/26° C (1/8/1962)
Record Low: 32° F/0° C (1/21/1962)
Disclaimer: I receive a small commission from some of the links on this page.

What to Pack for the San Francisco Weather in January

Now it's time to think about packing. What should you bring? Here is a list of items I would bring along for the San Francisco weather in January.
Jacket with a hood, medium weight to keep you warm
Medium weight sweaters or long-sleeved shirts
Light weight long sleeved shirts
Closed toe shoes that are comfortable for walking
Medium weight pants
Jeans
Light weight scarf
Umbrella - if you prefer this over a jacket with a hood
During the day, I would wear a light weight long sleeved shirt, paired with a medium weight sweater and your medium weight jacket. You will find that you will be adding and removing items as the day goes on, so make sure you have items you can put in a bag or wrap around your waist.
As it cools down at night, I will add a heavier sweater or a scarf. This helps keep me warm as I walk outside from place to place. I don't typically wear gloves this time of year. If you have some light-weight gloves, you can bring them along for extra warmth.
It's also windy this time of year, so I don't often wear skirts. Most places in SF are casual, so you can almost always wear jeans or casual pants.
>> More details on what to wear in SF
Top Things to Do in January

During the San Francisco weather in January, you will be able to enjoy activities both indoors and out.
1. Head to the theater: This time of year, you will find plenty of theater performances all around town. They range from Broadway shows to local productions. Find a full calendar of shows here.
2. Sample local wines: San Francisco is just a short drive from Napa and Sonoma. You can either sample local wines all around SF or make the trip up to Napa or Sonoma. My recommendations for wine lovers visiting SF.
3. Watch a Golden State Warriors game: The Golden State Warriors play in the Marina Bay District at the Chase Center. It's a short 15 to 20-minute train ride to the district from the heart of SF. See a list of their home games this month.
4. Laugh the night away at an SF Sketchfest performance: SF Sketchfest is one of the largest festivals this month. For two weeks, you will find a variety of comedy shows all around town. They include sketches, stand-up, improv and more. Get details for this year's shows.
5. Visit Alcatraz: January is also a great time to see Alcatraz. After a 20-minute ferry ride, you will walk up to the old prison building for a self-guided audio tour. During your visit, you will learn all about this former prison's inmates including Al Capone, Machine Gun Kelly, and Robert "The Birdman" Stroud. Find visiting details here. This combo tour is also great with a ticket to Alcatraz and the Hop On Hop Off bus.
More Fun January Ideas

>> A list of my 25 favorite rainy day activities
>> Discover these hidden gems all around town
Hotel Deals

The San Francisco weather in January is cool, but you will find some hot hotel deals all month long. It's slow season here, so you can find great discounts on your room rates and free amenities such as parking or breakfast. Click the links below to visit Booking.com or TripAdvisor to learn more. Plus, you can read recent guest reviews before you book to make sure it's the right hotel for your stay.
Booking: Find great deals all around San Francisco for your upcoming stay! 

TripAdvisor: What's the #1 hotel in San Francisco? Read reviews & find hotel deals on TripAdvisor!
VRBO: In addition to hotels, you'll also find some great places to stay locally through VRBO. Book an apartment or a room and feel more like a local. Find some great places to stay on VRBO here.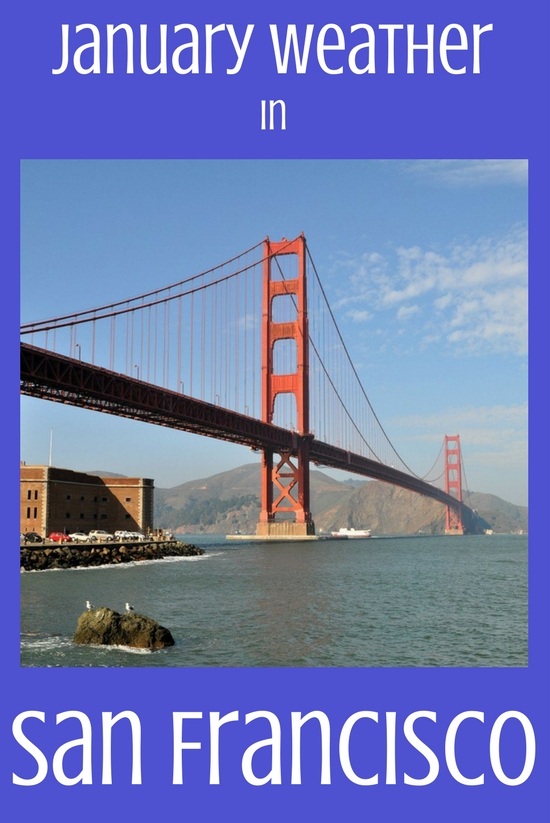 Comments? Questions? Suggestions?
I would love for you to join me in my private Facebook group! 
It's a great place to interact with me and others who know the area well.
You can ask questions, get advice for your upcoming stay, and then share your photos and advice with others when you return home. It's a great community and the fastest way to get answers to those nagging questions about your visit!