Wine Tasting Rooms in San Francisco: 6 Best in the SF City Limits
Everyone has heard of the tasting rooms all over Napa Valley and Sonoma County. But did you know that there are several wonderful tasting rooms in San Francisco?

While Northern California Wine Country is a must-see for any wine lover, you can skip the drive and just venture out to the tasting rooms all over SF. You will find a few of them in Fisherman's Wharf, and many are also popping up further south in SF's SOMA and Dogpatch districts. In addition, you will find half a dozen places to taste on Treasure Island.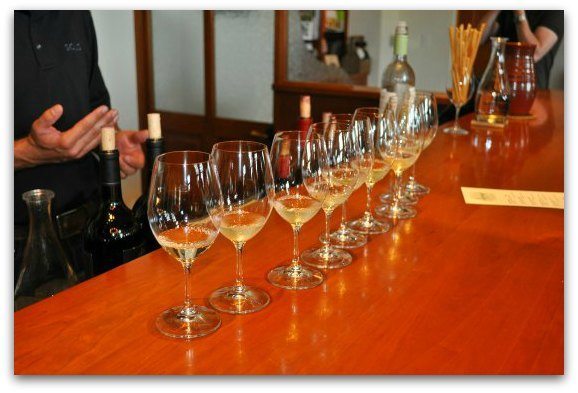 The difference between these tasting rooms and wine bars is that you taste their locally produced artisanal wines. Some also offer tastings from other popular Napa and Sonoma Valley wineries. Since many also have their production facilities on site, you can call ahead to request a tour of their winemaking areas.
Keep reading to learn more about my 6 favorite wine tasting rooms in San Francisco.
1. Bluxome Street Winery

Address: 53 Bluxome Street
District: SOMA
Hours: Daily from 1pm - 8pm (check their site for special hours and closures due to events) 
The grapes used to create the wonderful wines at Bluxome Street Winery are sourced from the cooler areas within Sonoma County. This winery focuses on Pinot Noir, Syrah, Sauvignon Blanc, and Chardonnay. They then craft their wines right in their facility in SF's SOMA district. Stop by to grab a seat and enjoy a sampling of their tasty wines. 
2. Dogpatch Wineworks

Address: 2455 Third Street
District: Dogpatch
Hours: Sundays 12pm - 6pm
Dogpatch Wineworks is a small winery in this newly reinvigorated district south of Oracle Park. You can sample their private label wines as well as wines from their commercial producers. They rotate their wines frequently, so there is always something new to taste.
3. Wattle Creek Tasting Room

Address: Ghirardelli Square, 900 North Point St.
District: Fisherman's Wharf
Hours: Hours are seasonal, but this will give you an idea, Sunday - Thursday 12pm - 6pm, Friday & Saturday 11am - 8pm
You will find the Wattle Creek Tasting Room in Ghirardelli Square in Fisherman's Wharf. This popular winery features Sonoma County wines from their Cloverdale location. Sample their popular reds, such as Cabernet Sauvignon, Malbec, and Shiraz, and their flavorful whites, including Viognier and Sauvignon Blanc.
Insider's Secret: If you love wine tasting seminars, you will find two places in the city that offer low-key education sessions each week. K&L Wines offers sessions every Thursday night and Saturday afternoon. Golden Gate Wine Cellars also offers tasting sessions every Saturday. Click here to find out more about the Thursday night and Saturday wine tasting sessions.

4. Winery Collective

Address: 485 Jefferson Street (between the Argonaut Hotel and the Cannery)
District: Fisherman's Wharf
Hours: Sunday - Thursday from 1pm to 8pm, Friday and Saturday from 12pm - 9pm
The Winery Collective is a multi-winery tasting room featuring wines from almost two dozen boutique wineries from all over California. In their tasting room, you can sample a variety of wines by choosing one of their popular flights. Each flight includes 4 to 5 wines from a variety of producers. The flight menu changes often, so you will always have something new to try.
5. The Winery

Address: 30 Avenue G
District: Treasure Island
Hours: Saturdays & Sundays 12pm - 5pm
The Winery SF crafts their wines in their San Francisco winemaking facility. They source their grapes from top Napa Valley and Sonoma County vineyards. You will find several familiar varieties here including Cabernet Sauvignon, Merlot, Chardonnay, and Sauvignon Blanc.
6. Treasure Island Wines

Address: 995 Ninth Street Bldg 201
District: Treasure Island
Hours: Saturdays & Sundays 1pm - 5pm
While you are on Treasure Island, make sure you also stop at Treasure Island Wines. This was the first urban winery to open in San Francisco. They also rent space to other small artisanal wineries, so when you taste here, you have the chance to choose from up to 40 unique wines. Their selection ranges from Alexander Valley and Napa Valley Cabernet Sauvignons to Chardonnays from Carneros.