Wine Tasting Rooms in San Francisco: 6 Best in the SF City Limits

by Jill Loeffler  •

Updated: January 13, 2022
Everyone has heard of the tasting rooms all over Napa Valley and Sonoma County. But did you know that there are several wonderful tasting rooms in San Francisco?

While Northern California Wine Country is a must-see for any wine lover, you can skip the drive and just venture out to the tasting rooms all over SF. You will find a few of them in Fisherman's Wharf, and many are also popping up further south in SF's SOMA and Dogpatch districts. In addition, you will find half a dozen places to taste on Treasure Island.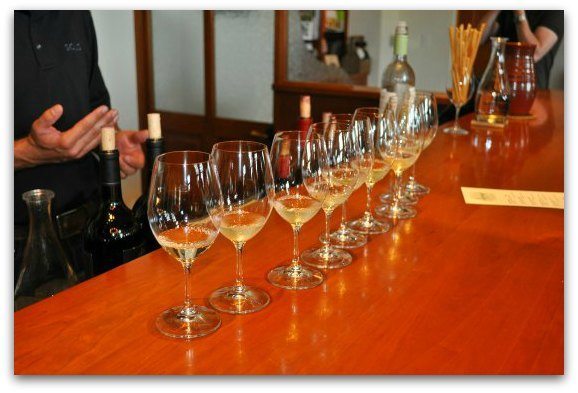 The difference between these tasting rooms and wine bars is that you taste their locally produced artisanal wines. Some also offer tastings from other popular Napa and Sonoma Valley wineries. Since many also have their production facilities on site, you can call ahead to request a tour of their winemaking areas.
Keep reading to learn more about my 6 favorite wine tasting rooms in San Francisco.
Disclaimer: I receive a small commission from some of the links on this page.

1. Winery Collective

Address: 485 Jefferson Street (between the Argonaut Hotel and the Cannery)
District: Fisherman's Wharf
Hours: Sunday - Friday from 1 pm - 8 pm, Saturday from 12 pm - 9 pm
The Winery Collective is a multi-winery tasting room featuring wines from almost two dozen boutique wineries from all over California. In their tasting room, you can sample a variety of wines by choosing one of their popular flights.
Each flight includes 4 to 5 wines from a variety of producers. The flight menu changes often, so you will always have something new to try.
>> Read more about some of our top local wine regions
2. Maritime Wine Tasting Studio (Closed)

Address: 222 Columbus Ave. (between Broadway and Pacific)
District: North Beach
Hours: Wednesday - Friday from 5pm - 9pm, Saturday from 1pm - 5pm
This urban but cozy spot offers tastings by the glass or by flight from more than 30 family-owned and operated wineries in California and all over the world, including their own winery, the Nine North Wine Company.
It's situated right in the middle of some of SF's most vibrant neighborhoods in the historic Barbary Coast.
3. Chateau Montelena SF Tasting Room

Address: 335 Powell Street
District: Union Square
Hours: Daily from 1pm -8pm
Chateau Montelena is a gorgeous estate in Calistoga at the top of Napa Valley.
The quiet, exclusive, and luxurious ambience of the vineyards is transmitted through the elegant tasting room in the lobby of the historic Westin St. Francis Hotel in downtown San Francisco.
4. JAX Tasting Room

Address: 326 Brannan St.
District: SoMa
Hours: Thursday - Saturday, 4pm - 8pm; by reservation, private large group happy hour Tuesday - Friday 
Enjoy tasting delicious wines in an intimate setting that includes a quirky indoor space as well as an outdoor patio complete with a fire pit.
The fun and simple atmosphere in the heart of one of San Francisco's most burgeoning districts reflects JAX's philosophy of "setting the agenda for modern Napa Valley."
5. Treasure Island Wines

Address: 995 Ninth Street Bldg 201
District: Treasure Island
Hours: Saturdays & Sundays 1pm - 5pm
While you are on Treasure Island, make sure you also stop at Treasure Island Wines. This was the first urban winery to open in San Francisco.
They also rent space to other small artisanal wineries, so when you taste here, you have the chance to choose from up to 40 unique wines. Their selection ranges from Alexander Valley and Napa Valley Cabernet Sauvignons to Chardonnays from Carneros.
6. JCB Tasting Salon at the Ritz-Carlton

Address: 600 Stockton Street 
District: Financial District
Hours: Sunday - Thursday, 2 - 7 pm; Friday - Saturday, 2 - 9 pm
The JCB Tasting Salon is located inside the downtown Ritz-Carlton Hotel. From the over-the-top artwork, chandeliers, and velvet curtains, it's clear that Jean-Charles Boisset is not only a producer of wines but a designer of fragrances and jewelry. 
The wines on offer here are from the JCB collection from Sonoma, Napa, and France. It's a small, but luxurious lounge, perfect for a date night or an intimate celebration.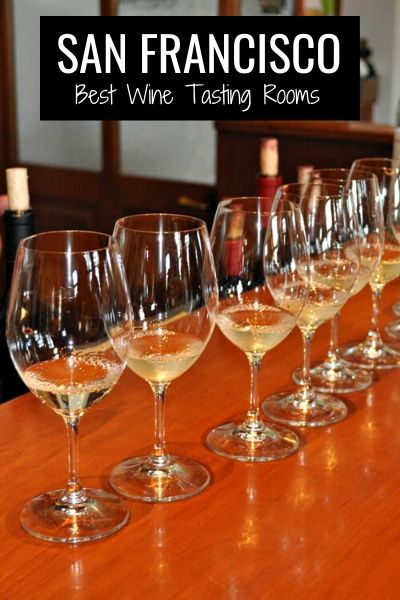 Comments? Questions? Suggestions?
I would love for you to join me in my private Facebook group! 
It's a great place to interact with me and others who know the area well.
You can ask questions, get advice for your upcoming stay, and then share your photos and advice with others when you return home. It's a great community and the fastest way to get answers to those nagging questions about your visit!