Hidden Gems in San Francisco: 25 Unique & Fun Places to Explore

by Jill Loeffler  •

Updated: April 3, 2023
In a city as famous as San Francisco, it's hard to imagine that there are still a few hidden gems. But there still are some and I'm here to help you find them. Many are in the heart of the city and easy to find. Others are off the beaten path, but they are worth the time and effort to find them.

All attractions and activities on this list are open to the public.

Disclaimer: I receive a small commission from some of the links on this page.

1. City Hall

Many people stop by City Hall to admire its architecture and gorgeous golden dome from the outside, but they don't realize they are also welcome to take a look inside.
During business hours, Monday through Friday, the public is welcome to visit. 
After you enter, you can take a look at the interior of the dome (from the first floor) and its beautiful marble staircase. You will also find the head of a 70-foot statue that was part of the last City Hall (destroyed during the 1906 earthquake and fire).
It's a rare gem as this piece is the only part of the statue that remains. No one is sure where the original body is, but the head is on display inside City Hall.
Address: 1 Dr Carlton B Goodlett Place in the Civic Center District
Hours: 8 am to 8 pm, Monday - Friday
Learn More: SF's City Hall
>> Find more free attractions around SF

2. Botanical Garden

The Botanical Garden in Golden Gate Park is an often-overlooked attraction. This 55-acre gem houses thousands of plants from all around the world. 
Some of my favorite times to visit are during the winter months when the magnolias are in bloom (December - March) and in the late spring when several other flowers show their beautiful colors (April - May).
This is a fun place to visit while seeing other attractions in the area, including the California Academy of Sciences, the Japanese Tea Garden, or the de Young Museum.

Address: 1199 9th Avenue in Golden Gate Park
Hours: Opens at 7:30 am every day, closing time varies by season
Learn More: Botanical Garden in Golden Gate Park
3. Diego Rivera Frescos

Diego Rivera was a controversial, yet talented artist, from Mexico. In the 1930s and 1940s, he created three detailed frescos in San Francisco that are still on display today. You will find one in the Financial District, one in North Beach, and one on SF Museum of Modern Art in SoMa. 

The Pan American Unity mural moved to the SF Museum of Modern Art and is on display in their free area on the first floor. The city plans to eventually move it back to its permanent home on the City College Campus. 
Two of the three are currently not open to the public (but I'm hoping they will reopen to the public soon). However, don't miss your chance to head over to the SF MOMA. Their display is open to the public and free to visit on their main level. 
Address: Three locations in SF (Only the SF MOMA fresco is currently open)
Hours: Varies
Learn More: Diego Rivera frescos in SF
4. Mission Murals

The eclectic Mission District is home to the largest concentration of murals in San Francisco. You will find most of them on garage doors, on the walls of businesses, and all over buildings throughout the district. 
While there are hundreds in the area, you will find a large concentration of them on 24th Street just to the east of Mission Street. You will also find a large number in Clarion and Balmy Alleys.
Address: Various locations all around the Mission
Hours: All are outside, so they are always open. It's best to visit between 10 am and 4 pm when the sun is out.
Learn More: Mission Murals
>> Find additional murals all around SF

5. Octagon House

The Octagon House is an eight-sided beauty that sits in the Marina District. Built in 1861, this historic structure was saved from destruction in the 1950s. 
It is now a Colonial and Federal Periods Decorative Arts Museum that is open to the public a few days a month. A visit includes a guided tour of both the house and the pieces on display on the first and second floors.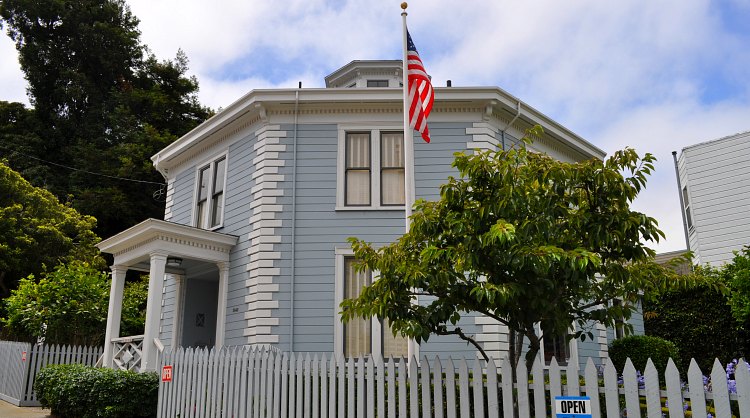 The house is free to visit although they do request donations at the door.
Address: 2645 Gough Street in the Marina District
Hours: Second Sunday, second & fourth Thursdays of the month, from noon to 3 pm
Learn More: Octagon House
6. Haas Lilienthal House

A visit to the Hass Lilienthal House offers you the rare chance to step inside a historic Victorian. Built in 1886 by William Haas, this house features many of its original details as well as furniture and artwork from the Haas family. 
All visits include a guided tour of the house and the small museum on its lower level. Admission is $10 for adults, $8 for seniors and youth, and free for children 5 and under.
Address: 2007 Franklin Street in the Pacific Heights District
Hours: Saturdays and Sundays from noon to 3 pm (tours start on the hour at 12:00, 1:00, and 2:00)
Learn More: Haas Lilienthal House
7. Fire Museum

Discover the history of SF's Fire Department at the Fire Museum in Pacific Heights. This small gem features one of the first engines used in the city as well as artifacts damaged during the 1906 Earthquake and Fire. 

You can also learn more about Lillie Hitchcock Coit (the local woman that donated money to build Coit Tower) and see a historic bell that was used for decades to warn citizens of fires.
The museum is free and run by volunteers, so make sure to call ahead to confirm they are open before you arrive.
Address: 655 Presidio in Pacific Heights
Hours: Thursday through Sunday from 1 pm to 4 pm (it's run by volunteers, so call ahead to make sure they are open: 415.563.4630)
Learn More: Fire Museum
Most Popular SF Tours & Activities

8. Columbarium

The Neptune Society Columbarium (a repository for cremated remains) is an unexpected gem in SF's Richmond District. The building, finished in 1895, features both baroque and neoclassical elements. Inside, you will find gorgeous stained-glass windows and other noteworthy elements. It also houses memorials and the remains of thousands of SF residents. 
Some of the most famous people buried here include Jerry Juhl (muppeteer and writer for The Muppets), and Chet Helms (founder and promoter of the 1967 Summer of Love). You will also find a lovely memorial here for Harvey Milk (first openly gay elected official in California).
Address: 1 Lorraine Court. at Anza in the Richmond District
Hours: Monday - Friday, 9 am to 5 pm; Saturday & Sunday, 10 am to 3 pm
Learn More: Columbarium
9. Wells Fargo Museum 

The Wells Fargo Museum is rare gem for history buffs. You will find this small museum in the Financial District. It features historical documents and displays related to the history of Wells Fargo and its important place in the banking business. You will also get the chance to see an original Abbot-Downing Concord Coach used on the Pony Express.

This free museum takes about an hour to explore.
Address: 420 Montgomery Street in the Financial District
Hours: Monday - Friday from 9 am to 5 pm; closed on bank holidays
Learn More: Wells Fargo History Museum 
10. Wave Organ

The Wave Organ is a musical structure built to create sounds based on the waves and waters from the SF Bay. There are several different stations within the Wave Organ that create sounds such as hisses, gurgles, and sloshes. 
You will need to listen carefully as the sounds are subtle. It's best to visit during high tide.
It's free to visit and open 24 hours a day, 365 days a year. You will find it on a jetty just east of Crissy Field, past the St. Francis and Golden Gate Yacht Clubs.

Address: 83 Marina Green Drive in the Marina District
Hours: It's outdoors, so open all day long
11. Musée Mécanique

This hidden gem in San Francisco is right in the heart of the Fisherman's Wharf District. It's a privately owned museum full of vintage coin-operated machines and games. It includes everything from hand-cranked games to Ms. Pacman.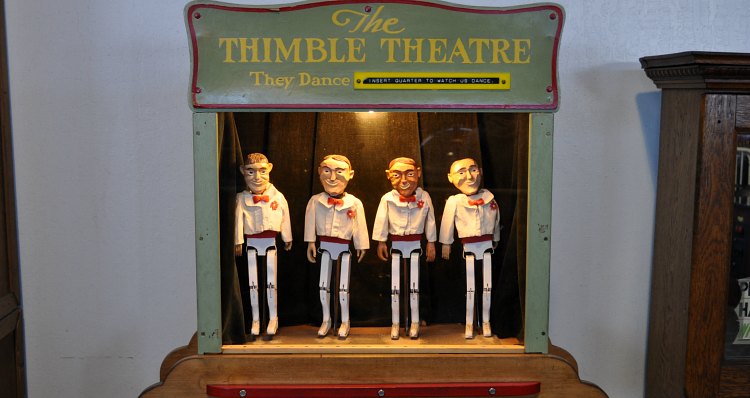 It's free to visit and open most days of the year, but you must pay to play. Luckily, many of the machines cost just a quarter.
Address: Pier 45, Shed A at the end of Taylor Street in Fisherman's Wharf
Hours: 10 am to 8 pm, daily
12. Beat Museum

The Beat Generation was a group of young artists, writers, and musicians from the 1950s. They were a radical group of thinkers who lived what was considered an alternative lifestyle.
Authors like Jack Kerouac, Allen Ginsberg, and Lawrence Ferlinghetti made their home in SF's North Beach District, where you will find the Beat Museum. Inside, you will find rare items on display as well as a detailed history on this generation.
Some of the cool things inside include the car Kerouac drove in On the Road and some of his original books. It's a great history museum for those interested in learning more about this generation and their contribution on San Francisco.

Make sure to walk down the street to Columbus Avenue to visit City Lights Booksellers. It's owned by Ferlinghetti and was originally opened to showcase the work of this generation, which was not allowed to be sold in many stores around the U.S. due to their controversial topics.

Address: 540 Broadway Street
Hours: Thursday - Monday, 10 am to 7 pm; closed Tuesdays and Wednesdays
Learn More: Beat Museum
13. Temples in Chinatown

During your visit to Chinatown, make sure you stop by one of its colorful temples. My three favorites are the Kong Chow Temple, the Tin How Temple, and the Ma Tsu Temple. All offer a glimpse inside the world of Chinese religious culture.
The first two are temples with rare historic artifacts. The third is a newer temple that is easy to access as it's on the first floor of the building.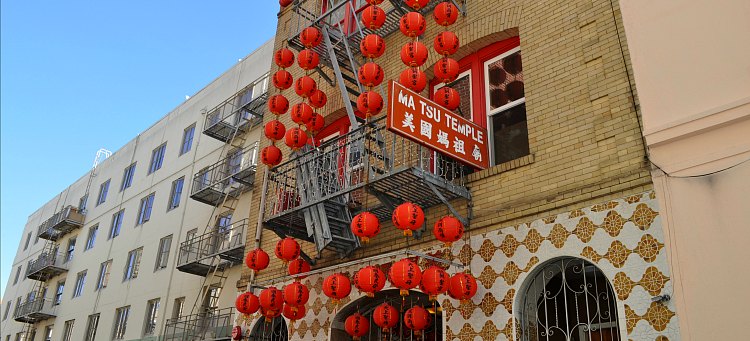 The temples are free to enter. Keep in mind that they are sacred places for many local residents, so please be quiet and respectful during your visit.
Address: Kong Chow Temple is at 855 Stockton Street; Tin How Temple is at 125 Waverly Place; and Ma Tsu Temple is at 30 Beckett Street
Hours: Varies by temple
Learn More: SF's Chinese Temples 
14. Hua Zang Si Buddhist Temple

The Hua Zang Si Buddhist Temple is a hidden gem in San Francisco's Mission District. The temple was built in the early 1900s as a Lutheran Church, providing great contrast between the building's architectural style and its current color and contents.
This temple officially opened in 2004 and houses several wonderful statues and religious relics. Some of the most noteworthy include the large statue of Shakyamuni Buddha (on the first floor in the main area) and a 21-foot-tall statue of Amitabha on the second floor of the temple.
The temple is free to visit. 
Address: 3134 22nd Street in the Mission District
Hours: 11 am to 5 pm from Monday - Saturday and from 10 am to 5 pm on Sunday

15. 16th Avenue Stairs 

Another one of my favorite hidden gems in San Francisco is the mosaic staircase at 16th Avenue and Moraga. The stairs were tiled by the local community as part of a neighborhood project.
There are 163 steps and the pieces on each one come together to create a beautiful piece of art. It's quite a way off the beaten path, but worth a visit if you get the chance.

In addition to this lovely set of stairs, you will find dozens of others around San Francisco. Right around the corner from the 16th Avenue Tiled Stairs are the Hidden Garden steps. You'll find additional options on my list of my favorites.
All are free to visit throughout the year.
Address: 16th Avenue and Moraga in the Sunset District
Hours: Open all day long
16. The Gregangelo Museum

Upon entering this rather unassuming home in the Balboa Terrace neighborhood, you step into a weird world full of wonder and imagination. 
Artist Gregangelo Herrera, a San Francisco native, decided to turn his private home into an immersive theater experience where you'll be surprised and entertained at every turn throughout the tour. 
You'll travel through nine colorful, whimsical, and over-the-top installations, as if you are venturing down the fantastical Rabbit Hole in Alice and Wonderland or stepping into Willy Wonka's Chocolate Factory.
Since there are no public open hours, you must arrange your visit ahead of time. That means that your 90-minute tour will be intimate for your small group. They also offer outdoor visits to the Enchanted Fairy Garden and Tea in Wonderland.
Address: 225 San Leandro Way

17. Andy Goldsworthy Art

One of my favorite hidden gems in San Francisco is the artwork by Andy Goldsworthy Art in the Presidio. Goldsworthy is a British artist that uses the surrounding environment to craft his art. He uses sticks, mud, leaves, and other items for his pieces.

He currently has four pieces on display in the Presidio. They are called Wood Line, Spire, Earth Wall, and Tree Fall. The first three are in the open and on display all of the time. The fourth is inside a building which is open on the weekends. All four are free.
Location: Presidio
Hours: Open 24/7 
18. Italian American Museum

After you finish with the Outdoor Exploratorium at Fort Mason, head inside to visit a free museum: the Italian American Museum (Museo Italo Americano), which features important works of art from Italian and Italian American artists. 
Address: 2 Marina Boulevard between the Marina and Fisherman's Wharf Districts
Cost: Free
Learn More: Museo Italo Americano
19. San Francisco Wineries & Tasting Rooms

If you want to sample some great local wines, head out to one of SF's wineries. You will find more than a dozen. None of them grow their grapes on site, but all make their creations within the city limits.
Options range from the lighter and fruitier Chardonnays all the way to the bold Cabernet Sauvignons. 

Address: Various locations
Hours: Various hours
Cost: Cost varies by location and selection
Learn More: My 10 Favorite SF Wineries
20. Coastal Redwoods in San Francisco

You will find Coastal Redwoods all along the western coast from Big Sur all the way north to the state line. There are dozens of parks with a large concentration of these trees. Many of the most well-known are Muir Woods and Humboldt Redwoods State Park.
If you don't have time to see these beauties at one of the dedicated parks, you can take a sneak peak at them without having to leave the city.
One location within San Francisco is Transamerica Redwood Park on the eastern side of the pointy Transamerica building, boasting about 50 mature redwoods. Another is along the Filbert Street Steps. You will find a couple on the southern side of the steps near Darrell Place.
Hours: Both are open 24/7
More: Find out about Redwoods Parks within 2 hours of San Francisco
21. Camera Obscura

The Camera Obscura is a large optical device that preceded the camera and photography. It was originally built in 1946 as part of the Playland Amusement Park on the Pacific coast. The outside structure was redone in 1957 to resemble a camera, but the interior stayed the same. 
It's an interesting work of art and a must see for all photography or history buffs. It's the oldest camera obscura in the US and the only one that exists in a free-standing building.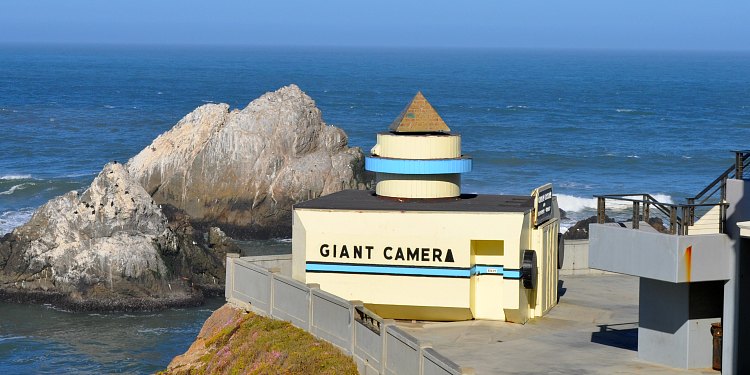 Address: 1096 Point Lobos Avenue right behind the building that used to house the Cliff House
Hours: 11 am to 5 pm, daily
Cost: $3
22. Pier 24, Photography Gallery

Another little-known find in San Francisco is the Pier 24 Photography Gallery and Museum. This gems sit along the SF waterfront just under the Bay Bridge. 
It's a non-collective gallery that attracts photography exhibits from around the world. It's free to visit, but you must make a reservation in advance. 
Address: Pier 24 on the Embarcadero
Hours: 9 am to 5 pm, Monday - Friday by appointment only
Cost: Free
Learn More: Visiting Pier 24
23. Fort Point National Historic Site

The Fort Point National Historic Site is an old army building located under the southern end of the Golden Gate Bridge. Inside, you will find a museum that explains more about the history of the military in the area. 

There are also two short films that play throughout the day. One focused on history of this site. The second is a film about the Golden Gate Bridge. Before you leave, make sure to head up to the top floor for some amazing photos of the Golden Gate Bridge. 
Address: Marine Drive in the Presidio
Hours: Friday - Sunday, 10 am to 5 pm 
Cost: Free
Learn More: Fort Point National Historic Site 
24. Lands End Labyrinth

Another one of my favorite hidden gems in San Francisco was the Lands End Labyrinth. Made of about 300 large stones, this labyrinth used to sit on a cliff over the Pacific Ocean with amazing views of the Golden Gate Bridge, Marin Headlands, and Land's End.
The views are still there, and the spot still holds the serene and reflective atmosphere that the labyrinth provided to people who would come to walk the purposeful path from the outside world on a journey to the center of themselves and back out. 
However, during the pandemic lockdown, the manmade creation was destroyed once again, for the third time in the last 17 years. The vandals and their motives for throwing the rocks off the cliff are unknown. 
The labyrinth was so loved by the community⁠—not to mention Instagrammers⁠—that efforts have been made to restore and renew the beauty of the stone creation. Depending on when you visit, you might find a huge heart shape in its place. But for sure you will find the same great views!
Address: Follow the Mile Rock Beach sign off the Lands End Trail and stay right on the trail (left will take you down a steep set of stairs to Mile Rock Beach)
Hours: Dawn to dusk
Cost: Free 
>> More about visiting Lands End
25. Rincon Center Murals

The Rincon Center near the Embarcadero features a series of 27 murals depicting California's history. Painted in the 1940s by Russian muralist Anton Refregier, these pieces feature everything from the California's early days during the building of the missions to the construction of the Golden Gate Bridge.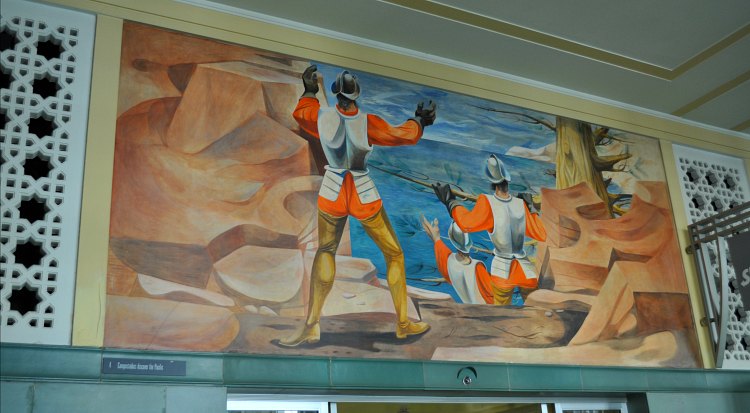 Each one has a small plaque describing its scene. You can also learn more during the free weekly walking tour offered by SF City Guides, part of the SF Public Library.
Address: 75 Mission Street between Steuart and Spear in the SOMA district
Hours: Monday - Friday, 7 am - 6 pm; Saturdays, 9 am - 2 pm
Cost: Free
Learn More: Rincon Center Murals
Other Pages You Will Enjoy

Comments? Questions? Suggestions?
I would love for you to join me in my private Facebook group! 
It's a great place to interact with me and others who know the area well.
You can ask questions, get advice for your upcoming stay, and then share your photos and advice with others when you return home. It's a great community and the fastest way to get answers to those nagging questions about your visit!