Pier 45 San Francisco: USS Pampanito, and Other Historic Fisherman's Wharf Attractions

by Jill Loeffler  •

Updated: April 25, 2023
Pier 45 San Francisco is home to the USS Pampanito submarine, an antique penny arcade, and a memorial chapel for those lost at sea.
This historic pier is in the heart of the Fisherman's Wharf neighborhood. It's the perfect stop for war history buffs, visitors looking for a little nostalgic fun, and tourists curious about SF's fishing culture and history.
As you walk along the pier, you will find several pieces of information about the USS Pampanito. For decades, it was also home to the SS Jeremiah O'Brien, a WWII Liberty Ship that is now docked at Pier 35 less than a half mile east of here.

Disclaimer: I receive a small commission from some of the links on this page.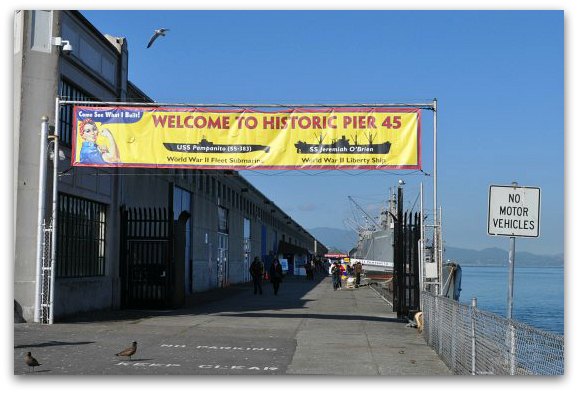 The sign you will see as you enter Pier 45
USS Pampanito: San Francisco Submarine

One of the reasons why I love visiting Pier 45 San Francisco is the USS Pampanito submarine.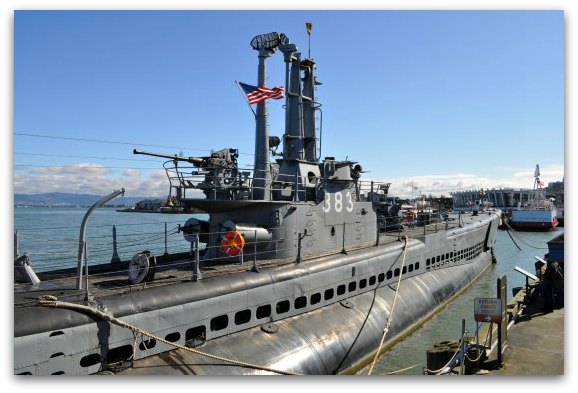 The USS Pampanito survived six patrols of the Pacific during World War II and to this day preserves the military submarine technology and equipment of 1945.
This historic war vessel offers both an excellent self-guide tour and an audio tour that guides you through the sub and provides commentary about what you are looking at along the way.
Onboard the USS Pampanito, you'll get to explore the torpedo room, engine room, control room, sleeping quarters, and main deck.
It's also just fun to be on a submarine, since it's such a unique experience.

Find more pictures and additional details on what it's like to visit the USS Pampanito.
Other Attractions at Pier 45

If you decide you don't want to visit the USS Pampanito, you can still walk along and enjoy other attractions at Pier 45 San Francisco for free.
Musée Mécanique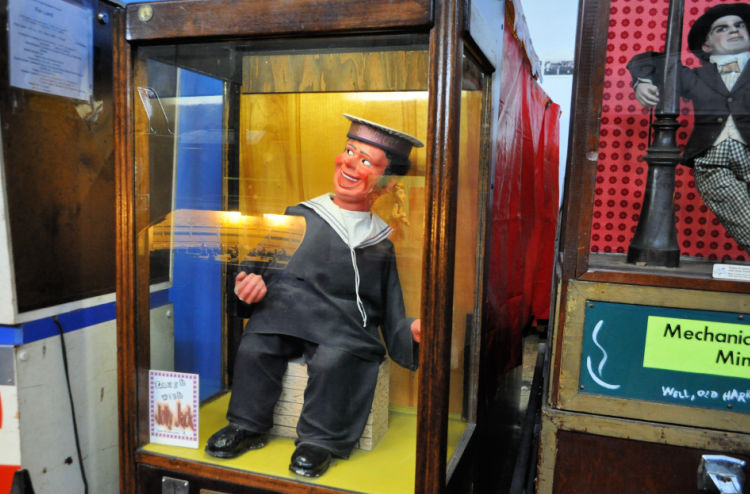 This wonderful museum houses a collection of over 300 antique carnival and arcade games as old as San Francisco's famous Playland at the Beach, a popular amusement park that began in the 1920s.
One of the crowd favorites from that era is Laffing Sal, a giant papier-maché mechanical puppet whose toothy smile and raucous laugh often frightened little ones. Other classic gems you'll find here include fortune tellers, penny machines, player pianos, pinball, and more. 
This is a great spot for a trip down memory lane, and also for kids who have never before seen these vintage games to have the opportunity to actually watch these well-preserved antiques in action.
The museum is free to visit and fun to walk around. If you want to make the machines work, most of them cost just a quarter.
>> See photos and tips for visiting the Musée Mécanique

Fishermen's and Seamen's Memorial Chapel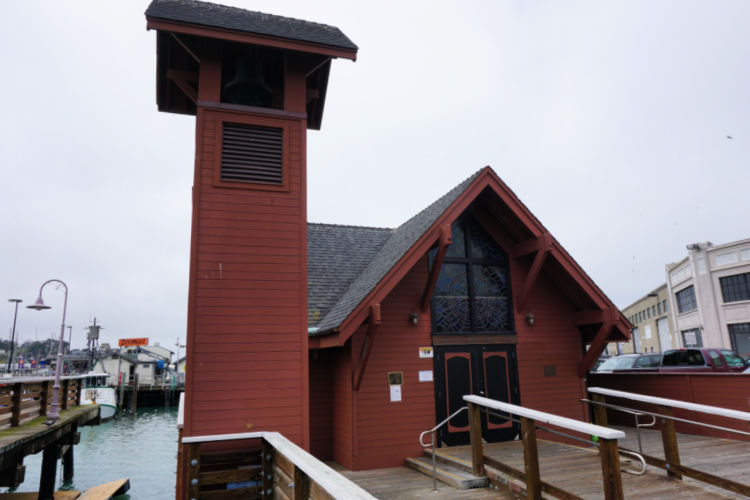 Just across from Pier 45, you'll see a quaint wooden structure with a bell tower, steep roof, and stained glass windows, sitting right over a lagoon.
The chapel was built to honor the generations of San Franciscans who have lost their lives to the treacherous wind, fog, and waves at sea. It was erected between 1978 and 1981 where the old Coast Guard building used to be.
Inside, you'll find plaques bearing names of men and women who have died on the open water, and dozens of flags and banners from different regions hanging from the ceiling.
If you happen to be around on a Saturday between 11 am and 1 pm, step in and admire the solemn serenity. On special occasions, you may hear the bell and carillon ring out.

SS Jeremiah O'Brien: Liberty Ship from WWII (Now at Pier 35)

Until March 2023, there was another historic war vessel berthed at Pier 45, apart from the submarine. It was the SS Jeremiah O'Brien, the sole survivor of the 6,000-ship D-Day armada of WWII in Normandy.
The ship has been moved to Pier 35—located just between the popular Pier 39 attraction and the Alcatraz tours at Pier 33—where you can visit and take a tour of the museum, main deck, living quarters, mess hall, stern gun, and more.
Since it is the only still-functioning WWII Liberty Ship in original configuration, it's worth taking advantage of certain occasions when the crew will actually take visitors out cruising on the bay so you can see the engine in action, the way it operated back in the 1940s.
>> Find tips to visit this gem at its new location
Map of Pier 45

As I mentioned above, the historic Pier 45 San Francisco is in the heart of the Fisherman's Wharf neighborhood. Here is a map showing where it's located within this district.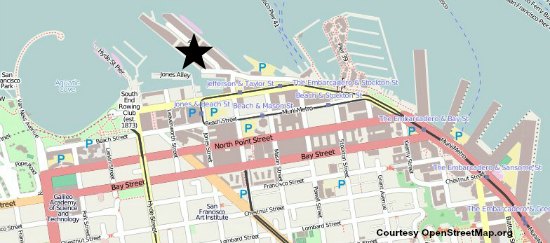 >> Visit the Fisherman's Wharf Attractions & Activities page for tips on how to get here.
>> Find some great places to eat nearby
The Future of Pier 45

In an effort to revitalize San Francisco's famed Fisherman's Wharf–especially after the economic downturn of the pandemic–a group of local business owners have come up with a plan to revamp Pier 45 in a way that pays tribute to its origins.
The proposal includes a fish market and a seafood processing center in which the fresh catch of the day would be on display to the public as it gets prepared for sale. There would also be a food hall, an interactive museum, and an events center.
The plan aims to expand the wharf's capacity as an educational and community space, in parallel with keeping it the heart of San Francisco's tourist industry.
The plan has not been approved at this time, but would be a welcome addition to the area.

Other Fisherman's Wharf Attractions & Activities

Other Pages You Might Enjoy

A Perfect Day in Fisherman's Wharf: How do you cover this entire district in just one day? Click through the link above to find a self-guided tour that offers you the chance to see as much as possible in just one day.
Boudin Bakery: Just next to Pier 45 San Francisco, you will find one of my favorite places to grab some clam chowder, Boudin Bakery. This yummy restaurant is famous for their sourdough bread. Grab some soup in one of their bread bowls and you will be set for the day!
Buena Vista Cafe: Have you always wanted to try one of those famous Irish Coffees from SF? If so, then this is the place. This historic cafe introduced this famous drink to the US. Today, you will still find some of the best here. In addition to their Irish Coffee, you can also enjoy a hearty breakfast, delicious lunch or filling dinner.
Comments? Questions? Suggestions?
I would love for you to join me in my private Facebook group! 
It's a great place to interact with me and others who know the area well.
You can ask questions, get advice for your upcoming stay, and then share your photos and advice with others when you return home. It's a great community and the fastest way to get answers to those nagging questions about your visit!