Musée Mécanique in San Francisco: Antique Arcade Games on Pier 45

by Jill Loeffler  •

Published: March 29, 2023
Musée Mécanique in San Francisco features 300 coin-operated mechanical machines and arcade games. Some are antique gems from the late 1800s or early 1900s, and others you will remember from growing up in the 80s and 90s.
It's home to Laughing Sal, originally housed at Playland by the Beach near the Cliff House and Ocean Beach. It's a local favorite, and while it's a bit creepy, you can't visit without experiencing it.
In this old-school arcade, you'll also find vintage coin-operated games, pinball machines, and antique music boxes.
They also have machines so you can turn your dollar bills into coins to play as long as you want.
Take a walk down memory lane and enjoy this wonderful attraction in Fisherman's Wharf on historic Pier 45.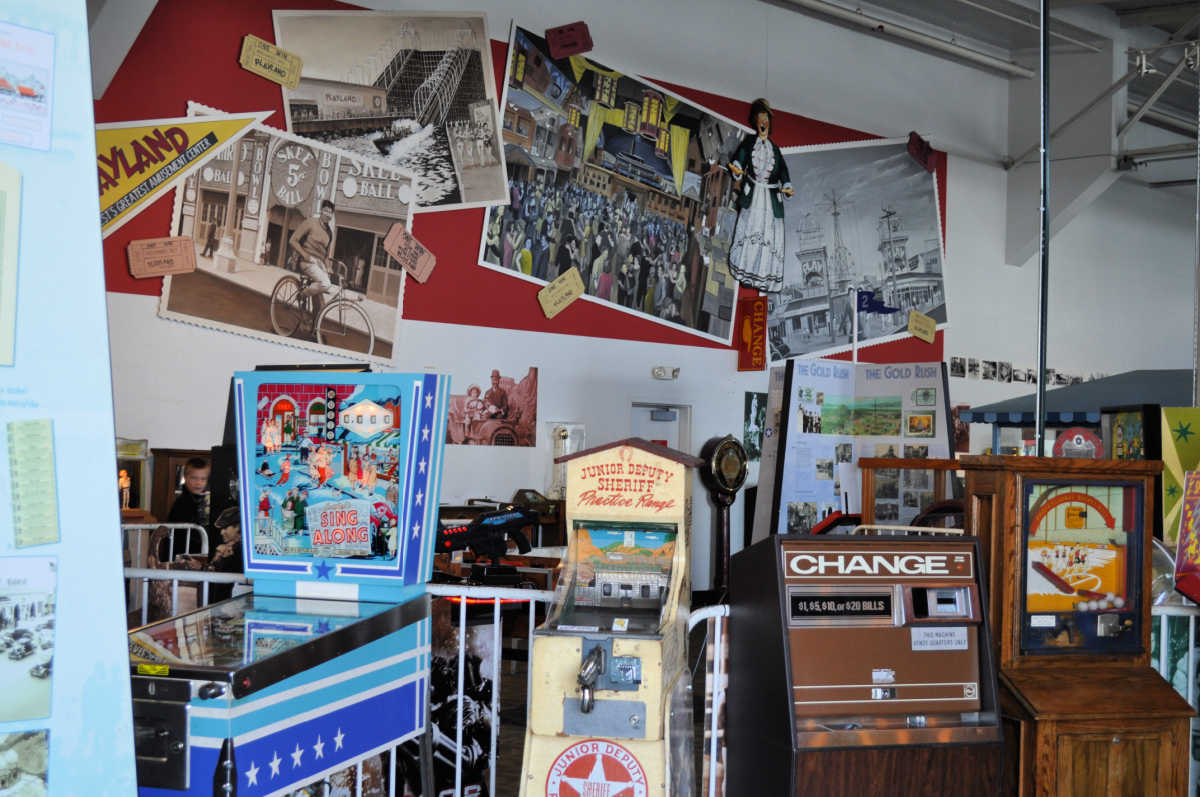 Disclaimer: I receive a small commission from some of the links on this page.

History of the Musée Mécanique
The founder of the Musée Mécanique in San Francisco is Ed Zelinsky. The museum is privately owned, with the majority of the classic arcade games coming from Zelinsky's own collection.
The story of Ed Zelinksky is a fun one. He started collecting games in 1933 at age 11 after winning some money at a Bingo game. Later, some of his pieces were on display at the Playland at the Beach, which used to be an amusement park near Ocean Beach in the Richmond District.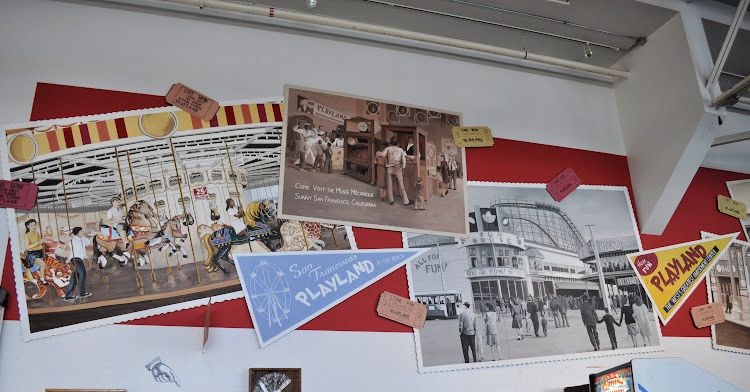 When Playland shut down in 1972, Zelinsky moved his playing games to the basement of the Cliff House. They remained there until the Cliff House underwent a massive remodel in 2002.
This was when the city, the Cliff House, and the National Park Service worked together to find Zelinksy a spot for the Musée Mécanique.
They found what was supposed to be a temporary spot for him in Fisherman's Wharf. The plan was for him to move back once renovations were finished in 2004. However, that move never happened, and this historic mechanical museum has been here since 2002.
Ed Zelinsky passed away in 2004. Today, his son Dan Zelinsky runs the museum.
Locals were outraged when they learned the museum was moving. It was such a local hidden gem that they didn't want to see it move. However, the Cliff House's basement space wasn't ideal, as it felt cramped and crowded.
Its location on Pier 45 is a much more spacious area where you can fully enjoy these amazing classic arcade games and works of art.
>> More things to see and do in Fisherman's Wharf
More About the Musée Mécanique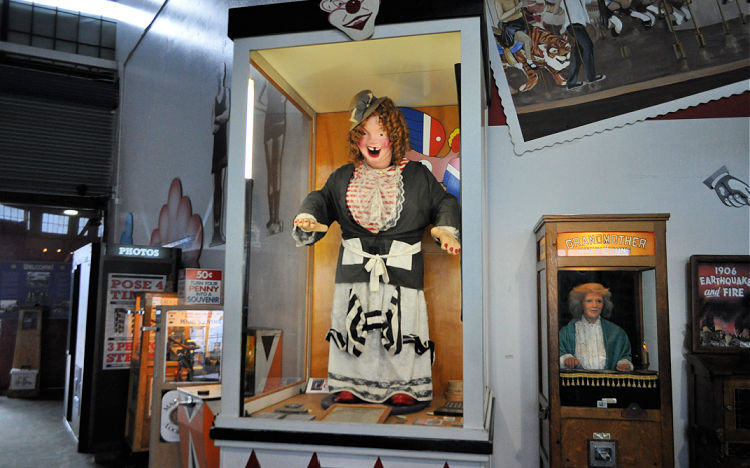 I love visiting the Musée Mécanique in San Francisco. Inside, you will find 300 mechanical and classic arcade games. You can touch and play almost all of the games.
Some of my favorites include Laughing Sal (although it's still a bit creepy), The Old Marvel (a rare mechanical piano), and Toothpick Fantasy (a Ferris wheel and other pieces made from toothpicks). I also love trying to beat the arm wrestling game and show my strength!
I love the Rock-Ola World Series baseball game. It is like a pinball machine, but you get to hit the ball through the outfield and try to get a home run.
My absolute favorite is The Carnival. This is one of the largest pieces in the museum and features a carnival. It was built by a carnival showman that was forced to retire due to an injury.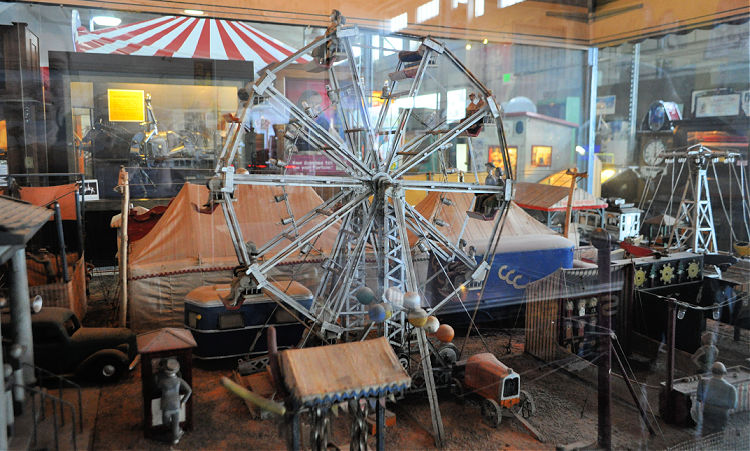 This piece has several moving parts and many scenes you would recognize from visiting carnivals as a child (or even today!). You'll find a Ferris wheel, several rides, games, and even a merry-go-round.
Although you can walk around the entire piece using just one coin, I recommend taking your time and adding a few more coins so you can spend a little time enjoying all of its moving pieces.
The oldest machine in the arcade dates back to the late 1800s. It's called a Praxinoscope and was invented by Emile Renaud. It's an old movie project-type piece that was used until the movie industry took over and Renaud went out of business.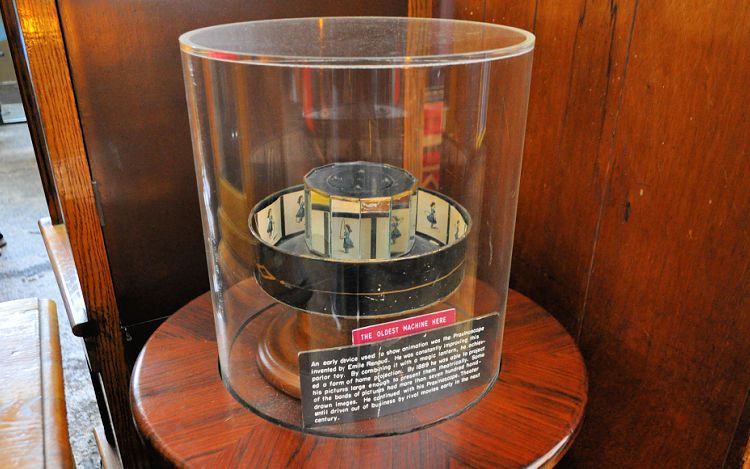 It's one of the few pieces on display that you are not allowed to play with or touch.
In addition to these, you will also find video games (who doesn't love to try their hand again at a little Ms. Pac-Man, Pole Position, or Millipede?), photo booths, slot machines, skeeball, coin-operated fortune tellers, pinball machines, peep shows, fortune tellers, love testers, and other old arcade games!
Most of the pieces have a little about their history, so you know how old it is, where they came from, and other tidbits.
I recommend spending a little time walking around and reading some of these history plaques to learn more about each one. Make sure to leave a little time to walk around the small area that talks more about the history of this museum, the founder, and how they landed at the Pier 45 location in Fisherman's Wharf.
The games and machines require constant work. A few times when I've been here, I've put a coin in a machine, which didn't work.
Therefore, I don't recommend just walking away from a broken machine as it's best to alert the person working.
They will reimburse you and fix it immediately since they want these old games and machines to work for everyone.
More Fun Things to Do Around Fisherman's Wharf
Best Times to Visit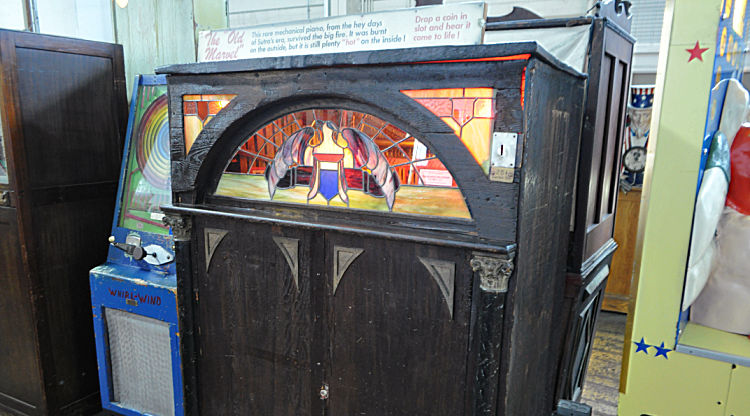 Musée Mécanique in San Francisco is open daily from 10 am to 8 pm. They are even open on holidays from 10 am to 8 pm.
I've visited at various times, and it's never been too crowded. However, I have noticed the earlier I arrive, the fewer people I find inside.
If you want to watch others play or add money to the machines, then visit later in the day. If you want to play or watch the machines on your own, then I recommend heading over when it first opens.
This fun museum is free to enter, but you must pay to play or watch any of the coin-operated arcade games and machines.
The Musée Mécanique is perfect for kids of all ages, and you need to visit here to get a glimpse into what life was like decades ago.
How to Get to the Musée Mécanique in San Francisco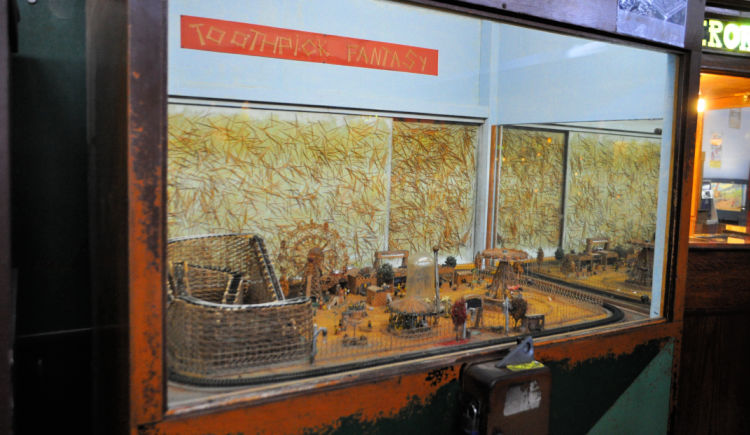 The Musée Mécanique in San Francisco is in the heart of Fisherman's Wharf, and you can easily walk here from any location or hotel around this district. You will find it on Pier 45, one block north of the large Boudin Bakery on Jefferson Street.
From Union Square in San Francisco
You have a few options to get to Pier 45 from Union Square.
Cable Cars: Pier 45 is close to the final stop on the Powell-Mason cable car line. You can pick it up along Powell Street in Union Square and take it to the final stop at Bay and Taylor Streets. From here, you will walk straight down Taylor Street to the waterfront. It's just less than a half mile and will take about 10 minutes. The ride takes an additional 15 minutes.
F Streetcar: Another option is the F Streetcar. You can pick it up along Market Street. The stop at Market and 4th is the closest. You will then take it all the way to the stop at Jefferson and Taylor. From here, you will walk one block down Taylor toward the waterfront. You will see the entrance as you walk in that direction. This will take you about 25 minutes.
8 Bayshore Bus: You can also take the bus. Pick it up on the corner of Kearny and Geary Streets. It will take you to Powell and Bay Streets in Fisherman's Wharf. From there, you will walk straight down Powell Street to the waterfront and the two blocks west. This entire trip will take about 30 minutes.
More Fun SF Activities
Fun Things to Do Nearby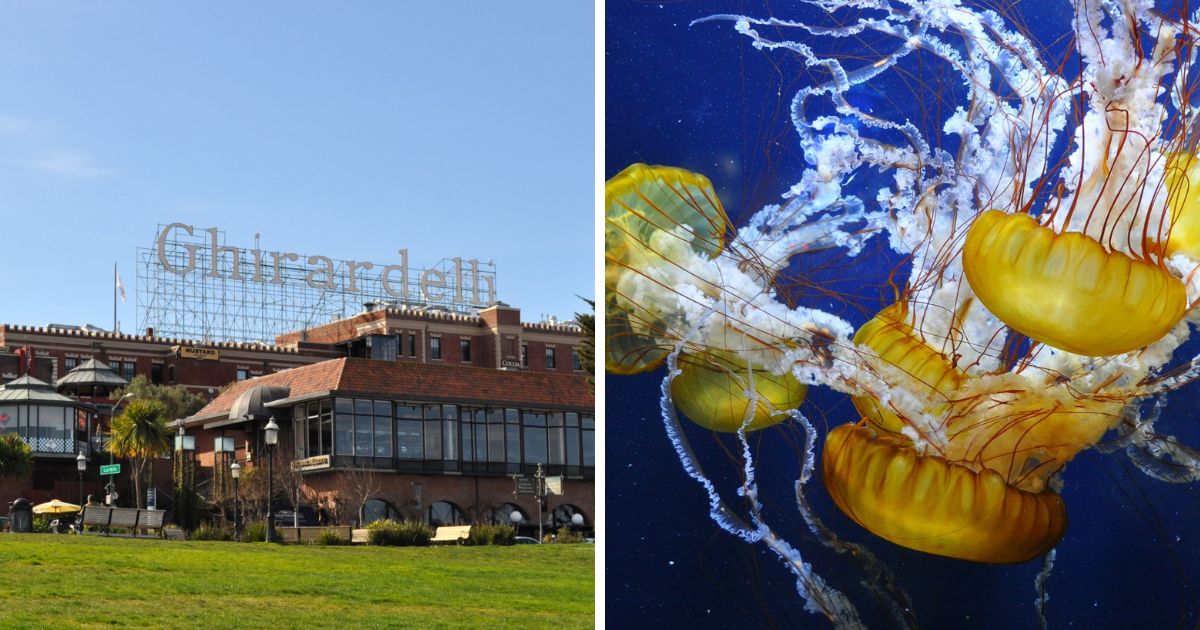 Musée Mécanique in San Francisco is close to several other great attractions in Fisherman's Wharf. Here are just a few fun things to do nearby.
Pier 39
Pier 39 is an old pier that is now home to several great restaurants, shops, and entertainment options. You can grab a fresh seafood dinner, play some games inside the 7D Experience, or visit the Aquarium of the Bay.
It's a fun place to spend an hour or a couple of days exploring.
>> More fun things to do along Pier 39
USS Pampanito Museum and Memorial
This USS Pampanito is a Balao-class submarine. The Navy used it during World War II. It was then used as a training ship from 1960 to 1971.
Today, you will find it right next door to the Musée Mécanique along Pier 45.
The submarine is open to visitors. Inside, you will learn more about its war patrols during WWII and what it was like to live in during those times.
>> Find out more about visiting
Ghirardelli Square
Another fun thing to do nearby is to visit Ghirardelli Square. This old chocolate factory is home to restaurants, boutique shops, and a few Ghirardelli Chocolate Stores.
You can sample some of their famous chocolates (I recommend getting one of their sundaes, they are fantastic!!), sip a local craft beer at the San Francisco Brewing Co., or grab some pizza at Square Pie Guys.
You could spend an afternoon or all day here shopping, eating, and exploring this amazing place.
>> Find out more about visiting Ghirardelli Square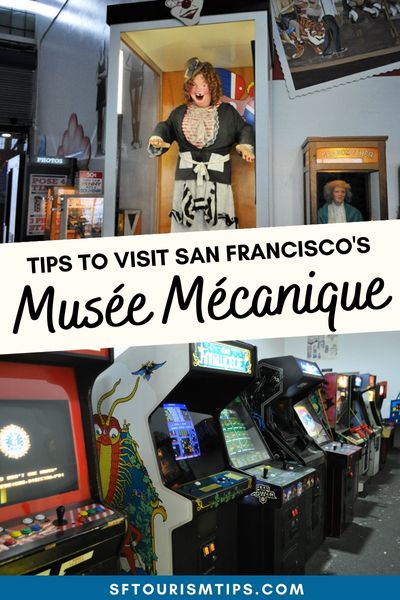 Comments? Questions? Suggestions?
I would love for you to join me in my private Facebook group! 
It's a great place to interact with me and others who know the area well.
You can ask questions, get advice for your upcoming stay, and then share your photos and advice with others when you return home. It's a great community and the fastest way to get answers to those nagging questions about your visit!