Free San Francisco Attractions: My 15 Favorites

by Jill Loeffler  •

Updated: January 19, 2023
What are the best free San Francisco attractions? You will be amazed to learn how many famous SF sites are actually free!
SF is an expensive town, but you can save a little on your budget by visiting some of its no-cost attractions.
Here are fifteen of my favorite free San Francisco attractions.
Disclaimer: I receive a small commission from some of the links on this page.

1. Alamo Square Painted Ladies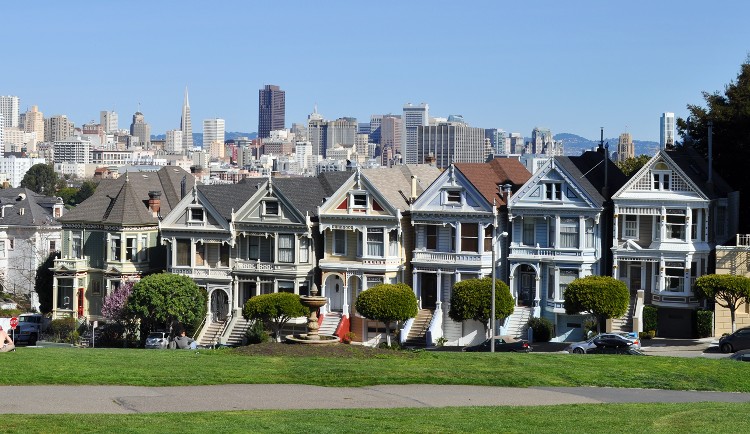 Alamo Square is a beautiful neighborhood with many old Victorian houses. The people that live here take pride in their houses by restoring them to their original, brightly painted colors.
These are called 'Painted Ladies'. The most famous are the seven sitting across the street from Alamo Square.
They may look familiar as they are part of the opening to the TV show Full House.
You will also find several other great Painted Ladies all around the district. The surrounding district is beautiful and also has some great places to eat and drink.
I highly recommend a stop here in the afternoon when the sun is shining on these beautiful gems.
>> Additional information about our famed painted ladies
2. Cable Car Museum

Have you ever wondered how cable cars work? You can learn that and more at the Cable Car Museum between Nob Hill and North Beach. While the history and historic cable cars are interesting to see, my favorite part is to watch the live cable wheels spin as they pull the cable cars around the city.
San Francisco added cable cars to our streets because many of the hills were too steep for the horses to get up and down safely. We used to have more than 8 lines, but this changed after the 1906 Earthquake and Fire.
The number continued to go down as cars became a more popular transportation route.
Today, we are the only city in the world that used traditional methods to run our cable car system. Stop by this amazing museum to learn more about them either before or after a ride.
>> What to expect from a visit to the Cable Car Museum
3. Coit Tower Murals

Many people don't realize that San Francisco has thousands of beautifully painted murals throughout the city. Coit Tower is home to some of the most famous ones. The murals cover the entire first floor of the tower.
The murals were painted as part of the Works Administration Project in the 1930s. They showcase life in San Francisco and around California at that point in time. Over the years, many of them have sparked controversy.
While it does cost to head to the top to check out the views, a visit to see the murals is free and well worth your time.
>> See pictures and learn more about the Coit Tower Murals
4. Fort Point National Historic Site

This is one of the free San Francisco attractions that is often overlooked. The Fort Point National Historic Site is an old military building along the waterfront. It sits under the Golden Gate Bridge and has a very interesting history. If you want to learn more about the military history in this area, then you need to visit this site.
It's also one of the best places for close-up shots of the Golden Gate Bridge. You can climb to the top of this four-story structure for some wonderful views of the bridge and the SF Bay.
It's only open a few days each week, so make sure to check out the opening times before you arrive.
>> More details to visit the Fort Point National Historic Site
5. Golden Gate Bridge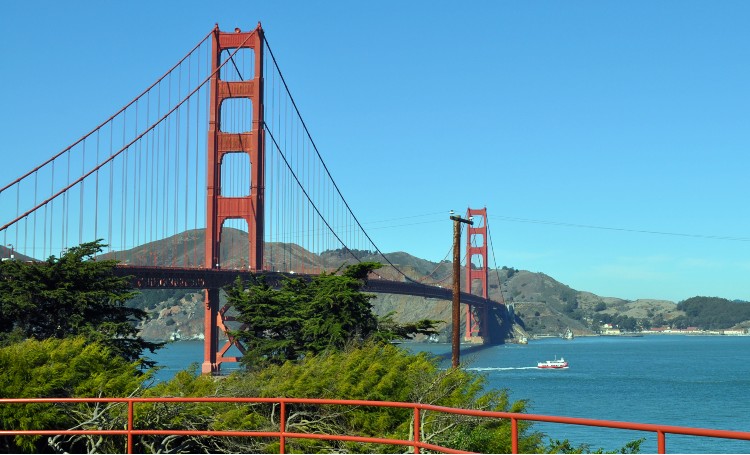 Ah...the beautiful Golden Gate Bridge! This reddish-orange bridge (the color is officially called International Orange) is one of the most recognized in the world. It has a walking path on the eastern side of the bridge that is free.

From here, you can get some amazing photos of both the bridge and the surrounding gems. You can walk all the way across (1.7 miles) or do what most people do and just walk to the first tower.
Near the bridge, you will also find a small museum that takes more about this amazing structure. There is also a small welcome center and a few small restaurants/snack shops where you can grab a bite to eat.
>> Tips to visit the Golden Gate Bridge
6. Sea Lions at Pier 39

Pier 39 is a two-story outdoor space on a wooden pier along the waterfront, full of local treasures in gift shops, cafes, restaurants, and more.
While many of the attractions here are paid (including the Aquarium of the Bay, Mirror Maze, and 7D Experience), you are free to walk around and just window shop, enjoying the bay views and the free entertainment that often includes music, comedy, and street performances.
As you wander around, you can't help but hear the sea lions barking in the background. Just head down to the water to see these large, blubbery, whiskered creatures soaking in the sun, playing on the platforms, and making their way in and out of the water. After arriving by surprise one day, dozens of them have called Pier 39 home for the last three decades. 
>> More to see and do on Pier 39
7. Lombard Street
Another one of the busy, but fun free San Francisco attractions is Lombard Street. This flower-lined crooked street is worth a stop.
Its tight hairpin curves are paved with bricks. It also has a lovely variety of flowers and plants that make it extra special.
You can drive down or walk from the top at Hyde Street to the bottom at Leavenworth Street. There are steps on both sides so you can easily make your way up and down this gem.
It's free and open 24 hours a day, every day of the year.
>> Additional details to visit Lombard Street
8. Maritime Museum

The Maritime Museum is another one of my favorites. This is one of the free San Francisco attractions in the Fisherman's Wharf neighborhood.
A trip through the museum provides you with the history of the neighborhood and the fishing community that lived here for decades.
They offer interactive exhibits to help you learn even more.
I also love the working lighthouse light. You can get a close-up look to really understand how they work.
>> More tips to visit the Maritime Museum
>> Find additional free museums around SF
9. Mission Street Murals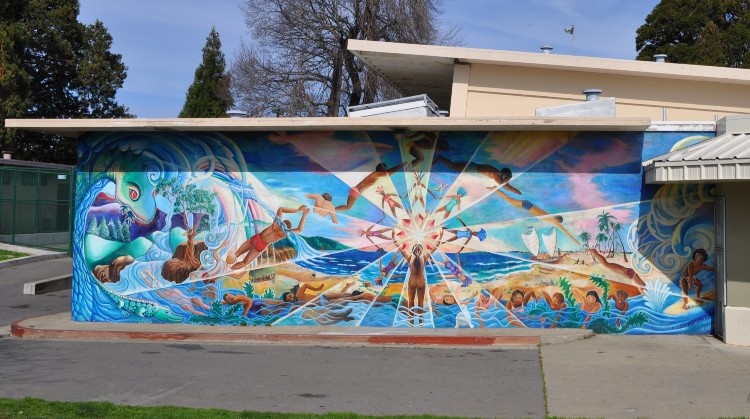 One of my absolute favorite free San Francisco attractions is the Mission District Murals. The district has the largest concentration of murals in SF with several hundred on display.
You will find new murals with each visit as the old ones start to peel or get ruined.
The above mural is just one example of what you will find. You will find everything from political themes to memorials for important people in SF's history.
Two important stops are at Clarion Alley and Balmy Street. Both offer a full block long of murals on both sides.
>> Mission District Murals pictures & maps
10. Palace of Fine Arts
The Palace of Fine Arts was one of the first free San Francisco attractions I visited. This SF sight was originally built for the Panama Pacific Exposition in 1915.
It's gorgeous all the way around. The details are hard to miss, and you will love its gorgeous dome.
Stop by for a walk around the building and its beautiful gardens. You will also find a free walking tour here offered by SF City Guides, which is part of the SF Public Library.
>> Tips to visit the Palace of Fine Arts including history & pictures
11. Twin Peaks
At almost 1,000 feet in elevation, Twin Peaks will give you some of the most majestic views over the City by the Bay. These two peaks provide a 360-degree view, including the city and the Pacific Ocean, and are situated in the middle of a 64-acre park.
Because it has been primarily preserved in its original state, you'll see plants, trees, and possibly animals that you won't see anywhere else in San Francisco.
One of the things I love is that there are so many ways to get to the top of these mountains. You can take the trail, which is just under a mile long, drive up to it, or take a city bus. I prefer to walk the path as it allows me to immerse myself and remember what life here used back in the day.
You will want to look out for species that only live here. One of these includes the Mission Blue Butterfly, an endangered species. They are very rare and only live in this part of the city.
Other wildlife around these steep hills consist of the white-crowned sparrow, brush rabbits, and coyotes. However, they are probably more afraid of you than you are of them, so it is usually safe.
12. Lands End
There is nowhere else like Lands End in San Francisco if you want a great view of the Pacific Ocean, the Golden Gate Bridge, and take a gorgeous hike all at the same time. It is a bit out of the way, compared to Chrissy Fields and others, it is usually less busy, and you can just chill out.
If you don't know about Lands End, it starts just above the historic Cliff House and goes through the forests along the cliffs' edge. Along the way, you can also see the remnants of the Sutro Baths and possibly shipwrecks depending on if you go during high tide or low tide.
As you get on the path to Land's End, you'll be going up and down some stairs, but they aren't very steep and are usually kept in good shape by the park. Some trails are made by other people, which can be pretty slippery and steep, so we suggest you stick to the marked one. 
>> More about hiking Lands End
13. Golden Gate Fortune Cookie Factory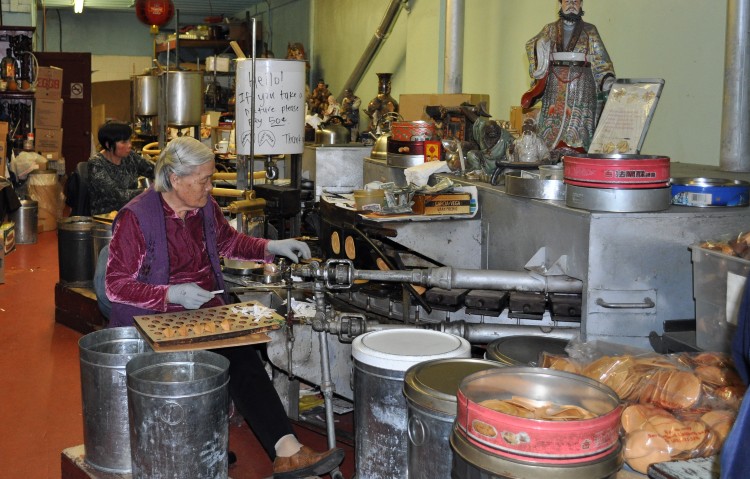 This is one of the best free San Francisco attractions in Chinatown. Founded in 1962, this wonderful company's factory and showroom. The second you walk in, you'll see a massive machine and a few women making fortune cookies all day long. It is fun to watch them, as the machine brings the cookie to them, bends it, and then cooks.
They are SO fast you won't believe it.
They have the classic type of vanilla fortune cookie, but if you want to try and be more adventurous, you can check out some of their other flavors like green tea, chocolate, and my personal favorite, the glazed cookie fortune cookie! 
Not only is it a wonderful place to visit when you get there, but it is also down Ross Alley, which is a magical little road that lets you feel like you are in old San Francisco. When you turn the corner onto it, you'll see all kinds of flags and other beautiful things to look at since you'll probably have to wait for a bit in line.
Lastly, they will give you a free fortune cookie when you get inside it.
14. Stow Lake
Located in the middle of Golden Gate Park, this is a true nature lover's delight. This wonderful little lake is artificial and has a cute Chinese Pavilion inside it. There is also a large waterfall and a stunning stone bridge while you can walk over, or sail under, depending on your preference.
Regarding that, I love that you can rent boats and paddle around the lake if you want to cruise around on it. If you prefer to walk, you can get around it in about twenty to thirty minutes and see all the sights. These include walking the stairs to the waterfall, going to Strawberry Hill to get a beautiful view, and more. Depending on how much you want to see, it usually takes an hour.
This is also a fantastic location to see loads of wildlife. There are often Great Blue Herons, which are incredible to see in person since they are about four feet tall!
There are also mallards and Canadian geese here, and you depending on when you visit, you may see their little baby ducks and geese in their furry little coats. 
15. Japanese Tea Garden
This is not one of the full-time free San Francisco attractions, but they offer free admission if you arrive between 9 am and 10 am on Monday, Wednesday, and Friday mornings. 
This is an amazing place to visit as it's the oldest public Japanese garden in the whole country! So how did that happen? The tea garden was built in 1894 for the California Midwinter International Expo.
After the expo ended, the tea garden was supposed to be demolished but was saved by the Japanese architect Makoto Hagiwara. 
As you would guess, there is a tea garden in the park, and it is well worth visiting as you relax and enjoy the views. There are loads of different types of plants and flowers you won't see elsewhere. One of the reasons this is such a must-see is the five-story Pagoda, and it is breathtaking when you see it in person. 
One of my favorite things to do is climb over the Drum Bridge. This bridge is very steep and in the shape of an arc. It is an arc because when looked at from the correct perspective, it will look like a full ring because of the reflection from the water.
There is also a lovely gift shop if you want to bring something home. 
Alcatraz Prison Tours

Alcatraz Island is the most visited SF spot. Although it's not free, it is something you have to see during your visit here. They offer both day and night tours almost every day of the year. Discover the differences between the tours and how to get tickets to this infamous prison.
Learn More: Alcatraz Prison Tours
Maps of SF

Make sure you always know where you are going with one of these pocket maps of San Francisco. These easy-to-use maps fit nicely in your pocket or purse. You can quickly pull them out to find your next stop along the way.
Ratings & Reviews: San Francisco Maps on Amazon
More Great SF Pages

Comments? Questions? Suggestions?
I would love for you to join me in my private Facebook group! 
It's a great place to interact with me and others who know the area well.
You can ask questions, get advice for your upcoming stay, and then share your photos and advice with others when you return home. It's a great community and the fastest way to get answers to those nagging questions about your visit!