The Perfect Day in the Haight Ashbury District
Tips to Enjoy this Famous Neighborhood in One Day
When I visit the Haight Asbury district, I always feel like I'm stepping back in time. This neighborhood still shows signs of its being the home to the free love culture of the 60s. It was also the heart of the Summer of Love Festival in 1967.
On a perfect day in this neighborhood, I love spending time hiking in Buena Vista Park, shopping on Haight Street and enjoying the beautiful Victorians. I will often then head down the hill to the Lower Haight for some of the best places for an evening cocktail and a fantastic dinner.
Today's journey includes plenty of walking. Make sure you dress in layers (so you can add and remove items as the day progresses) and wear comfortable shoes.
9am: Climb to the Top of Buena Vista Park
Today's journey starts with a climb up to the top of Buena Vista Park. It's a great way to get the blood pumping first thing in the morning.
This cute, neighborhood park offers some great views of the Golden Gate Bridge, downtown San Francisco and the Ocean from its summit.
Start your climb at the stairs on the corner of Haight and Baker Streets. Continue to climb up and up, through the trees until you reach the top. There are several trails and, as long as you keep climbing up, you will reach the summit in about 45 minutes.
When I lived in this area for a few short months, I used to do this hike every day. It's a challenge, but the views from the top are worth it!
Since this hike is steep and challenging, I only recommend it for those that are fit enough to climb for 45 to 60 minutes without any issues.
11am: Admire the Victorians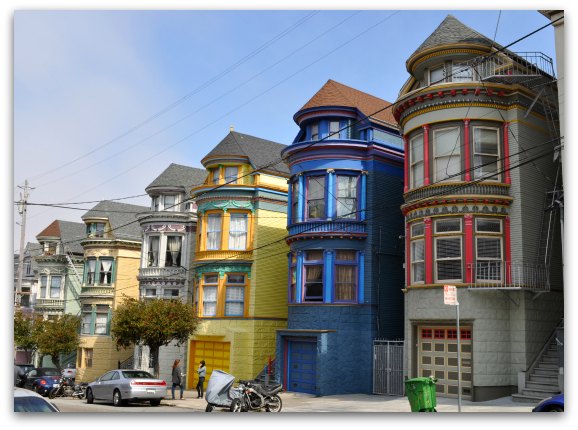 Your visit to Buena Vista Park will take about two hours. Once you reach the bottom, you will work out your muscles by strolling around this mostly flat neighborhood admiring its colorful Victorians.
The Haight has the largest concentration of Victorian homes in the city. It was one of the few neighborhoods not impacted very much by the 1906 earthquake and fire (click here to learn more about this event). At the time, this district was a suburb and people used to trek out here from San Francisco for weekend getaways.
From Buena Vista Park, walk west to Haight Street and Central Avenue. Take some time to walk both north and south down Central Avenue to check out its colorful Victorians.
Head back to Haight Street and walk one block down to Masonic Street. Here you will find a few more Victorians (not as colorful), but still gorgeous.
After you finish, head to Magnolia Brewery on the corner of Haight and Masonic Streets.
12:00pm: Savor Lunch at Magnolia Brewery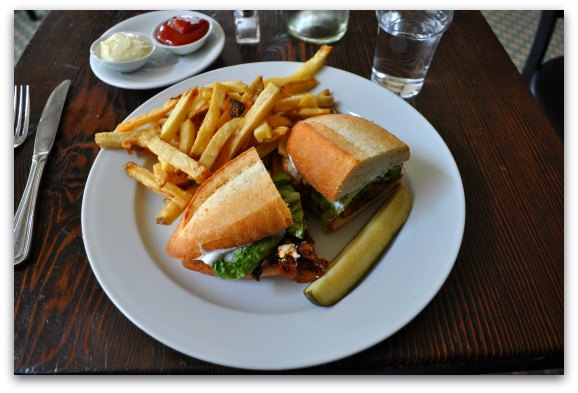 This popular pub is the perfect place to refuel after your strenuous hike. I love this place because of their amazing lunch options and the fact that they brew their own beer.
Try their burgers or, my personal favorite, their pulled pork sandwich. If you love beer, make sure you try one of their specialties. You will find them on the chalkboard in the middle of the restaurant.
1:30pm: Stroll Past the Houses Where Its Famous Residents Used to Live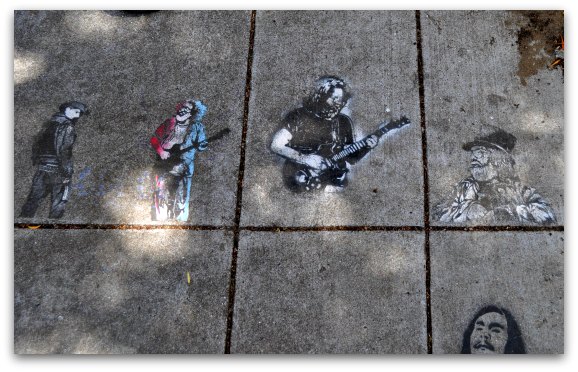 During the 60s, the Haight Ashbury district housed several famous residents. Many were not that famous when they moved in, but became very successful either during their time here or shortly after.
One of the best-documented residences is at 710 Ashbury Street. This is where the Grateful Dead spent most of their time in this neighborhood.
The house at 636 Cole Street is also important. This is where the infamous Charles Manson lived for a couple of years with his girlfriend and a few other women in his gang.
2:30pm: Shop 'Til You Drop
You will find almost two dozen shops lined up along Haight Street from Masonic Avenue to Stanyan Street. In this five block stretch, you will find funky vintage clothing, inexpensive jewelry and other 60s inspired shops.
Have some fun checking out the merchandise, buying a new costume or fun jewelry and continue to make your way along Haight Street toward Stanyan Street.
4pm: Stop at Ameoba to Check out the Music
One stop I recommend to everyone is Ameoba Music at 1855 Haight Street. They are the largest independent music store in the US.
They have an amazing collection of music including everything from current hits to the classics. They also feature live music performances two to three times a month.
5pm: Grab the Bus to the Lower Haight
After your visit to Ameoba, it's time to rest your feet again and have some fun!
From here, I recommend grabbing the bus to head to the Lower Haight for a few drinks and dinner. It's mostly locals, so you will love the low-key atmosphere you find here.
Pick up the 71 on the corner of Haight and Stanyan. Take it about a mile to the corner of Haight and Fillmore Streets. Walk a half a block back on Haight and you will find Toronado.
5:30pm: Enjoy a Beer at Toronado & Sausages from Rosemunde
The thing I love about this local pub is the selection of beers. You will find everything from the best local brews to unknown beers from Europe.
The selection is large, so spend some time checking it out before ordering.
One thing to note about Toronado is that the service is not great. Once you are ready, get the attention of one of the bartenders (they are usually chatting away with a local) to order your drink. Also, don't get offended if they are short with you as they do this to everyone.
Once you get your beer, you are set. Grab a seat and continue looking at the menu for your next treat.
If you are hungry, have someone in your group head next door to Rosemunde to order a few sausages. They are the best sausages in the city and Toronado allows patrons to eat anything from Rosemunde in their bar.
You can also walk over one by one and order what you want. This is typically what we do, so we can see the full menu and get our favorite sausage.
You can then enjoy your beer as you wait the 10 to 15 minutes for your order to be ready. You will have to walk back over and pick up your order yourself. Rosemunde only accepts cash and there is an ATM in Toronado if you need it.
If you are looking for a sit down restaurant with a little more pizazz, then I recommend grabbing a seat at Maven (across the street on Haight at Steiner). This higher end option serves up THE best gourmet burgers in town (they are expensive at $12 each, but it is worth it). The combination of savory and sweet toppings makes my mouth water just thinking about it. You can also enjoy other small plates such as the Kennebec Fries, the Duck Sliders and the Calamari.
How to Get to Buena Vista Park
It's easy to get to Buena Vista Park from both Union Square and Fisherman's Wharf.
From Union Square, hop on the 6 or the 71 on the corner of Market and 5th Streets. Take it to Haight Street and Baker. You will be just across the street from the steps to the park.
From Fisherman's Wharf, you can take the Powell Mason cable car to the final stop on Market Street. Walk over to Market and 5th Streets. From here, grab the buses mentioned above to Haight and Baker Streets.
Click here to download a printable version of The Perfect Day in the Haight Ashbury District tour.
Save Money on Your Trip
What is the best way to save some money on your visit to San Francisco? You can do this by buying your tour and event tickets through Goldstar.
This online retailer offers tickets for up to half off for some of the top shows and tours in San Francisco. They work directly with tour companies and event coordinators to help them fill the last few spots for every event.
This gives you the chance to save!

I use them all the time to save money on my tickets. Click here for a list of their current selection. Also, make sure you check back often as they update their site almost every day!
Step Back in Time on the Magic Bus Tour
If you would love to take a ride back to the San Francisco of the 1960s, then consider a trip on the Magic Bus Tour. It takes you through Chinatown, downtown SF and of course, the colorful Haight Ashbury district.
On this tour, you will drive past important locations and see powerful videos from San Francisco during that time. You will get the chance to hear about the real history of the city in the 60s including all the good and bad things that happened.
Click here for my experience on this tour and to book your seats today!
More Itineraries You Will Enjoy