SF Breweries: My 14 Top Picks

by Jill Loeffler  •

Updated: July 18, 2023
Want to check out some of the best SF breweries? My list includes many highly rated options within the beer scene all around San Francisco.
Some of my top picks include 21st Amendment, Magnolia Brewing Company, and a local staple, Anchor Steam. Everything on my list is a local brewing company and most of their craft beers are made right on site.
To help you decide what to order, I've also included some of my go to favorites at each location. You'll find the best places for hazy IPAs, pale ales, and even kettle sours.
1. San Francisco Brewing Company
Among the best breweries in San Francisco is the San Francisco Brewing Company, run by a family with a long history in the brewing industry.
Located in Ghirardelli Square in Fisherman's Wharf, you can enjoy beers such as Alcatraz Amber Ale, Polk Street Pale, and the hefty 8.7% Velvet Hammer, a double IPA that really hits the mark.
The American-style pub experience also features a popular restaurant where you can enjoy your San Francisco beer with a good meal of classic pub fare and all at sensible prices.
This is the sort of place that once you've been, it will have you hooked, and you'll be back for more.
Address: 3150 Polk Street
>> Great places to eat in Fisherman's Wharf
>> More great things to see and do in Fisherman's Wharf
Disclaimer: I receive a small commission from some of the links on this page.

Top Attractions & Tours in Fisherman's Wharf
2. 21st Amendment Brewery
Occupying a prime spot at 563 2nd St. you will find 21st Amendment Brewery's brewpub. A charming, lively and welcoming place, this is one of my favorite breweries in San Francisco and I've been visiting it regularly for over 20 years.
21st Amendment brews a stunning range of glorious craft beers that are a perfect choice for the San Francisco summer. I love 'Close Encounters of the Hop Kind', a double IPA at a robust 8.5% volume.
For something lighter, I recommend the 'Hell or High Watermelon Wheat', a delightful wheat beer that simply oozes with flavor. This SoMa brewery is a fun place to hang out, so I highly recommend that you give it a go!
Address: 563 2nd Street
>> More great places to check out in the South of Market District
3. Speakeasy Ales & Lagers
This small local brewery began in the Bayview-Hunters Point neighborhood in 1997 and quickly acquired fame for its craft beers that pack a real punch. You'll recognize the trademark eyes that beckon you in to discover this Prohibition-era taproom.
This brand of beers is known for their bold flavors. Their most famous brews are the original Prohibition Ale and SF's most popular IPA, the Big Daddy. 
Currently they offer about a dozen beers on tap and open for weekend events only, including their comedy nights every Friday from 5 pm to 11 pm.
A visit here is always tasty and fun, and you're guaranteed to have a different experience, as you'll escape to the past and get away from the most trafficked areas of the city.
Address: 1195 Evans Avenue
4. Standard Deviant Brewing
Occupying a prime location near the busy and lively Mission District is Standard Deviant Brewing, and you can find it easily at 280 14th Street San Francisco.
Here you can sample fine San Francisco beer which are brewed on site. They have all kinds of awesome brews on tap, including Kolsh, Saison, Horchata Cream Ale, and their famous "Naytorade IPA." They also have a few barrel aged beers, such as their Rose Saison, and a Nitro Bourbon Stout.
The brews on tap are always rotating, so you can be sure to get something different and exciting no matter when you come to visit Standard Deviation Round 2.
They also support the local community and have food trucks most weeks from Thursday to Sunday. They are also dedicated to equality for all peoples and are proud to show that by having cans with the Pride flag among other ways.
They also have a second location near Ocean Beach in the Outer Sunset at 3645 Lawton Street. 
Address: 280 14th Street, Floor 1
>> More things to see and do in the Mission Bay District
5. Magnolia Brewing Company
Located at the corner of Haight and Masonic Streets in the famous Haight-Ashbury district of San Francisco is the wonderful Magnolia Brewery, which occupies a famous building that spent much time as a legendary hippie hangout.
Serving traditional pub food such as fish and chips and burgers, you can enjoy a touch of history whilst washing down your food with one of the breweries' superb ales.
I love the Magnolia Fivey Time, a classic pale ale at 5.6% ABV, but if you want something with a kick the Cloud Cover Hazy IPA at 8% makes for a great choice.
Address: 1398 Haight Street, Masonic
>> More things to see and do in the Haight-Ashbury District
6. Fort Point Beer Company
With three locations to choose from – Fort Point Valencia, the Fort Point at the Ferry Building, and the Pop Up in the Presidio – the Fort Point Beer Company offers a range of classic beer styles that are among the best in the San Francisco brewing scene.
The Valencia location in the Mission is the flagship, with beers such as Westphalia – a delicious German-style red ale – and Animal, a 7.5% traditional IPA. You can choose from a lunch menu of familiar pub fare, and there is a happy hour between 5pm and 6pm every day.
The smaller kiosk in the Ferry Building is a delight, and you can grab an ale and a hot dog or take a six-pack for home.
Their third location is near their production facility. They are offering beer and a few snacks outdoors at the new Tunnel Tops in the Presidio. There is plenty of outdoor seating and amazing views of the Golden Gate Bridge.
Address: Valencia, 742 Valencia Street
>> More things to see and do in the Mission District
Fun Food Tours in the Mission
7. Barebottle Brewing Company
I love the fabulous choice of sours at the Barebottle Brewery and frequent this place often.
A charming San Francisco brewery and tap room combined, you'll find it at 1525 Cortland Avenue, and it is a must for lovers of ales of all kinds offering a wide variety of craft beers.
Blooming Bliss is a classic hazy pale ale that hits the mark at 5.4%, while my favorite sours include Double Mango Flossi, an 8% monster with a rich fruit kick, and the same strength Local Paradise with its molasses after taste.
There's something for everyone here and I recommend it highly.
Address: 1525 Cortland Avenue
>> More about visiting the Bernal Heights District
8. Harmonic Brewing
This San Francisco Brewery has 2 locations to choose from – a tap room in the Chase Centre in the Thrive City area, and the 'mothership' at 1050 26th Street – Harmonic Brewing offers a wide range of delightful craft beers that will not disappoint.
A favorite of mine is the traditional English bitter Yeast of Burton which, at just 4.5%, makes for a great session ale. Jerry Day is a 6.8% American IPA, and they also brew sour beer such as None More Blackberry, a wonderfully fruity drink that has you wanting more.
Both locations are worth checking out for some of the most innovative great brews in San Francisco. If it's an outdoor beer garden you are after then Harmonic Brewing at the Thrive City location has a lovely outdoor dining area.
Address: 1050 26th Street
>> More about visiting the Dogpatch District
9. Cellarmaker Brewing Company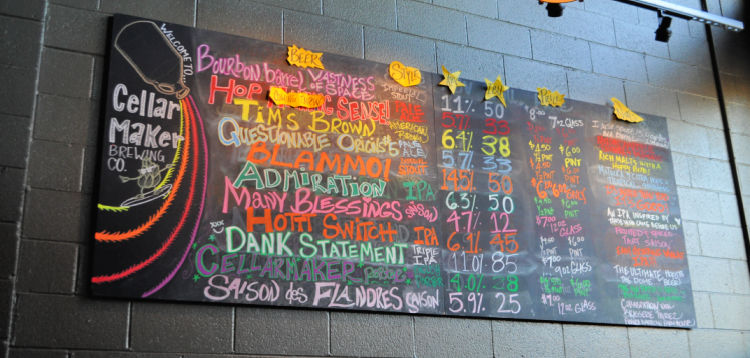 Cellarmaker Brewing Company offers a choice of two locations in San Francisco – the SoMa Taproom at 1150 Howard Street and the Mission Pizzeria and Beer at 3193 Mission Street.
Each is worth a visit to sample some of the finest craft ales in the city. Lost Wisdom is one of the signature brews here and is made using a yeast culture that has been ongoing for six years!
Among my favorites is Terpene Station, a magnificent double IPA weighing in at a mighty 8.7% and simply stunning to taste.
With a wide variety of craft beer and ales on tap and to take home, this is a brewery that will have you coming back for more time after time.
Address: SoMa Taproom at 1150 Howard Street and  Mission Pizzeria and Beer at 3193 Mission Street
10. Laughing Monk Brewing
Another one of the best breweries in San Francisco is Laughing Monk Brewing. They are a small batch brewery with some great one-off and seasonal beers.
While I usually recommend some of my favorites, this one changes its menu so often that you'll have to trust you will find something great when you visit.
They don't have a kitchen, but you will find food trucks nearby every Friday through Sunday.
You'll find them in the Bay View District three blocks from the K/T line's Carrol station.
Address: 1439 A/B Egbert Avenue
11. Beach Chalet Brewery and Restaurant
If there is one famous institution that all craft beer lovers should visit in San Francisco it is the simply legendary Beach Chalet.
Unique in offering a stunning view of the ocean, the Beach Chalet now has its own brewery where delicious, top-quality, craft ales are brewed as the perfect companion for your choice of meal.
Located at 1000 Great Highway, the craft beer available at the time depends on what has been brewing and includes the delicious Riptide Red Ale among many others.
I recommend you ask for a taste of the seasonal ale, as they rotate it through the year.
You can also order their beers at their garden-level restaurant called the Park Chalet.
Address: 1000 Great Highway
>> More about the Beach Chalet
12. Black Hammer Brewing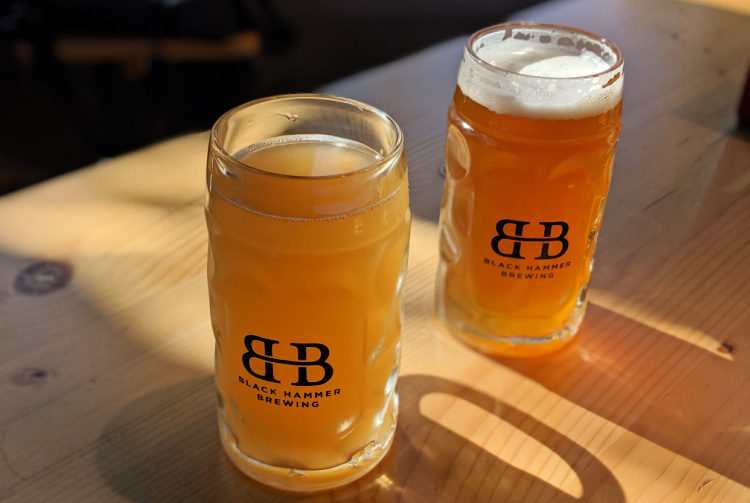 Few breweries in San Francisco match the Black Hammer Brewery for sheer enthusiasm and an understanding of what makes delicious beer.
With a choice of craft beer, ales, lagers, and seltzers all brewed on-site, this enjoyable and thriving small brewery can be found at 544 Bryant Street in the lively SoMa district, with a second taproom and restaurant at 2198 Market Street.
I recommend the delicious Sparkle Pony, a Belgian blonde ale at a just right 6.9%, while currently popular is Puck Futin, an Ukrainian anti-imperial stout which is very much of the moment!
With a fun and frivolous attitude to local brewing and an entertaining and innovative one too, Black Hammer brewing is certainly worth checking out. It also has a small beer garden at the front!
Address: 544 Bryant Street
13. Barrel Head Brewhouse
Another great addition to the San Francisco beer scene is the Barrel Head Brewhouse. It's a popular brewery with the locals and they have an amazing food menu as well.
One of my favorites is their salty Dodger Tears IPA. What SF Giants fan wouldn't want some of that? They recently won a Gold Medal at the World Beer Cup 2022 for their Brother Harker Patersbier.
They are in the NoPa district and open daily from around 2 pm to 10 pm.
Address: 1785 Fulton Street
14. Sunset Reservoir Brewing Company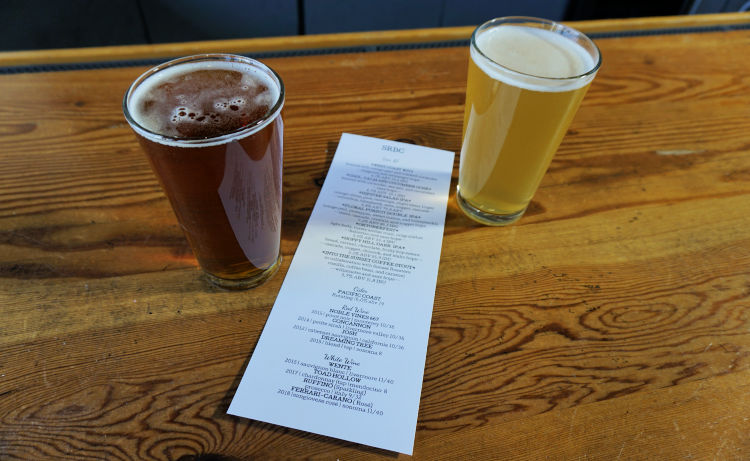 Located at 1735 Noriega Street, is Sunset Reservoir Brewing Company, a choice hangout for locals and visitors to the city
Acclaimed as 'Best Local Brewery' in a popular San Francisco weekly, this friendly and welcoming establishment offers great food and superb San Francisco beer.
Foggy Dew Irish Red, a delightful traditional red ale at 5.8%, is the perfect accompaniment for one of the burgers on the lunch menu, while traditional fish and chips taste a lot better with a glass of the Goldengate Grissette, which oozes freshness and fruit.
A great place that is rightfully held in high regard within the SF beer scene.
Address: 1735 Noriega Street
Fun San Francisco Brewery Tours
Craft Beer Walking Tour in Fisherman's Wharf & North Beach
This is another one of the fun beer and pub tours in San Francisco. This four-hour tour includes stops at two of the most popular neighborhoods in San Francisco: Fisherman's Wharf and North Beach! 
This small group tour includes stops and beer at three of the best places in town. 
As you enjoy your beer, you'll learn more about SF's beer scene and the overall history of beer. You'll also learn more about certain styles of beer and brewing techniques. 
A few snacks are also included.
>> Find out more about this fun beer and pub tour
Craft Beer Walking Tour in San Francisco's SoMa District
The next tour on our list of the best San Francisco Beer and Pub Tours is this walking tour in the cool South of Market District (often referred to as SOMA).
This 3.5-hour tour takes you to three microbreweries and/or craft beer bars. At each stop, you will learn all about their beer making process as well as a few secrets about the establishment. Light bites are included to make sure that you can enjoy your tour and feel safe during it.
>> Pick up tickets and learn more about this cool tour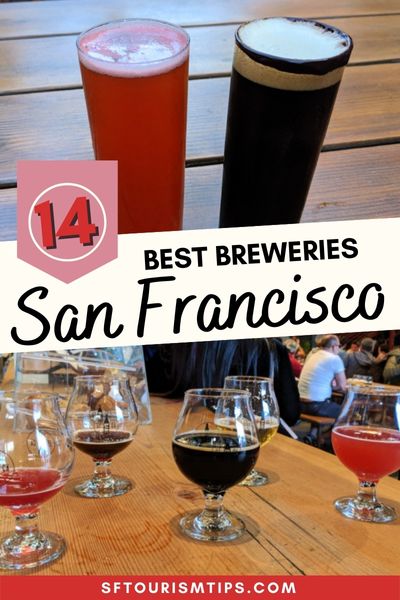 Comments? Questions? Suggestions?
I would love for you to join me in my private Facebook group! 
It's a great place to interact with me and others who know the area well.
You can ask questions, get advice for your upcoming stay, and then share your photos and advice with others when you return home. It's a great community and the fastest way to get answers to those nagging questions about your visit!