San Francisco Weather in October: What to Wear in the Warm Days of October
The San Francisco weather in October is sunny and warm. It's the second warmest month of the year after September.

October is a great time to visit as you will find dozens of outdoor festivals and events. Fleet Week is one of the biggest events along the waterfront. All weekend long, you can step aboard military ships and watch the Blue Angels perform over the bay.
If you are visiting in October, read on for tips on how to prepare for your stay. I've included additional information on the typical weather throughout the day, what you should wear while you are here, and a few of my favorite things to do this month. In addition, I've included a few ways to save so you can see and do more.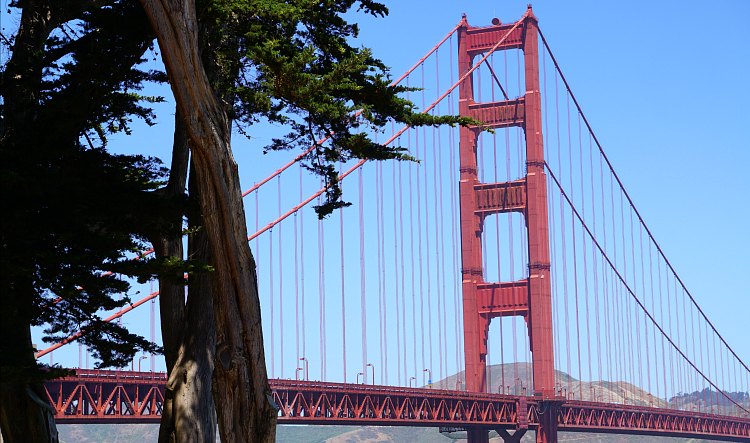 The San Francisco weather in October gives us warm days and cool evenings. The days start off in the high 50s to low 60s. It then heats up to almost 70 most days. At night, it cools off again to the mid-50s.
There is little fog during this time of year, but it is overcast some days. We also get very little rain this time of year with just over an inch.
Here are a few more details about the San Francisco weather in October.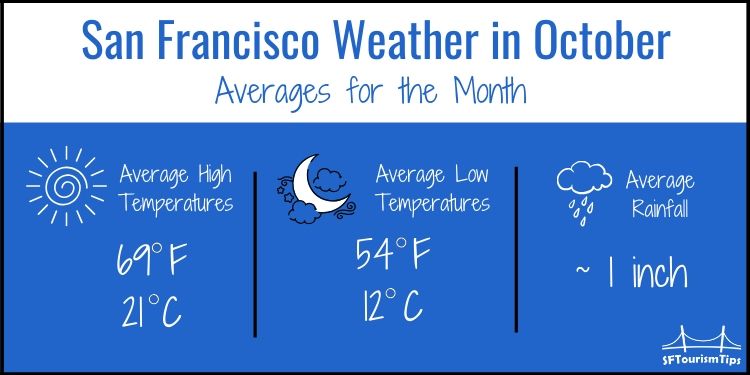 Average High in October: 69° F/21° C
Average Low in October: 54° F/12° C
Average Monthly Rainfall: 1.1 inches
Record High: 102° F/ 39° C (10/05/1987)
Record Low: 45° F/7° C (10/23/1949)
>> More about why it's one of the best months to visit
Disclaimer: I receive a small commission from some of the links on this page.

What to Wear for the San Francisco Weather in October

With highs in the 70s and lows in the 50s, I recommend bringing along quite a few items that you can layer. Make sure to have items that you can mix and match in order to stay warm on those cool San Francisco evenings.
I usually wear short sleeved shirts or tops. I also will wear shorts or skirts during the day. I always carry around a jacket or light sweater to warm up on those cooler days or when the wind picks up.
At night, I'll wear jeans or pants along with a medium weight long sleeved shirt. I will also still carry along a light jacket or sweater in the evenings to add when I'm feeling cool.
I do wear sandals during the day but stick to closed toe shoes at night. It's a little too chilly at night for sandals, even during one of our warmest months.
The San Francisco weather in October does not rain very much so you will be safe to leave your rain clothes at home.
>> More on how to prepare for the SF weather
5 Fun Things to Do in San Francisco in October

With the gorgeous San Francisco weather in October, it's a great time to play outdoors. Here are a few ideas for your stay.
1. Fleet Week: This is the biggest event every October. It's usually the second weekend of the month and runs all weekend long. You can watch the Blue Angels fly over the SF Bay and the Golden Gate Bridge. They also open up several military ships to the public for tours. Find out more here.
2. Open Studios: Another fun event every October is Open Studios. It's a chance to step inside local artists' studios to see and purchase their work. Each weekend, you can visit studios in a different district.
3. Halloween Activities: San Francisco is THE place to show of your costume for Halloween. With dozens of costume parties, party cruises, and kids' activities, you will find something fun for everyone. Read my Halloween insider's guide for more details.
4. Bay Cruises: Of course, you must go on a bay cruise during your stay. If it's your first time, then I recommend the 60-minute bay cruise which includes narration about our history and a chance to go under the Golden Gate Bridge. For those that have been here before, you will love a cruise where you can do some wine tasting or have dinner with your significant other. Find my five favorites here.
5. Night Tours: With our clear skies in October, it's also a great time to head out on a night tour. You can see the city lights, go on a ghost tour around town, or enjoy a special Halloween tour. More details here.
More Fun October Tours & Activities

>> List of the best fall events in SF
>> See SF from above on one of our popular helicopter tours
Save on Your Hotel

You can also find some good deals this time of year on your hotel stay through Booking.com and TripAdvisor. Click the links below to check out the current deals for your stay.

Booking: Find great deals all around San Francisco for your upcoming stay! 

TripAdvisor: What's the #1 hotel in San Francisco? Read reviews & find hotel deals on TripAdvisor!
VRBO: In addition to hotels, you'll also find some great places to stay locally through VRBO. Book an apartment or a room and feel more like a local. Find some great places to stay on VRBO here. 
One question I get a lot is if it's better to stay in Union Square or Fisherman's Wharf. Each one appeals to a certain type of traveler. To help you make your decision, visit this page that gives you an idea on which one is right for you.

How to Get Around SF

Since the San Francisco weather in October is absolutely beautiful, you will most likely do some walking. If you need to go a longer distance or need a break, here are a few other ways to get around town.
Cable Cars: The historic cable cars are a fun ride. The two main lines run between Fisherman's Wharf and Union Square. One takes you through North Beach and the other one takes you by Chinatown, Nob Hill, and Russian Hill. Find out more about each line and when it's best to take the cable cars.
Buses & Light Rail: Our bus and light rail system is also easy to use. Each option will get you around town with ease and very little money. Find additional details about using our public transit system here.
Comments? Questions? Suggestions?
I would love for you to join me in my private Facebook group! 
It's a great place to interact with me and others who know the area well.
You can ask questions, get advice for your upcoming stay, and then share your photos and advice with others when you return home. It's a great community and the fastest way to get answers to those nagging questions about your visit!