Fall Events in San Francisco 2022: 20 Top Festivals, Street Fairs, & Other Activities In SF

by Jill Loeffler  •

Updated: August 29, 2022
Fall events in San Francisco offer you the chance to enjoy a plethora of culturally diverse food, traditions, and other performances. You can also watch some football, laugh at local comedians, and visit artists in their studios.

Fall in SF offers the best weather for outdoor activities. Enjoy Fleet Week, Halloween parties, Oktoberfest, and other festivals! Read on for more details on the most exciting events this time of year.

Disclaimer: I receive a small commission from some of the links on this page.

1. Fleet Week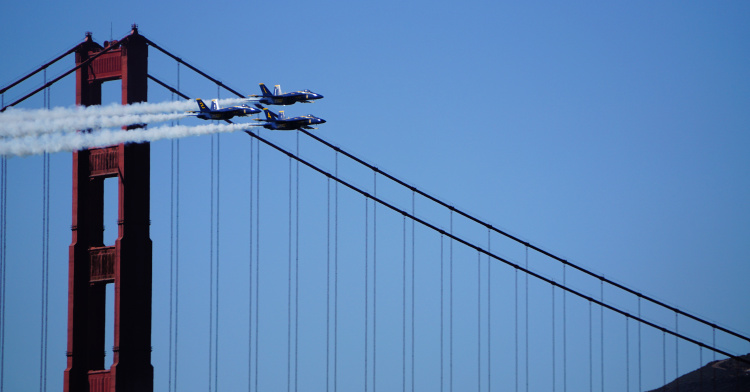 There is nothing like feeling the breeze from the bay and hearing the roar of the jets as you look up and see the U.S. Navy Blue Angels fly in perfect unison right overhead, then swoop down low over the Golden Gate Bridge to give everyone a show.
This fall, make your way to the waterfront and Fisherman's Wharf for the annual Fleet Week. This weekend-long event features more than just the breathtaking airshow with the Blue Angels, but also free tours of military ships and plenty of live music.
Date: 10/2 - 10/10
Learn More: Visit the Fleet Week Page for More Info
2. San Francisco 49ers Football

San Franciscans are proud of their pioneering past, and the 49ers (named after the Gold Rush prospectors of 1849) are no exception: this is the first NFL team to have originated on the West Coast! This fall, enjoy an afternoon of football at Levi's Stadium in Santa Clara, about an hour south of SF.
The state-of-the-art stadium has a capacity of 68,500 for Niners games, is topped by a green roof with solar panels and an organic farm, and hosted Super Bowl 50 in 2016.
You'll find two home games a month here between August and December, packed with red-and-gold-decked "Faithful" fans. 
Dates: August - December
>> Find this Year's 49ers Schedule
3. Castro Street Fair

One of San Francisco's most colorful, fun, and charming districts is the Castro. Famous for its LGBTQI history, this neighborhood hosts their annual street fair on the first Sunday in October from 11am to 6pm.
The event features live music, delicious street food, entertainment, art vendors, and—without a doubt—plenty of dancing in the streets.
This rainbow explosion is sure to be one of the most vibrant and memorable fall events in San Francisco!
Date: Sunday, October 2
>> Discover Details for the Annual Castro Street Fair
4. Chinatown Autumn Moon Festival

You've probably heard of the huge Chinese New Year Parade held here during the spring (since it's the world's largest outside of Asia!), but did you know that SF Chinatown also hosts a dazzling Autumn Moon Festival on the fifteenth day of eighth month of the lunar calendar year?
This celebration started after the 1989 earthquake as a way to revitalize the community, and continues to the present, bringing you a parade with incredible lion dancers, acrobats, martial artists, dragons, arts and crafts, and tasty food.
Take advantage of this opportunity to explore this interesting district brimming with vibrant Chinese traditions.
It's one of the most popular fall events in San Francisco every year.
Date: August 27 & 28
>> Visit the Chinatown Moon Festival Page for More Info
5. Halloween

What better a time to find out about San Francisco's most haunted sites than Halloween! In addition to spooky ghost tours, SF offers tons of fun events including 21+ parties, kids activities, theater and symphony shows.
If the holiday falls during the week, then you will find most of the events are on the weekend before or after the holiday.
Date: October 31
Learn More: Discover this Year's Halloween Events
6. Day of the Dead

If you've never celebrated the dead before, this is one of the fall events in San Francisco that will open your eyes to a new perspective and leave you feeling uplifted. Shortly after Halloween, the Day of the Dead (Dia de los Muertos) is a Meso-American holiday that honors the deceased and the cycle of life.
Join the Latinx community in SF with an alter display at Garfield Park in the Mission District. 
Most years, they also offer a procession that starts at 7 pm. Everyone is welcome to participate in the procession. The celebration lasts until well after midnight. 
Date: TBD
Learn More: Visit the November Calendar for More Details
7. Hardly Strictly Bluegrass

This three-day bluegrass festival in Golden Gate Park is one of the best fall events in San Francisco. It's usually the first weekend in October. Even though it is completely free, you will find several big name performers.
Previous acts include the Indigo Girls, Los Lobos, and Emmylou Harris. Head on over to Hellman Hollow, the large grassy expanse by the polo field that was named after Warren Hellman, the banjo-playing philanthropist who founded this annual festival.
Date: 9/30, 10/1, and 10/2
Learn More: Uncover Details for this Year
8. Theater Performances

If you love live shows, you will love the variety offered by the SF theater scene. Performances range from large-production Broadway hits such as Hamilton, Oklahoma!, and Jersey Boys, to up-and-coming shows by local writers at smaller theaters.
The venues themselves range from classic auditoriums like the Orpheum, complete with balcony seating and the orchestra pit, to more intimate, alternative spaces like the Strand, with its multiple levels and rooms.
Dates: Several performances this Fall
Learn More: Visit the Theater Calendar for a List of Shows by Month
9. Labor Day Weekend

Close out summer in style by making a Labor Day weekend trip to San Francisco. During this long holiday weekend, you can enjoy baseball, free Shakespeare in the park, and special holiday cruises.
You will also find several theater productions, live music, and a large arts and music festival in Sausalito.
Date: 9/2 - 9/5
Learn More: Find All Activities for this Year's Labor Day Weekend
10. Open Studios

Step inside local artists' studios during the annual Open Studios event. For four weekends in October and early November, artists from different districts open their doors to the public, and you'll get the chance to talk to them about their craft and buy pieces of their work.
This is one of the most unique fall events in San Francisco because it really allows you to see the diversity of the local scene in an intimate way.
Dates: 10/22 - 11/13
11. SF Giants Baseball

The SF Giants baseball team wraps up their regular season games every fall. They have their final games in September and sometimes in early October. Catch a game this time of year at Oracle Park, a stunning ballpark that sits right on the water, where kayakers wait for home run balls to come flying into McCovey Cove.
Don't miss out on one of the most popular fall events in San Francisco!
Dates: More than a dozen home games in both September and October
Learn More: Find this Year's SF Giants Home Game Schedule
12. Opera

If you find yourself in SF's Civic Center, it's hard not to notice the majestic columns of the War Memorial Opera House, right next to City Hall. Each fall from September to December, audiences come to watch the renowned SF Opera company fill the stage. During this time, they offer several performances of three to four different shows. 
This year, you can see Anthony and Cleopatra, Eugene Onegin, Dialogues of the Carmelites, La Traviata, and Orpheus and Eurydice.
Dates: 9/10 - 12/3
Learn More: Discover the SF Opera Fall Schedule
13. Sunday Streets

Take advantage of the great fall weather and enjoy this season's Sunday Streets, an annual event that allows you to walk, run, or bike on certain car-free streets. In a bustling city like SF, this opportunity is really a luxury, for locals and tourists alike.
You will  find several health and wellness companies on site to help you get your blood pressure checked for free and learn more about living a healthy lifestyle.
Dates: 9/18 & 10/16
14. SF Fall Antiques Show

More than just an antiques show, the San Francisco Fall Show features art, antiques, and design from top dealers around the world. The atmosphere is lively, since prominent interior designers, architects, artisans, and craftspeople are invested in the event. Among the treasures, you will find furniture, silver, jewelry, ceramics, paintings, and more.
Date: October 13 - 16
Learn More: Visit the October Calendar for More Details
15. A Taste of Greece

Smell that? Spanakopita, moussaka, gyros... Those are the irresistible flavors of Greece wafting through the hills of the Mission District from the Annunciation Church where this three-day festival is held each year.
Come and listen to Greek music while you sample the traditional treats, taste wines, watch the award-winning dance groups, and get the kids involved in the children's activities.
This festival is a testament to the city's rich cultural diversity, and one of the tastiest fall events in San Francisco!
Date: 9/17 - 9/18
16. Comedy Day

On SF's warm fall days, what would you expect to find in Golden Gate Park? Picture the laid-back, grassy Robin Williams Meadow, dotted with picnic blankets, the smell of local food stands, and the sound of families laughing!
Comedy Day is a way for local comedians to give back to the community for supporting their craft all year long. It's a free one-day event with performances by 40 comedians on stage in the park.
Head over early to grab your seat on the lawn!
Date: 9/18
>> Discover More Details for this Year's Comedy Day
17. Ghirardelli Chocolate Festival

Ghirardelli is the third-oldest chocolate company in the U.S. and a true San Francisco icon. Founded by Italian chocolatier Domenico Ghirardelli around the time of the Gold Rush, it has been bringing delicious treats to locals for a century and a half!
Sample chocolate delights, taste local wines, enjoy cooking demonstrations, and listen to live music at the annual Chocolate Festival in Ghirardelli Square at Fisherman's Wharf.
Date: Postponed for 2022
18. Sausalito Art Festival

One of the largest festivals in the fall is the Sausalito Art Festival, in the quaint little bayside town right across the Golden Gate Bridge from SF. Among the high quality local artists, you will find everything from handmade jewelry to photography. In addition, it's a food and wine lovers' dream as you will find dozens of offerings from all around the SF Bay Area.
This three-day outdoor event features all sorts of art and food, but what really draws in thousands of people every year is the variety of live performances. You will find several stages with more than 20 performers.
Date: Postponed to 2023
Learn More: Find more about this year's event
19. Oktoberfest by the Bay

Beer on the pier... a lovely way to celebrate the Bavarian tradition of Oktoberfest, San Francisco style! For three days, you can sample German beer, gobble up German food, and dance to traditional German music. The event offers two sessions a day and is held at SF's Pier 35.
Date: No event in 2022, we will see if they return in 2023
20. Wharf Fest

The Wharf Fest is a one-day festival in SF's Fisherman's Wharf district. You can sample chowder during the annual cook-off competition, listen to live music, and try out a Segway for free.
This is one of the fall events in San Francisco that also offers gorgeous views around the SF Bay. It's a must attend for your entire family.
Date: No event in 2022
What is Fall Like in San Francisco?

If you are planning to attend any of these fall events in San Francisco, you are in for a treat. This is the BEST time of year here. The days are warm and sunny; the nights are cool with a slight breeze. Find out more about the weather this time of year.
There is SO much going on in SF during this time of year.
Every single weekend, you will find a fun outdoor activity, event and other fun things to do. It rarely rains this time of year, so you can be out exploring all season.