San Francisco Beaches: My 7 Top Picks Around SF

by Jill Loeffler  •

Updated: January 18, 2023
Are there San Francisco beaches? YES! SF is surrounded on three sides by water, so you will find more than a half dozen beaches here. Most of them are along the northern and western waterfronts.

With our cool, breezy temperatures, you won't find many hot days to throw down a towel and grab some rays. It's still fun to visit them for a picnic or to just hang out and watch the waves. You can also get great views of the Golden Gate Bridge from many of them.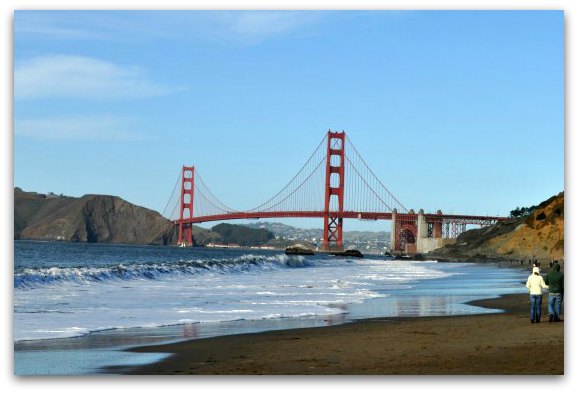 A view of the Golden Gate Bridge from Baker Beach
If you plan to swim, I recommend bringing along a wet suit. Not only is the air cool, but the waters surrounding SF range from around 50 to 60 degrees. It's cooler in the winter when the temperatures hover around 53 to 55 degrees. The water is the warmest in August and September, which is when it's about 60 degrees.
Why is the water so much colder in the Pacific vs. the Atlantic Ocean? The waters is the Pacific Ocean are colder for two reasons. The first is that much of the water is traveling south from the Arctic Ocean.
The second reason is that there are a lot of upswells, which brings the cold water from the bottom of the ocean to the surface.
These cool waters also play a role in keeping our temperatures cool, yet fairly consistent all year long.
Another thing to keep in mind if you plan to enter the water or swim is that the waters here are choppy and can be quite dangerous. The cool waters off our San Francisco beaches are for more experienced swimmers. We have some of the most dangerous riptides in California.
Many of our beaches are also in the area where the Pacific Ocean meets the SF Bay and you will find a lot of turbulence here too.
However, there are still many great reasons to visit our beaches. They are a great place to relax, unwind, and enjoy the views!
Our most popular beaches are Ocean Beach, Baker Beach and Crissy Field. Learn more about these and a few others that I love to visit throughout the year.
Disclaimer: I receive a small commission from some of the links on this page.

1. Ocean Beach

Ocean Beach is one of the most recognized San Francisco beaches. It's located on the western side of the city and borders the Pacific Ocean.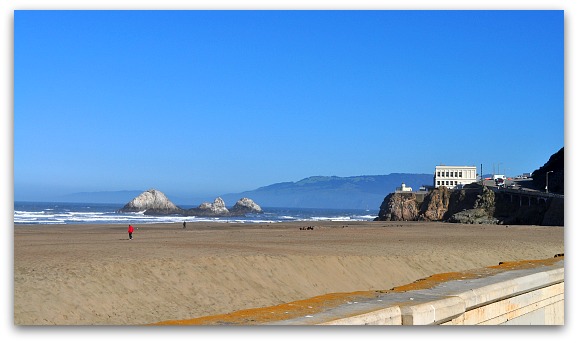 The beach is long and skinny. It runs about six miles from north to south and it's only a few hundred feet wide. It's the spot for surfers in San Francisco. However, it's not a safe place to swim for those that are not used to its rip currents. In fact, it has some of the deadliest riptides in all of California.
It shares a border with Golden Gate Park and both the Richmond and Sunset Districts. 
The fog often rolls into this part of town each night. This keeps this beach cool and comfortable all year long.
The best things to do here are to admire the water from the beach, check out some of it's highly rated restaurants, watch the surfers in action, admire the local wildlife and visit some of its nearby attractions. It's also a wonderful place to a jog or walk.
>> Learn more about visiting Ocean Beach
2. Baker Beach

Baker Beach is one of the San Francisco beaches that has amazing views of the Golden Gate Bridge. This one is along the north side of the city where the Pacific Ocean and the SF bay meet.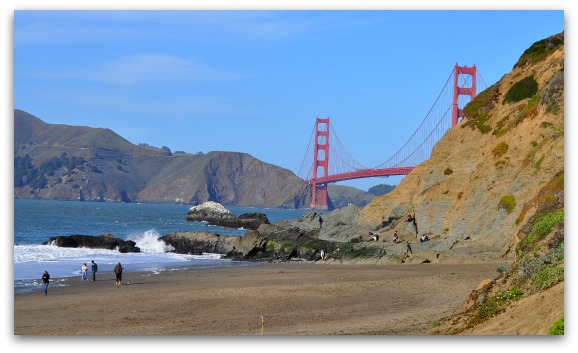 This is also a popular spot on those few sunny, hot days in the city. Many people like to visit this one for picnics or to let their dogs play in the water.
This beach is well known to have a nude section. This section is on the right-hand side of the beach and is easy to stay away from if you are visiting with the family. Also, all are welcome to this part of the beach, but if you just stand and stare, the regulars will ask you to leave.
You can get to Baker Beach by driving through the Presidio. They have a nice big parking lot and it's usually pretty easy to find a spot. You can also get here by walking along the Coastal Trail.
Even if it's a quick trip, it's fun to come here to see the views of the Golden Gate Bridge and the beautiful scenery that surrounds it.
>> Find even more tips for visiting Baker Beach
Go Car Tour: A fun way to see several of our beaches is to check out the GoCar 3-Hour Tour of San Francisco's Parks and Beaches. It's pre-recorded route offers stops at both Baker and China beaches. Find out more here.
3. China Beach

Another one of the San Francisco beaches is China Beach. This is a really special and beautiful beach just to the west of Baker Beach. It also isn't as well known as the other beaches in San Francisco.

This one attracts a local crowd on a sunny day. It's usually pretty quiet at this beach although there are some people that like to swim here regularly. However, I do caution first time swimmers as the waters can be very challenging for beginners.
This one is also a little further away. It is in the Sea Cliff residential neighborhood and along the area where the Pacific Ocean and the SF Bay meet.
However, you can get some amazing views of the Golden Gate Bridge and surrounding cliffs. This is absolutely my favorite and worth the effort to get here on a nice, warm, sunny day in the city or if you want to venture out to visit some of our hidden gems.
>> Find out how to get here and learn even more about what to see nearby during your visit.
4. Crissy Field

The Crissy Field is one of the few San Francisco beaches that is pretty busy most days. Again, it's not usually people in their suits grabbing some rays, but instead people with their dogs and/or having a picnic.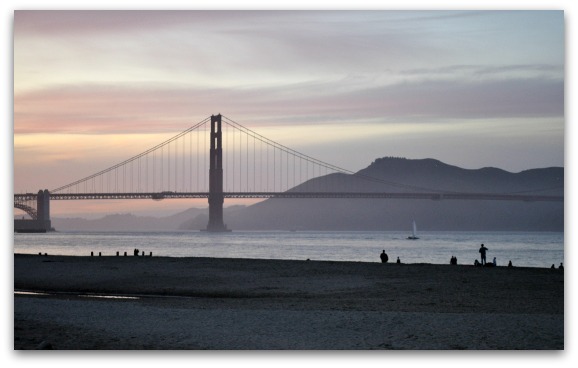 This one is near the Marina District and usually has a large number of people out for a run or walk along the trail next to it.
From here, you can get some full views and pictures of the Golden Gate Bridge. You can also get some cool shots of Alcatraz Island, Sausalito and the dome on the Palace of Fine Arts.
From either Fisherman's Wharf or Union Square, you can grab the 30 Stockton. Take this bus to the Broderick and Beach stop.
Hop off and head north toward the water. Once you arrive at the water's edge, head west. It is only about four blocks away from the bus stop.
5. Aquatic Park

Right in front of Ghirardelli Square is Aquatic Park. This is a smaller beach on the western side of Fisherman's Wharf.

Many people like to walk along the boardwalk of this one. It's a great place to go for a run, walk or enjoy a sunny day in the city. There is almost always plenty of seating either on the sand or the small stadium right along the water.
Swimming here is possible, but you need to be well aware of your surroundings.
Over the last year or two, a couple of swimmers have been bitten by sea lions. No one is sure why this is happening as swimmers and sea lions have shared this area for decades. However, it's something to be aware of before you dive in.
This is another one of the San Francisco beaches with great views of the Golden Gate bridge. In addition, you can walk out along the pier on the western side to get some clear photos of Alcatraz and Angel Islands.
6. Mile Rock Beach

Mile Rock Beach is another one of my favorite San Francisco Beaches. You can only access this one from the Lands End Trail.

This beach is not as well known or visited as the others on my list. It takes a little effort to get to it, which makes it the perfect spot for meditation, yoga, or to soak in the gorgeous views it offers.
It's easy to find as it's clearly marked on the Lands End Trail. The sign faces east, so if you are coming in from the west, you will need to look around for the trail head sign a bit.
>> More about visiting Mile Rock Beach
7. Marshall's Beach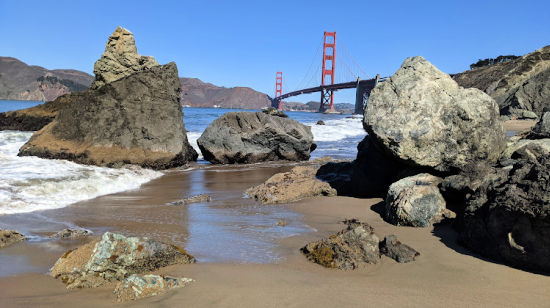 Marshall's Beach is a secluded beach that is mostly clothing optional. This small place has amazing views of the Golden Gate Bridge. It's the perfect place to hang out if you are looking for a chill spot with little commotion.
This is one of the San Francisco beaches that is only easy to find if you know where to look. It isn't something you will stumble upon and why it makes the perfect location for a nude beach.
To find it the entrance to this beach along the Battery to Beach trail. There aren't any signs so be on the look out for some worn paths that will take you to this gorgeous retreat.
Overall, the San Francisco beaches are alive with action on those rare, sunny San Francisco days. Outside of that, they are mainly used for viewing the beautiful scenery and taking some time away from the chaos of the city.
>> More about visiting Marshall's Beach
---
Golden Gate Bridge Photos: Are you looking for that perfect place to take a photo of the Golden Gate Bridge? Uncover some of the key spots around San Francisco where you can get that perfect shot. In addition, you will find some great photos of the Golden Gate Bridge from some of these locations.
Cable Cars: How old are the cable cars? How many lines are still running in San Francisco? Discover the answers to these questions and more about the historic San Francisco cable cars.
Ghirardelli Square: Right to the north of the beach at Aquatic Park is Ghirardelli Square. This is the location for one of the first chocolate factories in San Francisco. While the original factory moved out of the city decades ago, you can still visit the square and taste some of its sweet treats. Read on to learn more about Ghirardelli Square and find tips on what to see and do during your visit.
Comments? Questions? Suggestions?
I would love for you to join me in my private Facebook group! 
It's a great place to interact with me and others who know the area well.
You can ask questions, get advice for your upcoming stay, and then share your photos and advice with others when you return home. It's a great community and the fastest way to get answers to those nagging questions about your visit!