Marshall's Beach in San Francisco

by Jill Loeffler  •

Published: April 27, 2022
With sweeping views of the Golden Gate Bridge and a laidback atmosphere, Marshall's Beach in San Francisco is a beautiful attraction to explore. This small, hidden beach sits on the north end of San Francisco and just to the south and west of the bridge.
You will find this beauty inside the Presidio. It takes a little more effort to get to than most of our other beaches, which is why it's a popular spot for nude sunbathers. It's also popular with the gay community.
It's the perfect place to spend an hour or two taking photos, escaping the chaos of the city, or spending some time sunbathing in those areas that rarely see the sun.
What to Expect When You Visit Marshall's Beach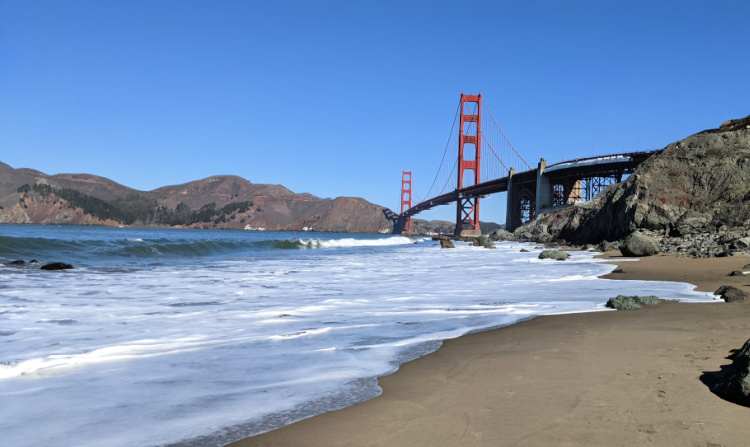 This secluded beach is one of the best spots to photograph the Golden Gate Bridge. It offers unobstructed views of the bridge from an angle that captures its true beauty.
Steep cliffs surround it with large rocks all around the beach. Both will offer additional drama and depth to your photos.
The other reason it's a popular spot to take photos is because it doesn't get as much traffic as other beaches in San Francisco. This allows you to take pictures without waiting for people to move out of your view.
Those hanging out and sunbathing here tend to sit back along cliffs, so you will often find what looks like an empty beach between you and the Golden Gate Bridge.
If you love photography, you will definitely want to visit this spot as you can get a variety of photos with crashing waves during high tide, huge rocks, and plenty of sandy beach. It's also a great place to come at night as there aren't many people here in the evenings.
Other views include the Marin Headlands, the Pacific Ocean, and Baker Beach.
You will also find two sections of the beach:
One is the northern end of the beach, closer to the bridge. The second section is a bit further south. Boulders separate them, and you'll need to climb over them to access the different areas.
Most people explore the southern section as it's easier to access. However, if you plan to head to Marshall's Beach, make sure to wear the proper clothing and shoes to climb over the boulders to see both sides.
Weather at Marshall's Beach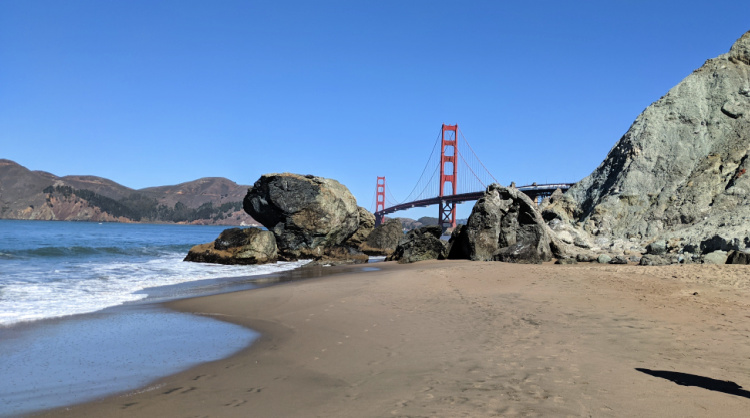 The weather is usually quite cool in San Francisco all year round. We average highs in the 60s most of the year and down into the 50s most nights. We also get quite a bit of wind.
What makes this beach special (and a favorite for nude sunbathers) is that it has a little more protection from the wind by the cliffs.
So, even if it's cool, there is less wind here, especially on the side closer to the Golden Gate Bridge.
The warmest months are in September and October. This is when you will most likely find a clear day when the temperatures reach into the upper 60s to 70s. When the sun is out, you could sunbathe a little here if you don't mind the cool temps.
However, unless you are going clothing optional, I recommend bringing some layers to stay warm. This will allow you to add and remove clothing as you stroll around the beach and explore.
>> More about how to prepare for the weather
Clothing Optional Beach Area

The fact that it's hidden by the steep cliffs and takes a little more effort to get here means that fewer people tend to explore this beach. It's one of the reasons that nude sunbathers love it here.
No matter the temperature, you will find at least a handful of naked people here. They aren't shy either. Some like to stroll around the beach area without clothing, talk with their friends, and hang out in addition to sunbathing.
But, keep in mind there usually aren't very many people here, so you will still have plenty of spots to photograph the Golden Gate Bridge without any nude people getting in the way.
Most of the clothing-optional people on the beach tend to stick to the north end as this section is even more secluded—just something to keep in mind during your stay here.
Technically, local regulations do not allow nudity in San Francisco anymore, but as far as I know, no one is bothering the nude sunbathers here.
I'm sure you already figured out that Marshall's Beach isn't the best family-friendly attraction. I recommend skipping this one if you are traveling with kids or are not interested in this scene.
The closest beach is Baker Beach, where you will also get an amazing view. It's easier to get to, and there are fewer naked sunbathers here (they tend to stick to a small area on north Baker Beach).
Baker Beach is just a bit further south and a short hike from its parking lot. You can also hike down its famous Sand Ladder to reach the beach. Learn more about Baker Beach here.
Is Marshall's Beach a Gay Beach?

Marshall's Beach is a big draw for the gay community in addition to those that like nude sunbathing. It's been popular with gay men for years as it's quiet, slightly secluded, and offers amazing views.
If you are interested, it's a great place to meet other gay men and those interested in nude sunbathing.
How to Get Down to Marshall's Beach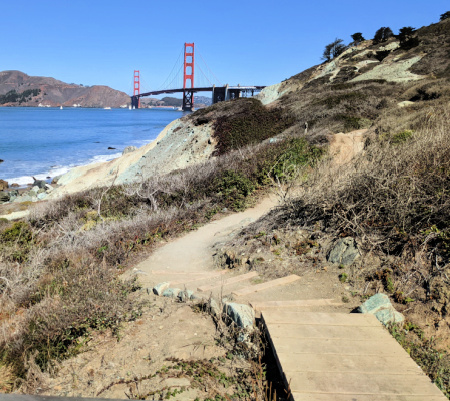 Part of the trail down to Marshall's Beach.
You have a couple of options to get down to Marshall's Beach.
The easiest way to reach the beach is to take the stairs down from the Batteries to Bluffs Trail. The stairs will take you on a winding path to get to the south side of this small beach. As you hike down them, it will feel like you are walking away from the beach, but it will snake back again and drop you off where you want to go.
The Batteries to Bluffs Trail is just off the main Coastal Trail, which is the one that is parallel to Lincoln Blvd.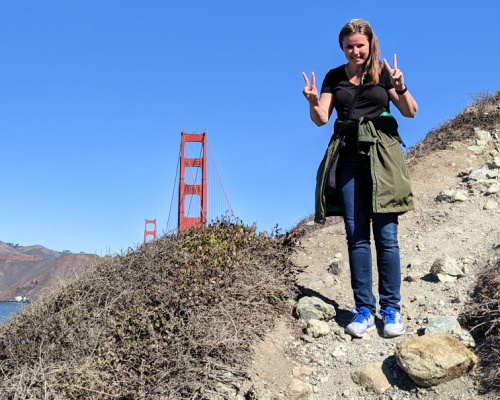 Me trying the steep trail down to Marshall's Beach.
The second option takes you down to the north end. This is a steep trail that I don't recommend unless you know where you are going. It starts near the Presidio Battery West and is almost straight down to the beach. Be careful on this one.
I've tried it (you can see part of it in the picture above) and I almost fell a few times.

How to Get Here

There are a few options to get to Marshall's Beach for the magnificent view of the Golden Gate Bridge. You can take public transit, an Uber/Lyft/Taxi, or drive.

Public Transit from Union Square

The fastest option from Union Square is to take one of the Golden Gate Transit buses that pick up along Mission Street. It's a little more expensive but will drop you off right south of the toll plaza.
You'll walk south and a little west until you reach the Battery to Bluffs Trail and then make your way down to the beach. This is not part of Muni, so you cannot use your Muni pass or passport to get here on the Golden Gate Transit buses.
The second option is to take Muni. You will need to transfer buses, which takes a bit more time.
The first option is to take the 38 from Geary and Stockton to the stop at Park Presidio and Geary. You'll then transfer to the 28, which will drop you off at the Welcome Center.
The second Muni option is to take the 30 from Stockton and Sutter Streets to the stop at Van Ness and North Point. This is where you will transfer to the 28 and drop you off at the Welcome Center.
Public Transit from Fisherman's Wharf

The best option from Fisherman's Wharf is to walk to the district's west side to pick up the 28. You will find the stop at Van Ness Avenue and North Point Street.
Take it to the bridge and then walk to Marshall's Beach.
Where to Park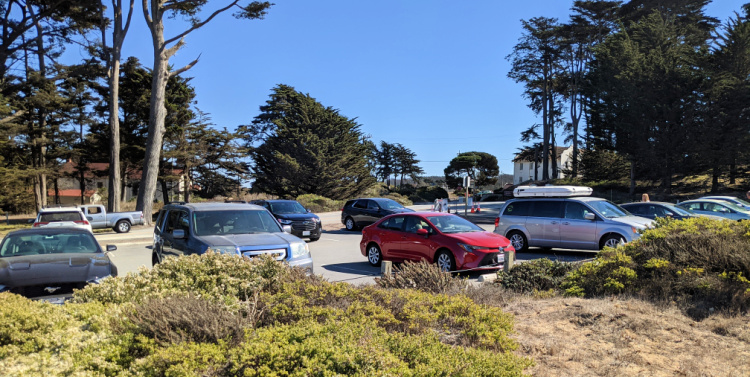 Parking near Marshall's Beach
If you plan to arrive by car, you will find several places to park all around the area. Many of these are busy during the weekends and on holidays but aren't too bad during the week.
Here are a few parking lots I recommend for anyone coming by car.
Langdon Court Parking Lot: This is a great jumping-off place to explore the spectacular views in this area. It's about a half-mile walk to the trail that will lead you down to Marshall's Beach. It's also just steps from the famous Golden Gate Overlook and Battery Godfrey.
CNG Parking Lot: This is a lot just across Lincoln Blvd. from the Langdon Court Parking lot.
Storey, Upton, and Ralston Avenues: You will also find several small lots along these three streets. They have five to ten spaces each. Make sure to check the signage as some of these are paid lots.
6302 Merchant Road Parking: This is another small lot off Lincoln Blvd. and Merchant Road. It's a popular spot for those coming to visit, so I recommend checking out the other parking lots on this list first if you plan to see Marshall's Beach.
>> Find additional advice on where to park when visiting
More Things to Do in the Presidio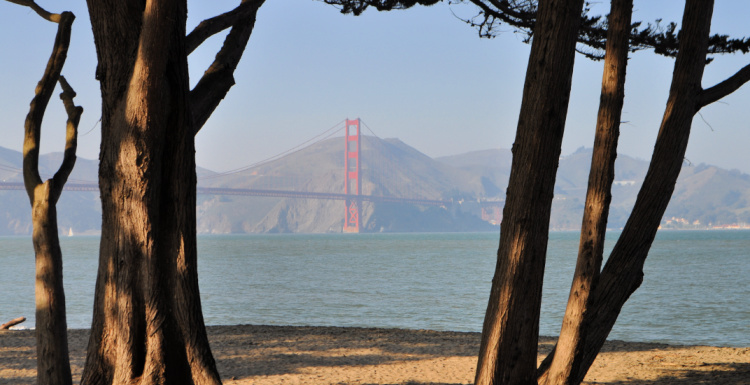 Crissy Field's view of the Golden Gate Bridge
Crissy Field: You will also get stunning views from Crissy Field. You will find this green space with a flat walking path on the bridge's eastern side. Pictures and visiting details here.
Walk Across the Golden Gate Bridge: One of the best things to do while you are here is to stroll across (or partially across). You can find more details and tips to prepare here.
Fort Point National Historic Site: This cool and free attraction is under the bridge. It's an army fort that is one of the oldest buildings in San Francisco. From its top floor, you will get some fascinating photos from underneath the Golden Gate Bridge. It's only open a few days a week. Learn more about visiting here.
More Attractions in the Presidio: You will also find various other fun things to do in the Presidio. Find my full list here.
Comments? Questions? Suggestions?
I would love for you to join me in my private Facebook group! 
It's a great place to interact with me and others who know the area well.
You can ask questions, get advice for your upcoming stay, and then share your photos and advice with others when you return home. It's a great community and the fastest way to get answers to those nagging questions about your visit!