San Francisco Night Tour Recommendations

Proof of vaccination is now required for certain indoor activities. Learn more here. 
A San Francisco night tour is a great way to learn about the city after dark. You will find tours that range from chilling ghost walks to our famous sunset bay cruises to outings with food or drinks or both!

One of my favorites is the night tour of Alcatraz. On this tour, you get to see what it was like to be inside this former federal prison at night. Since they limit the people on the night tour, unlike during the day, you have more space to move around and get a feel for the stories and events that happened there. 
You can also try something a little different, such as a night Segway tour. These easy-to-use vehicles offer you the chance to cover more distance in a short amount of time. This tour allows you a great view of the city lights after dark.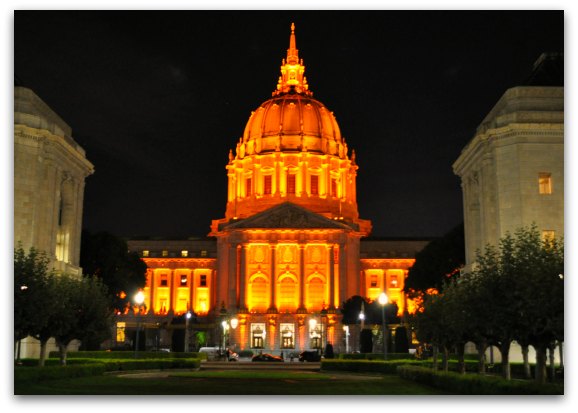 Disclaimer: I receive a small commission from some of the links on this page.

1. Alcatraz Night Tour

The most popular San Francisco night tour is the tour of Alcatraz. From my experience, this is the best way to experience the real Alcatraz. 
During the Alcatraz night tours, they limit the number of visitors. This allows them to open several additional areas of the prison for you to visit.
The last time we were there, they opened the upstairs hospital for visitors. This is where some of the most infamous prisoners of Alcatraz lived out their last days.

These tours are only available a few nights a week.

>> Learn more about the Alcatraz night tour

Insider's Tip: Don't forget to dress warm and bring along your jacket. Even in the summer, the nights here are cool and windy, so the extra layer will allow you to enjoy your San Francisco night tour even more! 

2. Double Decker San Francisco Night Tour

If you want to sit back and relax as you soak in the lights of San Francisco, then this next night tour is for you! Sit in the top of this double decker bus as your driver takes you past all of our top sights.
You will cruise through North Beach, past Chinatown, and see the Bay Bridge Lights. This tour also includes a ride through Union Square, up California Street, and past the Palace of Fine Arts.
In two hours, you will see most of what SF has to offer. This tour leaves at 6:30pm or 7pm depending on the time of year. This means that some months it will be after dark and other times the sun will still be shining.

>> Get more details about this popular tour and pick up tickets on the Big Bus Tour website

3. San Francisco Bay Sunset or Twilight Cruise

This San Francisco night tour starts with a ride by Alcatraz Island. You will then cruise past Angel Island and along the shores of Tiburon, Belvedere (an island with some of the most expensive homes in the US), and Sausalito.
You will watch the sunset or the evening lights as you cruise over to and under the Golden Gate Bridge. On your way back, you will ride along the shores of San Francisco while taking in the stunning skyline.
Along the way, you will enjoy food from a light appetizer buffet including treats such as small sandwiches, cheeses, and seasonal fruits and salads. The buffet also offers fresh vegetables, pizza breadsticks, and freshly baked cookies. 

A bar is available on board. Each ticket includes one drink pass, and then you can buy additional drinks.

This sunset cruise is available from April 1 - November 3.

In the winter months (November 4 - March 31), this cruise still runs, but with some slight modifications. Since the sun goes down earlier, you will not catch the sunset, but you will still get to enjoy the beautiful scenery and appetizer buffet as you cruise around the bay. 

>> San Francisco Bay Sunset Cruise
4. Sunset Photography Tour
Have you always wanted that perfect picture of the Golden Gate Bridge at night? If so, then this Sunset Photography Tour is your chance!
You will head out to several spots around the Golden Gate Bridge at sunset for that picture-perfect moment. Bring along your camera and your expert photography guide will help you capture the moment.
The tour runs most nights of the week and lasts for about 3 hours.

>> Visit Viator to learn more and pick up your tickets today

5. SF Downtown Craft Cocktails

The cocktail scene in San Francisco is hopping and this tour is a fun way to learn more about it. Your tour starts in Union Square at Pacific Cocktail Haven where you will get a short lesson on bitters.
You will then enjoy a cocktail and head back out to sample cocktails at two other locations. You will also make a few stops along the way to learn more about the Union Square District as well as uncover some of its hidden gems.
The tour is three hours long and also includes a couple of food pairings. It runs most Friday and Saturday nights starting at 6pm.

>> Get tickets for all dates on Viator
6. Night Segway Tour

Cruise through the streets of San Francisco at night on this fun guided 3egway tour. Your journey begins with a 40 to 45-minute training session. This will ensure you are 100% comfortable with your 3egway before you hit the streets.
You will then set off as you explore Chinatown, North Beach/Little Italy and Fisherman's Wharf. You will also get some great night views of the Transamerica Building, Alcatraz Island, and the Golden Gate Bridge.
The entire tour including training is about 2.5 hours and begins in Fisherman's Wharf.

>> Get tickets for all dates on Get Your Guide

7. SF Ghost Hunt

Do you love to chase ghosts? On this 2.5 to 3-hour walking trek, you will visit several historical and haunted places in San Francisco.
You will visit enchanted mansions with unwelcome guests, get the chance to touch eerie artifacts, and try to capture a ghost on film. Along the way, you will hear spooky, documented stories.
On the SF Ghost Hunt, you will walk one mile down tree-lined streets with beautiful Victorian architecture. There is only one moderate hill on the walk.

This tour is offered year-round on Wednesday through Sunday nights, departing from the Healing Arts Center at 1801 Bush Street at 7pm. 

>> Get tickets for all dates on Viator

8. San Francisco Dinner Dance Cruise

The San Francisco Dinner Dance Cruise is a long running bay cruise. This 2.5 to 3-hour San Francisco night tour includes a formal dinner and a live band.
During the cruise, you will get the chance to watch the sunset over the San Francisco Bay. You will also cruise past several popular SF attractions such as Alcatraz Island, Sausalito, and Angel Island. 
Throughout the tour, you will feast on a four-course meal made with local ingredients. The meal is prepared on board. Here is a sample menu*:

Starter
Dungeness Crab Spring Roll: Spring Greens, Mint, Avocado, Cilantro, Pickled Vegetables, Ginger Plum Sauce
Salad
Baby Greens: English Cucumber, Kalamata Olives, Goat Cheese, Almonds, Blood Orange Vinaigrette

Entree: choose one of these four options

1. Portobello Mushroom: Stuffed with Spinach, Artichoke Hearts, Asiago Cheese, Ratatouille, Quinoa Pilaf

2. Chicken Breast: Chive Mashed Potato, Garlic Pancetta Cream Sauce

3. Grilled Pork Chop: Scalloped Potatoes with Gruyere Cheese, Caramelized Onion Mustard Ragout

4. Seafood Paella: Grilled Salmon, Seasonal Shellfish, Sofrito Marinade
Dessert
Caramel Pot de Creme: Vanilla Cream and Gaufrette Cookies
*Subject to change based on availability of local ingredients
The dinner dance cruise is available several nights a week throughout the year.
A bar with alcoholic drinks is available. These drinks are an additional charge.

This is a more formal setting than the above-mentioned sunset cruise. The attire is nice, business casual dress. No jeans allowed.

>> San Francisco Dinner Dance Cruise on GetYourGuide

9. North Beach Pub Crawl

Check out the historic bars of North Beach on this fun pub crawl. Your local guide will take you back to the days of the Beat Generation so you can see where these famous writers and artists ate, drank, and often times, worked on their crafts.
During this 2.5-hour tour, you will stop by the Vesuvio Cafe which was a favorite of Jack Kerouac and right next door to the famed City Lights Bookstore. Here you will get your one complimentary drink--an Anchor Steam Ale, which has been brewed in San Francisco since 1896.
From here, you will walk by several other bars and restaurants as you learn more about this district's rich history. You will then stop at a couple of other watering holes, where you will purchase your own drinks and learn even more about each one.

Your tour will end at Washington Square in the heart of North Beach.

>> Find tickets for all dates on Viator

10. Chinatown and North Beach Night Walking Tour

This Chinatown and North Beach Night Walking Tour is one of the best ways to see both of these amazing and interesting districts. This San Francisco night tour starts at 6pm.
This two-hour tour gives you the highlights of both the Chinatown and North Beach neighborhoods. 
You start the tour in Chinatown, where you will enjoy dim sum from one of Chinatown's oldest bakeries, see how fortune cookies are made, and savor some traditional Chinese teas. 

You will also explore the real Chinatown including its mysticism and culture as you visit several local statues and landmarks. 

You will then head over to North Beach. Here you get to sample Italian coffee. You will also try some pizza and wine.

As you walk the streets of North Beach, you will learn more about the neighborhood's history, including some of the top hangouts of the Beat Generation. Then you will stroll into some authentic western saloons.

All tastings for this tour are included. 

>> Search for specific tour dates and buy tickets on GetYourGuide

---
Guided Walking Tours: What are the best guided walking tours? Here you will find some of the most popular ones, including the Flower Power Walk of the Haight-Ashbury, the Fisherman's Wharf Walk, and the Golden Gate Bridge Walking Tour. You can also find a current list of discounted tickets. 
Wine Tours from San Francisco: Do you love wine or want to learn more about it? Here you will find a list of some of the top tours from San Francisco to wine country. These tours visit Napa Valley, Sonoma Country, or both. Click through to learn more!
North Beach Walking Tours: Discover secret spots or sample authentic Italian treats on one of these North Beach walking tours. You'll also learn more about its famous residents, this neighborhood's role in the founding of the city of San Francisco, and other great SF attractions.

Chinatown Walking Tours: This is another popular, yet sometimes mysterious neighborhood. On these walking tours, you can also sample a variety of traditional Chinese delicacies, savors healing teas, and see how fortune cookies are made. You will also learn about the local culture and why Chinatown is considered a 'city within a city.'