San Francisco Night Tour Recommendations


by Jill Loeffler  •

Updated: January 26, 2023
A San Francisco night tour is a great way to learn about the city after dark. You will find tours that range from chilling ghost walks to our famous sunset bay cruises to outings with food or drinks or both!

One of my favorites is the night tour of Alcatraz. On this tour, you get to see what it was like to be inside this former federal prison at night. Since they limit the people on the night tour, unlike during the day, you have more space to move around and get a feel for the stories and events that happened there. 
You can also try something a little different, such as a night Segway tour. These easy-to-use vehicles offer you the chance to cover more distance in a short amount of time. This tour allows you a great view of the city lights after dark.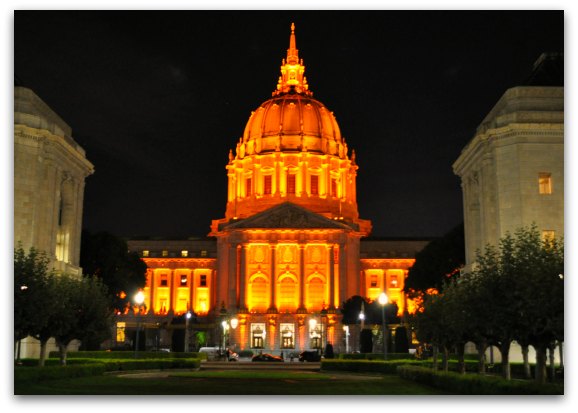 Disclaimer: I receive a small commission from some of the links on this page.

1. Alcatraz Night Tour

The most popular San Francisco night tour is the tour of Alcatraz. From my experience, this is the best way to experience the real Alcatraz. 
During the Alcatraz night tours, they limit the number of visitors. This allows them to open several additional areas of the prison for you to visit.
The last time we were there, they opened the upstairs hospital for visitors. This is where some of the most infamous prisoners of Alcatraz lived out their last days.

These tours are only available a few nights a week.

>> Learn more about the Alcatraz night tour

Insider's Tip: Don't forget to dress warm and bring along your jacket. Even in the summer, the nights here are cool and windy, so the extra layer will allow you to enjoy your San Francisco night tour even more! 

2. Double Decker San Francisco Night Tour

If you want to sit back and relax as you soak in the lights of San Francisco, then this next night tour is for you! Sit in the top of this double decker bus as your driver takes you past all of our top sights.
You will cruise through North Beach, past Chinatown, and see the Bay Bridge Lights. This tour also includes a ride through Union Square, up California Street, and past the Palace of Fine Arts.
In two hours, you will see most of what SF has to offer. This tour leaves at 6:30pm or 7pm depending on the time of year. This means that some months it will be after dark and other times the sun will still be shining.

>> Get more details about this popular tour and pick up tickets

3. San Francisco Bay Sunset or Twilight Cruise

This San Francisco night tour starts with a ride by Alcatraz Island. You will then cruise past Angel Island and along the shores of Tiburon, Belvedere (an island with some of the most expensive homes in the US), and Sausalito.
You will watch the sunset or the evening lights as you cruise over to and under the Golden Gate Bridge. On your way back, you will ride along the shores of San Francisco while taking in the stunning skyline.
Along the way, you will enjoy food from a light appetizer buffet including treats such as small sandwiches, cheeses, and seasonal fruits and salads. The buffet also offers fresh vegetables, pizza breadsticks, and freshly baked cookies. 

A bar is available on board. Each ticket includes one drink pass, and then you can buy additional drinks.

This sunset cruise is available from April - November.

In the winter months (November - March), this cruise still runs, but with some slight modifications. Since the sun goes down earlier, you will not catch the sunset, but you will still get to enjoy the beautiful scenery and appetizer buffet as you cruise around the bay. 

>> San Francisco Bay Sunset Cruise
4. Sunset Photography Tour
Have you always wanted that perfect picture of the Golden Gate Bridge at night? If so, then this Sunset Photography Tour is your chance!
You will head out to several spots around the Golden Gate Bridge at sunset for that picture-perfect moment. Bring along your camera and your expert photography guide will help you capture the moment.
The tour runs most nights of the week and lasts for about 3 hours.

>> Visit Viator to learn more and pick up your tickets today

5. Walk with Spirits: A Haunted Pub Crawl

This fun and unique tour is part bar-hop and part ghost tour. The spirits that you taste will be accompanied by spirits that have haunted SF's downtown streets since the Gold Rush era and the famous earthquake and fire of 1906.
Your guide will walk you through Jackson Square, "Devil's Acre," and the Barbary Coast, and finally you'll end up in Chinatown.
Along the way, you'll enter four ghost-ridden bars, and hear about the tragic stories of the miners, sailors, and women who walked there before you.
This tour starts at 6:30pm. Drinks are not included.
>> Find out more and make your reservation for this fun and spooky tour
6. Night Segway Tour (Seasonal)

Cruise through the streets of San Francisco at night on this fun guided Segway tour. Your journey begins with a 40 to 45-minute training session. This will ensure you are 100% comfortable with your Segway before you hit the streets.
You will then set off as you explore Chinatown, North Beach/Little Italy and Fisherman's Wharf. You will also get some great night views of the Transamerica Building, Alcatraz Island, and the Golden Gate Bridge.
The entire tour including training is about 2.5 hours and begins in Fisherman's Wharf.

>> Get tickets for all dates on Get Your Guide

7. SF Ghost Hunt

Do you love to chase ghosts? On this 1 to 1.5 hour walking trek, you will visit several historical and haunted places in San Francisco.
You will visit both the Nob Hill and Union Square Districts as you learn about infamous crimes and learn about each one's history. You'll hear about some of our famous haunted hotels, streets, and what really happened in the Sutter Building.
This tour is offered most nights of the week. You can select either the one hour or 90-minute tour.

>> Get tickets for all dates on GetYourGuide

8. San Francisco Dinner Dance Cruise

The San Francisco Dinner Dance Cruise is a long running bay cruise. This 2.5 to 3-hour San Francisco night tour includes a formal dinner and a live music.
During the cruise, you will get the chance to watch the sunset over the San Francisco Bay. You will also cruise past several popular SF attractions such as Alcatraz Island, Sausalito, and Angel Island. 
Throughout the tour, you will feast on a four-course meal made with local ingredients. The meal is prepared on board. 
The dinner dance cruise is available several nights a week throughout the year.

A bar with alcoholic drinks is available. These drinks are an additional charge.

This is a more formal setting than the above-mentioned sunset cruise. The attire is nice, business casual dress. No jeans allowed.
>> Find tickets for upcoming cruises
9. North Beach Pizza and Pub Crawl

This fun tour takes you on a stroll to some of North Beach's best pizza restaurants. SF is known for its amazing restaurants and dishes and on this tour, you'll find some of the best places for some pizza pie!
You'll sample everything from clam pizza (at Golden Boy Pizza - one of my personal favorites) to thin crust goodness at an award winning pizza joint. 
You'll also learn more about the history of pizza, the North Beach district, and each place you visit.
Dinner and beer is included. Additional drinks will cost extra.
>> Find tickets for all dates on Viator

10. Chinatown and North Beach Night Walking Tour

This Chinatown and North Beach Night Walking Tour is one of the best ways to see both of these amazing and interesting districts. This San Francisco night tour starts at 6pm.
This two-hour tour gives you the highlights of both the Chinatown and North Beach neighborhoods. 
You start the tour in Chinatown, where you will enjoy dim sum from one of Chinatown's oldest bakeries, see how fortune cookies are made, and savor some traditional Chinese teas. 

You will also explore the real Chinatown including its mysticism and culture as you visit several local statues and landmarks. 

You will then head over to North Beach. Here you get to sample Italian coffee. You will also try some pizza and wine.

As you walk the streets of North Beach, you will learn more about the neighborhood's history, including some of the top hangouts of the Beat Generation. Then you will stroll into some authentic western saloons.

All tastings for this tour are included. 

>> Search for specific tour dates and buy tickets on GetYourGuide

---
Guided Walking Tours: What are the best guided walking tours? Here you will find some of the most popular ones, including the Flower Power Walk of the Haight-Ashbury, the Fisherman's Wharf Walk, and the Golden Gate Bridge Walking Tour. You can also find a current list of discounted tickets. 
Wine Tours from San Francisco: Do you love wine or want to learn more about it? Here you will find a list of some of the top tours from San Francisco to wine country. These tours visit Napa Valley, Sonoma Country, or both. Click through to learn more!
North Beach Walking Tours: Discover secret spots or sample authentic Italian treats on one of these North Beach walking tours. You'll also learn more about its famous residents, this neighborhood's role in the founding of the city of San Francisco, and other great SF attractions.

Chinatown Walking Tours: This is another popular, yet sometimes mysterious neighborhood. On these walking tours, you can also sample a variety of traditional Chinese delicacies, savors healing teas, and see how fortune cookies are made. You will also learn about the local culture and why Chinatown is considered a 'city within a city.'

Comments? Questions? Suggestions?
I would love for you to join me in my private Facebook group! 
It's a great place to interact with me and others who know the area well.
You can ask questions, get advice for your upcoming stay, and then share your photos and advice with others when you return home. It's a great community and the fastest way to get answers to those nagging questions about your visit!