San Francisco Night Tour Recommendations
Discover SF's Ghosts, Cruise Around the Bay, or Head to Alcatraz
A San Francisco night tour is a great way to learn about the city after dark. You will find tours that range from chilling ghost walks to our famous sunset bay cruises.
One of my favorites is the night tour of Alcatraz. On this tour, you get to see what it was like to be inside this former federal prison at night. Since they limit the people on the night tour, unlike during the day, you have more space to move around and get a feel for the stories and events that happened there.
You can also try something a little different, such as a night segway tour. These easy-to-use vehicles offer you the chance to cover more distance in a short amount of time. This tour allows you a great view of the city lights after dark.
Half-Price Night Tour Tickets
Save on these popular night tours! Goldstar offers hundreds of tickets to tours and events for up to half-off the full ticket price.
California Sunset Cruise with light appetizer buffet, Full price $68, Goldstar price $40*
Alive After Five Happy Hour Cruise runs on Thursday nights with specialty cocktails and snacks available for purchase, two hour cruise leaves at 6pm, Full price $35, Goldstar $18*
Hornblower Supper Club Cruise with dinner, drinks and dancing, Full price $120.88, Goldstar price $72.52*
*Additional fees may apply. Tickets are limited to a handful of dates.
You will also find dozens of other tickets, events, and tours on Goldstar. Click here to find additional ways to save for your trip!
Alcatraz Night Tour
The most popular San Francisco night tour is the tour of Alcatraz. From my experience, this is the best way to experience the real Alcatraz.
During the Alcatraz night tours, they limit the number of visitors. This allows them to open several additional areas of the prison for you to visit.
The last time we were there, they opened the upstairs hospital for visitors. This is where some of the most infamous prisoners of Alcatraz lived out their last days.
These tours are only available a few nights a week. Learn more about the Alcatraz night tour.
Insider's Tip: Don't forget to dress warm and bring along your jacket. Even in the summer, the nights here are cool and windy, so the extra layer will allow you to enjoy your San Francisco night tour even more!
3 Most Popular San Francisco Night Cruises
These are three of the most popular San Francisco nighttime cruise tours.
1. San Francisco Bay Sunset Cruise
This is the less formal sunset bay cruise. For two hours, you will cruise around the bay soaking in the sights.
This San Francisco night tour starts with a ride by Alcatraz Island. You will then cruise past Angel Island and along the shores of Tiburon, Belvedere (an island with some of the most expensive homes in the US), and Sausalito.
You will watch the sunset as you cruise over to and under the Golden Gate Bridge. On your way back, you will ride along the shores of San Francisco while taking in the stunning skyline.
Along the way, you will enjoy food from a large appetizer buffet provided by Boudin Bakery, including treats such as small sandwiches, cheeses, and seasonal fruits and salads. The buffet also offers fresh vegetables, pizza breadsticks, and freshly baked cookies.
A bar is available on board. Each ticket includes one drink pass, and then you can buy additional drinks.
This sunset cruise is available from April 1 - November 3.
In the winter months (November 4 - March 31), this cruise still runs, but with some slight modifications. Since the sun goes down earlier, you will not catch the sunset but you will still get to enjoy the beautiful scenery and appetizer buffet as you cruise around the bay.
Read additional reviews and find tickets for the San Francisco Bay Sunset Cruise.
Cost: $64 per person
---
2. San Francisco Dinner Dance Cruise
The San Francisco Dinner Dance Cruise is a long running bay cruise. This 2.5 to 3-hour San Francisco night tour includes a formal dinner and a live band.
During the cruise, you will get the chance to watch the sunset over the San Francisco Bay. You will also cruise past several popular SF attractions such as Alcatraz Island, Sausalito, and Angel Island.
Throughout the tour, you will feast on a four-course meal made with local ingredients. The meal is prepared on board. Here is a sample menu*:
Starter
Dungeness Crab Spring Roll: Spring Greens, Mint, Avocado, Cilantro, Pickled Vegetables, Ginger Plum Sauce
Salad
Baby Greens: English Cucumber, Kalamata Olives, Goat Cheese, Almonds, Blood Orange Vinaigrette

Entree: choose one of these four options

1. Portobello Mushroom: Stuffed with Spinach, Artichoke Hearts, Asiago Cheese, Ratatouille, Quinoa Pilaf

2. Chicken Breast: Chive Mashed Potato, Garlic Pancetta Cream Sauce

3. Grilled Pork Chop: Scalloped Potatoes with Gruyere Cheese, Caramelized Onion Mustard Ragout

4. Seafood Paella: Grilled Salmon, Seasonal Shellfish, Sofrito Marinade
Dessert
Caramel Pot de Creme: Vanilla Cream and Gaufrette Cookies
*Subject to change based on availability of local ingredients
The dinner dance cruise is available Sunday through Thursday nights starting at 7pm. It also runs on Friday and Saturday nights at 7:30pm.
A bar with alcoholic drinks is available. These drinks are an additional charge.
This is a more formal setting than the above-mentioned sunset cruise. The attire is nice, business casual dress. No jeans allowed.
Find tickets for the San Francisco Dinner Dance Cruise on Viator.
Cost: $137.66 per person
---
3. San Francisco Bay Sunset Catamaran
The San Francisco Bay Sunset Catamaran cruise is a more personal San Francisco night tour. This 90-minute cruise on an Adventure 55' or 65' catamaran gives you unobstructed views of the attractions around the bay.
You'll see Alcatraz Island, the Golden Gate Bridge, and the San Francisco skyline. This San Francisco night tour also includes some light appetizers and two drink tickets per person.
You can choose from a protected seating area that keeps the wind off your face, or a front-and-center view on an open canvas trampoline net. Either way, you'll get to see all that the San Francisco bay has to offer.
The schedule varies based on the season. It will leave around 4pm or 5pm in the winter, around 6 or 6:30pm in the spring and fall and around 6:30 or 7pm in the summer.
Read more reviews and get your tickets today!
Cost: $55 per person
More Fun San Francisco Night Tour Options
Ghost Walking Tours
SF Ghost Hunt
Do you love to chase ghosts? On this three-hour walking trek, you will visit several historical and haunted places in San Francisco.
You will visit enchanted mansions with unwelcome guests, get the chance to touch eerie artifacts, and try to capture a ghost on film. Along the way, you will hear spooky, documented stories.
On the SF Ghost Hunt, you will walk one mile down tree-lined streets with beautiful Victorian architecture. There is only one moderate hill on the walk.
This tour is offered year-round on Wednesday through Sunday nights, departing from the Queen Anne Hotel at 1590 Sutter Street at 7pm. Reservations are required by 5pm.
Cost: $25 per person
---
Haunted Haight Walking Trip
The Haunted Haight Walking Trip is another fun San Francisco night tour. On this one, you will learn about the ghosts roaming around this famed SF neighborhood.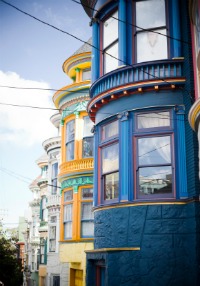 Many of the stories you will hear on this two-hour walk are well known legends. You will also hear several documented and researched ghost stories.
Over the years, the Haight-Ashbury District was home to several famous musicians. However, many people don't realize that several infamous murderers and cult leaders also lived here. On this tour, you'll get the chance to walk by their former residences and hear their stories.
Your local guide is a longtime resident of the Haight and expert on its haunting stories. He is also founder and president of the San Francisco Ghost Society.
You do need to book tickets in advance, as you will also receive a free guidebook and map. The tour starts at 7pm sharp, so you'll want to show up a few minutes early. You'll meet your expert guide at 1206 Masonic Avenue at Coffee to the People.
Cost: $20 per person
This tour is not recommended for kids under 13.
---
SF Library Free Ghost Walking Tours
The San Francisco Public Library also offers two ghost walking tours. Both are only given in October to coincide with Halloween. I've been on both and they are worth the effort if you are around in October.
These SF Library tours are free, but they do ask for donations at the end. Find dates and times for both of these tours on my Ghost Walking Tours page.
Ghost Walk at the Palace Hotel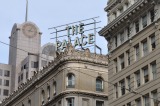 The Palace Hotel is a historic and well known San Francisco gem. During this San Francisco night tour, you'll hear stories about the kings and presidents that died here. You will also hear about some famous romances that ended here tragically.
You'll also get access to some behind-the-scenes rooms that are only open for special events or private parties. In these places, you'll discover even more stories reported by guests and staff.
This tour meets in the lobby of the main entrance at 2 New Montgomery Street. It lasts around an hour and includes many stairs and an escalator. There is an elevator available, but it is on the other side of the hotel, quite a distance from the tour route.
Cost: Free
---
Ghost Walk at City Hall
The Ghost Walk at City Hall is one of my favorite San Francisco night tours. On this one, you get unprecedented access to City Hall and the rooms where many horrific events occurred.
This one-hour journey includes chilling stories of buried remains, assassinations, and other ghostly sightings. You will also hear little known facts about City Hall including the cemetery that used to cover the Civic Center area.
This one meets at the South Light Court. This entrance is on Polk Street and is called Goodlett Place.
You will need to go through security to enter the building, so please arrive early in order to get through on time to the start of the tour. The tour moves slowly, but does include several stairs. Again, there are elevators, but they are quite a distance from the tour route.
Cost: Free
Other Night Walking Tours
North Beach by Night: San Francisco Night Walking Tour
In addition to the ghost walking tours mentioned above, the SF Public Library also offers a San Francisco night tour of North Beach.
On this tour, you'll learn the history of this famous neighborhood, including its bars, bordellos, and beatniks.
The tour is offered every Sunday and Monday night at 7pm. The tour starts in front of Specs Cafe at 12 Saroyan Place, just off Columbus Avenue and south of Broadway. You do not need to register, just show up a little before 7pm and sign in with the tour guide.
Cost: Free
---
Chinatown and North Beach Night Walking Tour
Another way to see Chinatown at night is on the Chinatown and North Beach Night Walking Tour. This San Francisco night tour also starts at 6pm.
This two-hour tour gives you the highlights of both the Chinatown and North Beach neighborhoods.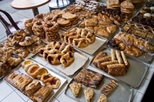 You start the tour in Chinatown, where you will enjoy dim sum from one of Chinatown's oldest bakeries, see how fortune cookies are made, and savor some traditional Chinese teas.
You will also explore the real Chinatown including its mysticism and culture as you visit several local statues and landmarks.
You will then head over to North Beach. Here you get to sample Italian coffee. You will also try some pizza and wine.
As you walk the streets of North Beach, you will learn more about the neighborhood's history, including some of the top hangouts of the Beat Generation. Then you will stroll into some authentic western saloons.
The San Francisco Bay Guardian named this tour as a "Best Tour for 2011".
All tastings for this tour are included. Search for specific tour dates and buy tickets on Viator.com.
Cost: $69 per person
Other Tours You Might Enjoy
---
Guided Walking Tours: What are the best guided walking tours? Here you will find some of the most popular ones, including the Flower Power Walk of the Haight-Ashbury, the Fisherman's Wharf Walk, and the Golden Gate Bridge Walking Tour. You can also find a current list of discounted tickets.
Wine Tours from San Francisco: Do you love wine or want to learn more about it? Here you will find a list of some of the top tours from San Francisco to wine country. These tours visit Napa Valley, Sonoma Country, or both. Click through to learn more!
North Beach Walking Tours: Discover secret spots or sample authentic Italian treats on one of these North Beach walking tours. You'll also learn more about its famous residents, this neighborhood's role in the founding of the city of San Francisco, and other great SF attractions.
Chinatown Walking Tours: This is another popular, yet sometimes mysterious neighborhood. On these walking tours, you can also sample a variety of traditional Chinese delicacies, savors healing teas, and see how fortune cookies are made. You will also learn about the local culture and why Chinatown is considered a 'city within a city.'
Other Pages You Might Enjoy