Best Places to Stay in San Francisco: Union Square vs. Fisherman's Wharf
What are the best places to stay in San Francisco? This question comes up often for those visiting for the first time.

The two most popular districts are Union Square and Fisherman's Wharf. Both have plenty of brand name and local options. It's also where the largest concentration of hotels is located.
So, how do you decide which is best? Read on to learn more about selecting the right district as well as some specific hotel recommendations for each. I've also included a few options in some of my favorite, more local areas.
Disclaimer: I receive a small commission from some of the links on this page.

Best Places to Stay in San Francisco: Union Square

One of the best places to stay in San Francisco is in Union Square. It's the perfect choice for those visiting for the first time or those that have visited already.
The reason this is such a great choice is that it's centrally located, you can easily access public transportation, and there are a wide range of options from budget accommodations to five-star gems.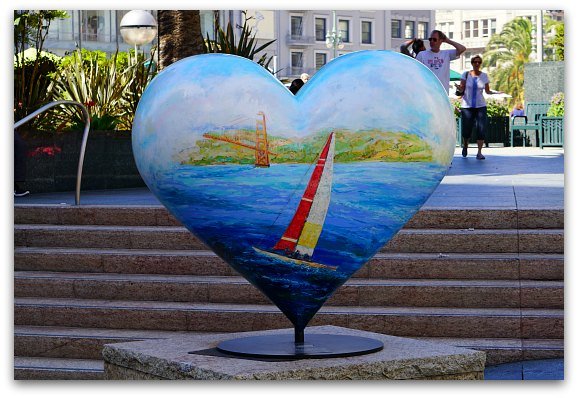 In Union Square, you are walking distance to high-end and budget-friendly shopping, a variety of restaurants, and fun areas to enjoy our nightlife. You are also just a quick walk or cab ride away from Oracle Park where you can catch an SF Giants game, the theater district where you can see a traveling Broadway show, or unique districts such as Chinatown, North Beach, and Nob Hill.
You can also easily get to the attractions and activities in Fisherman's Wharf. It's about a 20 to 25-minute ride by bus or historic streetcar.
When I'm asked about the best places to stay in San Francisco, Union Square is my answer most of the time.
Here are a few of the top-rated hotels in this district.
Westin St. Francis: 335 Powell Street, directly across the street from Union Square, 4-star historic hotel right on the cable car line
The Orchard Hotel: 665 Bush Street, a couple of blocks from the square and near the cable car lines, 4-star hotel
Chancellor Hotel: 433 Powell Street, one block from the square, close to restaurants, shops, and public transit, 3-star
The Inn at Union Square: 440 Post Street, smaller boutique hotel, friendly staff, 3.5 stars
Click here to find recent guest reviews and more details for these hotels and others.
You will also find some additional recommendations on my Union Square hotels page.
Additional Information on Union Square

Things to Do in Union Square: Find tips and ideas on what there is to see and do here. It also includes information on places close by. Discover more here.
Theater Calendar: If you would love to see a show during your stay, this is where you will find a calendar of upcoming performances. The largest productions are usually booked about a year in advance, while smaller theaters add new performances all of the time. Check back often to find new listings for your stay.
SF Museum of Modern Art: The SF MOMA is just a short walk away from Union Square which is another reason it's one of the best places to stay in San Francisco. This modern arts museum offers thousands of pieces from well-known artists from around the world. Find visiting tips here.
SFO to Union Square: Use my comprehensive guide to help you get from SFO to Union Square.
Downtown SF Hotels: You will also find some other great hotels in Union Square and all around downtown SF on my downtown SF Hotels page. View them here. 
Fun Tours and Activities Around Union Square
Fisherman's Wharf

If you are a first-time visitor and only staying for a few days, one of the best places to stay in San Francisco for you is Fisherman's Wharf. This busy district is along the waterfront where you will find the ferries to Alcatraz, Pier 39, and where many of our SF Bay tours leave.
In addition, it's home to other popular attractions such as the Wax Museum, Ripley's Believe It or Not, and Ghirardelli Square. You will also find some great seafood restaurants.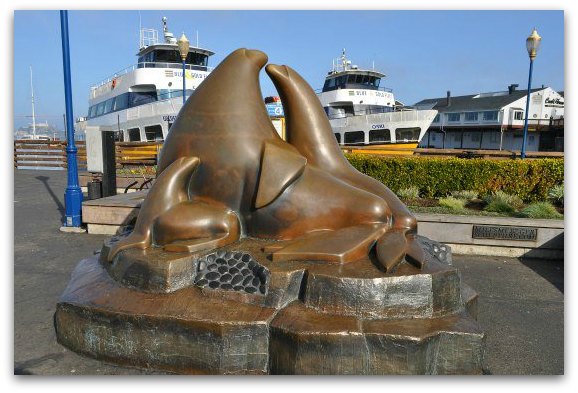 It's also a great option if you are traveling with kids. You will find kid friendly options all around SF (find my list of the best ones here), but a large concentration of them are in Fisherman's Wharf. Even if you are staying for several days, you will find plenty to do here with the entire family.
Here are a few of the best places to stay in San Francisco in this district.
Argonaut Hotel: 495 Jefferson Street, nautical themed hotel across the street from the waterfront, western side of Fisherman's Wharf, 4.5 star
Best Western Plus The Tuscan: 425 North Point Street, two blocks from the waterfront and all of the action, 4 star
Hotel Zephyr: 250 Beach Street, funky hotel near the waterfront, fun games and activities in the courtyard, 3.5 stars
Courtyard Fisherman's Wharf: 580 Beach Street, two blocks from water, nice and clean, easy to get around the district, 3-star
Find additional recommendations and recent guest reviews
Find additional lodging recommendations in Fisherman's Wharf here.
More Planning Tips for Staying in Fisherman's Wharf

Things to Do in Fisherman's Wharf: You can also use this page to plan your visit. It's a list of the 50 best things to do in this district by the water.
Where to Eat: My guide offers information on the best places to eat around Fisherman's Wharf. You'll find ideas for breakfast, lunch, and dinner as well as some options for seafood. Check it out here. 
SF Bay Cruises: Find a list of the best options and book your tickets before you arrive. Details here.
Tips to Visit Alcatraz: Millions of people visit Alcatraz every year. If it's your first visit to San Francisco, make sure to check out the tours to Alcatraz to learn more about this infamous federal prison. More info here.
Pier 39: This popular spot is home to dozens of shops, restaurants and activities. Some of the best include the 7D Experience and the Aquarium of the Bay. Learn more about Pier 39.
SF Airport to Fisherman's Wharf: Use my guide to help you plan your transit from SFO to Fisherman's Wharf.
Getting Around SF: This guide offers my tips on how to get from this district to other top districts and attractions around San Francisco. Find out more here. 
More Fun Ideas for Fisherman's Wharf
Where to Find Hotel Deals

Now that you have an idea on the best places to stay in San Francisco, I recommend checking out these two sites for deals. SF hotels can be very expensive, so make sure to shop around for some deals before booking.

Booking: Find great deals all around San Francisco for your upcoming stay! 

TripAdvisor: What's the #1 hotel in San Francisco? Read reviews & find hotel deals on TripAdvisor!
VRBO: In addition to hotels, you'll also find some great places to stay locally through VRBO. Book an apartment or a room and feel more like a local. Find some great places to stay on VRBO here. 
Other Places to Consider

In addition to these two best places to stay in San Francisco, you will find smaller hotels in other districts around town. These are great for those looking for more of a local feel or those wanting to try something different.
Here are a few other places to look:
Civic Center & Hayes Valley: This district is close to City Hall and SF Opera, Ballet, & Symphony Shows. If you are a foodie, you will also find many of the best new restaurants in Hayes Valley. Find details here.
Haight Ashbury: This district was home to the "Summer of Love" and other 60s events. Today, you will find local shops, vintage clothing, and a funky, colorful vibe. Tips to visit.
Nob Hill: Head up the steep hills from Union Square and you will find the Nob Hill District. This area offers both high-end hotels and some great local gems. Get tips to visit this district and my recommendations on where to stay.
I've also created some recommendations based on type of hotel. These are great if you are on a tight budget, traveling with pets, or want a quaint boutique hotel.
Cheap Hotels: My list includes clean, comfortable inexpensive options. Find my recommendations
Pet Friendly: If you decided to bring along your four-legged friend, then you will find plenty of places to allow dogs all around town. Discover my list here.
Boutique Options: Boutique hotels typically offer a more personalized experience. They offer fewer rooms, so you feel more at home. Here are some of my recommendations.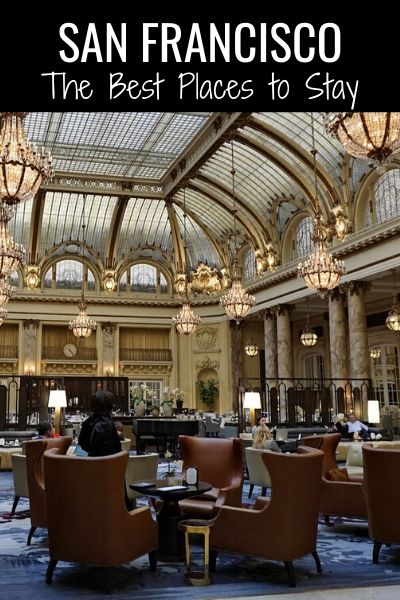 Comments? Questions? Suggestions?
I would love for you to join me in my private Facebook group! 
It's a great place to interact with me and others who know the area well.
You can ask questions, get advice for your upcoming stay, and then share your photos and advice with others when you return home. It's a great community and the fastest way to get answers to those nagging questions about your visit!