Boutique Hotels in San Francisco: Nine of the Best in the City
Staying at one of the boutique hotels in San Francisco is a great SF lodging alternative. Here you will find 9 of the best options, from bed and breakfasts to small, personal hotels.

Many of the recommendations on this list are in local neighborhoods, yet still close to the main SF attractions and activities. Staying at a boutique hotel in San Francisco is the perfect way to get a true SF experience.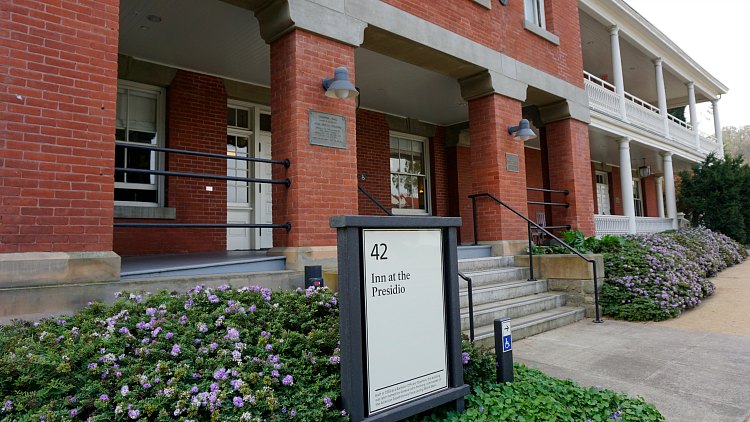 Disclaimer: I receive a small commission from some of the links on this page.

1. Union Street Inn

Address: 2229 Union Street
Nightly Rates: Range from $219 - $329
# of Rooms: 6
Neighborhood: Marina District
The most requested of the boutique hotels in San Francisco is the Union Street Inn. This small bed and breakfast is located on Union Street, where you will find lots of cute shops, restaurants, and wine bars.
It's about a 15-minute walk to Fisherman's Wharf, a 10-minute walk to the Presidio, and only about a 10-minute walk to the waterfront. There is good public transportation in this neighborhood, too, so you can easily take the bus to see other key neighborhoods and top sights.
Guests absolutely love this place, especially the charm, hospitality, and pampering touches, like fresh fruit in the rooms and wine and cheese receptions every afternoon.
Here are some of the additional amenities at the Union Street Inn:
Breakfast included
Free high-speed internet
Suites available
Air conditioning
Quaint backyard garden
Read what other travelers have to say about the Union Street Inn and find booking details on TripAdvisor.
2. Inn at the Presidio

Address: 42 Moraga Avenue
Nightly Rates: From around $323 - $512
# of Rooms: 22
Neighborhood: Presidio
This is a newly opened inn situated inside the San Francisco Presidio, a National Historic Landmark. Here, you will find large, quiet rooms in remodeled army officers' quarters.
Of the 22 rooms, 17 are suites with a gas fireplace and a sofa sleeper. The hotel also features an outdoor patio with a gas fire pit, porches with rocking chairs, and large public lobbies.
Amenities here include:
Free Wifi throughout the hotel
Continental breakfast
Daily morning newspaper
Affordable and convenient parking (around $8 a day)
Afternoon wine and cheese receptions
The hotel also provides free shuttles to get around the Presidio (which contains attractions like the Disney Museum, Officer's Club, and more), as well as to and from the Golden Gate Bridge and downtown.
You can also take a pleasant walk or public transportation from the hotel to get to Baker Beach, Crissy Field, Fisherman's Wharf, Union Square, and other popular areas.
Compare online prices and read recent guest reviews for the Inn at the Presidio on TripAdvisor.
3. Queen Anne Hotel

Address: 1590 Sutter Street
Nightly Rates: From $186 - $345
# of Rooms: 48
Neighborhood: Pacific Heights/Japantown
The Queen Anne Hotel is one of the larger boutique hotels in San Francisco. Set in the beautiful Pacific Heights neighborhood, this historic, Victorian style building that dates back to 1890 sits proudly on the corner of Sutter and Octavia.
Inside, you'll find charming accommodations with stained glass windows and antiques throughout. Each room is individually decorated with Victorian pieces, which adds to the hotel's character.
Amenities at the Queen Anne Hotel include:
Free continental breakfast
Free wireless internet access
Business center
Cable/satellite TVs
Room service
Laundry service
Limo or town car service for a small fee
Discounted access to three health clubs within a few blocks of the hotel
Discover recent guest reviews and the best deals for your stay at the Queen Anne Hotel on TripAdvisor.

4. The Inn San Francisco

Address: 943 South Van Ness
Nightly Rates: Range from $222 - $327
# of Rooms: 21
Neighborhood: Mission District
Another interesting option for boutique hotels in San Francisco is The Inn San Francisco in the Mission District. This small bed and breakfast is warm and inviting.
With a quiet outdoor garden, a gorgeous rooftop terrace, and cozy fireplaces, you are sure to feel at home. You will also be close to some of the best restaurants and bars in the city.
Other amenities at this bed and breakfast include:
Free breakfast buffet
Free high-speed internet
Hot tub in the garden
Panoramic views from the rooftop
Shared or private bathrooms available
Individually decorated rooms
Refrigerator and TV in room
If you are a light sleeper, make sure you check the noise level of your room before booking. Some rooms are just steps off noisy Van Ness Street, but there are also several quieter options in the back.
Find more tips from recent guests and compare prices for The Inn San Francisco on TripAdvisor.
5. The Parsonage

Address: 198 Haight Street
Nightly Rates: From about $220 - $280
# of Rooms: 5
Neighborhood: Civic Center/Hayes Valley
Another one of my favorite boutique hotels in San Francisco is The Parsonage. This bed and breakfast is located in one of the hottest San Francisco neighborhoods, where new bars and restaurants are opening up daily.
Rooms at The Parsonage are comfortable and quiet. The owners take great care of both their property and their guests, so you are sure to have a great experience here.
Amenities at The Parsonage include:
Free breakfast
Free high-speed internet access
Queen beds with superior linens
Marble showers
Fireplaces and/or views from all the rooms
Read recent guest reviews for The Parsonage on TripAdvisor.
Other Great Boutique Hotels San Francisco

6. Parker Guest House: 520 Church Street, Castro/Mission neighborhoods
Cute bed and breakfast located between the Castro and Mission neighborhoods
Free breakfast, free high-speed internet, and personalized service
21 rooms
Rooms start at around $149 - $275 a night
7. The Metro Hotel: 319 Divisadero Street, Alamo Square neighborhood
Small, budget friendly hotel (one of the best values for boutique hotels in San Francisco)
Central location near the Haight-Ashbury District and Golden Gate Park
Free high-speed internet access
Beautiful private garden courtyard only for hotel guests
24 rooms
Rooms from $88 - $150 a night
8. Golden Gate Hotel: 755 Bush Street, Lower Nob Hill
Charming, centrally located bed and breakfast with antique decor
Resident cat, Pip, roaming freely around the hotel
Free high-speed internet access
Breakfast included
25 rooms
Rooms for about $167 - $249 a night
9. Phoenix Hotel: 601 Eddy Street, Civic Center neighborhood
Recently remodeled hotel targeting a young, art loving crowd (many traveling bands like to stay here due to its location and funky vibe)
Bar/lounge and restaurant on site
Free high speed internet, breakfast and parking
Outdoor swimming pool
44 rooms
Rooms from $189 - $335 a night
Find the best deal, compare prices, and read what other travelers have to say about these and other boutique hotels in San Francisco on TripAdvisor.
Other SF Hotel Options

Booking: Find great deals all around San Francisco for your upcoming stay! 

TripAdvisor: What's the #1 hotel in San Francisco? Read reviews & find hotel deals on TripAdvisor!
VRBO: In addition to hotels, you'll also find some great places to stay locally through VRBO. Book an apartment or a room and feel more like a local. Find some great places to stay on VRBO here.