SFO to Union Square: Tips to Select Your Best Transfer Options


by Jill Loeffler  •

Updated: April 18, 2023
Are you looking for the best way to get from SFO to Union Square in San Francisco? There are several different options to get you from San Francisco International Airport to your hotel in the heart of the city.
The six options are BART (public transportation called the Bay Area Rapid Transit), rental car, an airport shuttle, Lyft/Uber, SF Taxi, and a private car. 
However, there are a few things you will want to think about before you select which one is the best for you.
Disclaimer: I receive a small commission from some of the links on this page.

Distance from SFO to Union Square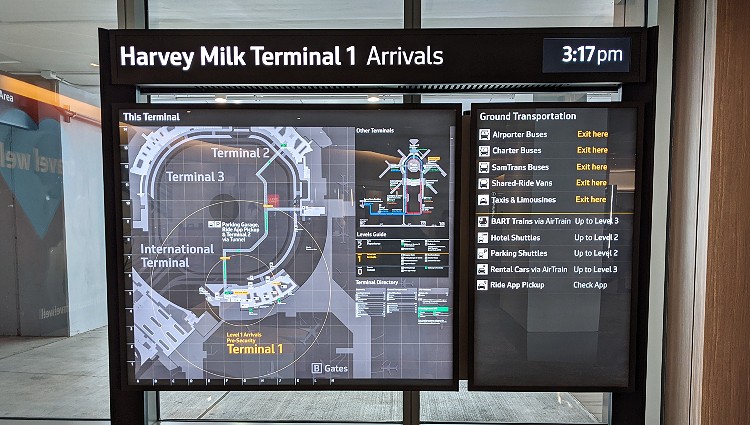 The San Francisco International Airport is south of the city. It's about a 12-mile drive from the airport to the heart of the district. It takes about a 20 to 25-minutes by car.
It takes about 35 minutes if you take a BART train.
A Little About Union Square

Union Square in San Francisco is one of the most popular places for visitors to stay. This district is in the heart of the city and it's close to quite a few public transportation options. This makes it easy to get to other parts of the city.
The district is only about five blocks by five blocks, so it's easy to walk around the district once you are here. You will find dozens of restaurants and quite a few fun nightlife options.
This is also where you will find the largest concentration of hotels in the city, which is why most people decide to stay here. 
>> More about visiting Union Square
Layout and Hills in Union Square San Francisco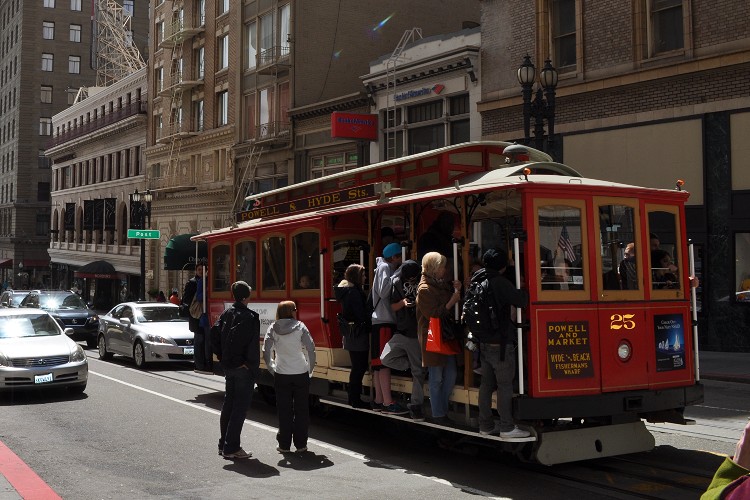 The district is on a hill that is lower on the southern end but moves to a steeper incline once you hit the northern side. 
Market Street is its southern border and the first three blocks north of Market are mostly flat with a small incline.
Powell Street is an east west street that runs through this district. This is where you will see the hill starts to get steep and continues to get steeper and steeper the further north you walk.
If your hotel is anywhere north of Powell, then it will take a little more effort to get up the hill and get to your hotel. It's one of the first things you want to think about when deciding which option from SFO to Union is right for you.
>> Details about riding our famous cable cars
Fun Things to Do Around SF
Traveling with a Lot of or Just a Little Luggage

The second thing you will want to consider is how much luggage you have with you.
If you are a light packer and can easily carry or drag along your luggage with little effort, then you will have more options and public transit might be a good fit for you.
However, if you are staying longer or packed more than you can easily manage on your own, then you probably want to look at an Uber/Lyft, shuttle, Taxi, or a private car. 
With a steep hill and a lot of luggage, it's going to be a challenge to get to your hotel in certain parts of the Union Square district.
Traveling with Babies and Toddlers

If you are traveling from SFO to Union Square with babies or toddlers, you will need a baby or car seat if you plan to go by car. California law stipulates the following:
All children under 2 are required to be in a rear-facing car seat.
All children between 2 and 8 need to be secured in a car or booster seat. If they are over 4'9", they can either be secured by a booster seat or a seat belt.
Most of our cabs/Ubers/Lyft drivers do not carry baby or booster seats with them. While some will allow you in their car without one, it isn't legal or safe, and the driver could be stopped and ticketed.
Most will not allow you to drive in the car with them.
Taxis and cab companies will sometimes have car or booster seats available to them. If you contact them ahead of time, they can make arrangements for you. They will charge you for this service, but it's the safest and easiest way to travel by car.
The California law does not apply to public transit, so you could use BART to get to your hotel and around the city without having to deal with a car or booster seat.
Free Hotel Shuttles

I get a lot of questions about free hotel shuttles. San Francisco hotels do not have free shuttles from SFO to Union Square. This is due to several reasons including the cost to run a shuttle this far away and the fact that SFO is not inside San Francisco, but instead is in a whole different county.
If you are staying near SFO, you most likely will find some free shuttles since they are nearby each other.
However, you will not find this service at any hotel in Union Square. A few higher-end, luxury hotels offer private car services, but this is very rare.
>> Hotel recommendations for Union Square
Arriving During Rush Hour Traffic

The traffic in the San Francisco Bay Area is notoriously bad. You will find that both the morning and evening traffic is congested, so this is another consideration.
The morning traffic will impact your drive from SFO to Union Square. Most people commute into the city for work.
The morning commute traffic usually runs from around 6:30 am to around 8:30 am. If you arrive during this time and plan to drive or have someone drive you into the city, add another 25 to 25 minutes to your commute time. If there is an accident, it could add an hour or more to your transfer time.
There are also challenges with the evening commute. The evening commute runs from around 4 pm to around 6:30 pm. Although you won't have problems on the first half of the trip, you will run into Bay Bridge traffic as you near your exit for Union Square. This usually adds another 15 to 20 minutes to your ride into San Francisco.
I usually recommend that people take BART if you arrive during the week during the commute hours.
Arriving After Dark

You will also want to think about what time you are arriving. If you are arriving after the sun goes down, your best bet is going to be to take a private car, taxi, or Uber/Lyft. 
However, if you know your way around and feel comfortable with where you need to go, then you could still take BART from SFO to Union Square.
Arriving Around Midnight or After Public Transit Closes

The final consideration is if you arrive around midnight or later. The last BART train leaves SFO a few minutes after midnight.
If you arrive this late, I recommend looking at taking an Uber/Lyft or a taxi to your hotel as it's easy to miss the last train if you are rushing from your gate.
Parking in San Francisco

One of the options that I haven't talked much about at all is renting a car. I don't recommend this for most people. Parking is expensive and can add another $50 or more to your daily rate at your hotel. Plus, many hotels in Union Square do not have parking so you will be stuck finding a public garage to park your car.
If you need a car to get outside of SF for the day, you can book a car right in Union Square for the day or for a couple of days. The bookings are for 24 hours, so you will have plenty of time to explore outside the SF city limits. 
Public transit, Uber/Lyft, and cabs are easy in SF and are the best option unless you really need a car for a day or two.
Staying in Fisherman's Wharf? Check out my guide for the best ways to get from SFO to Fisherman's Wharf.
More About All Six Options

Here are a few additional details about all six options for getting from SFO to Union Square in San Francisco. 

1. Uber/Lyft from SFO to Union Square

This seems to be one of the most popular options these days. When these two car companies first started in San Francisco, their rates were quite a bit cheaper than taking a cab or a taxi. 
This made a lot of people switch to them as a favored mode of transportation. 
However, those days are over, and prices are starting to increase. Recently, both companies increased their rates and, while they are still a little less expensive than a cab, their prices are quite a bit more expensive than they used to be.
One of the cons with this option is that you also don't know who you will be paired with, their driving skills, or what type of car you will be driving in. It usually isn't a problem, but something to keep in mind as all these drivers are amateurs and not trained to professionally drive people around the city. 
SFO set up a specific area for these cars to pick up passengers. It is not at the arrivals area, but instead on level 5 of the parking garage across from arrivals and departures.
It takes about 10 to 15 minutes to walk to the pickup area so if you are carrying a lot of luggage, leave a little extra time. Most of the area is also open air with only a little covered area.
The pickup area has different sections. You will find the area your car will pick you up in your app. 
Due to the number of people selecting this option, you usually don't have to wait more than a few minutes before your ride arrives.
It will cost anywhere from $35 to $50 to get from SFO to Union Square before a tip. How much should you tip? I usually tip around 15 to 20% if the ride was good.
Make sure to check the car, and license plate of the car picking you up. Sometimes two cars arrive that look alike, and people sometimes get in the wrong one (yes, this happened to us!).
2. Taxis or Cabs from San Francisco International Airport to Union Square

Professional taxis are another great option to get you into San Francisco. This is a good choice for those looking for more of a professional ride with an experienced driver. 
You will find them in a designated area outside the doors of the arrivals area. You will typically find a line of cabs waiting for passengers. When a large flight arrives, sometimes there won't be any cabs in line, but you most likely won't have to wait more than 5 minutes for a new set of cabs to pull up.
They also cost about $45 to $50 to get from SFO to Union Square before tip. During rush hour, the cost will be closer to $60 to $65 before a tip.
>> More about taking a cab in SF
Insider's Tip: Yellow cab sometimes runs specials for those going from Union Square in San Francisco to SFO. It's usually a flat fee offer that is around the same price as an Uber/Lyft. You can book it ahead of time which will make your trip back to the airport even easier.

3. BART from SFO to Union Square in San Francisco 

If you want to save a little money, you can also take BART to Union Square from San Francisco International Airport.

You will find the train at the Departures/Ticketing Level of the International Terminal. You can either walk to it from your terminal or take the free AirTrain. 
You can buy a single ticket or use a Clipper Card to ride the train into SF. The Clipper Card allows you to add money to an account, so you don't have to manually pay with cash for each public transit ride around San Francisco and the Bay Area.
Note: The multi-day Muni Passes do not include rides on BART.

Once you enter the station, find the side that will take you north to San Francisco. You should be able to find this on the signs once you enter. You can also ask one of the representatives working in the station.
Once you hop on the train, you will take it to the Powell Street Station. It's 10 stops away and takes about 30 minutes. 
They run about every 15 to 30 minutes depending on the time and day.
You will arrive underground at this station. Follow the signs that will take you to the Market and Powell Street exit. This will get you to the southern end of Union Square. 
Make sure you have already mapped out the location to your hotel before you arrive at the station. It's a busy area, so you will want to stay aware of your surroundings as you start the walk to your hotel.
The cost to take BART from San Francisco International Airport is just under $10 per person. 
>> More about public transit in SF
4. Airport Shuttles

As of early 2023, the Airport rideshare shuttles are not a good option right now. They are still running as private rides so are quite a bit more expensive. I'll update this as soon as they start running as less expensive shuttles again, which I hope will be sometime soon! 
Airport shuttles are another option. It's a shared ride with a group of around 10 to 15 other people. They pick you up outside of arrivals and will drop you outside your hotel.
The downside to these is that it might add up to an hour to your ride as they drop everyone off in a certain order. You may drive around the district a little before you are dropped off. You can't request to be dropped off first, you are at the mercy of the driver, and the others that are in the van with you.
They usually cost about $16 to $20 per person. 
If you have more than three people in your group, most likely taking a cab or Uber/Lyft will cost you about the same. Just something to keep in mind.
>> More about airport shuttles
5. Private Car

If budget isn't an issue, then your best bet is to take a private car. You'll need to book it before you arrive. 
The driver will meet you near arrivals where you pick up your luggage. They will have a sign with your name on it when you come down the escalators to this area. 
There are so many great things about this option. This includes them showing you where the car is located, helping you with your luggage, and taking you directly to your hotel. Your driver is also a professional so there is less concern about their driving experience.
The only downside is the cost. This varies widely based on the type of car you reserve but is usually between $75 and $150 to get from SFO to Union Square. 
6. Renting a Car

The final option is renting a car. This is by far the most expensive. 
The drive is easy and takes less than 30 minutes from the airport, but parking is difficult in Union Square. Most places charge anywhere from $50 to $75 a night for parking.
Many hotels also don't have parking, so you will need to park in a public garage. Those will also run you anywhere from $35 to $60 a night.
However, for some visitors this is the right choice for their vacation.
To pick up your rental car, you will need to head to the Rental Car Center. To get there, take the free AirTrain Blue Line. The train runs 24-hours a day, but only some of the rental car companies have agents on staff 24-hours a day. 
Contact your car rental company if you are running late and they can usually make arrangements for your rental with the agencies that are open 24-hours a day.
>> More about renting a car at SFO and in SF
SFO Hotels: If you arrive really late or have a really early morning flight, you can also look at some of the best hotels near SFO. It's a great options for your first night or last night in San Francisco. Find my recommendations here.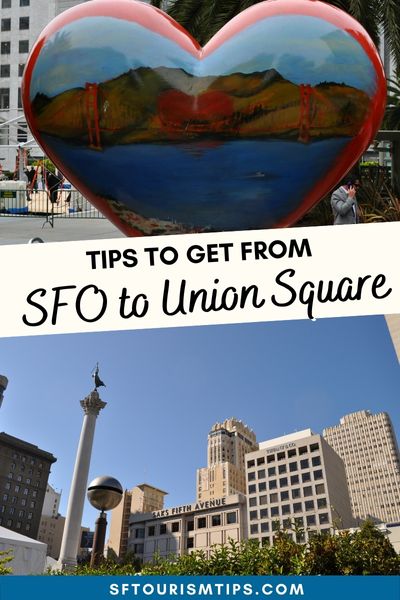 Comments? Questions? Suggestions?
I would love for you to join me in my private Facebook group! 
It's a great place to interact with me and others who know the area well.
You can ask questions, get advice for your upcoming stay, and then share your photos and advice with others when you return home. It's a great community and the fastest way to get answers to those nagging questions about your visit!