Christmas in San Francisco: Things to Do this Season Plus Christmas Eve & Day in 2023

by Jill Loeffler  •

Updated: July 24, 2023
Christmas in San Francisco is a magical time. The air is crisp, but warm enough to walk around and explore this beautiful city. I also love this time of year as the city is full of gorgeous holiday lights.
You will find quite a few things to do this holiday season from theater performances to shopping in Union Square or Pier 39. Throughout the season, you can also see Christmas shows including the SF Ballet's Nutcracker and A Christmas Carol.
My insider's guide covers ideas throughout the holiday season as well as dedicated sections for both Christmas Eve and Christmas Day.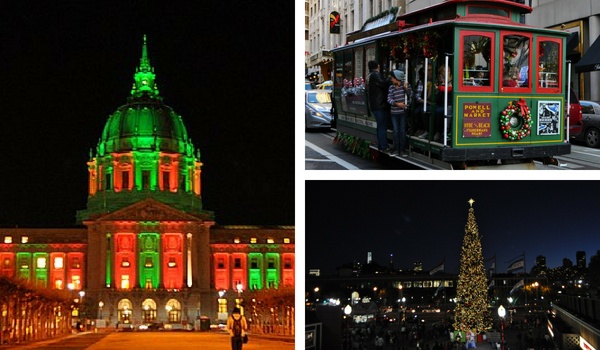 Scroll down to find a full overview of everything you will find this season. You can also jump ahead these two popular sections.
Disclaimer: I receive a small commission from some of the links on this page.

SF Ballet's Nutcracker

Dates: 12/13 - 12/30
Location: War Memorial Opera House
Tickets: Tickets
One of the most anticipated events every Christmas in San Francisco is the SF Ballet's performance of the Nutcracker.

This popular show was first performed by the SF Ballet, the oldest ballet company in the US, on Christmas Eve in 1944. Since that time, it's been a holiday tradition here in San Francisco.

In addition to their regular performances, they also have several family performances that are geared more to the younger ones.

All shows are at the War Memorial Opera House in the Civic Center District.
>> Tips to attend a performance including what to wear, family-friendly shows and more

A Christmas Carol

Dates: 12/6 - 12/24
Location: American Conservatory Theater (A.C.T.)
This year, you can catch several performances of A Christmas Carol at the A.C.T. This classic Christmas in San Francisco show is the story of Ebenezer Scrooge.

Scrooge is a grumpy business owner that has no desire to celebrate Christmas. On Christmas Eve, he's visited by three ghosts that show him important moments in his life including his sad future.

As he wakes on Christmas Day, he is a changed man. He gives his employee a raise and begins to live a life of happiness and generosity.
>> Additional theater performances this season in SF

SF Symphony

Dates: Several days in December
Location: Davies Symphony Hall
Tickets: Ticketmaster | TicketNetwork
Throughout the month of December, you will find several fun Christmas shows with the SF Symphony.

Top picks this month include The Night Before Christmas (12/1), Deck the Halls (12/3), and Cirque Nutcracker (12/5 & 12/6).

Other top shows this Christmas in San Francisco include Handel's Messiah (12/8 & 12/9), A Merry-Achi Christmas (12/10), The Colors of Christmas (12/13 & 12/14), and A Charlie Brown Christmas - LIVE! (12/20 - 12/23). 

Holiday and Christmas Tree Lighting

Dates: Throughout the season
This Christmas in San Francisco, you will find plenty of opportunities to experience our annual lights displays. You might even get a chance to attend a tree lighting or other holiday event.
The Union Square Christmas tree will shine bright each night at dusk through the end of the year.

Other top picks include the Pier 39 Christmas Tree and the lighting of City Hall in red and green. 

Other fun displays to check out this year include the Sugar Castle at the Westin St. Francis, the Gingerbread house at the Fairmont on Nob Hill, and Tom & Jerry's display in the Castro.

>> Schedule of this year's tree lighting and other holiday events

Other Fun Things to Do this Christmas in San Francisco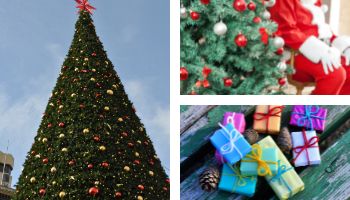 In addition to all of our Christmas shows and holiday lights displays, you will find several additional fun things to do this Christmas in San Francisco.
Here are just a few of my top picks.
Great Dickens Christmas Fair: Take a step back in time at this year's Great Dickens Christmas Fair. Set in Victorian London, it's a chance to celebrate Christmas Eve all season long. The event includes shopping, holiday treats, and entertainment.
It runs weekends from Thanksgiving to Christmas plus the day after Thanksgiving.

Ice Skating: Head out on the ice this holiday season on one of several rinks in SF and throughout the Bay Area. The most popular spot in SF is in Union Square. Learn more here.

Macy's Windows: Spend some time admiring the Macy's windows this Christmas in San Francisco. They offer up a lovely display ever season.

Shopping: You will find plenty of places to go shopping this Christmas in San Francisco. Top picks include Union Square, the San Francisco Center, Pier 39, and Chinatown. Find out more about these and other places to shop around SF this holiday season. 

Santa in SF: Santa is coming to town! You will find him all over SF this holiday season including his top stops at Macy's, Japantown, and the SF Zoo. Find out where he plans to greet all of you this holiday season.

Save on Your Stay

The best way to save on your hotel stay is to shop around a little before you book. Here are just a few of the great places to save! Click on the links below to find the best deals in San Francisco for Christmas.

Booking: Find great deals all around San Francisco for your upcoming stay! 

TripAdvisor: What's the #1 hotel in San Francisco? Read reviews & find hotel deals on TripAdvisor!
VRBO: In addition to hotels, you'll also find some great places to stay locally through VRBO. Book an apartment or a room and feel more like a local. Find some great places to stay on VRBO here. 
Christmas Eve in San Francisco 

Christmas Eve in San Francisco is a special evening. You will find so many fun things to do and several Christmas shows are offering up their final performances.
Many of our top attractions are open that day, but many of them close a little early.
In addition, you will find several great places to eat. Some offer a traditional Christmas Eve meal and others allow you to order off the menu. Here are some of the top things to do on Christmas Eve in San Francisco.
Holiday Attraction Schedule for Christmas Eve: Some attractions close early on Christmas Eve, even if they are open the next day. Before you finalize your plans for Christmas Eve Day, make sure to check out the closing times for many of SF's major attractions. Find attraction schedules for this Christmas Eve.

SF Ballet's Nutcracker on Christmas Eve: The San Francisco Ballet performs two shows on Christmas Eve in San Francisco. You can catch their interpretation of The Nutcracker at 11 am or 4 pm at the War Memorial Opera House. 
This is one of their most popular performances every year and tickets sell out quickly. If you plan to go to one of these performances, I recommend buying your tickets right away. Find tickets.

Christmas Eve Dinner Recommendations: Dozens of restaurants in San Francisco open their doors on Christmas Eve. Most offer special menus so you can sit back, relax, and let the chef do all the work. Find a list of the best places to enjoy Christmas Eve Dinner in SF. 

10 Fun Attractions Open on Christmas Day in San Francisco

It's easy to find something fun to do this Christmas in San Francisco. You will find dozens of attractions open this holiday. Here are my 10 favorites to visit (some of them are free)! 
1. California Academy of Sciences: Head over to Golden Gate Park to visit one of the top attractions in San Francisco. The California Academy of Sciences is four museums in one with a 4-story rainforest, aquarium, natural history museum, planetarium, and so much more. Find tickets for Christmas Day.
2. SF Zoo: The San Francisco Zoo is also open on Christmas Day. See lions, tigers, and bears as well as dozens of other interesting animals from around the world. 

3. 7D Experience: Another family-friendly option for Christmas Day is the 7D Experience. This part movie, part video game experience is one you will never forget. 

4. Botanical Gardens: The Botanical Gardens are open 365 days a year and offer free admission on Christmas Day. They open at 7:30am with last entry at 4pm on Christmas Day. Learn more about what you will see when you visit.

5. Japanese Tea Garden: Just a few steps away from the Botanical Gardens, you will find the Japanese Tea Gardens. They are also open daily. You can visit the garden free this year if you enter before 10am. More about the Japanese Tea Garden.

6. Golden Gate Bridge: The Golden Gate Bridge is another fun option for Christmas in San Francisco. The walkways open just before sunrise and will stay open to late in the evening. Tips to visit.

7. Painted Ladies of Alamo Square: Another free and open attraction is in Alamo Square. The Painted Ladies of Alamo Square are six identical historic Victorian houses that are a must see during your stay. More about the Painted Ladies of Alamo Square.

8. Contemporary Jewish Museum: The Contemporary Jewish Museum is open all day on Christmas Day. Discover their interesting traveling exhibits on Jewish history, culture and art. More here.

9. Pier 39: You will find several shops and restaurants open on Pier 39 on Christmas in San Francisco. Their large holiday tree will also be on display, so make sure to see it lit up that night too. Find more details here.

10. Lombard Street: My final item on my list of the best attractions at Christmas in San Francisco is Lombard Street. This curvy street welcomes both car and pedestrian traffic all year long. Learn all about it here.

>> Click here for a full Christmas Day schedule of SF's top attractions

5 Top Tours Operating on Christmas Day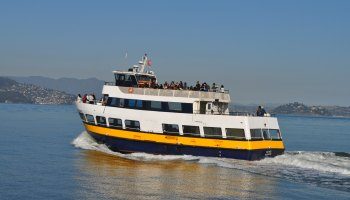 Even though many attractions close this day, you will still find a number of fun tours running.
They range from the standard bay cruise to walking tours around SF's top districts. Here are a few of my favorites that plan to run on Christmas in San Francisco 2023. 
1. Golden Gate Bay Cruise: 60-minute cruise around the SF Bay, departs several times on Christmas in San Francisco between 10am and 3:45pm, Starts at Fisherman's Wharf, sails under the Golden Gate Bridge, around Alcatraz and many other attractions along the bay, book your tickets today
2. San Francisco Golden Gate Bridge Bike Tour: 3-hour guided tour from Fisherman's Wharf to Sausalito, bike along SF's waterfront and over the Golden Gate Bridge, you can continue biking or explore Sausalito after the tour, ticket includes a ferry ride back to SF from Sausalito, tours offered at both 10am and 1pm on Christmas Day. Find tickets.

3. Self-Guided Bike Tours: A great way to explore SF on your own, rent a bike and follow one of their self-guided tours...or head out on your own route. They also offer electric bikes, so you can go a little further. Find tickets.

4. Chinatown and North Beach Walking Tour: Three hour walking tour of the famous Chinatown and North Beach Neighborhoods, highlights include stop at local restaurants, the historic Golden Gate Fortune Cookie Company, and more. Leaves at 2:30 pm on Christmas Day. Find tickets.

5. GoCar Tours: Cruise around town in a small, two seat yellow Go Car as you explore top attractions, follow their programmed route to see as much as possible in just a few hours, available in several languages. Find tickets.

Other Ideas for Christmas Day in San Francisco

Additional fun things to do this Christmas in San Francisco include heading to a restaurant for your holiday meal, seeing our colorful lights displays around town and heading out on a special holiday cruise.
Learn more about these and other fun ideas for Christmas Day.
Lunch & Dinner Recommendations: Many restaurants open on Christmas Day also feature a special menu. Click the link below for my recommendations for your entire family. Where to eat on Christmas Day in SF.

Hornblower Christmas Day Dinner Cruise: This holiday cruise offers a holiday buffet with items such as Oven Roasted Flounder, Hand Carved Oven Roasted Turkey, and Three Cheese Baked Macaroni. You can also pick from a selection of salads, side dishes, and yummy desserts.
This 2.5-hour cruise leaves Pier 3 at 4 pm and returns around 6:30 pm. Enjoy views of the SF Bay as you spend the evening with your loved ones. 
Christmas Eve & Christmas Day Mass

Many churches throughout San Francisco will offer a Christmas Eve and/or Christmas Day Mass. To help you find one, I complied this list of the best churches in the city.
It includes some that you can visit as attractions. Others on the list offer less traditional services. Use it to find the experience you seek during your stay.
Learn More: A list of churches in SF

SF Bay Area Christmas: Shows, Family-Friendly Festivals, and More
Nutcracker Shows
In addition to the San Francisco Ballet's performance, you will find a variety of other performances of the Nutcracker all around the SF Bay. Here are just a few of my top picks.
Oakland Ballet Company (12/16 - 12/17): Graham Lustig's version of The Nutcracker is performed by the Oakland Ballet Company in this 2 hour presentation. It is known for the outstanding dancing, costumes, and the sets that will make your holiday joyous. This performance takes place at the Paramount Theater in downtown Oakland in the SF Bay Area. 
SF Youth Ballet (TBD): This version of the Nutcracker showcases the youth ballet and also other bay area dancers who still enthrall and excite any audience. This 2-hour production is family friendly and a great introduction for children of all ages to this wonderful holiday experience.
The SF Youth Ballet Nutcracker runs 2 hours at the Mercy High School Theatre at this Christmas show in San Francisco. Two shows each day at 2 pm and 6 pm. 

Peninsula Ballet Theatre in Redwood City (12/16 & 12/17): Performed at the Fox Theatre in Redwood City, this version runs for two hours with an intermission. This show also allows audience members to go on-stage and meet the dancers following each performance. 

San Jose (12/8 - 12/10): Another south bay presentation of The Nutcracker is located at the San Jose Center for the Performing Arts in San Jose. It's performed alongside a professional orchestra and is one you will not want to miss.

Christmas Shows Around the SF Bay

A Christmas Carol in Walnut Creek (12/7 - 12/21): Located in the East Bay city of Walnut Creek, Center REP's version of A Christmas Carol is a treat for children of all ages. Performed at the Lesher Center for the Arts' Hofmann Theater.

The Velveteen Rabbit (12/2 - 12/10): Local dance company ODC brings to life this wonderful tale about a little boy who is given a toy rabbit. The rabbit doll wants to be a rabbit in real life, but this is only possible by being the boys favorite toy. 
Luckily for the rabbit, the boy loves him and a fairy allows the Velveteen rabbit to become a real rabbit who lives in the forest. This family friendly show is performed at the Yerba Buena Center for the Arts Theater in San Francisco. 
Smuin's The Christmas Ballet (12/14 - 12/24): This nontraditional holiday presentation will give you dancing clad in all white outfits as they glide on stage to jazz, funk during the first act.

The second part of this 2-hour presentation includes the red-clad dancers moving to cool tunes like "White Christmas", "Baby, It's Cold Outside", "Santa Baby", and other favorites. Make sure not to miss this special ballet at the Yerba Buena Center for the Arts Theater in San Francisco. 
Christmas Tree Lighting Ceremonies Around the SF Bay

Jack London Square Tree Lighting Ceremony (TBD): The Oakland waterfront is the site for this annual event which has a 55 foot tree with over 5,000 lights and more than 600 ornaments on it. 
You will be entertained by local musicians, check out pop-up shops, and be able to meet Santa as he gets ready to ring in the SF Bay Area Christmas season. This holiday event starts at 5 pm and ends at 8 pm.
Broadway Plaza, Walnut Creek (TBD): For those visitors that are in the East Bay, the Broadway Plaza's annual Holiday Parade of Lights is a perfect way to usher in the Christmas season.

The parade starts at 7 pm with Santa coming along to light the tree. You are welcome to stay afterwards and stroll and enjoy the festivities. The Holiday Parade of Lights starts at 6 pm and ends at 9 pm.

Christmas in the Park in San Jose (TBD): Held the day after Thanksgiving, this tree lighting is located in downtown San Jose's Plaza de Cesar Chavez. 

Santa will arrive and light the tree as part of this event.

You can then enjoy the park through the holiday season.

Alameda Tree Lighting Ceremony (TBD): Located at the Alameda City Hall, this tree lighting and celebration includes live entertainment by the Oakland Youth Choir, Alameda Community Band, The Dancing Christmas Trees, and many more.

Some of the activities that kids of all ages include candy canes for kids and a visit for Santa Claus. Live entertainment starts at 4:30 pm and the tree lighting ceremony begins at 5:30.

Sunnyvale Holiday Tree Lighting (TBD): This family friendly event in the South Bay city of Sunnyvale will give everyone the Christmas spirit and a chance to take a photo with Santa Claus. The entertainment starts at 5 pm and goes until 7:30 pm. All activities are on Historic Murphy Avenue in downtown Sunnyvale.

SF Bay Area Christmas Festivals
Winterfest at Great America (TBD): California's Great America in Sunnyvale is the home to one of the largest winter festivals in the SF Bay Area. With loads of rides for kids of all ages, giant toy soldiers, and featuring over 7 million LED lights, this event is sure to amaze everyone in your family. This event starts at 5 pm and ends at 10 pm. Find tickets at a discount on Goldstar.
Los Gatos Fantasy of Lights (TBD): The annual Fantasy of Lights gives you the chance to walk through a park full of music, food trucks, photo booths, and of course Santa Claus on 12/3 & 12/4! Both nights of this event starts at 4 pm and runs until 9 pm. Everyone attending this event must buy a ticket including kids of any age.

In addition to the walk through event, they are also hosting a drive through event from 12/6 - 12/30. This event allows you to experience the Fantasy of Lights from the safety of your car. It runs from 6 pm to 10 pm and is closed on Christmas Day.
Winterfest Sausalito (12/9 & 12/10): The gorgeous Marin county city of Sausalito is home to the beloved Lighted Boat Parade and Fireworks extravaganza. This SF Bay Area Christmas will let you see the magical lighted boat parade on Saturday night with fireworks.  The boat parade starts at 6 pm with fireworks at 7:15 on Saturday night. 
If you are in the mood for a little exercise, then do a 5k run on Sunday followed by a special brunch. The Jingle Bell 5K run starts at 8:30 am with the kids fun run starting at 9:15 am.
SF Bay Area Craft Fairs

San Jose Holiday Craft Fair (TBD): This fair celebrates Christmas by giving you a chance to buy all your holiday gifts while enjoying lots of free special events and handcrafted arts that everyone in your family will enjoy. It's at the Santa Clara Convention Center.

Mill Valley Maker's Market (TBD): Over thirty local artists display their wares while musicians play music as you enjoy walking around the Mill Valley Lumber Yard. You can just look at all the beautiful pieces of art such as glassware, ceramics, jewelry and more, or you can purchase some if you like. This festival starts at 10 am and ends at 5 pm.
Santana Row Holiday Maker's Market (TBD): If you are in the south SF Bay Area during the holiday season, then this is the perfect event to get all your holiday shopping done in just one day. Located at the gorgeous Santana Row Park with over 30 local artists and their wares, you will also enjoy live music and complimentary wine and small bites. This event beings at 10 am and will end at 6 pm.

Comments? Questions? Suggestions?
I would love for you to join me in my private Facebook group! 
It's a great place to interact with me and others who know the area well.
You can ask questions, get advice for your upcoming stay, and then share your photos and advice with others when you return home. It's a great community and the fastest way to get answers to those nagging questions about your visit!