Christmas in San Francisco
Things to Do this Season Plus Christmas Eve & Day in 2019
NOTE: Click here to stay up-to-date with what's open and opening soon.
Christmas in San Francisco is a magical time. The air is crisp, but warm enough to walk around and explore this beautiful city. I also love this time of year as the city is full of gorgeous holiday lights.
You will find quite a few things to do this holiday season from theater performances to shopping in Union Square or Pier 39. Throughout the season, you can also see Christmas shows including the SF Ballet's Nutcracker and A Christmas Carol.
My insider's guide covers ideas throughout the holiday season as well as dedicated sections for both Christmas Eve and Christmas Day.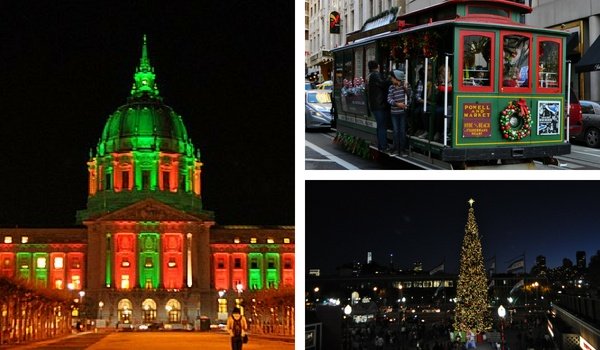 Scroll down to find a full overview of everything you will find this season. You can also jump ahead these two popular sections.
Disclaimer: I receive a small commission from some of the links on this page.
SF Ballet's Nutcracker
Dates: 12/11 - 12/29
Location: War Memorial Opera House
One of the most anticipated events every Christmas in San Francisco is the SF Ballet's performance of the Nutcracker.
This popular show was first performed by the SF Ballet, the oldest ballet company in the US, on Christmas Eve in 1944. Since that time, it's been a holiday tradition here in San Francisco.
In addition to their regular performances, they also have several family performances that are geared more to the younger ones.
All shows are at the War Memorial Opera House in the Civic Center District.
>> Tips to attend a performance including what to wear, family-friendly shows and more
A Christmas Carol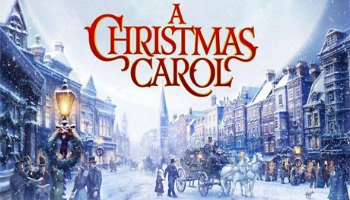 Dates: 11/29 - 12/24
Location: ACT's Geary Theater
Every year, the American Conservatory Theater offers several performances of A Christmas Carol. This classic Christmas in San Francisco show is the story of Ebenezer Scrooge.
Scrooge is a grumpy business owner that has no desire to celebrate Christmas. On Christmas Eve, he's visited by three ghosts that show him important moments in his life including his sad future.
As he wakes on Christmas Day, he is a changed man. He gives his employee a raise and begins to live a life of happiness and generosity.
All shows are at ACT's Geary Theater at 415 Geary St.
>> Additional theater performances this season in SF
>> More about SF's theater district
Cirque du Soleil's Amaluna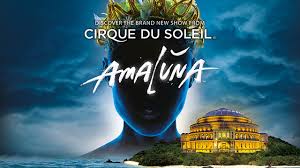 Dates: 11/14 - 1/12
Location: Under the Grand Chapiteau near Oracle Park
Tickets: Find tickets to all performances
Cirque du Soleil returns to San Francisco this holiday season with their performance of Amaluna. This high energy show includes acrobatics, dazzling costumes and everything you have come to expect from Cirque du Soleil.
Amaluna is about the daughter of the queen this is coming to age and lives on an island with only females. After her mother performs a cermony for her daughter, she creates a large storm that washes ashore dozens of men.
Her daughter falls in love with one of them and as they attempt to start thier life together, they encouter many stuggles.
>> Visit the Cirque du Soleil page for more details
SF Symphony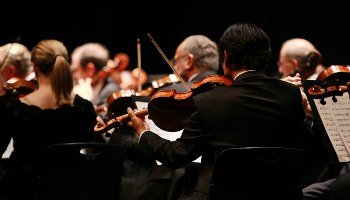 Dates: 12/3 - 12/6, 12/7, 12/8, 12/10, 12/11, 12/19, 12/20 & 12/21 - 12/23
Location: Davies Symphony Hall
Throughout the month of December, you will find several fun Christmas shows with the SF Symphony.
Top picks this month include It's A Wonderful Life—Film with the SF Symphony (12/3 - 12/6), Holiday Gaiety (12/7), and Deck the Hall (12/8).
Other top shows this Christmas in San Francisco include A Merry-Achi Christmas (12/8), Holiday Soul with the SF Symphony (12/10 & 12/11) 'Twas the Night—A Festival of Carols (12/19 & 12/20) and A Charlie Brown Christmas-LIVE! (12/21 - 12/23).
>> Find out more about SF Symphony shows
Holiday and Christmas Tree Lighting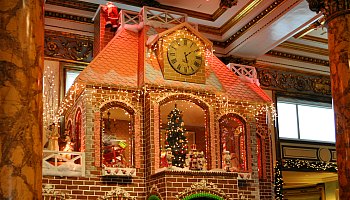 Dates: Throughout the season
This Christmas in San Francisco, you will find plenty of opportunities to experience our annual lights displays. You might even get a chance to attend a tree lighting or other holiday event.
The Union Square Christmas tree is lit for the first time for this season the day after Thanksgiving. It will then light up the Union Square district each night at dusk through the end of the year.
Other top picks include the tree lighting ceremony at Pier 39 and the lighting of City Hall in red and green.
Other fun displays to check out this year include the Sugar Castle at the Westin St. Francis, the Gingerbread house at the Fairmont on Nob Hill, and Tom & Jerry's display in the Castro.
>> Schedule of this year's tree lighting and other holiday events
>> Full list of places to see Christmas lights this year
Other Fun Things to Do this Christmas in San Francisco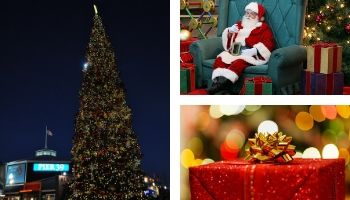 In addition to all of our Christmas shows and holiday lights displays, you will find several additional fun things to do this Christmas in San Francisco.
Here are just a few of my top picks.
Great Dickens Christmas Fair (11/23-12/22): Take a step back in time at this year's Great Dickens Christmas Fair. Set in Victorian London, it's a chance to celebrate Christmas Eve all season long. The event includes shopping, holiday treats, and entertainment. It runs weekends from 11/23 - 12/22 plus the day after Thanksgiving.
Ice Skating: Head out on the ice this holiday season on one of several rinks in SF and throughout the Bay Area. Two popular spots in SF are in Union Square and the Embarcadero Center. Learn more here.
Macy's Windows: Spend some time admiring the Macy's windows this Christmas in San Francisco. They offer up a lovely display ever season. My favorite is the SPCA window with animals up for adoption this year.
Shopping: You will find plenty of places to go shopping this Christmas in San Francisco. Top picks include Union Square, the San Francisco Center, Pier 39, and Chinatown. Find out more about these and other places to shop around SF this holiday season.
Santa in SF: Santa is coming to town! You will find him all over SF this holiday season including his top stops at Macy's, Japantown, and the SF Zoo. Find out where he plans to greet all of you this holiday season.
Fun Holiday Themed Tours
Save on Your Stay
The best way to save on your hotel stay is to shop around a little before you book. Here are just a few of the great places to save! Click on the links below to find the best deals in San Francisco for Christmas.
Booking: Find great deals all around San Francisco for your upcoming stay!
TripAdvisor: What's the #1 hotel in San Francisco? Read reviews & find hotel deals on TripAdvisor!
Christmas Eve in San Francisco
Christmas Eve in San Francisco is a special evening. You will find so many fun things to do and several Christmas shows are offering up their final performances. Many of our top attractions are open that day, but many of them close a little early.
In addition, you will find several great places to eat. Some offer a traditional Christmas Eve meal and others allow you to order off the menu. Here are some of the top things to do on Christmas Eve in San Francisco.
Holiday Attraction Schedule for Christmas Eve: Some attractions close early on Christmas Eve, even if they are open the next day. Before you finalize your plans for Christmas Eve Day, make sure to check out the closing times for many of SF's major attractions. Find attraction schedules for this Christmas Eve.
Cirque du Soleil's Amaluna: Start your day off with this high energy performance with Cirque du Soleil. Amaluna is the story of an island with all females. When the queen performs a right of passage ceremony for her daughter, she creates a large storm that washes several men ashore. Her daughter instantly falls in love. Follow their story of love and how they overcome their struggles along the way. The show starts at 1:30 p.m.
Hornblower Supper Cruise: If you want a unique experience for dinner this Christmas Eve, then check out this dinner cruise offered by Hornblower Cruises.It's a 3-hour cruise with a dinner buffet. You can also enjoy live music and dancing all night long. Wine and cocktails are available for purchase on the boat. It leaves SF around 3:30pm and returns around 6:30pm. Visit their site for details.
SF Ballet's Nutcracker on Christmas Eve: The San Francisco Ballet performs two shows on Christmas Eve in San Francisco. You can catch their interpretation of The Nutcracker at 11am or 4pm at the War Memorial Opera House. This is one of their most popular performances every year and tickets sell out quickly. If you plan to go to one of these performances, I recommend buying your tickets right away.
A Christmas Carol: Enjoy this holiday classic with your entire family to celebrate Christmas in San Francisco. This show is performed each December at the American Conservatory Theater. There is one show on Christmas Eve at 12pm. The final showing will be on Christmas Eve.
Christmas Eve Dinner Recommendations: Dozens of restaurants in San Francisco open their doors on Christmas Eve. Most offer special menus so you can sit back, relax, and let the chef do all the work. Find a list of the best places to enjoy Christmas Eve Dinner in SF.
10 Fun Attractions Open on Christmas Day in San Francisco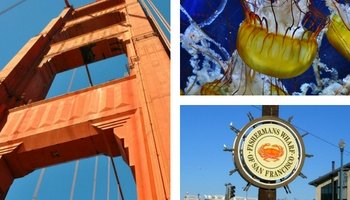 It's easy to find something fun to do this Christmas in San Francisco. You will find dozens of attractions open this holiday. Here are my 10 favorites to visit (some of them are free)!
1. California Academy of Sciences: Head over to Golden Gate Park to visit one of the top attractions in San Francisco. The California Academy of Sciences is four museums in one with a 4-story rainforest, aquarium, natural history museum, planetarium, and so much more. Find tickets for Christmas Day.
2. SF Zoo: The San Francisco Zoo is also open on Christmas Day. See lions, tigers, and bears as well as dozens of other interesting animals from around the world. Pick up tickets for Christmas Day.
3. 7D Experience: Another family-friendly option for Christmas Day is the 7D Experience. This part movie, part video game experience is one you will never forget. Buy tickets in advance.
4. Botanical Gardens: The Botanical Gardens are one 365 days a year and offer free admission on Christmas Day. They opens at 7:30am with last entry at 4pm on Christmas Day. Learn more about what you will see when you visit.
5. Japanese Tea Garden: Just a few steps away from the Botanical Gardens, you will find the Japanese Tea Gardens. They are also open daily. You can visit the garden free this year if you enter before 10am. More about the Japanese Tea Garden.
6. Golden Gate Bridge: The Golden Gate Bridge is another fun option for Christmas in San Francisco. The walkways open just before sunrise and will stay open to late in the evening. Tips to visit.
7. Painted Ladies of Alamo Square: Another free and open attraction is in Alamo Square. The Painted Ladies of Alamo Square are six identical historic Victorian houses that are a must see during your stay. More about the Painted Ladies of Alamo Square.
8. Contemporary Jewish Museum: The Contemporary Jewish Museum is open all day on Christmas Day. Discover their interesting traveling exhibits on Jewish history, culture and art. More here.
9. Pier 39: You will find several shops and restaurants open on Pier 39 on Christmas in San Francisco. Their large holiday tree will also be on display, so make sure to see it lit up that night too. Find more details here.
10. Lombard Street: My final item on my list of the best attractions at Christmas in San Francisco is Lombard Street. This curvy street welcomes both car and pedestrian traffic all year long. Learn all about it here.
>> Click here for a full Christmas Day schedule of SF's top attractions.
5 Top Tours Operating on Christmas Day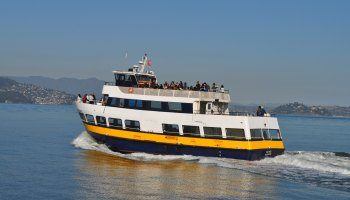 Even though many attractions close this day, you will still find a number of fun tours running. They range from the standard bay cruise to walking tours around SF's top districts. Here are a few of my favorites that plan to run on Christmas in San Francisco 2018.
1. Golden Gate Bay Cruise: 60-minute cruise around the SF Bay, departs several times on Christmas in San Francisco between 10am and 3:45pm, Starts at Fishermans Wharf, sails under the Golden Gate Bridge, around Alcatraz and many other attractions along the bay, book your tickets today
2. San Francisco Golden Gate Bridge Bike Tour: 3-hour guided tour from Fishermans Wharf to Sausalito, bike along SF's waterfront and over the Golden Gate Bridge, you can continue biking or explore Sausalito after the tour, ticket includes a ferry ride back to SF from Sausalito, tours offered at both 10am and 1pm on Christmas Day.
3. Self-Guided Bike Tours: A great way to explore SF on your own, rent a bike and follow one of their self-guided tours...or head out on your own route.
4. Chinatown Walking Tour: Two to three hour walking tour of the famous Chinatown Neighborhood, highlights include a stop at an Herbal Pharmacy, the Fortune Cookie Factory, and a Chinese Temple, walk past and learn more about other historical landmarks throughout the district, tour starts at 10am.
5. GoCar Tours: Cruise around town in a small, two seat yellow Go Car as you explore top attractions, follow their programmed route to see as much as possible in just a few hours, available in several languages.
Other Ideas for Christmas Day in San Francisco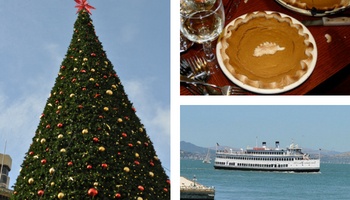 Additional fun things to do this Christmas in San Francisco include heading to a restaurant for your holiday meal, seeing our colorful lights displays around town and heading out on a special holiday cruise.
Learn more about these and other fun ideas for Christmas Day.
Lunch & Dinner Recommendations: Many restaurants open on Christmas Day also feature a special menu. Click the link below for my recommendations for your entire family. Where to eat on Christmas Day in SF
Hornblower Christmas Day Supper Cruise: This holiday cruise offers a holiday buffet with items such as Pineapple Glazed Ham, Prime Rib or Vegan Winter Vegetable Ragu. You can also pick from a selection of salads, side dishes, and yummy desserts. This 3-hour cruise leaves Pier 3 at 4pm and returns around 7pm. Enjoy views of the SF Bay as you spend the evening with your loved ones. Visit their site for more details and to check for availability.
Golden State Warriors vs. The Houston Rockets: Head over to the new Chase Center for a high-energy Christmas in San Francisco. Draymond Green and the rest of the Golden State Warriors will take on James Harden, Russell Westbook, and the Houston Rockets at 2pm.
Christmas Eve & Christmas Day Mass
Many churches throughout San Francisco will offer a Christmas Eve and/or Christmas Day Mass. To help you find one, I complied this list of the best churches in the city.
It includes some that you can visit as attractions. Others on the list offer less traditional services. Use it to find the experience you seek during your stay.
Learn More: A list of churches in SF

Follow SFTourismTips on Facebook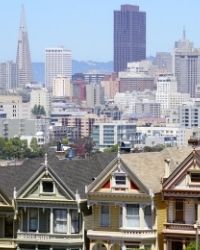 On my Facebook page, you will find more great information about planning your San Francisco vacation.
It includes tips, must see attractions, and other fun details.
Click the link below to check it out. If you enjoy the page, give us a like.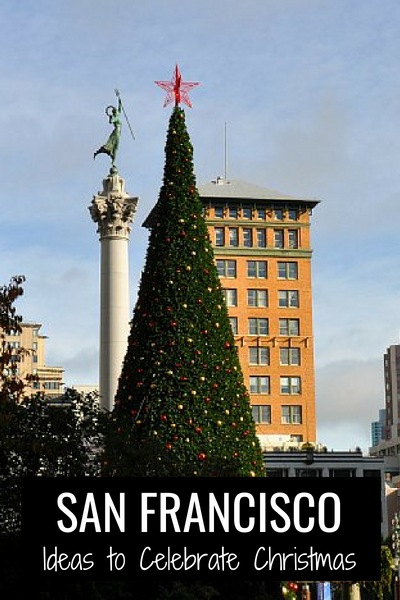 Other Events in December