Churches in San Francisco: Top Churches to Visit or Attend a Service in SF
You will find a broad range of churches in San Francisco. They include everything from the historic Mission Dolores to the colorful Glide Memorial Church.

Below you will discover frequently visited churches as well as those that are the top picks to attend a service.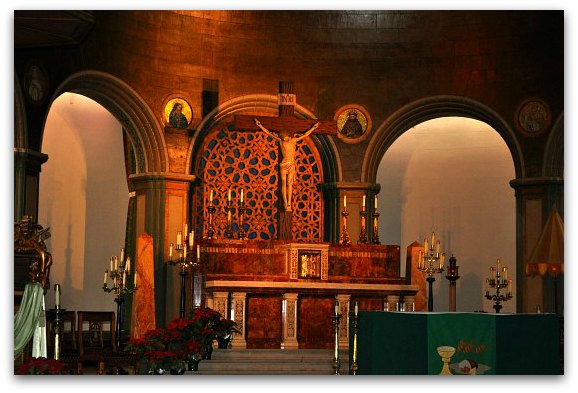 The beautiful altar in the basilica at the Mission Dolores
Disclaimer: I receive a small commission from some of the links on this page.

Grace Cathedral

This Episcopal cathedral is one of the largest in the US. It sits high on the hill in San Francisco's Nob Hill neighborhood. It's open for visitors daily before and after their regular services.
If you are interested in attending a service, the most popular options are on Sunday morning at 8:30 am and 11:30 am.
Address: 1100 California Street
Learn More: Tips to Visit Grace Cathedral
Mission Dolores

The Mission Dolores is the site of the oldest building still standing in San Francisco. They offer traditional Catholic masses in their Basilica. They typically offer English masses every Sunday morning at 8am and 10am. They also offer a Spanish mass at noon.
After mass, I recommend visiting both the Old Mission, where you will find some amazing murals, and the cemetery.
Address: 300 Dolores Street
Learn More: More Details on Visiting Mission Dolores
Guided Tour: Learn more about the Mission Dolores and this district on this amazing guided tour
Glide Memorial

This is not your typical Methodist church. Glide is famous for its work with the homeless and less fortunate of San Francisco. Their services are non-traditional with stories from those they have helped along with other uplifting messages and music (their chorus is one of the best I've ever heard).
Each service is PACKED (usually the second service has a line around the block before the first service is done) and it's a favorite of locals. They offer two Sunday services - one at 9am and one at 11am.
Get there early (minimum of 30 minutes before the service) in order to grab a seat.
Address: 330 Ellis Street (at Taylor)
Saints Peter and Paul Church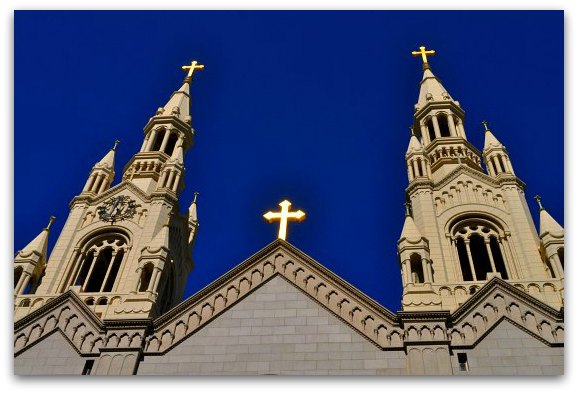 Looking up at Saints Peter and Paul Church in North Beach
Saints Peter and Paul Catholic Church is another popular stop for those looking to attend a service in SF. It's also one of the churches in San Francisco that welcomes visitors.
The steps of this church are where Joe DiMaggio and Marilyn Monroe took pictures after their wedding at city hall. DiMaggio married his first wife here (since he grew up in this SF neighborhood) but was not allowed to marry for a second time in the church.
Address: 666 Filbert Street in North Beach
Guided Tour: Learn more about this church on this guided tour around North Beach
St. Dominic's Catholic Church

St. Dominic's is another one of the beautiful churches in San Francisco. This is the fourth church to house this parish and it was finished in 1928. The church is gorgeous, and many don't realized that they have a number of prized statues and pieces of artwork inside.
Head over for one of their Sunday services (7:30 am, 9:30 am & 11:30 am) to take a closer look.
Address: 2390 Bush Street in Pacific Heights
Here are a few other recommendations:
First Unitarian Universalist Church & Center: Western Addition, 1187 Franklin Street
St. Patrick Catholic Church: Financial District, 756 Mission Street
Saint Mark's Lutheran Church: Western Addition, 1111 O'Farrell Street
Unity Church of San Francisco: Lower Pacific Heights, 2222 Bush Street
Christ United Presbyterian Church: Lower Pacific Heights, 1700 Sutter Street
Other Fun Things to Do in SF

The Perfect Day in Haight Ashbury: Are you fascinated by the events that took place in the 1960s in this epic SF district? If so, then you will enjoy that one day walking tour of The Haight. On this tour, you will hike to the highest point in the district, walk past the places where famous musicians lived during that time and sample goodies from some of my favorite bars and restaurants.
Waterfront Segway Tour: Do you want to try something just a little different? How about trying this fun Segway Tour? On this page, you will learn more about my experience on this tour. It includes information on the places we saw, what it was like to cruise around the city on a Segway and pictures from our photo stops along the way. Find tickets for a 2.5 hour tour here.
The Perfect Day in Golden Gate Park: Exploring Golden Gate Park is something I often do. This gorgeous 1,000+ acre park features several fun attractions and activities. This itinerary is how I would go about visiting the park if I had just one day. It includes visits to the California Academy of Sciences, the Botanical Gardens and even a stop in the Japanese Tea Garden.
Visit the Mission Murals: One of the unique things about San Francisco is that it has almost 1,000 street murals. You will find these colorful displays throughout the city. However, the largest concentration (at least 200 to 300 of them) are in the Mission District. On this page, you will see pictures and get a map on where you can find them on your own.
Comments? Questions? Suggestions?
I would love for you join me in my private Facebook group! 
It's a great place to interact with me and others that know the area well.
You can ask questions, get advice for your upcoming stay, and then share your photos and advice with others when you return home. It's a great community and the fastest way to get answers to those nagging questions about your visit!