SF Bay Area Outdoor Ice Skating Rinks 2022: 11 Best Each Holiday Season

by Jill Loeffler  •

Updated: November 2, 2022
Every November, these SF Bay Area outdoor ice skating rinks open their doors for the holiday season. My list of the top 10 include those in San Francisco, the East Bay, North Bay, and the San Jose area.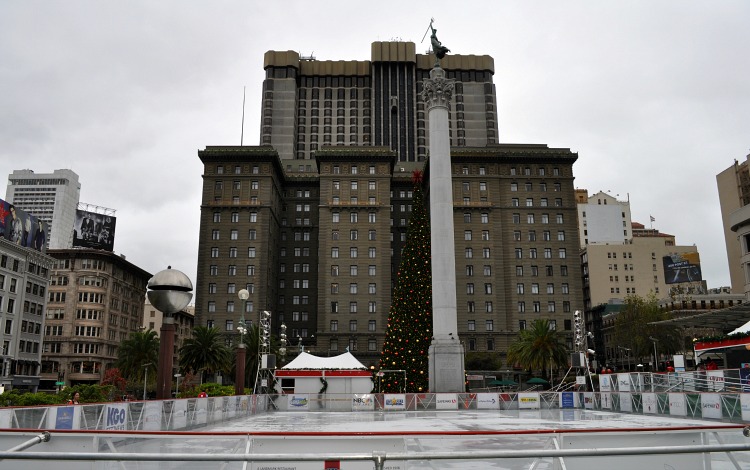 The outdoor ice skating rink at Union Square just before it opened that morning.
Due to local regulations, some of these ice rinks will not open in 2022, but are hoping to open again in 2023.
Disclaimer: I receive a small commission from some of the links on this page.

1. Union Square Ice Skating

Address: Union Square in Downtown San Francisco
Dates: 11/2 - 1/16
Holiday Hours: 10 am to 11:00 pm
Price: $15 to $20 including rentals
Union Square Ice Skating is one of the most known, and most loved, of all the SF Bay Area outdoor ice skating rinks in the Bay Area. There are usually nine sessions each day. Not only is there general skating, but you can also take lessons, and see the Macy's Tree with its lights shining bright throughout the holidays.
Some of the special events that you can enjoy include the Drag Queens on Ice, and the always amazing Polar Bear Skate: San Francisco Edition. Make sure to check dates and times in advance so you won't miss out on the fun!
>> Visit their site for tickets and additional details
>> What else you can see and do in Union Square
2. Winter Lodge in Palo Alto
Address: 3009 Middlefield Road, Palo Alto
Dates: Reopens October 10
Holiday Hours: Times vary depending on day and date. Please visit the website for information.
Price: $17 for all ages; $5 for skates
The Winter Lodge in Palo Alto has the longest skating season of any skating rinks in the San Francisco Bay Area. Not only is it open most of the year, but it is also one of the best outdoor skating rinks in the USA according to Outdoor Magazine, so if you love skating, it definitely needs to be added to your list.
The Winter Lodge skates rain or shine so you can be sure that they will be open as much as possible during your skating season. The rink is open from 8 am to 10 pm, depending on day and date, and is closed for most holidays so make sure to check the website in advance of your trip to it.
>> See more details on their site
3. San Mateo on Ice
Address: Central Park at 50 East, Fifth Avenue San Mateo
Dates: 11/14 - 1/8
Price: $18 all ages includes skate rental; $16 active military, fire and police (bring I.D.), $5 same day re-entry fee; Price is $21 for premium dates such as Thanksgiving and around Christmas and NYE
This is one of the SF Bay Area outdoor ice skating rinks that offers more than 9,000 square feet of ice to skate on. The San Mateo on Ice rink entry fee includes unlimited skate times so you can skate all day long if you want. However, there is no in and out privileges unless you purchase the $18 to $21 ticket or you purchase a separate same day re-entry ticket which costs $5.
Since this is one of the largest SF Bay Area outdoor skating rinks, and it is made out of real ice, you will have lots of space to skate and also feel like you are in a real winter wonderland. Depending on the weather, the skating rink may be closed, so make sure to check ahead and plan accordingly.
4. Boardwalk Holiday Ice
Address: Santa Cruz Beach Boardwalk at 400 Beach Street, Santa Cruz
Dates: 11/24 - 1/1
For those of you that are visiting or staying south of of San Francisco near the beautiful city of Santa Cruz, this might be spot of you. During the holiday season, Santa Cruz Beach Boardwalk is home to a 40 foot by 60 foot ice rink made of real ice. One of the reasons to visit the Boardwalk Holiday Ice rink is that the whole area will be lit with holiday lights and lots of holiday decorations will be set for all to see and enjoy.
Skate sessions are only 1 hour so you will have plenty of time to check out the other attractions on the boardwalk like its arcade, restaurants, and rides. If it gets chilly, you can go indoor and play miniature gold, laser tag, or some of the other many attractions available to you at the boardwalk.
It's one of the best SF Bay Area outdoor ice skating rinks because there are so many other fun things to do around it too!
5. Embarcadero Ice Skating (Closed in 2022)

Note: They are hoping to reopen in 2023
Address: Justin Herman Plaza, next to Four Embarcadero Center across from the Ferry Building
Dates: Canceled for 2022
Holiday Hours: Sunday - Thursday 10 am - 9:30 pm; Friday & Saturday 10 am - 11:30 pm
Price: Adults: $12; Children (7 and under): $7; Skate rental: $5
Of all the SF Bay Area outdoor ice skating rinks to go skating in this winter, the Embarcadero Ice Skating rink is one of the most beautiful. Located just across from the historic Ferry Building, you will be able to see the SF Bay and enjoy some of the best views you can imagine while visiting this rink.
Due to the popularity of this rink, skating sessions last only 90 minutes and start on the hour each day. This rink is also the largest of all the rinks in the Bay Area so you will be sure to enjoy yourself as you can skate without being worried about not having enough room during your session.
>> More things to do this November in SF
>> More things to do this December in SF
6. The Kristi Yamaguchi Holiday Ice Rink in San Ramon

Address: 6000 Bollinger Canyon Road, San Ramon, CA 94583
Dates: 11/11 - 1/08
Holiday Hours: Weekdays: 12 noon to 9:30 pm. Weekends are 10 am to 9:30 pm
Price: Adults (ages 9 and above): $21, Children (ages 3 to 8): $15. Each sessions is 1.5 hours. Skates are included in rental fee. Skating aids are also available for rent. 
Located in the gorgeous City Center Bishop Ranch shopping center, going to this rink is a perfect way to get all your holiday shopping done and at the same time, have some skating fun!
Named for the Olympic Gold Medal winner, Kristi Yamaguchi, this is a very popular skating rink in the East Bay. San Ramon is located in Contra Costa County, which is about 15 miles East of Oakland and Berkeley.
It is fully outdoors and there is a $2 early bird discount Mondays - Thursdays before 4 pm, except on November 21 - 25 and December 23 - January 6. Tickets can be purchased on their site.
7. Five Palms Ice at the Claremont Club & Spa

Address: 41 Tunnel Road, Berkeley, CA 94705

Dates: 11/18 - 02/1
Holiday Hours: Friday: 4 - 8 pm, Saturday 12 noon - 8 pm, Sundays 12 noon - 4 pm
Price: Adults: $24 (ages 13 and up), Children (ages 3 - 12): $12. Skates in included in the price. If you bring your own skates, you can save $4.
Also on the Eastern side of the bay, towering above the beautiful city of Berkeley, you will find the Claremont Hotel & Spa. This gorgeous hotel has been recognized as one of the best hotels in the Bay Area since it opened. Their ice skating rink is outside and has been engineered by the Glice company in Switzerland.
Why is it called "Glice?" Because it is a special synthetic ice and easier to skate on compared to normal ice, so you "Glide" on the "ice" and therefore you have "Glice!"
8. The Great Dickens Christmas Fair Festival and Ice Rink 

Address: The Cow Palace at 2600 Geneva Avenue, Daly City, CA 94014
Dates: 11/19 - 12/18
Holiday Hours:  Saturdays and Sundays only
This festival is famous for much more than ice skating, but this year, they decided to add on this fun activity. They set up the skating near "Vauxhall Gardens" which is designed to look like a park from the Victorian ages (in accordance to Charles Dickens). In addition to skating, make sure to leave a little time to walk around the gardens.  You can even buy Christmas trees here!
The rink is about 2,800 square feet. 
This festival also has a lot of other fun things to do. When you attend the Great Dickens Christmas Fair Festival, you'll feel like you've stepped back into the 1800s. There are over four acres of pubs, shops, dance floors, and much more that resemble Charles' Dickens London.
There are singers, actors, and all kinds of wonderful places to explore and also great food and drink from back in Mr. Dickens' day. There is an additional charge for anything past the ice rink and it ranges from $25 to $45 per person depending on age.
>> Tickets must be purchased online and in advance on their website
9. Ice at the Veranda

Address: 2001 - 2003 Diamond Blvd, Concord, CA 94520
Dates: 11/4 - 2/14
Holiday Hours: Times vary depending on day and date. Please visit the website for information.
Price: All ages are $17 per person for skate rental and 75 minute session. You can bring your own skates but there is not a discount.
The Veranda is a beautiful shopping center in the East Bay city of Concord and a perfect place to do all your holiday shopping and outdoor ice skating. Sessions last 75 minutes and tickets can be purchased online or in person depending on availability. However, it is recommended to buy your tickets ahead of time as it can be very busy.
Being that it is outdoors, there can be weather restrictions. Therefore skating is allowed during light rain or drizzle, but not during heavy storms. If a storm is forecasted, you will be notified by the email you used during your purchase. Wheelchairs are allowed on the ice rink.
>> Get more information about Ice at the Veranda here
10. Walnut Creek on Ice

Address: 1365 Civic Drive, Walnut Creek, CA 94596
Dates: 12/9 - 1/16
Holiday Hours: Monday - Thursday 11 am - 8:30 pm; Friday & Saturday: 11:30 am - 11 pm; Sunday 11:30 am - 9 pm
Price: All ages are $20. This includes a 90-minute skating session and skate rental. 
Located in the absolutely gorgeous city of Walnut Creek, this  80 foot by 80 foot rink, is outdoors, but partially covered. This is one of the reasons that people like this rink so much. Instead of being stuck in a mall, you can walk around in a park and just relax outside before or after your session.
When you are done skating, you can also step inside the mall to check out retailers such as Nordstrom, so you can get a little holiday shopping done at the same time. Broadway Plaza, a major shopping area, if just about half a mile away from it and parking is usually easy. 
Glider rentals are available for those who need assistance skating on the ice.
>> Additional details about Walnut Creek on Ice
11. Winter Lights in Downtown Santa Rosa
Address: Old Courthouse Square located at Fourth Street and Santa Rosa Avenue, Santa Rosa, CA 95401
Dates: 11/25 - 12/31
Holiday Hours: Depends on day and date. Please check the website below for information.
Price: $8.50 per person and skate rental is included. Each session is 45-minutes long.
For those that want to venture a little further north, there is a fantastic skating rink in the gorgeous wine country city of Santa Rosa. The rink is at the center of it, in the gorgeous and classic Old Courthouse Square, and it is like taking a walk back in time.
Downtown Santa Rosa is a wonderland of shopping and sightseeing also as you are on the edge of the wine country.
The Winter Lights rink is synthetic and supposedly that makes it easier to skate without as much effort. It's also 100% seamless. Each session is 45-minutes long and there are only 44 people allowed on the ice at a time, so it is highly suggested you buy your tickets in advance. They also have skate aids for both kids and adults.
>> Find out more about Winter Lights and how to buy tickets here
Comments? Questions? Suggestions?
I would love for you join me in my private Facebook group! 
It's a great place to interact with me and others that know the area well.
You can ask questions, get advice for your upcoming stay, and then share your photos and advice with others when you return home. It's a great community and the fastest way to get answers to those nagging questions about your visit!