Christmas Dinner in San Francisco 2019
Where to Grab a Meal with Family
NOTE: Here is the latest on what's open and not open in San Francisco.
You will find plenty of options for Christmas dinner in San Francisco. My recommendations include everything from traditional meals to those serving off their regular menu.
Since this holiday is always extra busy, I recommend booking your table early.
In addition to my recommendations, you will also find some other fun things to do with your entire family all day long.
Disclaimer: I receive a small commission from some of the links on this page.
Christmas Brunch & Lunch Ideas
Here are some of the best places to enjoy a wonderful Christmas brunch or lunch on December 25.
ANZU: Traditional Christmas buffet starting in the morning


Cafe de la Presse: Open for Breakfast and Brunch from 9am to 4pm with dinner from 5:30pm to 9pm


Cliff House: Three options

The Bistro
Sutro's
Terrance Room



Crab House at Pier 39: Seafood/Fisherman's Wharf
Fairmont Hotel: Two options for Christmas Brunch

Crown Room: Christmas brunch with seatings at 10am, 12:30pm, and 3pm; $155 per person, $89 for kids
Laurel Court: Christmas buffet with seatings at 11am, 1:30pm, 4:00pm, and 6:30pm, $109 per person, $59 for kids



Fogo de Chao Brazilian: Open for a special meal for both lunch and dinner


Luce at the InterContinental: Buffet served from 11am to 2pm for $95 per person (4-12 is $47.50)


Roy's: 3-course prix fixed menu with signature dishes including "Misoyaki Butterfish" and Roy's Original Hawaiian Blackedn Island Ahi.


Zingari Ristorante + Jazz Bar: 3-course tasting menu for $85 per person
Christmas Dinner in San Francisco
There are dozens of restaurants open for Christmas Dinner in San Francisco. These are a few of my top picks this holiday season.
ANZU: Californian/Union Square


Big 4 at The Scarlet Huntington: Nob Hill


Cafe de la Presse: Dinner will be served from 5:30pm to 9pm


Eclipse Kitchen and Bar: Christmas dinner from 5pm to 11pm, $28 for a traditional turkey dinner


Fogo de Chao Brazilian Steakhouse: Steakhouse/South of Market


Luce at the InterContinential: Dinner is a 3-course meal for $105 per person (4-12 for $50)


McCormick & Kuleto's Seafood Restaurant: Seafood/Fisherman's Wharf


Park Chalet Coastal Beer Garden: Open all day for lunch and dinner


Ruth's Chris Steak House: Steakhouse on Van Ness


The Old Clam House: Seafood/Mission Bay


Zingari Ristorante & Jazz Bar: 3-course meal for $85 per person, children's menu, gluten free, and vegan options available
Make sure you book a table as soon as possible, as restaurants fill up quickly. The easiest way to book your table is through OpenTable.com.
Hornblower Christmas Supper Cruise: You can also head off on the San Francisco Bay with Hornblower Cruises for a special Christmas Day adventure. This 3-hour cruise includes a buffet supper and wonderful views around the bay. It's the perfect way to spend some time with your loved ones. Visit their site for more details and to check for ticket availability.
Christmas Day Tours
Though some attractions may be closed on Christmas Day, you can still do plenty of exploring by taking a tour. Pick from several different San Francisco adventures offered that day. Just imagine, your holiday will be especially memorable if you cycle across the Golden Gate Bridge, take a cruise out on the beautiful bay waters, or soar over the city in a helicopter.
Attractions Open on Christmas Day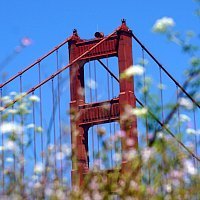 Though December 25 is a federal holiday, many attractions are still open on Christmas Day, so do not hesitate to get out and see the sights! You can take a stroll in the lovely SF Botanical Gardens or the Japanese Tea Garden. You can also tour the Golden Gate Bridge, visit Pier 39 or the SF Zoo.
Other options include a chance to wander around the open attractions like crooked Lombard Street, the Painted Ladies of Alamo Square, or the Palace of Fine Arts. Make sure to click the link below to confirm any special holiday schedules for an attraction you are interested in before making plans.
>> See the full list of attractions that are open or closed for Christmas
Christmas in San Francisco
Christmas is a lovely time to be in San Francisco, as nothing closes due to snow; rather, it is usually sunny but crisp out, and perfect for a stroll around town. Take in the holiday decorations as you explore the Mission district's murals or the shops at Pier 39. Up until Christmas Eve, you could also catch a holiday show like The Nutcracker ballet, A Christmas Carol, or Cirque du Soleil's Amaluna.
Click below for many more ideas on where to eat and what tours to take.
>> More ideas for how to spend Christmas in San Francisco
Christmas Eve Dinner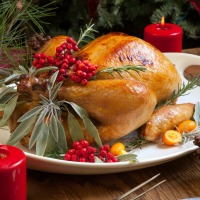 Now that you've seen my recommendations for Christmas dinner in San Francisco, check out another set of restaurants and special menus that will be offered the day before.
Many folks are busy doing Christmas shopping up until December 24, so it's a nice treat to take a break and go out for a Christmas Eve dinner. Many stores and restaurants will still be open until the last minute, so you have a great variety to choose from.
>> More ideas for Christmas Eve Dinner

Follow SFTourismTips on Facebook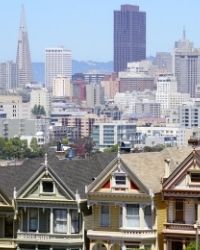 On my Facebook page, you will find more great information about planning your San Francisco vacation.
It includes tips, must see attractions, and other fun details.
Click the link below to check it out. If you enjoy the page, give us a like.

More Fun Things to Do in San Francisco