Christmas Eve Dinner in San Francisco 2023


by Jill Loeffler  •

Updated: November 15, 2023
You will find a variety of options for Christmas Eve dinner in San Francisco in 2023. A few dozen restaurants are offering special meals for the holiday. Others are open and allow you to order off their regular menu. 
You will find some of my top picks below. You will also find some other great ideas for an unforgettable day in SF.

Disclaimer: I receive a small commission from some of the links on this page.

Christmas Eve Dinner in San Francisco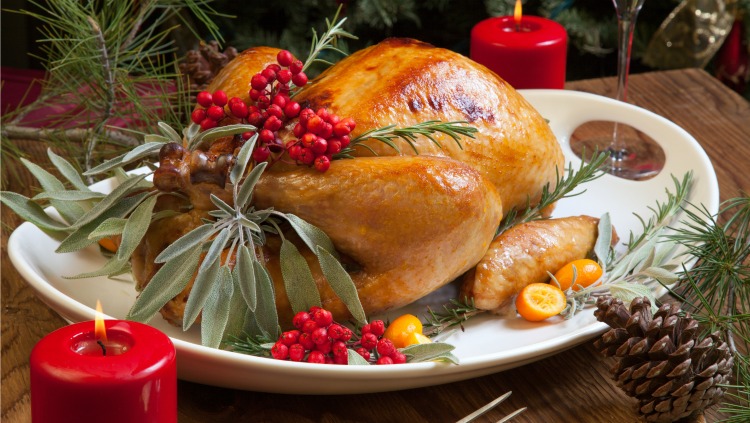 Here are a few of the best places to find Christmas Eve Dinner in San Francisco. Some are offering special meals and others are open and offer dinner off their regular menu. All prices are before tax, tip, and beverages.
54 Mint: Italian spot in the South of Market District
Amber India: Downtown/Union Square, Indian Cuisine
Bistro Boudin: Fisherman's Wharf, American Dishes
Cesario's: Union Square, Italian Restaurant
Corzetti: Financial District/Downtown, Italians Restaurant
Francisco Crab Restaurant: Fisherman's Wharf, Seafood
Harborview Restaurant & Bar: Along the Embarcadero, Chinese
Harris': Russian Hill Steakhouse
Historic John's Grill: Union Square, American, Seafood, Steak
HK Lounge Bistro: South of Market, Chinese
La Mar Cocina Peruana: Along the Embarcadero, Peruvian
Laurel Court Restaurant & Bar in the Fairmont: Nob Hill, Christmas Eve buffet for $169 per person, must prepay when booking
Montesacro SOMA: South of Market Pizzeria
Morton's The Steakhouse: Downtown/Union Square, Steaks
STK - San Francisco: Embarcadero, Steakhouse
Sushi Shio: Mission District, Japanese
Ula Restaurant & Taps Bar: Downtown, four course menu for $105 per person, $5 reservation fee required to book a table
Villon: Downtown/Union Square, Holiday Prix-Fixe Dinner, available from 4 pm to 9 pm, $145 per person with an optional wine pairing for $60, must prepay $25 upon reservations
Zingari Ristorante: Downtown, Italian, four course meal $105 per person, $5 reservation fee applies
Secure your spot early, by booking a table on OpenTable.com. 

Hornblower Christmas Eve Dinner Cruise: Spoil yourself and your loved ones on this special Christmas Eve Dinner Cruise. This 2.5-hour dinner cruise features a buffet dinner with items such as Turkey, Strip Loin, Roasted Garlic Mashed Potatoes, Quinoa Salad, and Three Cheese Baked Macaroni. End your meal with a tasty dessert or some seasonal fruits. The cruise leaves at 4 pm from Pier 3. Book your table on their site.

A Christmas Carol on Christmas Eve

The year, the largest event is A Christmas Carol at the Toni Rembe Theater (part of the American Conservatory Theater Company).
It's the classic story of Ebenezer Scrooge with his bad attitude toward Christmas. His late partner visits in the middle of the night warning him that he will be visited by three ghosts from the past, present, and future.
What happens is a magical story that is only on stage during the holiday season.
The show is at 1 pm.
>> Find tickets to these performances
More Top Events on Christmas Eve
Best Places to Stay

There are more than 300 hotels in San Francisco. You will also find plenty of apartment rental options.
If you are still looking to book your stay for Christmas Eve, check out these pages to learn more about where to stay, to find the best deals, and where you can find recent guest reviews to ensure the one you select is right for you.
Not sure which district is right for you? Check out my page that explains the pros and cons of staying in each district. 

More Fun Things to Do on Christmas in SF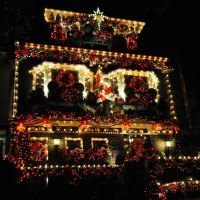 Christmas is a very special time for many folks around the world, and spending it in San Francisco can make it so much more memorable. Although several attractions are closed on December 25, you'll still find plenty to do. 
You can sightsee on a fun tour of the Golden Gate Bridge or cruise the SF Bay, take a stroll in the one-of-a-kind Botanical Garden, share a nice meal at one of the city's best restaurants, and much more.
Where to See Christmas Lights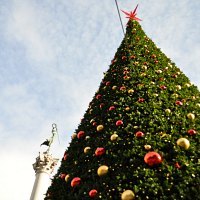 At this time of year, San Francisco always comes aglow with warm, colorful Christmas lights and other decorations.
Whether you're surrounded by downtown buildings, in the residential neighborhoods, or by the waterfront, you can't help but notice the holiday cheer everywhere around you. 
However, there are a few places in particular whose displays are especially worth visiting, including Pier 39, Union Square, the SF Zoo, local favorite Tom & Jerry's, City Hall, and many others.
What Closes Early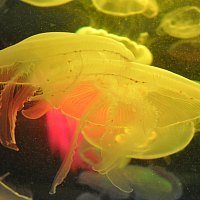 While many San Francisco attractions will be closed on Christmas Day, most will be open on Christmas Eve, but some with shorter hours than usual. Several museums, like the Exploratorium and the Aquarium by the Bay, close a few hours early. (Many stores, on the other hand, stay open later on this day for last-minute shoppers.) 
Other attractions, like Lombard Street and the Palace of Fine Arts, are of course open to the public all day everyday, so you can enjoy them at your leisure. Be sure to check the holiday schedule before you make your plans!
>> Get the Christmas Eve and Day schedule for ALL the major attractions

Things to Do on New Year's Eve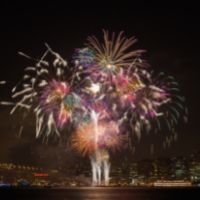 If you'll be sticking around to ring in the new year in San Francisco, you'll be thrilled by all your fun options for NYE.
You could head to the Embarcadero to watch the annual fireworks display over the bay, dance the night away at one of the many 21+ clubs or party boats, go out to an elegant dinner, or enjoy a comedy show, among other things. 
Check out the details for each of these options, and also find out how to get around safely that night.
Comments? Questions? Suggestions?
I would love for you to join me in my private Facebook group! 
It's a great place to interact with me and others who know the area well.
You can ask questions, get advice for your upcoming stay, and then share your photos and advice with others when you return home. It's a great community and the fastest way to get answers to those nagging questions about your visit!