Union Square San Francisco Shopping
Recommendations for Places to Shop in this Popular SF District
Union Square San Francisco shopping is one of the main draws to this neighborhood. In addition to a number of great hotels and restaurants, this area has one of the highest concentration of places to shop of any neighborhood in they city.
You can either stay right on Union Square to shop or head just a few blocks away for some additional places to shop at either the SF Shopping Center or Ferry Building.
Shops Around Union Square
The main anchor of this area is Macy's. Macy's is located across Geary Street from Union Square. It's a huge building with a number of floors that will delight any shopper! It also has a Cheese Cake Factory Restaurants on the top floor.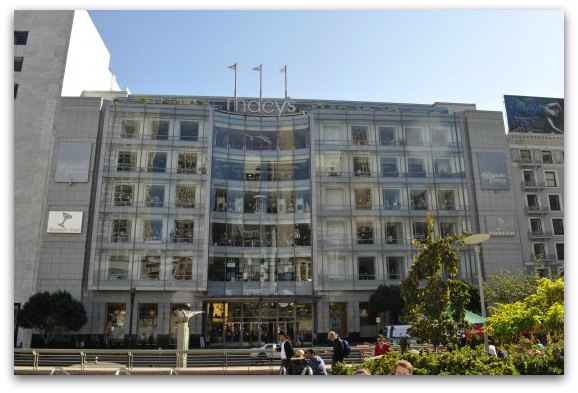 Other retailers nearby are high end retailers such as Tiffany's, Louis Vuitton, and Saks Fifth Avenue. You will also find more common retailers such as Nine West, Victoria's Secret and Niketown.
Maiden Lane is a famous street to shop nearby also. It's located right next to the plaza and has a number of higher end shops and restaurants.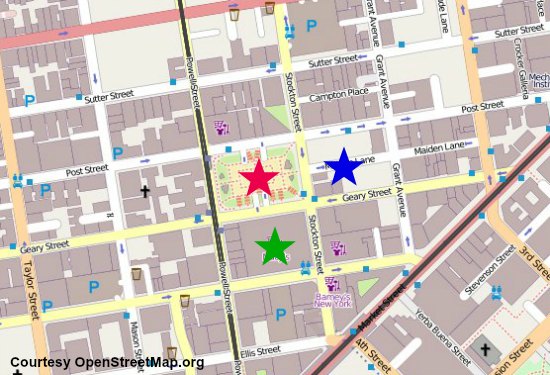 Here is a map of Union Square (pink star) with Macy's across the street (green star). You can also see Maiden Lane (blue star) right next to Union Square.
You could wander around shopping for a day or more. I would recommend heading out to shop as early as you can in the day, since it gets really crowded in the afternoon and evenings.
If you are driving, you can also park in the underground parking lot at Union Square. There are two entrances - one on Post Street and the other on Geary Street. Find out more about SF parking garages.
Weekends are also very crowded, so be prepared to walk through the crowds to get to your destination.
SF Shopping Center
The San Francisco Shopping Center is just a few blocks off the plaza. It was also recently renovated and more than doubled in size.
It is located on the corner of Market and 5th Streets. It's within walking distance from Union Square and has a number of large retail chains.
It gets pretty crowded, really quickly. I'd recommend shopping either during the day or as early in the morning as possible on weekend days.
You'll find major retailers such as Nordstrom's and Bloomingdales. You'll also find smaller retailers such as Coach, Abercrombie and Fitch and other popular stores.
The great thing is that you'll also find some smaller and/or local retailers. Right through the new entrance to the shopping center, make sure you stop and grab a piece of chocolate from Cocoa Bella. It's a local chocolate shop that has a number of high end chocolates from around the world.
The new section of the shopping center is also a great place to grab lunch for the day. There are a number of great places to eat on the bottom level of the shopping center. My favorite place is the Sliding Door which is a smaller version of this high end restaurant in the Ferry Building.
Ferry Building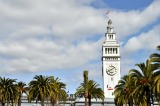 If you are looking for something a little different, head to the Ferry Building along the water. It is a few blocks away along the Embarcadero.
The Ferry Building is a newly renovated pier along the water. It has a number of higher-end, mostly local retailers.
You can buy fun gifts, great gourmet foods and even grab some lunch. It's a quick walk through the Ferry Building and a unique buying experience.
Learn More: Ferry Building
Other Places To Shop in SF
Chinatown: If you are looking for affordable shopping, then head over to the Chinatown District. All along Grant Avenue, you will find dozens of shops with reasonably prices gifts, clothing, jewelry and more.
Pier 39: In additional to Union Square San Francisco shopping, many people love to spend some time on Pier 39. This remodeled pier offers more than a dozen shops, restaurants and a few attractions. Here you will find both local boutique stores as well as name brands. It's setting is gorgeous along the waterfront is great too!
Ghirardelli Square: Located on the western side of Fisherman's Wharf is a small shopping area called Ghirardelli Square. This historic building houses about a dozen shops including four places where you can buy the famous Ghirardelli Chocolates. While you are here, you can also grab some lunch at one of its popular restaurants or do a little wine tasting.