Thanksgiving Dinner in San Francisco 2018
My Top Picks for Traditional & Non-Traditional Meals
Dozens of local restaurants are open for Thanksgiving dinner in San Francisco. You will find that most serve a traditional meal with turkey, mashed potatoes, pumpkin pie, and all of the fixings. Many of these offer their meals at a prix-fixe price, so you know exactly what you get and what it will cost.
In addition, you will find a few still offer meals off their menu or a non-traditional meal. My top picks below include a variety of options, so you can be sure to find the right fit for your family's holiday meal. You will also find a few recommendations for other fun things to do on this holiday in SF.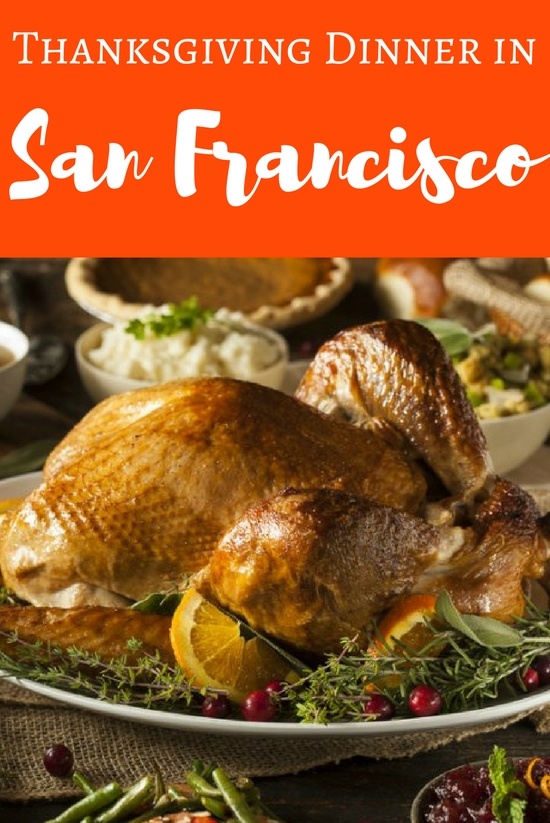 Thanksgiving Dinner in San Francisco
If you are looking for a tasty Thanksgiving Dinner in San Francisco, then this is the list of you. I've included my top picks for this holiday meal.
Some of them are offering a traditional Thanksgiving Day meal and others are offering their standard menu. Make sure you book early as many of these places fill up quickly.
American Restaurant-Hotel Vitale: Dinner from 2 to 7pm, 3-course meal, starts at $70 for adults and $35 for those under 12, Financial District/Embarcadero


Beach Chalet: 3-course prix fix meal all day, book your reservations on their site


Big 4 Restaurant: Nob Hill at 1075 California Street, 3-course meal, $155 per person, $255 with wine pairing, visit their site for reservations


Boho: 5-course and 3-course meal options, $75 for the 5 course and $48 for the three course meal, Marina/Cow Hollow District


Cliff House: 3 options

The Bistro: 9am to 1:30pm - Breakfast and lunch off menu; 2:30pm to 9:30pm - Thanksgiving dinner (walk in only, no reservations)
Sutro's at the Cliff House: 11am to 9pm, Thanksgiving dinner, call for reservations (415-386-3330)
Terrace Room Champagne Buffet: 10:30pm to 6:30pm, call for reservations (415-386-3330)



Fairmont in Nob Hill:

Laurel Court: Thanksgiving Buffet with seatings at 11am, 1:30pm, 4pm, and 6:30pm, $109 per person, $59 for kids under 12



Cocotte: Traditional Thanksgiving Day feast, $72 per person, under 12 is $35, Russian Hill


Garcon: Turkey dish, tuna, filet mignon and other seasonal dishes, $72 per person, Mission


Grill at the St. Regis: 4-course meal with unique offerings as well as traditional dishes, serving from 4:30pm to 9:30pm, SOMA at 125 3rd Street


Hard Rock Cafe: Special Thanksgiving Day meal, make your reservations today, Fisherman's Wharf on Pier 39


Le Colonial SF: Vietnamese inspired 4-course family style meal for Thanksgiving, Downtown/Union Square


Luce - InterContinental: Fantastic 3-course meal for $98 per person, $49 for those 4 to 12


One Market Restaurant: 4-course prix fix menu for $79 per person (excludes taxes, drinks and tips), serving from 1 to 8pm, Downtown/Embarcadero at 1 Market Street


Zingari Ristorante and Jazz Bar: 3-course meal for $85 per person, require a credit card to reserve for Thanksgiving Day, Downtown/Union Square at 501 Post Street
I always recommend booking early. I know I've already said this before, but I want to make sure you get that perfect spot for your Thanksgiving dinner in San Francisco.
Many of the options above can be booked through OpenTable.com. You can also contact the restaurants directly to reserve your spot.
Thanksgiving Dinner Cruise
Head out on the SF Bay this Thanksgiving Day with Hornblower Cruises. They currently are offering two cruises with Thanksgiving Dinner in San Francisco.
You can step aboard their premier, seated dinner, or a buffet dinner cruise. The dress code for these cruises is upscale to business casual.
Seated Dinner Cruise: 4-course dinner on the California Hornblower, boarding begins at 2:15pm, the cruise leaves at 3pm and returns around 6pm
Buffet Dinner Cruise: High-end buffet on the San Francisco Belle, boarding begins at 2pm, leaves at 2:30pm and returns around 5:30pm
Both cruises pick up at Pier 3 on the Embarcadero near Washington Street and next door to the Ferry Building.
>> Details about both cruises here
Additional Fun Things to Do on Thanksgiving Day Weekend
Combine your plans for Thanksgiving dinner in San Francisco with one of these fun events. This year, you will find plenty of things to do from performances of Cirque du Soleil to shows by the SF Opera.
>> Click here to visit the Thanksgiving Day and Weekend page with a full list of things to do this holiday
Holiday Attraction Schedule
Before or after your Thanksgiving dinner in San Francisco, make sure to visit some of our top attractions. Several are open on this holiday, but with slightly different schedules. Click the links below for a list of places open and the hours they plan to be open that day.
>> Holiday attraction schedule for Thanksgiving Day
Tree Lighting Ceremonies
While your Thanksgiving dinner in San Francisco might be a highlight of your stay, you might also enjoy some of the tree lighting ceremonies this weekend. The link below includes details on all of the tree lighting celebrations this year including those for Union Square, Pier 39, and more.
>> Tree lighting ceremonies in SF
More Fun Tours and Attractions to Visit