SF Bay Area Turkey Trot Races
15 Thanksgiving Day Runs
NOTE: Click here to stay up-to-date with what's open and opening soon.
All SF Bay Area Turkey Trot Races in 2020 are cancelled or virtual.
Are you interested in working off a few calories before you indulge this Thanksgiving? These SF Bay Area Turkey Trot races are often for charity and some encourage participants to donate canned food and other goods.
All of these are on Thanksgiving Day morning. My list includes top options in San Francisco, the East Bay, San Jose, and North Bay.
Disclaimer: I receive a small commission from some of the links on this page.
1. Concord
Start Time: 7:45 am
Starting Location: Todo Santos Park
Race Length: 5k, 10k
Our list of SF Bay Area Turkey Trot Races begins in Downtown Concord in Todos Santos Park. This race is limited to only 1,500 people so that you will be able to enjoy your race without the crowds. Make sure to register in advance and not miss out. Each participant receives a T-shirt and medal. Awards are given for age groups and top three finishers.
>> Visit their site to register
2. Healdsburg
Start Time: 8 am
Starting Location: Barbieri Brother's Park at 325 Brindle Path
Race Length: 5k
Run through the gorgeous town of Healdsburg in the middle of Sonoma County's wine country. T-shirts are available with registration. This year's event benefits #SonomaStrong which is a fundraiser for those affected by the fires in Sonoma and Napa county this fall.
3. Marin
Start Time: 8:30 am
Starting Location: Whole Foods at 790 DeLong Avenue, Novato
Race Length: 1 mile, 5k, 10k
Enjoy the beautiful open space trails of Marin county as you walk or run on this race. The swag in this race is some of the best since you get a T-shirt, Whole Food Goodie Bag, and commemorative mug that you can use to drink the delicious hot apple cider at the end of the race. Note that the race ends at 1800 Ignacio Boulevard in Novato.
More Things to Do in the SF Bay
In addition to these Turkey Trot races, you will also find several other fun things to do around the bay this weekend. Here are a few of my top picks.
SF Bay Thanksgiving Weekend Guide | What's Happening in SF this Weekend
4. Monterey & Carmel
Start Time: 9 am
Starting Location: Carmel Valley Athletic Club at 27300 Rancho San Carlos in Carmel
Race Length: 5k
A non-competitive race along the relaxing South Bank Trail is a perfect way to start your Thanksgiving day this year. There are no awards and strollers are welcome if you want to bring along your young ones. $5 off registration if you bring a can of food to donate on race day.
5. Mountain View
Start Time: 8:30 am
Starting Location: Mountain View High School at 3535 Truman Avenue
Race Length: 1 mile Spartan Run and 5k
Unlike most of the SF Bay Area Turkey Trot races, this race is held entirely on a high school track in Mountain View. Since it is on a track, there are no pets or baby strollers allowed for this race. Your registration fee allows you to run all events if you want without any extra charge. T-shirts with registration by November 20th, so it is best to register in advance if you want one.
>> More details on their website
6. Napa
Start Time: 8 am
Starting Location: Napa Valley College at 2277 Napa Valley Hwy, Napa
Race Length: 5k, 10k
This Turkey Trot encourages you to walk, jog or run at your own speed and just enjoy the scenery before you fill up on food this Thanksgiving. This race is family friendly so everyone is welcome to participate. Make sure to dress appropriately as this event will happen no matter rain or shine.
7. Oakland
Start Time: 8:30 am
Starting Location: Lake Merritt Pergola
Race Length: 5k
This 5k starts at the beautiful Lake Merritt Pergola and winds around the lake during the course. It also has an opening ceremony that includes special guests to inspire you to run your best this Thanksgiving.
This is the only of the SF Bay Area Turkey Trot races that allows you to buy a VIP ticket that will get you a complimentary bottle of wine, continental breakfast, and commemorative Oakland Turkey Trot gift. The VIP ticket is an extra charge but it is more than worth it if you want a very special memory this Thanksgiving.
>> Details for the Oakland Turkey Trot
8. Piedmont
Start Time: 8:30 am
Starting Location: Piedmont Exedra at the corners of Highland and Magnolia Avenues
Race Length: 5k
The little known town of Piedmont, in the Oakland Hills, is a walk, jog, run event for the whole family. Special T-shirts will be available for the first 2200 registrants. All proceeds benefit the Piedmont High School cross country and track teams and programs so they might even pass you by if you aren't fast enough!
>> Register on their site today
9. Pinole
Start Time: 9 am
Starting Location: Point Pinole
Race Length: 5k and 10k
This family friendly 5k and 10k race is primarily run on fire trails and both are loops with only small hills. If you are lucky enough to have a clear day, this is one of the only SF Bay Area Turkey Trot races that will allow you to see up to 5 bridges and 6 counties. If that isn't a great way to give, and get, thanks on this day, nothing is.
Each participant will receive a cotton shirt and can upgrade to a technical shirt for $7 if they want to look their best. There will be water stations throughout the race and medals are also awarded to age groups ranging from 8 and under to 90+.
10. Santa Cruz
Start Time: 8:00 am
Starting Location: 2300 Delaware Street by the back entrance to Natural Bridges
Race Length: 5k and 10k
This scenic 5 or 10k run gives you a view of the SF Bay when you are working off the calories that you'll be consuming later in the day. The very flat and fast course makes it a family friendly event that won't be too tough on you on this turkey day event.

>> More on this year's race in Santa Cruz
11. San Jose
Start Time: 8:30 am
Starting Location: LeLand High School at 6677 Camden Avenue
Race Length: 5k and 10k
If you are looking for one of the more goofy of the SF Bay Area Turkey Trot races, you've come to the right place. Many of the runners dress up and wear interesting costumes so you can be sure to get a laugh while you are running either the 5 or 10k course at this event.
The course for the Run Turkey Run Almaden's Thanksgiving Fun Run is both flat and run on paved trails so it is an easy way to start your day. This is a family friendly event so be sure to sign up the whole crew and support each other during your run.
12. San Francisco
Start Time: 8 am
Starting Location: Polo Fields, San Francisco Golden Gate Park
Race Length: 5k and 10k
A run in the gorgeous San Francisco Golden Gate Park has to be the most beautiful and wonderful way to start out this very early Thanksgiving morning. Costumes are highly recommended and so is your best silly attitude as you do this event.
This race is limited to only 1,400 participants so make sure to register early and don't miss out as there is no race day registration. Entry includes a T-shirt that you are bound to find hilarious as this race has become known for its silly attitude and very San Francisco Turkey attitude!
>> More on SF's annual race and registration details
13. Silicon Valley
Start Time: First run starts at 7:30 am with all others staggered about 10 minutes apart
Starting Location: Santa Clara Street at First Street
Race Length: 5k and 10k
The Silicon Valley has to be one of the most diverse of the SF Bay Area Turkey Trot races since there is not only a 5k and 10k, but there is also CEO/Celebrity race (you can compete against them), an elite invitational, quickest firefighter/cop race, a U.S. Veterans race, and also a 10k wheelchair race. So, there is really no excuse not to get out of bed and join this annual Thanksgiving run.
After you finish, you can check out the festival and see some of the best gear out there. They also have a chiropractor to help fix any aches or pains you have from your run. There is also a special VIP area if you choose to enter specific races.
>> Register for this year's race
14. Solano
Start Time: 8 am
Starting Location: Solano Community College at 4000 Suisun Valley Road, Fairfield
Race Length: 5k and 10k
If you've never been to the beautiful Suisun Valley, you are in for a treat with this race. This race will take you on a two lane road, through vineyards, fields and farmlands. After the race, you are welcome to enjoy the food booths, family activities, award ceremony and other attractions that will be out while you cool down and get ready for your Thanksgiving feast later on in the day.
This race is somewhat more serious than many of the other SF Bay Area Turkey Trot races and entrants will be lined up according to their pace. Don't worry if you aren't sure as you can decide what make the most sense for you this Thanksgiving morning.
15. Walnut Creek
Start Time: 8 am
Starting Location: Civic Park at 1375 Civic Drive
Race Length: 5k and 10k
The last of the SF Bay Area Turkey Trot races is located in the East Bay city of Walnut Creek. The course is centered in Walnut Creek, with the 10k continuing out of the town to the Iron Horse Trail. There will be water and and aid stations along the route in case you are in need of a little help before you have your Thanksgiving feast later in the day.
This race also has a staggered start so even though the race starts at 8 am, you may leave a little later in the morning. Make sure to check the website so you can get a better idea of what time your group will start the race. The event is run rain or shine so dress appropriately.
>> Register on their official site today

Follow SFTourismTips on Facebook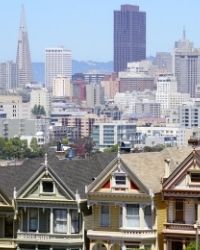 On my Facebook page, you will find more great information about planning your San Francisco vacation.
It includes tips, must see attractions, and other fun details.
Click the link below to check it out. If you enjoy the page, give us a like.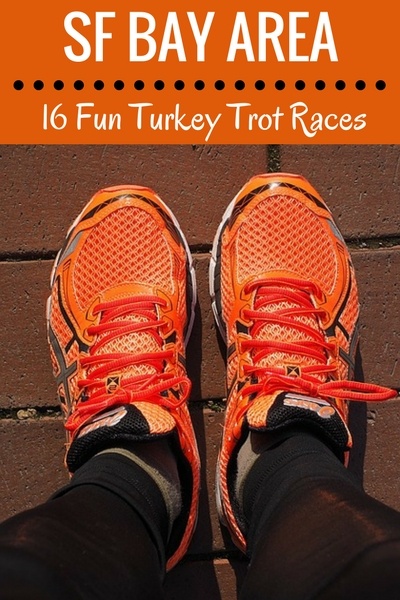 More Fun Things to Do This Holiday Weekend