Family-Friendly Napa Valley Wineries: 10 Fun Places that Welcome Kids
Are you visiting Napa Valley with kids and want to do a little tasting? Not sure where to go?

Check out my list of the top family-friendly Napa Valley wineries. These are places your kids will not only be welcome, but will have something to occupy their time as you sample some of Napa's best wines.

Disclaimer: I receive a small commission from some of the links on this page.

1. Sterling Vineyards

One of the best family-friendly Napa Valley wineries is Sterling. The fun starts immediately with an aerial tramway ride to the top of the hill. This is the only way to get to the tasting room from the parking lot.
As you ascend, you will get amazing views around the valley. Kids love it as they get a bird's eye view of the valley below.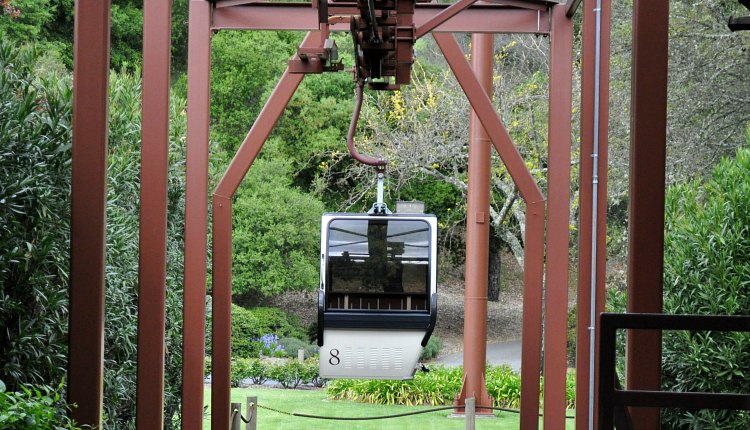 When you arrive at the top and check in for your tasting, your little ones will receive a coloring book. Sterling also offers great views, snacks, and juice for those under 21.
If your kids are old enough, they can also enjoy the self-guided tour. It shows the wine making process and is a great way to learn about it.
2. Castello di Amorosa

Another one of the top family-friendly Napa Valley wineries in Castello di Amorosa. This authentic Italian castle winery has 107 rooms and plenty of places to explore.
Your best option here is to take one of the guided tours. Your entire family will get the chance to see secret rooms and interesting chambers.
At the end, you will also do a little wine tasting. Kids over 5 will also get a cup of grape juice so they can join in on the experience.
3. Frog's Leap

You will find Frog's Leap Winery in the heart of Napa in the Rutherford District. They have an amazing selection of wine including Cabernet Sauvignon, Merlot and Zinfandel. I also love their whites including their Chardonnay, Sauvignon Blanc, and Chenin Blanc. All are perfect on a warm sunny day.
The reason they are one of my favorite family-friendly Napa Valley Wineries is that they offer some fun things for kids on their farm.
They can meet the chickens or watch the fish swim around in the pond. They can also check out their lovely garden. This keeps them busy so you can do a little tasting during your visit.
4. V. Sattui

A perfect spot for lunch is V. Sattui Winery. They have wonderful outdoor area that includes a number of picnic tables.

They also have a deli on-site, so you don't need to stop anywhere else before you arrive.
Their Artisanal Deli features salads and sandwiches. You can also get a panini or select one of their specialties such as Dungeness Crab Cakes, Lasagna, Seasonal Mac & Cheese, or their Three Cheese Ravioli.
Each selection on their menu shows you the best wine to pair with it, so you can enjoy a glass or bottle of wine with lunch.
This stop gives the kids some time to play around outdoors as you finish your tasty V. Sattui selections.
5. Honig Vineyard and Winery

Another great place to take the kids is Honig Vineyard and Winery. They have a selection of fun things for your entire family.
They offer a tour of their vineyard on an open-air cart. Kids love this tour as they get to ride around in a cool cart as you all soak in the amazing views around the valley.
Inside the winery, there are also games and toys for kids of all ages. In addition, they offer the kids snacks to keep them satisfied.
6. Dutch Henry Winery

Dutch Henry is a great option for older kids. It's another good lunch spot.
They have a great selection of red wines. I love their Syrah and Grenache wines. They also make Cabernet Sauvignon, Merlot, and Zinfandel.
The best part is they have a good outdoor area with bocce ball and picnic tables. You can grab some lunch on your way over and it enjoy it on one of the outdoor tables.
7. Alpha Omega Winery

Alpha Omega Winery is another one of the best family-friendly Napa Valley Wineries. For younger kids, they offer coloring books and crayons upon arrival.
They also have a lovely outdoor area that is perfect for your family. You can taste their wines outdoors as the little ones get some fresh air.
Their selection of wines includes everything from Cabernet Sauvignon to a wonderful Late Harvest wine.
8. Beringer

The next stop for families is Beringer. They opened their doors in 1976 and is the longest continually operated winery in California.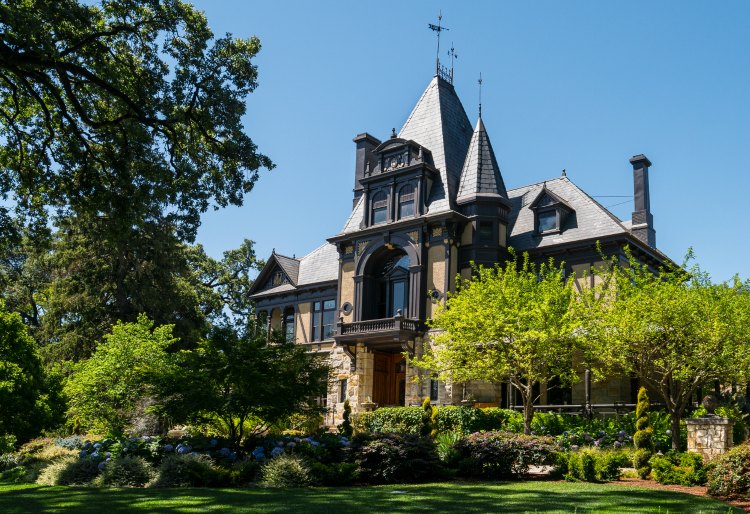 There are a few things that will keep your kids busy here. They can explore some of the rooms in this 17-room historic mansion. Outside, you will find a bocce ball court and picnic tables.
Kids are welcome to join the 30-minute cave tour as well. Overall this is a great stop for families.
9. Provenance Vineyards

If your family loves the outdoors, head over to Provenance Vineyards. Their outdoor patio has sweeping views of the valley as well as a few fun games and activities.
For the little ones, the winery will provide apple juice and snacks. They can enjoy these as you enjoy your Provenance wine tasting.
The consider themselves a "Bordeaux House" which means they focus on grape varieties from this top wine region in France. Their focus is on Cabernet Sauvignon, Merlot, and Sauvignon Blanc. They offer both blends and single vineyard wines on their tasting menu.
Even though I love their outdoor area, they also have a wonderful indoor tasting room.
10. Inglenook

Inglenook is a historic property owned by Francis Ford Coppola. Construction began on their gorgeous chateau in 1881 with their first harvest in 1882. It stayed in the hands of the original owner, Gustave Ferdinand Niebaum, and his family until the 1960s. Coppola and his wife purchase it in 1975.
If you are traveling with kids, I recommend stopping here for lunch or a snack. They have a wonderful Bistro with outdoor dining. Their outdoor space features a reflecting pool and they allow the younger guests to borrow wooden sailboats to sail around the courtyard fountain.
It's a great experience for them and for you. At their Bistro, you can sample some of their tasty wines which is why it's one of my favorite family-friendly Napa Valley wineries.
Note: Options can change at anytime, so make sure to call ahead to confirm they are still offering their kid-friendly options.
More Fun Things to Do in Napa