Hop On Hop Off Bus Tours in San Francisco


by Jill Loeffler  •

Updated: May 23, 2023

Hop On Hop Off Bus Tours in San Francisco are a great way to see the best of what the city has to offer. On this page, you will find information on the different ticket options with distinct routes and durations.

This will allow you to compare all of these city tours and make an informed decision on which one is right for you.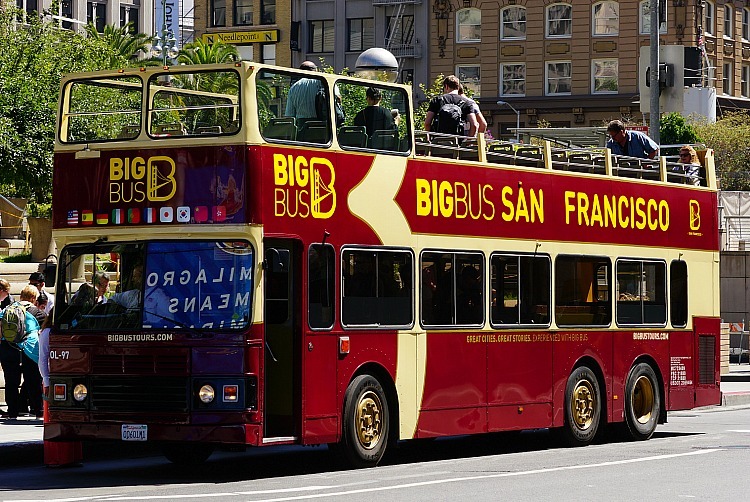 Disclaimer: I receive a small commission from some of the links on this page.

How the Hop-On Hop-Off Tours in San Francisco Work 

Hop-on hop-off bus tours in San Francisco are narrated bus tours around the city with set routes and several designated stops at the most popular tourist attractions and neighborhoods.
They make it easy for you to hop off at whichever stops you'd like, explore those sites for as long as you'd like, and then hop back on the next bus in the circuit when you're ready to continue. 
This is a great option for people who want to enjoy their preferred attractions at their own pace, but appreciate the convenience of being transported from one to the next, while learning fun facts about the city.
The buses typically run from 10 am to 5 pm along their route, and are spaced about half an hour apart.
Keep in mind that the 24-hour ticket is valid for 24 hours after you activate it, so if you hop on first thing in the morning (10 am) then you can only use it that day, but if you hop on at 3 pm, then you can use it until 3 pm the next day.

Should you buy online in advance or just buy in the streets? Some companies offer discounted prices online, so I recommend doing your research to find the best deals online before you arrive.

Essential Ticket: 24-Hours

Price: Adults: $65.70, Child (3 - 12): $56.70, online purchase prices and they sometimes offer even deeper discounts online, it's more when you purchase on the street
Tickets: Find all ticket options on their site, For a limited time, you'll also find these tickets at a discount on Groupon. 
The Big Bus Tour Company calls this their "Essential Ticket."

It includes:
1-Day Ticket: The ability to ride the bus for 24-hours after your first ride. The bus doesn't run the full 24-hours, but if you start at 11 am on day one, you have up until 11 am the next day to ride the bus.
16 Stops: Bus stops at places such as the Big Bus Tours Visitor Center, North Beach/Chinatown, the Embarcadero Center, Union Square, Hilton Hotel, Civic Center, Alamo Square Painted Ladies, Haight-Ashbury, Golden Gate Park (at the Academy of Sciences), Golden Gate Bridge (North Vista Point), Palace of Fine Arts, Lombard Street, and Pier 39. This one is my favorite because you get the chance to drive over the Golden Gate Bridge.
Free Walking Tour: From stop 2, you can head to Chinatown for their free 1 hour walking tour. Departs daily at 1 pm.
Free Bike Rental: One hour free bike rental from Blazing Saddles.
Explore Ticket: 48-Hours

Price: Adults $76.50, Child (3 - 12) $67.50, find tickets
If you want a little more time to explore, consider one the 48-hour hop-on hop-off bus tours in San Francisco, which allows you to divide your chosen stops among two full days and dedicate a little more time to each one. 
In addition to what's offered for the Essential 24-hour ticket, this one also includes:
One Additional Day: One more full day of being able to use the Big Bus Tour buses.
USS Pampanito or Blazing Saddles: Tickets for either admission to the USS Pampanito or a ticket for a Blazing Saddles bike hire. 
Most Popular: I'm asked a lot about which options are the most popular. The 48-hour bus tickets are the most popular. They give you a good amount of time to explore SF,  and take your time at each stop.
Details on Top Stops for Hop On Hop Off Bus Tours in San Francisco

You will find that all of the Hop On Hop Off Bus Tours in San Francisco offer stops at some of our most popular attractions. You will find information below about what to expect at some of these stops.

Alamo Square/Painted Ladies

The Alamo Square/Painted Ladies are a famous set of historic Victorians that have drawn in crowds for years. The most famous are those that sit across from Alamo Square Park on Steiner Street.
If you walk to the top of the hill in the park, you will get a gorgeous photo of the Painted Ladies with a view of downtown San Francisco as the back drop. 
Chinatown

All of the Hop On Hop Off Bus Tours in San Francisco have a stop at or near Chinatown. This historic and colorful district is one of the most densely populated in all of SF.
Here you can find some great discounts when you shop, visit some ancient temples, visit the Chinese Historical Society, or enjoy some Dim Sum.
Civic Center/City Hall

The Civic Center area is home to a few fun places to visit. It's also a popular stop on the Hop On Hop Off Bus Tours in San Francisco.
Here you can visit the Asian Art Museum (one of my personal favorites), City Hall (free from 8am to 8pm weekdays), and several performing arts buildings.
>> Learn more about what there is to see and do here
Ready to Purchase? Find tickets for all Big Bus Tours options.
Fisherman's Wharf

Fisherman's Wharf offers dozens of things to do. It's a popular place to spend the night and one of the places many people start their Hop On Hop Off Bus Tours in San Francisco.
You will find museums, restaurants, shops, Pier 39 and the ferries to Alcatraz.
>> Top things to do in Fisherman's Wharf
Golden Gate Park

Golden Gate Park is home to several top attractions including the California Academy of Sciences, the deYoung Museum, the Japanese Tea Garden, the Botanical Gardens, and the Conservatory of Flowers. 
>> More about what you can see and do in Golden Gate Park
Haight-Ashbury District

The Haight-Asbury District is the hippie district that was home to much of the action in the 60s. In this colorful district, you can do some shopping at vintage store and costume shops, walk by addresses where many famous people used to call home, and see where much of the Summer of Love took place.
>> What to see in the Haight-Ashbury
Ready to Purchase? Find tickets for all Big Bus Tours options.
North Beach

North Beach was originally settled by Italian immigrants and their influence is noticeable in this district today. It was also home to the Beat Generation in the 50s and 60s.
Today, you can do some shopping, eat mounds of pasta, visit Coit Tower, spend time in City Lights Bookstore, or explore the Beat Museum.
>> More on visiting North Beach
Palace of Fine Arts

The Palace of Fine Arts is another great place to stop. The original building was built for the 1915 Panama Pacific Expo. This free attraction offers you the chance to stroll on its lovely sidewalks as you admire the details of its beauty.
It's also a great place to have a picnic (several shops are just a couple of blocks away) and get some classic San Francisco photos.
>> Pics of and details about visiting the Palace of Fine Arts
Union Square

Another one of the most popular stops on the Hop On Hop Off Bus Tours in San Francisco is Union Square. It's home to the largest concentration of hotels in SF and where most people stay during their visit.
You can also do some shopping, learn about this districts history, or spend time in the square having a coffee or admiring some of the famous hearts of SF.
>> More about visiting Union Square
Comments? Questions? Suggestions?
I would love for you to join me in my private Facebook group! 
It's a great place to interact with me and others who know the area well.
You can ask questions, get advice for your upcoming stay, and then share your photos and advice with others when you return home. It's a great community and the fastest way to get answers to those nagging questions about your visit!