Halloween Parties in SF: Top 21+ Celebrations in 2022

by Jill Loeffler  •

Updated: October 13, 2022
Get ready for this year's Halloween Parties in SF! Since this fun holiday falls on a Monday this year, you can expect several fun events the weekend before.
Many of these annual 21+ parties include several rooms of dance music, costume contests, and drinks all night long. Buy your tickets early as many of them sell out!
Make sure to check all the details as some require costumes to enter.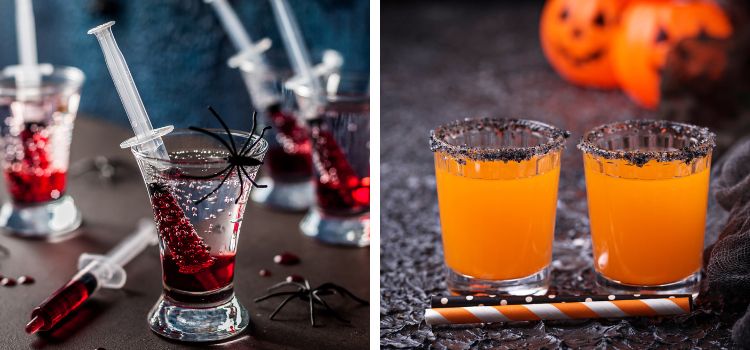 Disclaimer: I receive a small commission from some of the links on this page.

Multiple Nights
Haunted Haight Pub Crawl
Dates: 10/14, 10/15, 10/21, 10/22, 10/28, 10/29, 10/30 & 10/31
Celebrate Halloween in the Haight with this haunted pub crawl. From the organizers of the Haunted Haight Walking Tours, this event takes you to the most haunted pubs and bars around the Haight Ashbury District.
You'll hear all about this area's dark history from ghost stories to gruesome events that took place here. It will be an authentic paranormal event with real investigators.
>> Visit their site to learn more and pick up your tickets today
Friday, October 28
Mega International Ball Volume 1/ W Hotel San Francisco
9 pm to 2 am at the W Hotel San Francisco
San Francisco's # 1 Halloween Party!! FOUR Separate Rooms, Ten DJs, Dancers, Drummers and MUCH more! Absolutely an amazing line up!! A mega, must attend Halloween event in San Francisco!
>> Visit their site for ticketing information
Titanic Masquerade Halloween Party Cruise
10 pm to 1:00 am on the SF Bay with Check in Starting at 8:45 pm @ Pier 3

Cruise around the SF Bay this Halloween on the Titanic Masquerade Halloween Party Cruise. This 3-hour cruise includes 2 party and dance areas, music by 2 local DJs.
This party is aboard the lovely San Francisco Spirit with gorgeous views all around the SF Bay. 

Semi-formal with masquerade masks required. 
San Francisco Halloween Club Crawl
Starts at 6 pm
Drink specials and dancing all night long on this San Francisco Halloween Club Crawl. This event runs from 6 pm to 11 pm and starts a Mayes Oyster House at 1233 Polk Street.
Some of the bars participating in this event include McTeagues, Lush Lounge, R Bar, and the Wreck Room. Tickets run from $5 to $35 per person.
Saturday, October 29
Halloween International Ball Volume 2 at the W Hotel
9 pm to 2 am at the W Hotel San Francisco
Head over to the W Hotel for this year's Halloween International Ball. Starting at 9 pm, enjoy three rooms of world renowned DJs and performers including DJ Aykut, DJ Dr. T, DJ Kevin Armstrong, and more. They will perform alongside drummers and a violinist.
Costumes are required.
>> Visit their site for ticketing information
Crawloween: Halloween Pub Crawl
2 pm to 10 pm on Polk Street
Starts at Mayes Oyster House (1233 Polk Street), Del Mar (2125 Lombard Street), or Nick's Crispy Tacos (Broadway at Polk Street)
Join more than 7,000 other partiers for this year's ultimate Halloween Pub Crawl. 
You will wind your way through several local bars including places such as the Lush Lounge, Rouge, McTeauges, Zeki's, R Bar, and more. All offer drink specials to spice up your evening.
The Black Pearl Halloween Yacht Party on the San Francisco Spirit
9 pm to 1 am starting at Pier 3
Head out on the waters on the SF Bay to celebrate Halloween in 2022.
This Black Pearl Halloween Party offers 3 decks of fun with three DJs and a three-hour open bar.
See views of the bay during your cruise. Costumes are required.
>> Find tickets to this year's event
Speakeasy Halloween Cruise on the SF Belle
9 pm to 12 am, leaves from Pier 3 near Oracle Park
Head out on the SF Bay one of of the best Halloween parties in SF. With three decks, you and your friends will have plenty of room to dance and enjoy the night. The party includes 2 DJs, 3 levels of music, and a Roaring 20s theme. Flapper attire is strongly encouraged. 
The Halloween Pub Crawl Experience
4 pm to 11 pm at the Comet Club SF at 3111 Fillmore Street 

Spend your evening enjoying drink specials at pubs around Fillmore Street. You'll check in at the Comet Club between 4 pm and 8 pm where you'll receive a maps of all participating bars.
The specials continue until 11 pm and the party continues to 2 am! 
Halloween Cruise Party at Sea
Boarding starts at Pier 3 at 8 pm, departs at 9 pm and returns at 1 am

3-hours of fun with 4 floors of music. Biggest boat on the SF Bay with 7 fully stocks bars and food stations. 
Must be 21 and over. 
>> More details and ticketing options
Sunday, October 30
Haunted Circus Halloween
Event is at Rockwell at 3200 Fillmore Street
This haunted circus includes live music, dancing, and entertainment. It starts at 10 pm and runs until 2 am.
A strict dress code and ratio will be enforced. 
The event features Papi Chulo and Reggaeton, Hip Hop, and Latin rhythms. 
>> Find tickets to this year's event
Monday, October 31
The San Francisco Halloween Pub Crawl
Starts at 6 pm at Mayes Oyster House
This is another fun event for Halloween 2022 in San Francisco. The event runs from 6 pm to 11 pm with drink specials all night long.
You'll start at Mayes Oyster House at 1233 Polk Street. Once you check in, you'll receive details on other participating bars and their drink specials. 
Costumers are not required but they would love for everyone to come dressed up! They will also have some photographers on hand to take pictures. 
Some of the bars included with this year's crawl include Barley, R Bar, El Lopo, and Lush Lounge.
>> Find tickets for this Halloween event
Poisnivy Halloween
Starts at 6 pm at Peri's Tavern in Fairfax in Marin
Spend Halloween evening in Marin at their annual Poisnivy Circus Halloween event. The event features several acts from silly to sexy! 
You'll see aerialists dangling from 25 feet in the air. You'll also see dancers sizzling in the dark performing their fire and flow acts.
Music is by Prinz Xzist and art is by Linzys Heart Work. 
The event is at Peri's Tavern (29 Broadway) in Fairfax. It starts at 6 pm and runs until around midnight.
>> Find more details and pick up advanced tickets on Eventbrite
Comments? Questions? Suggestions?
I would love for you join me in my private Facebook group! 
It's a great place to interact with me and others that know the area well.
You can ask questions, get advice for your upcoming stay, and then share your photos and advice with others when you return home. It's a great community and the fastest way to get answers to those nagging questions about your visit!