Halloween Parties in SF: Top 21+ Celebrations in 2019
Get ready for this year's Halloween Parties in SF! Since this fun holiday falls on a Thursday this year, you can expect several fun events the weekend before.

Many of these annual 21+ parties include several rooms of dance music, costume contests, and drinks all night long. Buy your tickets early as many of them sell out!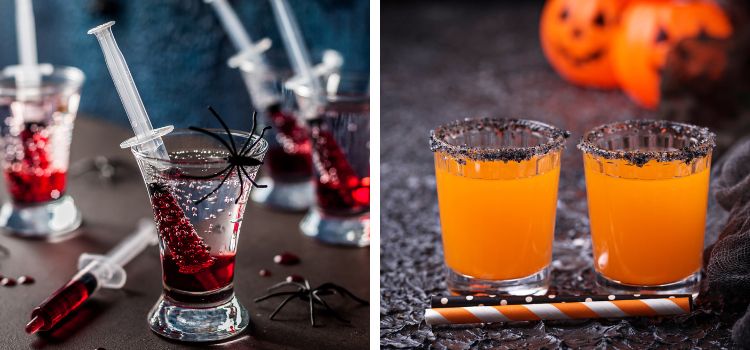 Disclaimer: I receive a small commission from some of the links on this page.

Thursday, October 31

Titanic Masquerade Halloween Party Cruise
9pm to Midnight on the SF Bay with Check in Starting at 7:30pm @ the Ferry Building, Gate B
Cruise around the SF Bay this Halloween on the Titanic Masquerade Halloween Party Cruise. This 3-hour cruise includes 3 party and dance areas, music by DJ ASAP, Eddy Santana, and and DJ J-Mag. 
This party is aboard the lovely Cabernet Sauvignon Yacht with gorgeous views all around the SF Bay. 

Masks and costumes required as well as semi-formal attire. 

San Francisco Halloween Pub Crawl: Adult Trick 'R Treating

6pm to 11pm at Mayes Oyster House
Spend your Halloween on this fun pub crawl around SF. The fun starts at 6pm at Mayes Oyster House. You will find specials along the route at places such as Lush Lounge, Blur, Vertigo, and Playland. With more than 5,000 people expected, this will be a Halloween night to remember. 
Halloween Pub Crawl

Bar None in the Marina
Enjoy several drinks at several locations on this Halloween Pub Crawl. It begins at the Bar None in the Marina. At this location, you will learn all about the local bars offering drink specials for those on the crawl. You will also get the chance to meet other crawlers and enjoy drinks with people from all over the world. This event is on Saturday from 3 pm to 10 pm. 

Multiple Nights

Crawloween: Halloween Pub Crawl (Friday, Saturday, & Thursday)
2pm to 10pm on Polk Street
Starts at Mayes Oyster House at 1233 Polk Street
Join more than 2,000 other partiers for this year's ultimate Halloween Pub Crawl. Check in begins at 2pm at Mayes on Polk Street. On Saturday night, you will wind your way through several local bars including places such as the Lush Lounge, Rouge, McTeauges, and more. All offer drink specials to spice up your evening.
Friday, October 25: Halloween Parties in SF

Halloween International Ball at the W Hotel
9pm to 2am at the W Hotel San Francisco
Head over to the W Hotel for this year's Halloween International Ball. Starting at 9pm, enjoy three rooms of world renowned DJs and performers. Room one features Euro, Top 40, & International House Music. Room two offers up Persian, Middle Eastern, and other hits. Room three is the 80s, 90s, and Hip Hop Room. You can also enjoy amazing Samba Dancers, drummers performing live with the DJs, a costume contest with great prizes, and more.
Saturday, October 26: Halloween Parties in SF

Rock the Yacht: Halloween Yacht Party Aboard the Empress Yacht
8:30pm to Midnight, leaves from Pier 40 near Oracle Park (formerly AT&T Park)
Step aboard the Empress Yacht, a 90-foot luxury lot, for one of the best Halloween parties in SF. Enjoy the three-hour premium bar as you dance the night away to Top 40, Dance, Hip Hop, and more. Boards at 8:30pm and leaves at 9pm. 21+ cruise.
Nightmare on Van Ness San Francisco Halloween Party

9pm at the Regency Ballroom
Join hundreds of locals at one of the best parties of the year! In its 11th year, the Nightmare on Van Ness Halloween Party offers two levels of non-stop dance music, a costume contest with several cash prizes, and other unannounced shockers throughout the night. Costumes are required.

Speakeasy Halloween Cruise on the SF Belle

9pm to 1am, leaves from Pier 3
Head out on the SF Bay one of of the best Halloween parties in SF. With more than 30,000 square feet of party space, you and your friends will have plenty of room to dance and enjoy the night. The boat fits up to 1,500 people with 4 DJs, 3 levels of music, and a Roaring 20s theme.

Mega International Ball / Westin St Francis Hotel San Francisco

9pm to 2am at the Westin St Francis Hotel San Francisco
San Francisco's # 1 Halloween Party!! FOUR Separate Rooms, Ten DJs, Dancers, Drummers and MUCH more! Absolutely an amazing line up!! A mega, must attend Halloween event on Union Square!

Heroes vs Villians at the W

Starts at 9pm and must arrive by 10:30pm at the W in SoMa
Which one will you be this Halloween--a superhero or a villian? This party at the W in SoMa will be filled with both (all costumes are welcome). It features four areas of music including Top 40, reggaeton, moombahton, and hip-hop and more. The W is in the SoMa District at 181 3rd Street.

Drop Dead Sexy Halloween

9pm to 1:30am at the Hotel Kabuki 
Dance all night long in the newly remodeled Hotel Kabuki in San Francisco's Japantown. There will be several DJ spinning Top 40, club hits, '80s, house, open format, and throwbacks. Step into the photo booth for a fun souvenier from the night and party all night long with their LED sticks.

Cirque Du Freak -- Halloween Circus for Adults

Starts at 9pm
Party the night away at this HUGE Halloween bash at the Rocca Event Center. You will be Under the Big Top all night long with a 20-foot LED light wall and music by a variety of DJs. With more than 20,000 square feet of dance space on two levels, there will be plenty of people to meet and spaces to dance around. Cocktail or costume attire required. The events runs for 6 hours until 3am.
The Black Pearl Halloween Yacht Party
7:30pm to 12am starting at the Ferry Building, Gate B (Pier 1)
Head out on the waters on the SF Bay to celebrate Halloween in 2018. This Black Pearl Halloween Party offers 3 decks of fun with three DJs and a three-hour open bar. See views of the bay during your cruise. Costumes are required.