Embarcadero San Francisco: Things to Do, Restaurants, Hotels, and Parking Tips

The Embarcadero in San Francisco is a street with wide sidewalks that runs along the eastern shore of the city. It starts in the north near Pier 39 and runs all the way south down to Oracle Park.
It's about 2.5 miles long with the mid-point around Pier 1, The Ferry Building.
Along this popular street, you will find plenty of things to do including cruises, shopping, restaurants, bars, and sporting events. It's also where you will find the Exploratorium, the James R. Herman Cruise Terminal, and SF Giants Baseball games.
Read on for information on the top 16 things to do, where to eat, places to stay, shopping options, how to get here, and parking tips.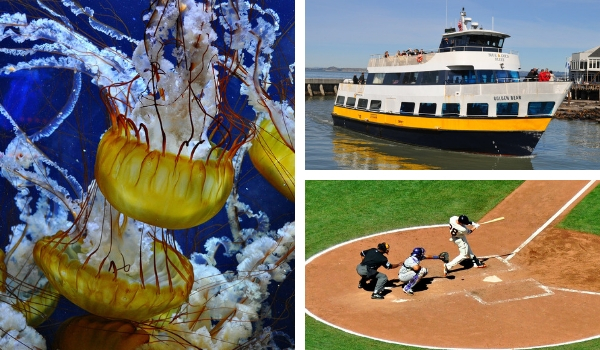 Disclaimer: I receive a small commission from some of the links on this page.

16 Things to Do on the Embarcadero San Francisco

I've listed the activities starting in the north at Pier 39 and heading down to the south to the end at Oracle Park. This will allow you to see what activities are close by each other and it will make planning easier.

1. Aquarium of the Bay, Pier 39

Walk through tunnel inside the Aquarium of the Bay on Pier 39
The Aquarium of the Bay is one of my favorite attractions along the Embarcadero San Francisco.
Inside, you will learn all about our local SF Bay plants and animals. The best part of the aquarium is the walk-through tank, where you will see fish and other wildlife swimming all around you (including above your head!). 
2. 7D Experience, Pier 39

The 7D Experience is another top stop. Set inside Pier 39, this part movie, part video game experience is one you will never forget.
In their small theater, you will work with other audience members to fight off the bad guys and come out with a victory.
As you leave, you will see your final score and you can see how you stacked up against other competitors in the audience. 

3. Other Activities on Pier 39

Other fun things to do on Pier 39 include shopping, a mirror maze, and several great restaurants. You can also head out on a cruise around the SF Bay. 
It's a great place to spend an hour or two or even all day. 
Find out all of the best things to do on Pier 39.

4. Alcatraz Landing, Pier 33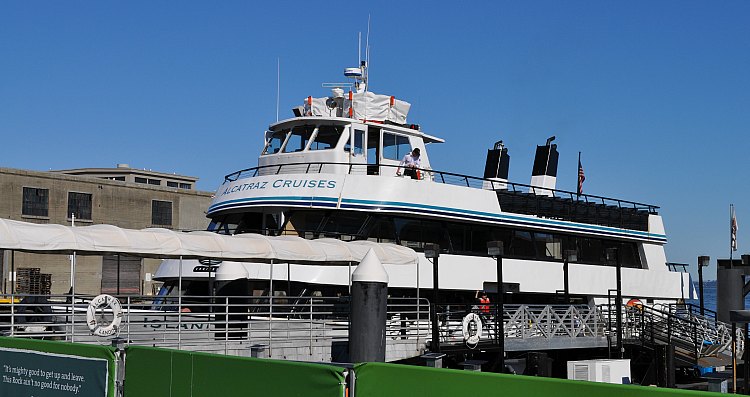 Ferry to Alcatraz Island
Just to the south of Pier 39, you will find Pier 33. This is where you will pick up your ferry over to Alcatraz Island. At the Alcatraz Landing, you will also find a gift shop and a small café where you can grab a bite to eat either before or after your visit to Alcatraz.
Find out more about Alcatraz prison tours. 

Planning to visit Alcatraz and head out on a tour? Check out these combo tours, which will help you save on the overall price.
5. James R. Herman Cruise Terminal, Pier 27

The James R. Herman Cruise Terminal is where you will find longer-range cruises to places such as Hawaii, Alaska, and the Panama Canal.
This is a newer facility that offers dozens of cruises every month. 
>> More about taking a cruise from SF to places around the world
6. Levi's Plaza
The corporate headquarters to Levi Strauss and Company is along the Embarcadero. Just outside their offices is a nice green space called Levi's Plaza.
The plaza has plenty of places to sit down. It's a nice place for a picnic or to just relax as you explore the area. 
7. Exploratorium, Pier 15 & 17

The next experience on the Embarcadero San Francisco is the Exploratorium. This hands-on, human perception museum offers you a chance to learn more about SF's weather patterns, the human body, and things such as color, space, and time.
Their interactive exhibits are a lot of fun and will allow you to learn as you explore. 
It's an interesting museum and will keep you occupied for hours on end. 
Pick up tickets in advance in order to skip the ticket line.

8. Pier 7

Next up is Pier 7. This is one of my favorite places to get unobstructed views of the Bay Bridge and Treasure Island as the span reaches from San Francisco to Oakland.
This long pier isn't often busy, since most tourists don't know about it, but I consider it a must-see along your journey at the Embarcadero San Francisco.

9. Hornblower Cruises, Pier 3

Hornblower Cruises offer several tours a day including dinner/dancing and special holiday cruises.
All of their tours depart and return to Pier 3. 

10. Ferry Building, Pier 1

My husband and I enjoying some Humphry Slocombe ice cream outside the Ferry Building.
The halfway point between Pier 39 and Oracle Park is the Ferry Building. This renovated historic building originally opened in 1898. It's at the foot of Market Street and a good place to explore.
Today, it's the main ferry terminal for commuter ferries to places such as the East Bay, Marin, Sausalito, and Tiburon.
Its hallways are also now home to gourmet restaurants, food shops, and other food and beverage related retailers. Make sure to check out two of my favorites which are the Blue Bottle Coffee and the Book Passage book store.
Great restaurants in the Ferry Building include Gott's Roadside (burgers, salads, and fries), Hog Island Oyster Company, and Humphry Slocombe ice cream! 
A few days a week, you can also check out the Ferry Plaza Farmer's Market with fresh food from around the Bay Area. 
Find out more about what you will see during your visit.

11. Embarcadero Center, Across from Pier 1

Head across the Embarcadero San Francisco for a little more shopping. The Embarcadero Center is a large shopping center in the Financial District with brand names such as The Gap, Ann Taylor, and Sephora.
You will also find some casual places to eat.

12. Pier 14

This is another long pier that takes you out over the water. It has some of the best views of the SF Bay Bridge and Treasure Island.
If you turn around and look towards the city, you will also get some great views of the buildings and artwork lined up along the Embarcadero San Francisco. Some of my favorites include Coit Tower and the Transamerica Pyramid Building. 

13. Rincon Park, Between Pier 14 & 22 1/2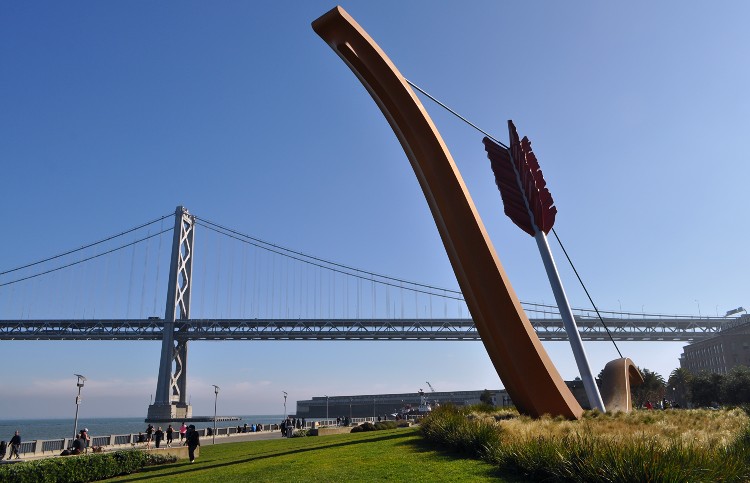 Rincon Park near the Bay Bridge. This is just one of a few pieces of art in and around the park.
This open area park right on the Embarcadero waterfront has an interesting massive bow and arrow statue as its centerpiece.
It's a popular place for locals to hang out during their lunch hour and enjoy the outdoors.
You will also find some great views of the Bay Bridge.

14. Pier 24 Photography Museum, Pier 24

Tucked away in an old building under the Bay Bridge is a small photography museum called the Pier 24 Photography Museum. This magical museum is free, but it does require reservations.
They do not have their own collection but instead display three to four traveling exhibits at a time. It's a great way to see some interesting photographic art while on the Embarcadero San Francisco.
15. City Kayak, Pier 40

If you love kayaking, make sure to check out the offerings at City Kayak on Pier 40. They offer trips for beginners and intermediate kayakers.
You can also walk in without a reservation to rent a kayak for the day or longer. It's a fun way to spend the day on the water. 
Check out their site for details.

16. Oracle Park

The final stop on the southern end of the Embarcadero San Francisco is Oracle Park. This is the home of SF Giants and you will find it in the China Basin district.
The Giants play baseball at the park between April and September (and then through October if they make it to the postseason).
You will also find a couple of concerts here each year as well as a handful of annual events.
Click here for ticketing information for upcoming events.
Fireworks Along the Embarcadero San Francisco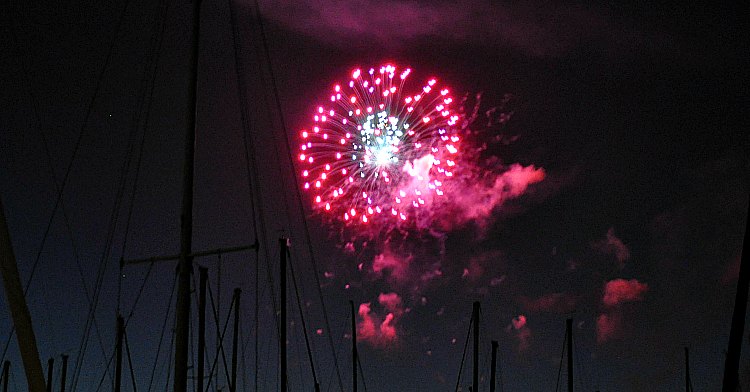 If you love fireworks then you are in luck since you will find fireworks along the Embarcadero San Francisco a few times each year. The two biggest displays are on the Fourth of July and New Year's Eve.
In addition to those, there are a few times a year that the San Francisco Giants also have fireworks displays.
Fourth of July: Every 4th of July, there is a big fireworks show and festival near Pier 39 in Fisherman's Wharf. The day starts with plenty of activities near the waterfront as people settle in for their seat for the big extravaganza. At around 9:30 pm, two barges set off fireworks near Pier 39. On a clear night, it's one of the best displays in the area. Find out more about this year's event.
New Year's Eve: Another large fireworks display each year is the big NYE event on December 31. This set is fired off in the area between the Ferry Building and the Bay Bridge. The fireworks start at 11:59 pm and last for about 20 minutes. Learn more about this year's display.
SF Giants: A few times each season, the SF Giants also set off fireworks after their games. The dates change each year depending on when they are in town. You will find these at Oracle Park.
Best Restaurants on the Embarcadero San Francisco

Burgers, fries, and a shake at Gott's in the Ferry Building. YUM!
You will find several top restaurants lined up on both sides of the Embarcadero San Francisco. Some of these have amazing bay views. Here are a few places where you will find a large concentration of them:
Pier 39: You will find a large selection of restaurants on the northern end inside Pier 39 in the Fisherman's Wharf District. These include the Player's Sports Grill & Arcade, Fog Harbor Fish House, and Bubba Gump. You will also find Boudin Bakery with some of the best clam chowder in a sourdough bread bowl around anywhere. They also have coffee shops and several places for sweet treats.
Ferry Building: Inside the Ferry Building Marketplace, you will find both high-end and casual spots to eat for breakfast, lunch or dinner. Some of my favorites include Gott's Roadside (with some of the best burgers in SF), Boulette's Larder (which has some of the best locally grown food and an amazing view of the bay), Hog Island Oyster Co. (amazing selection of fresh, local oysters), and The Slanted Door (a famous spot with delicious Vietnamese cuisine). 

South of Rincon Park: Just to the south of Rincon Park are two restaurants with amazing waterfront views. One of these is EPIC Steak with delicious steak, seafood, and sides that complement each dish. Make sure to leave room for one of their desserts too. The other option is Waterbar. This high-end seafood restaurant offers oysters, bass, and salmon. You will also find steaks, lamb, and pork dishes.

Near Oracle Park: You will also find a good concentration of restaurants near Oracle Park. Some of my favorites include Town's End Restaurant & Bakery, MoMo's, and The South Beach Cafe. Another favorite is the Java House, which is a small "grab and go" place right next to South Beach Park.

Where to Stay

You will find a handful of hotels near the Embarcadero San Francisco. Here are a few top picks.
Hotel Vitale: 4-star hotel right on the Embarcadero San Francisco. This high-end option offers luxurious amenities, room service, a workout facility, and a restaurant on site. Suites are available as well as wireless internet. Some rooms offer views of the SF Bay Bridge. 8 Mission Street. Check for room availability and reviews
Hyatt Regency: The large Hyatt Regency is just across from the Ferry Building near Pier 1. It's a large 4-star hotel with easy access to public transit, Union Square, and all that SF has to offer. Rooms here either have views of the waterfront or the city of SF. 5 Embarcadero Center. Check for room availability. 

Griffon Hotel: Recently voted as the "Best Boutique Hotel" by San Francisco magazine, the Griffon Hotel is just steps away from the attractions on the Embarcadero. It's a 3.5-star hotel that offers free wireless internet, bar/lounge on-site, and air conditioning. 155 Steuart Street. Review recent reviews and check for availability

Hotels in Fisherman's Wharf: If you plan to stay near the northern end by Pier 39, you will have a lot of options to choose from. Many of these are not right on the Embarcadero, but instead of just a few blocks away. Here are some of the best near Pier 39 in Fisherman's Wharf.
Downtown SF Hotels: You will also find a variety of great hotels in the Financial District and downtown SF. Find my recommendations here. 
How to Get Here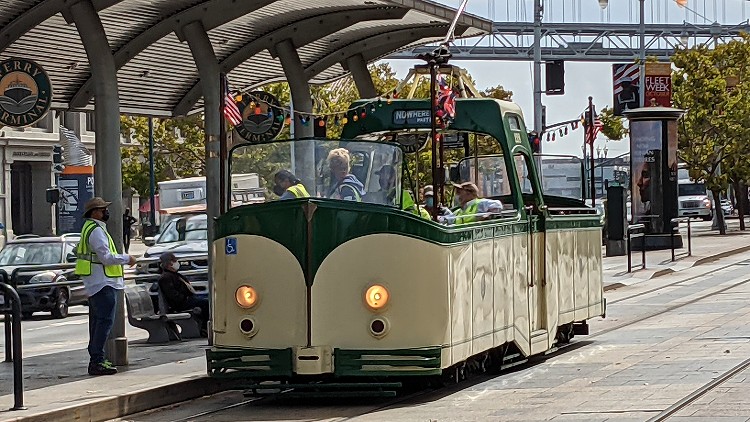 Historic Streetcar across from the Ferry Building. Most are enclosed and this open-air one comes out only for special occasions.
You can easily get here on foot from both Union Square and Fisherman's Wharf. 
Streetcars: The F Streetcars run along the Embarcadero San Francisco. The K and the N light rail trains also make their way up and down here.
Cable Cars: You will also find a California line cable car stop near the Hyatt Regency and just across the street from the Ferry Building. You can use this to get here from Nob Hill, Chinatown, or the Financial District. More about riding the cable cars.
Pedicab: One of the unique ways to get around the Embarcadero in San Francisco is on a pedicab. They are open-air, seat two, and allow you to get a nice view of the waterfront as you cruise around this part of San Francisco. More about my experience on with Golden Gate Pedicab.
BART: The Embarcadero Station is also the best stop for those coming from the East Bay or from the SFO / San Francisco Airport area. It will drop you off near the Ferry Building. You can also jump on other modes of transit from here to get to different parts of the Embarcadero San Francisco.
Ferries: Another great option for those coming from the North or East bay is a ferry. There are several that run from locations all around the bay. All stop at the historic Ferry Building. More details on the ferries that come into the Ferry Building.
>> More about getting around SF
Parking Along the Embarcadero
You will find parking at several locations along the Embarcadero. Here are some of the best options including details on which attractions work best for each parking option.
I'm starting from the northern end and will work my way to the southern end near Oracle Park.
Pier 39 Parking Garage: This is on the northern end of the Embarcadero and across the street from Pier 39. It's great for those visiting the pier and the eastern end of Fisherman's Wharf. You'll find it between Beach and North Point Streets just off the Embarcadero. 
Big Triangle Lot near Bay Street: If you plan to head out on an Alcatraz tour, this flat lot offers parking right across from Pier 33 (Alcatraz Landing). The lot is small, but there is often a few spots open here throughout the day. 
Pier 19.5: There is also indoor parking at Pier 19.5. It's a flat lot inside the pier building. It's a great option for those needing to access Levi's Plaza, the Exploratorium, or the James R. Herman Cruise Terminal.
Two Lots at Embarcadero and Broadway: You'll find two lots along Broadway just off the Embarcadero. One is on the north and one of the south side of the street. These are great for those visiting Pier 7, taking a cruise from Pier 3, or for those heading over to the Ferry Building. 
Hills Plaza Garage: You will find this garage at 345 Spear Street. It's another great option for those visiting the Ferry Building. It's also my choice for those visiting Rincon Park, having dinner at either Epic Steak or Waterbar, and exploring the Pier 24 Photography Museum.
Parking for Oracle Park: If you plan to head to a game, you will find parking for Oracle Park just south along 3rd Street. Parking is limited in this area, so I recommend leaving early so you aren't stuck in traffic for too long or end up having to park further away.
>> Additional tips for parking in San Francisco
Embarcadero Freeway Before and After the Loma Prieta Earthquake
The Embarcadero is a gorgeous place to explore. There are a lot of fun attractions and things to do. It's colorful, cheerful, and offers an enjoyable experience.
This wasn't always the case for the section in and around the Ferry Building. 
In the 1950s, the city built an elevated freeway that ran along a portion of the Embarcadero. It took traffic from the Bay Bridge into downtown SF and allowed cars to quickly make their way to the northern end of the city. 
It was an ugly, two-story freeway that towered over the shoreline and there wasn't the same beauty in this area that you see today. A lot of people wanted to tear it down so people could enjoy this area of the city. In the 1980s, around 70,000 vehicles used it daily to get to or from the city. 
Proposals to bring it down did not go through and the freeway stayed in place. 
On October 17, 1989, the Loma Prieta earthquake shook the city of San Francisco and the entire Bay Area. It was a 6.9 earthquake, which was the largest in the area for decades. You might remember it as the "World Series" earthquake as it hit right before the start of what would have been game 3 of the World Series between the San Francisco Giants and the Oakland A's.
The earthquake severely damaged the double-decker freeway and closed it to traffic. After quite a bit of debate, the city voted to remove it. They started demolition in 1991. 
It cleared the way for this area to be revitalized. Today, you can walk, run, and explore the Embarcadero San Francisco. It's a gorgeous area and would not have been what it is today without the removal of this freeway. 
More Fun SF Districts

Comments? Questions? Suggestions?
I would love for you to join me in my private Facebook group! 
It's a great place to interact with me and others who know the area well.
You can ask questions, get advice for your upcoming stay, and then share your photos and advice with others when you return home. It's a great community and the fastest way to get answers to those nagging questions about your visit!